Inspirational Entreprenuer Akshat Chaudhary in Conversation With WPblog
— November 6, 2019
•

5

Minutes Read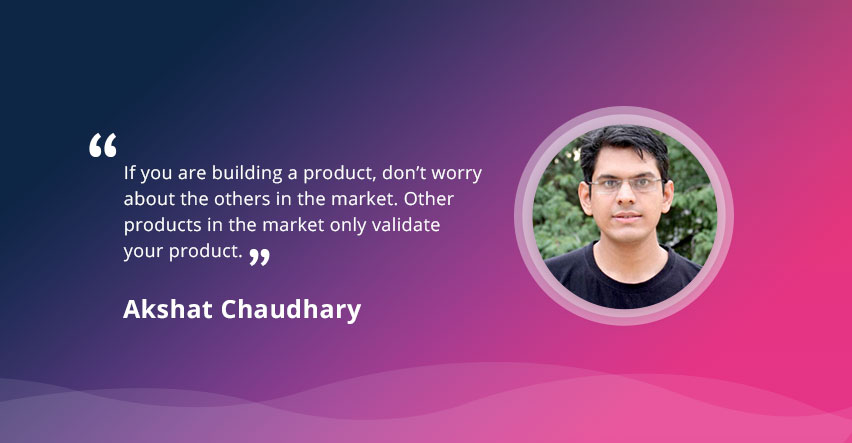 Disclaimer: WPblog is a part of Cloudways, a Managed Cloud Hosting service, but any assumptions or analysis made on this property belong solely to their writers.
When WordPress was launched more than 15 years ago, it not only revolutionized web development but it also opened doors for a lot of entrepreneurs to use their potential and create innovative products for the community. Today, we have with us one such entrepreneur who developed a WordPress backup plugin that is now giving popular backup plugins a run for their money, Mr. Akshat Chaudhary.
---
WPblog: Hey, Akshat, it's an honor to have you on our Interview series. Before we start with the interview, can you introduce yourself… on VIDEO!
WPblog: So what's your story? Can you give our readers a look into your life (if they don't already know), and some deeper insight into your entrepreneurial journey? How did you get into this business and what were your motivations behind starting your own company?
Akshat: It all started when I was working as an engineer and I was following one of the most renowned bloggers, Jeff Atwood, founder of Stack Overflow. He lost most of his data after his website crashed due to some issue in the server. After this, I figured that there is a lot that can be done in the space of website backups and so I came up with BlogVault.
BlogVault is completely bootstrapped so we work twice or thrice as hard here to make it a successful product. Somehow, I still consider myself an outsider to WordPress, though. I don't have much knowledge of the WordPress Dashboard or working with WordPress, except of course, how to secure it!
WPblog: Your company has been around for 9 years now. Can you describe in detail what your company, BlogVault, does and which big-name clients you've served?
Akshat: BlogVault offers a backup service where users can create backups of their website anytime they want. It's basically an insurance policy for WordPress users to save their site's data and easily retrieve it when needed.
We backup sites without overloading them which is our unique selling point.
Apart from that, we also offer an integrated staging environment where users can create staging sites of their original WordPress websites for testing purposes.
WPblog: Your plugin is currently used by more than 600,000 websites. What has been your biggest challenge so far in bringing your product to these many people?
Akshat: The biggest challenge for us is facing competitors who existed in the market long before we entered it. They have far more experience and the financial capability to grow and expand their reach. Also, we believe that we have only touched 1% of the audience and there is a lot more to explore because the WordPress community is huge.
WPblog: That's awesome. We hope your plugin grows exponentially! 😉 Tell me, Akshat, if you were a WordPress plugin, which one would you be and why? (BlogVault is taken, of course)
Akshat: I would be WP Rocket. This is because there are two concerning aspects of WordPress: Security & Speed. The security part we are solving through our product, Malcare, but speed is something that is essential to any website and not just WordPress. I think WP Rocket is doing an amazing job in optimizing websites for speed and we need more products like it in the market.
WPblog: Akshat, which books have helped you throughout your entrepreneurial journey? And what books would you recommend to our readers?
Akshat: I love reading biographies and history. As an entrepreneur, I love to read about other entrepreneurs and how they made a name for themselves.
The most recent book I read was Atomic Habits by James Clear. It is one of the best books that I have read and it teaches you how to develop habits that make you more productive.
WPblog: There are so many great CMSs out there. Why did you choose WordPress?
Akshat: I frankly did not choose WordPress, WordPress chose me. I think WordPress is unique in its own way and it's perfect for people like me. I'm an introvert and I like to build products on my own so WordPress is perfect in that regard because it gives me the freedom to build new things.
Secondly, the WordPress community is friendly and open to novice WordPress users like me. It has helped me a lot in understanding the product.
WPblog: Could you give our readers one great WordPress tip? (Okay fine, it's for us, but our audience is going to benefit from it as well so it's a win-win.)
Akshat: If you are building a product, don't worry about the others in the market. Other products in the market only validate your product, in fact. Keep working and focusing on your own product. Keep innovating and you will succeed.
WPblog: Do you think there is a threat to WordPress from "competitors"?
Akshat: There definitely is a threat. We have seen companies like Nokia and Blackberry go down and WordPress is comparatively smaller than those companies. There are areas where WordPress is strong but there are also weak points that can be capitalized by upcoming competitors. So yes, there is a threat.
WPblog: Gutenberg is becoming an old story now, but it's still important to know: what do you think about it?
Akshat: As I mentioned earlier, I'm not that familiar with the WordPress dashboard. However, for WordPress to succeed, it needs to move forward and take risks without which it will become obsolete. Gutenberg was certainly risky but I think it's a good move as it shows signs of innovation.
WPblog: What's your secret to a successful WordPress career?
Akshat: I got really lucky throughout my journey and it's not even funny anymore. But yes, if there is a secret, it'd be hard work and innovation.
Marvel or DC? None
Dog or Cat? Cat – cuz they don't bother you
Game of Thrones or Breaking Bad? – GOT
WPEngine or Cloudways? – Both are big partners both are great!
Twitter or Facebook? – Facebook!
WPblog: We're fascinated with how the workspaces of people powering the internet look like. Show us your work desk. No changes, no cleanups. 😉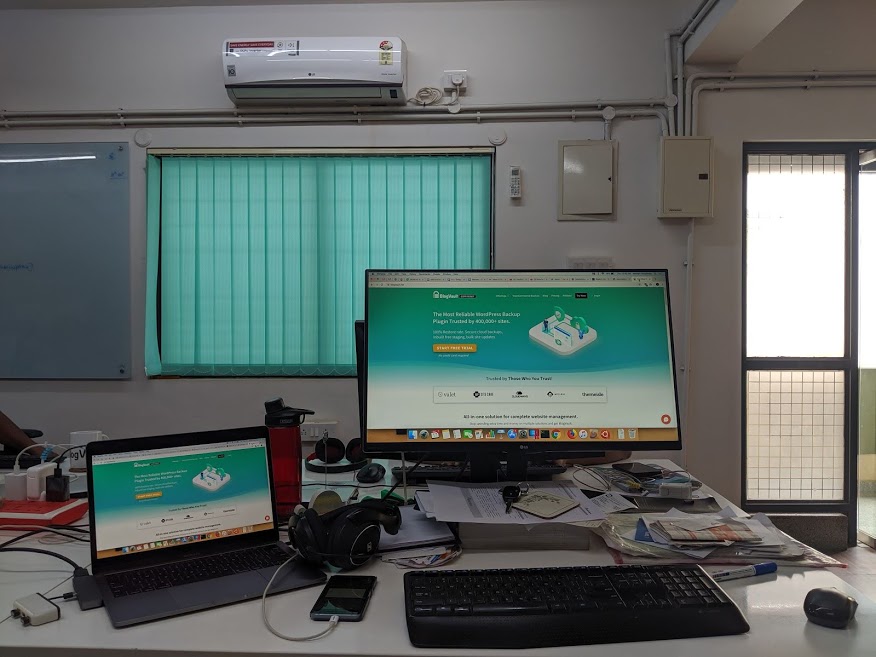 WPblog: How about a selfie with your business logo in the background or something?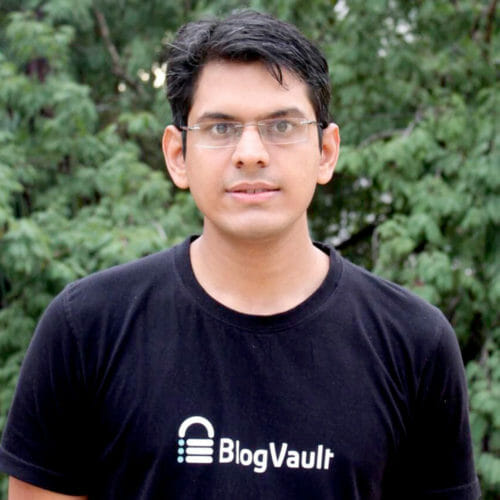 WPblog: Lastly, who would you nominate for our next interview?
I would nominate my good friend Ionut Neagu from ThemeIsle. I think the people at ThemeIsle are doing great work and could give your readers some useful insights!
---
Akshat has been an inspiration to many who want to enter the WordPress industry as entrepreneurs and create products that are at par with the industry giants. More than intelligence and determination, it takes a whole lot of courage to do something like that and this was what we learned from him during this interview.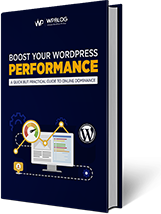 Create Faster WordPress Websites!
Free eBook on WordPress Performance right in your inbox.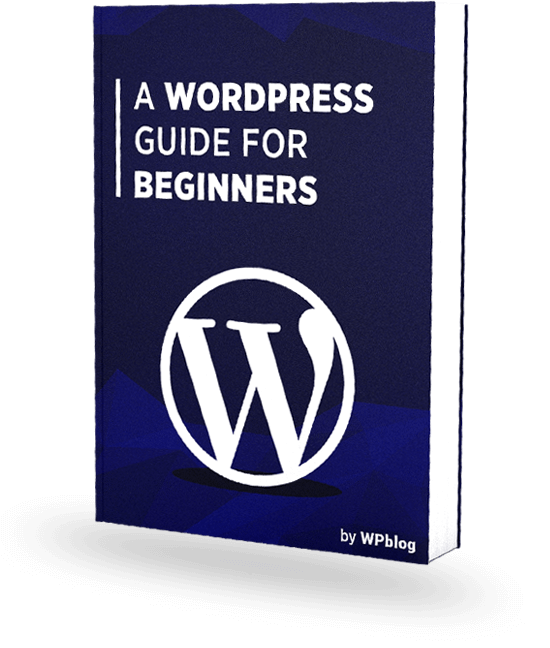 Create Faster WordPress Websites!
Free eBook on WordPress Performance right in your inbox.