A Beginner's Overview of the WordPress Admin Panel & ToolBar
— May 23, 2019
•

10

Minutes Read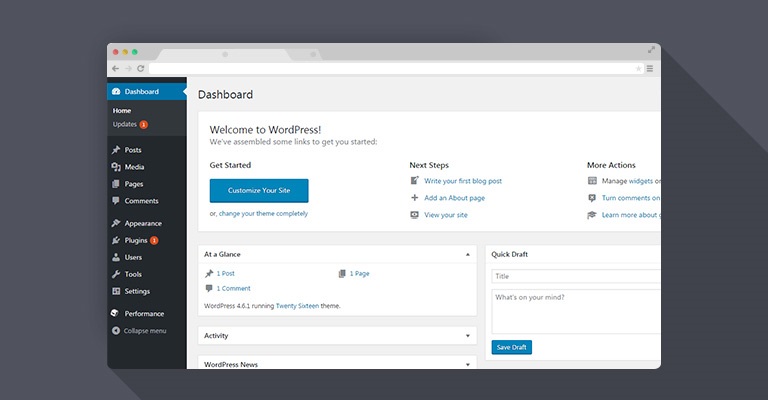 As WordPress has transformed into a thriving content management system from a simple blogging tool, one can find many multi-functional tools accommodated within the admin interface of this specific web application.
Indeed, the WordPress team has done an incredible job in troubleshooting and refining the admin area. It will not be wrong to credit the amazing community that the web application itself has created around it.
Regular updates, patch releases, and bug fixes have created useful simplification of the menu system. Despite all this, the application itself has a tendency always to allure new and returning WordPress users; one of the reasons why more than 25% of the Internet websites are based on WordPress.
This article is a beginner's overview enabling WordPress users to interact with the admin area and take control of the site. It is a simple guide that will give you an overview on the various elements of the admin panel and toolbar so you can get your website up and running.
Introduction to WordPress Admin Panel
As soon as you log into your WordPress dashboard, it leads you to the back end of your site. The back end is what you call the WordPress Admin Panel. Here you can configure different settings of WordPress, add Post and Pages to your website, install themes, and plugins, assign user roles and much more.
Various WordPress plugins or add-ons activated on your WordPress website also become part of your WordPress Admin Panel. You can easily access these plugins from the left-hand sidebar menu. Similar is the case with certain themes. A few theme options are also displayed and can be modified from the admin panel. You can also add custom controls or additional panels to tweak your website from the dashboard as well.
What you see on the WordPress admin panel depends on your user role. If you have the "admin" role, you will be able to see all of the options. If you have a "contributor" role, options on the WordPress admin panel will be limited. So if you don't see all the options, check your user role.
Login to Your WordPress Admin Panel
Before starting the overview of the WordPress admin panel, let's see how you can access it. Logging in the WordPress admin panel starts with adding /wp-admin/ at the end of your URL.
For example, I log in to my WordPress admin panel by going to https://wpblog.com/wp-admin/. There you can enter your username and password and login.
Overview of WordPress Admin Panel
The WordPress admin panel consists of a lot of options that might be overwhelming for new users. We will break down the admin area so that you would know where to go to perform a certain action.
Admin Panel
Admin panel is the main navigation area in the admin panel. You can choose a menu item or submenu items to navigate to specific pages. This is where you will come to manage your website, install plugins and themes, update your WordPress and perform all other functions.
You will see options to view all the posts on your website and add new posts as well. Any newly installed plugin will also appear in this area. Further, you will also be able to view notifications related to WordPress updates and plugin updates.
Assigning and changing user roles can also be done from this area. You will see "User" option on the sidebar of the WordPress admin panel.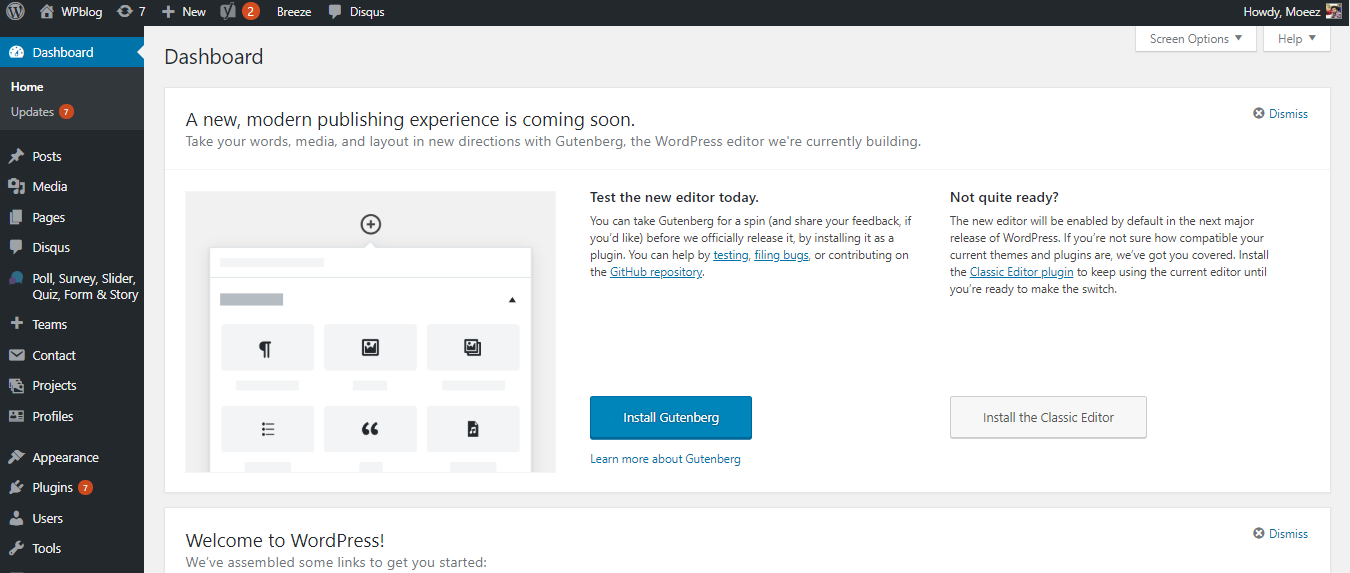 The sidebar is where you will find most of the options. Adding new posts, installing new plugins, tools, setting and more. You will also find pages of all the newly installed plugins on your WordPress. You can visit the pages of those plugins to manage them separately.
We will discuss the main functions on the sidebar further in the article.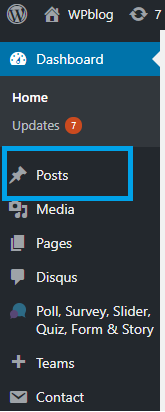 Screen Options

You can see the screen options on the top right corner of the WordPress admin panel. The screen options let you choose what you want to display on the WordPress dashboard.
It gives some additional options to hide/show individual elements on different pages. If you can't find something on a particular page, try going here first to see if that element is hidden from view.
If you click on the drop-down arrow on-screen options, you will see options that tick or untick.

The options that tick will display on the WordPress dashboard and the ones you untick will disappear automatically.
WordPress Toolbar

The WordPress toolbar is designed to make your life easier. It only appears when you are logged in your WordPress. The basic purpose of the toolbar is to provide shortcuts to the core WordPress functions.
Through the WordPress toolbar, you can access the WordPress admin panel, themes, widgets, and menus directly.

The toolbar also gives you the option to customize the page you are currently on. You can change the appearance of that page by simply navigating to "Customize" from the toolbar.
Users can also add new posts directly from the toolbar. Not only posts, users can add new pages, users, projects, and profiles.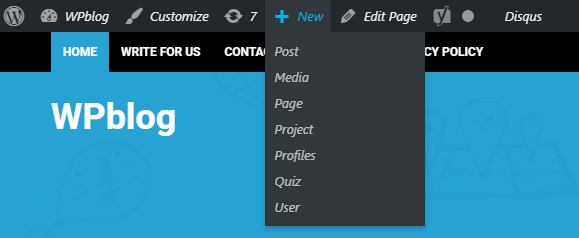 The "Edit Page" option allows you to edit the page you are currently on which is different from "Customize". The edit page option lets you change the text-based content of the page.
The toolbar also shows User Information about currently logged in user. It's located on the top right. Hovering your mouse over it shows some more information about user's profile and a button for logging out. You can also edit your profile or log out of your profile from here.

Here is a complete list of features that the WordPress admin toolbar has to offer you:
It provides a link to WordPress.org homepage
It contains the title of your website; this also is the link to the front-end of your website
Comments that requires moderation are also part of this toolbar
A quick links dropdown menu, including a link to the new post screen
Notifications of any updates for WordPress software, themes or plugins you have installed
Your username and a link to your user profile with a drop-down menu of useful links
Add New Post
The WordPress admin panel lets you add new posts from the sidebar where you can see the "Posts" option.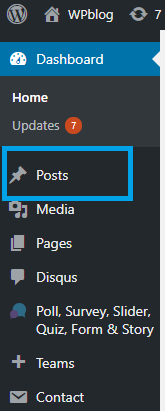 Once you hover your cursor on the Posts option, you will see an option to view all posts and add a new post.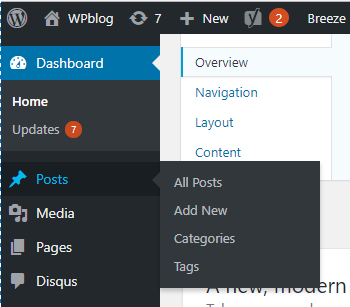 The add new post will take you to the WordPress editor which is an essential part of the WordPress admin panel. The WordPress editor lets you create a new post for your website.
Add New Plugin
You can add or install new plugins from the WordPress admin panel by navigating to the Plugin option on the sidebar.
Once you hover on the Plugins option, you will see the Add New plugin option. It will take you to the plugin page where you can search, download and activate new plugins.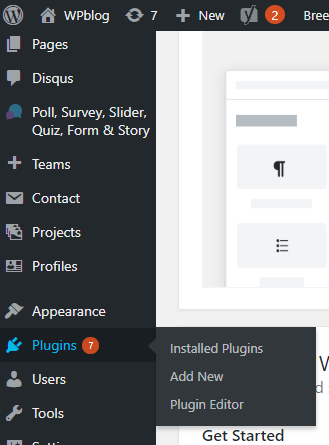 Collapse WordPress Sidebar
At the bottom of the sidebar, you will see "Collapse Menu" option. The option would hide the sidebar from the WordPress dashboard.

Media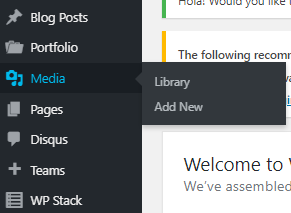 The Media option on the WordPress sidebar lets you manage all the media files that you might have uploaded.
All your media files (images and videos on posts and pages) are stored under Library. You can even identify which post a certain image or video was uploaded to.

To add new media files to your WordPress site, select Add New from media, select the files from your system, and then upload them on your site.
Appearance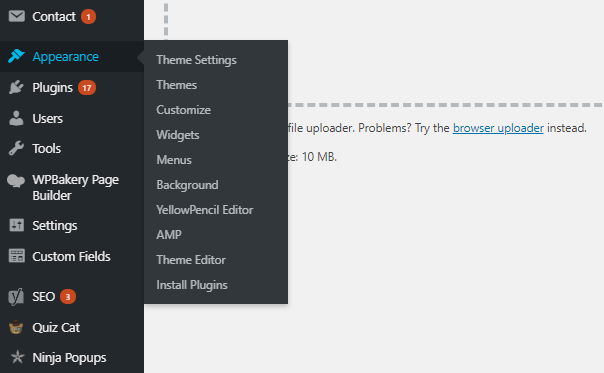 The Appearance option gives you plenty of additional customization options.
For example, Theme Settings under appearance lets you change the theme (or update it) you're currently using on your blog.

The image shown above varies with the theme you choose, but since I'm using Jevelin, you can see how the settings look here.

The Themes option shows the installed themes on your blog. This page not only shows the current theme but the themes you might have installed but aren't using as well.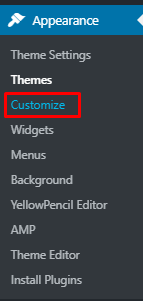 To customize your theme, head over to the Customize option.
The easy to use customization options is perhaps one of the biggest reasons why WordPress has the edge over other CMSs: easy theme and design customization without any coding knowledge.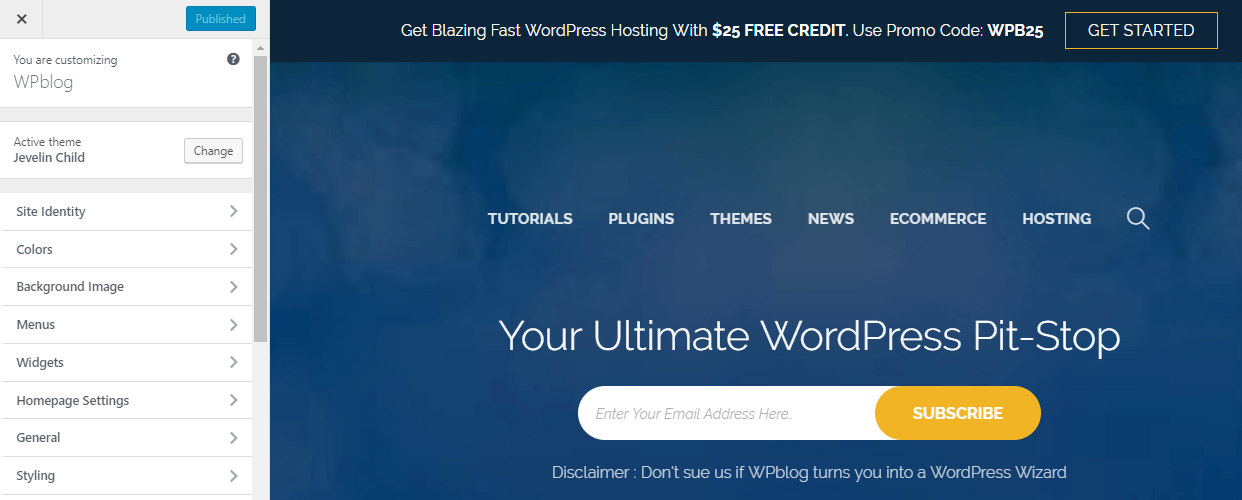 Once you enter customization mode, you can see a number of elements on the left bar that you can edit on your website.
Just click on the elements you want to edit, make the necessary changes, and save them. As easy as it can get!
The Widgets option allows you to add further functionality to your WordPress website.
You can add sidebars to your site, custom navigations, "Recent Posts" section and a lot more using widgets.

You can manage your Website's menus from the Menus option on your WordPress admin panel. You can create a new menu (Create a New Menu) or edit the existing ones from the drop down.
Once you select a menu, you'll see the editing options that will allow you to make your desired changes.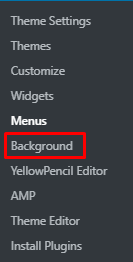 The Background option from your sidebar takes you to the Theme Customization page where you can change your site's background image.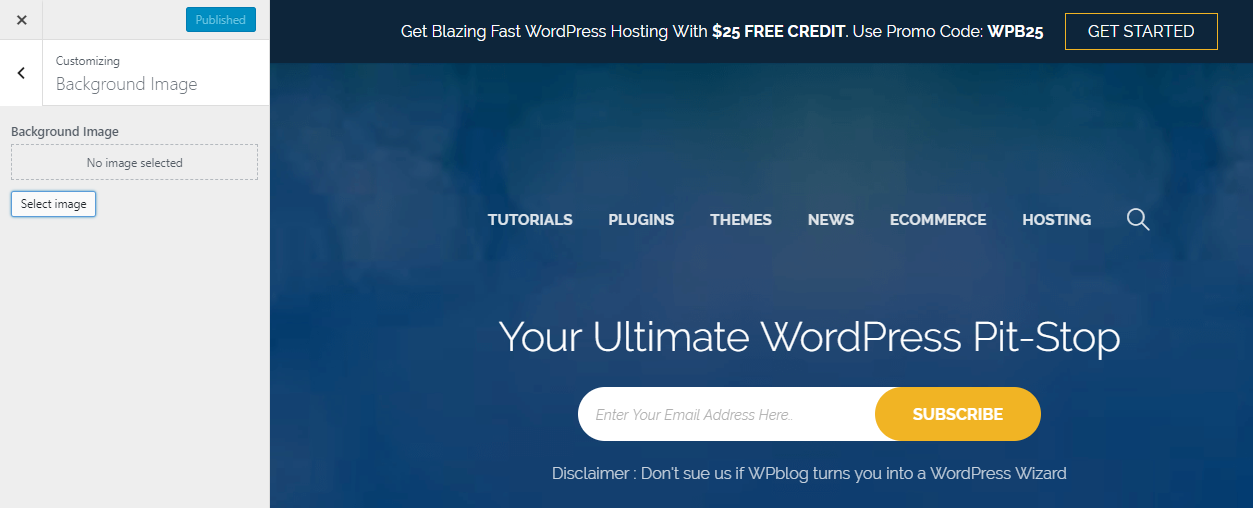 Next up is the YellowPencil Editor. This is the Visual CSS editor that lets you customize your CSS files.
However, I won't further elaborate on this because it varies with which CSS editor you are using on your blog.
AMP or Accelerated Mobile Pages are faster versions of your web pages for mobile. You can manage your AMPs from the AMP option in the WordPress admin panel.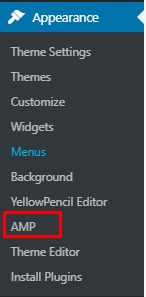 The Theme Editor option that follows lets you edit your theme files directly from your WordPress admin panel.
If you have the expertise and coding know-how, then you can manage your theme files easily from this option. If you're not familiar with file editing, however, don't try to make changes to these files because it can crash your WordPress website.
Users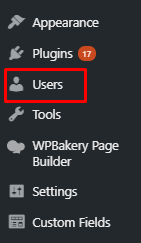 Users let you manage people who can control and manage your WordPress website. If you're an admin, not only do you have full access to the dashboard, but you can also add users and assign roles to them for managing different aspects of the website.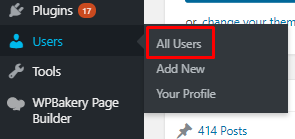 The All Users option give you an overall view of the people running your WordPress website.
You can also view what role types have been assigned to these users and how many posts they have published on your website.

Through the Add New option, you can simply add a person and assign a new role to them.

If you want to view your own profile or make changes to it, just head to the Your Profile option which has plenty of options to customize your profile.

Tools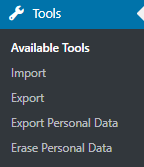 The Tools gives you a number of handy options you can use to perform different functions on your WordPress admin panel. The Available Tools, as the name suggests, lets you view the available tools.
The Import option lets you import data from other CMSs to your WordPress website. For example, if you want to import posts from your Tumblr feed directly to your WordPress site, you can use this option to easily do the task.
The screenshot below shows the supported CMSs you can import content from.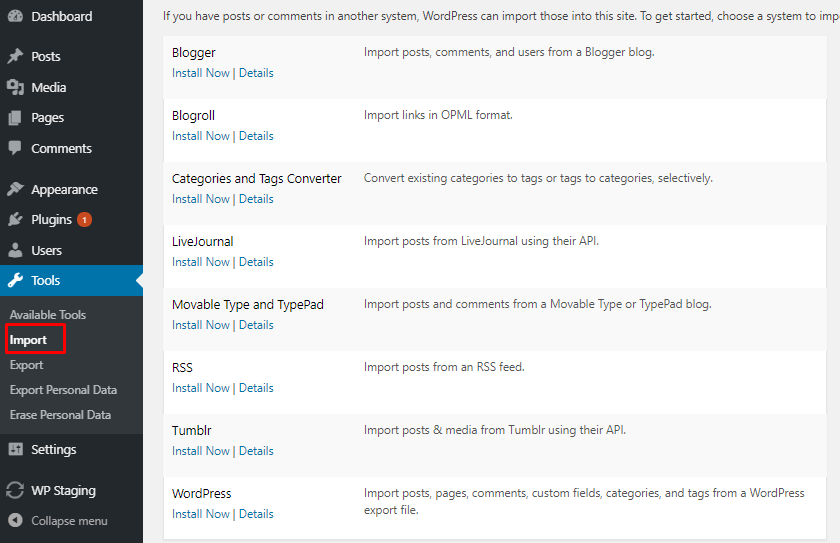 Similarly, you can use the Export feature to export data to your system in CSV format.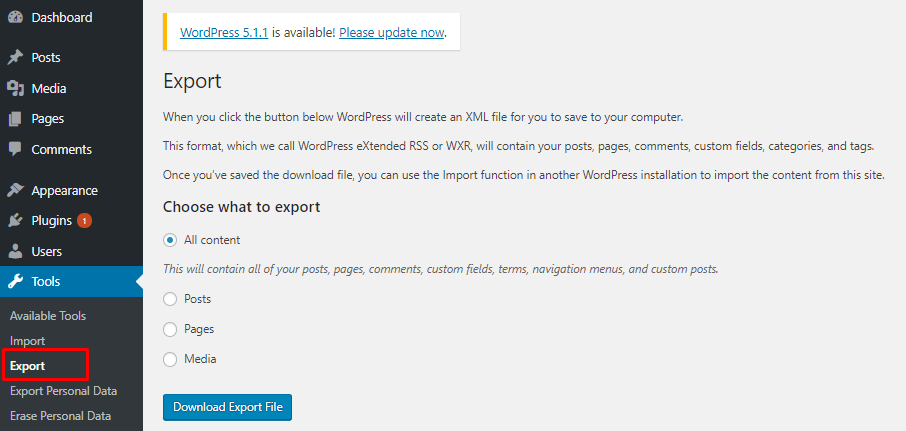 The Export Personal Data gives allows you to export your data to your system. Once you enter your email address, you'll receive an email verification for the request to export your data.

You can even erase a user's information from the Erase Personal Information option. If one of your users asks you to delete their information from your WordPress, then this option comes in handy.
Keep in mind that these options were introduced after GDPR compliance to protect user information.
Conclusion
The WordPress Admin panel is one of the most prominent features of WordPress. Its simplicity and user-friendliness makes WordPress attractive to new bloggers and users. With WordPress 5.0, some of the elements of the admin panel are expected to change, as the post editor will be replaced by Gutenberg.
Also read: WordPress 5.0 Is Coming, and so Is Gutenberg! – Are You Ready?
Hopefully, this post helped you in understanding the difference between WordPress Admin Panel & Toolbar. My future post will be on WordPress Admin Menu Area in which I will cover in detail the different features that the Admin menu has to offer to its users.
Stay tuned, and keep learning WordPress as it is the most user-friendly CMS in the world.
Frequently Asked Questions
Q1. What is the WordPress Admin Panel?
WordPress Admin Panel is the default WordPress dashboard that allows you to manage your WordPress website. You can perform various functions from the admin panel like, add a new post, install a new plugin, update your WordPress and view notifications.
Q2. What is a plugin?
A plugin is a tool that adds any functionality to the WordPress website. A plugin can be a security plugin which is used to enhance website security or a WordPress contact form plugin which is used to add a contact form to your website.
Q3. What is the WordPress Toolbar?
WordPress toolbar is the bar that shows on top of the WordPress website when you are logged in to your WordPress. It's purpose is to access various areas of your WordPress admin panel in a few clicks.
Q4. Is WordPress Toolbar secure?
Since it is a part of the WordPress admin panel, it is completely secure.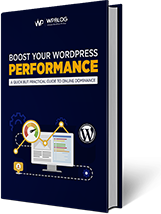 Create Faster WordPress Websites!
Free eBook on WordPress Performance right in your inbox.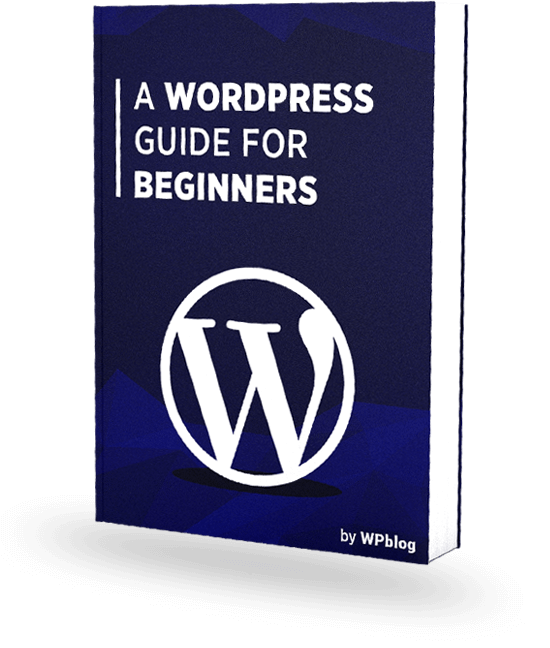 Create Faster WordPress Websites!
Free eBook on WordPress Performance right in your inbox.