The Biggest Hosting Discount of 2019 – Free for First 3 Months
WPblog has snagged the biggest hosting deal of 2019 for you: Cloudways Managed Hosting for 3 months at 100% OFF. Just use this Cloudways coupon code and avail this amazing deal before it expires!
It can't get better than this for anyone looking to host their sites on a cloud hosting solution that's not just reliable and secure but also delivers performance that leaves you wondering why you didn't switch before.
Best Cloudways Promo Code
Get $30 Free hosting
credits
WPBlog readers can get $30 FREE hosting credits (which is equivalent to 3 months' worth of hosting) with our exclusive Cloudways promo code. Simply add Cloudways coupon code "WPB30" when you sign up, and $30 credit will be applied automatically.
Offer Expires 30th Dec 2019
Cloudways' Deal of The Year
Cloudways, to begin with, is one of the most renowned hosting providers in the industry. Its managed WordPress hosting takes care of the server-side technicalities while you focus entirely on your business.
Server-side management, with Cloudways, is a one-click job, because who wants to handle server issues anyway? Yup, we'd all rather focus on growing our business!
I've been a fan of Cloudways since we moved WPblog to their hosting, and now, they've provided me with a Cloudways promo code exclusively for WPblog readers. Consider it as a token of appreciation to all you amazing WordPressers who have valued our input and opinions!
This Cloudways coupon code will let you use Cloudways hosting for the first three months without any charge, of course. That is a $30 value you're getting, but more than that, you get to host your website on one of the best cloud hosting services out there.
How cool is that?
The offer expires on 30th December so make sure you act before that. All you have to do is sign up to Cloudways and use this Cloudways coupon code: WPB30.
How to Use Cloudways Coupon Code
Using the Cloudways coupon code is simple.
The first step is to head over to their Managed WordPress landing page.

Once you're on their landing page, click on the Get Started Free button. Cloudways offers a 3-day free trial which is why it says Start Free on their website.

On their signup page, you will be asked to enter basic information about yourself. Then click on 'Got a Promo Code?'.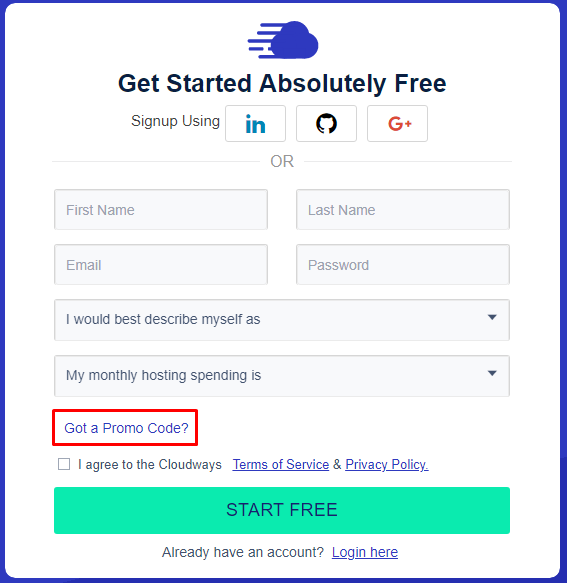 In the box, paste our Cloudways coupon code [WPB30] in the box, check the 'I agree to the…' box, and click START FREE.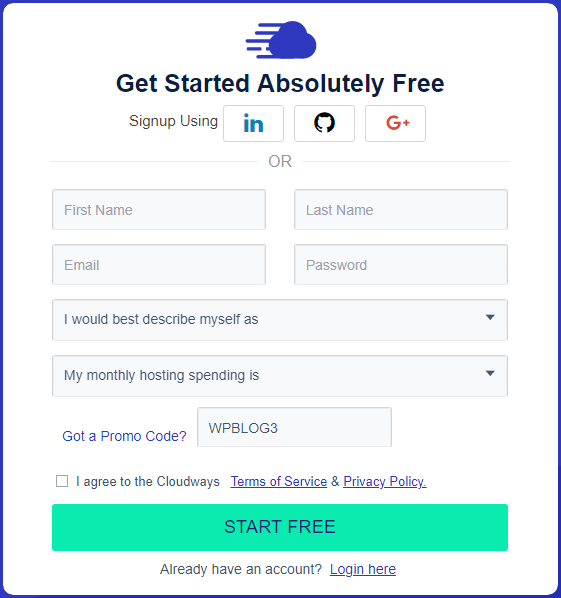 That's it! You have applied the Cloudways coupon code to enjoy 3 months of free managed cloud hosting.
Our Verdict On Cloudways
Cloudways is one of the best-managed WordPress hosting providers that offer cloud hosting on a number of different infrastructures. This feature alone makes it unique compared to its competitors. While most hosting providers don't disclose the infrastructure they are using, Cloudways lets you choose the infrastructure of your choice from these options:
DigitalOcean
Vultr
Linode
Amazon Web Services
Google Cloud Services
But what really makes Cloudways standout is its platform. Normally, server-side settings take hours to perform. With the Cloudways platform, you can change server settings in a click of a button. One-click migration, one-click multisite install, and one-click varnish enable are just a few examples of what you can do on the platform with zero effort.
Cloudways also offers different pricing plans that appeal to a variety of customers. If you have a limited budget, you can opt for DigitalOcean, but if you have deeper pockets, you can choose AWS or Google Cloud Service.

Pay as You Go
This is another Cloudways feature that people love: You pay for the resources you use. No more, no less.
You can scale your server up or down if you need to, and you will be billed accordingly. This makes Cloudways one of the best options for budget-conscious users. Where most hosting provider charge for the entire server, Cloudways gives you the option to pay only for what you use.
Get $30 Free hosting
credits
WPBlog readers can get $30 FREE hosting credits (which is equivalent to 3 months' worth of hosting) with our exclusive promo code. Simply add Cloudways coupon code "WPB30" when you sign up, and $30 credit will be applied automatically.
Offer Expires 30th Dec 2019
Cloud Servers of 5 Providers
Many hosting providers don't disclose the infrastructure behind their hosting. Cloudways not only disclose this information but also lets its customers choose from 5 different infrastructures:
DigitalOcean
Vultr
Linode
AWS
Google Cloud Service
All these cloud providers appeal to different types of customers. DigitalOcean, Vultr, and Linode are for users who have a limited budget but want superior performance. AWS and Google Cloud are for users with bigger applications and more complex requirements.
Pre-optimized Applications
WordPress on Cloudways comes optimized with Breeze cache plugin for better performing websites. Likewise, if you launch a Magento 1 application, it comes with Cloudways FPC which is another tool to enhance your application's performance. With Magento 2 you get Cloudways Varnish which a Cache tool.
Cloudways not only offers WordPress or Magento managed hosting, though. It also caters to users who want to launch:
PHP
Laravel
Opencart
Drupal
Joomla
PrestaShop
Strong Team Management Tools
If you're running an agency and have a team working with you, then Cloudways has the perfect solution for you: The Team Member feature, which simply lets you add more users to your managed server. You, as an admin, can assign those users various titles and rights which lets them access various parts of the Cloudways platform.
Managed Servers
Cloudways servers come with an optimized stack that they call "Thunder Stack". It includes a combination of different tools that optimizes the server for performance. Here's a short look at each component of the Thunder Stack:
Apache
Cloudways has integrated Apache with all of its web servers to boost performance and offer a better hosting experience.
Memcached
Memcached makes caching a breeze. Database calls, API calls, and page rendering is a piece of cake now that you have Memcached integrated on your servers.
MySQL
MySQL is the most popular open-source database with great performance and reliability.
New Relic
New Relic is an application monitoring tool that scans your PHP codes and reports which piece of code is taking longer to load.
Nginx
Nginx is a super-fast web server that is equipped to handle a significant number of requests compared to a regular web server.
Varnish
Varnish is another caching tool that boosts HTTP performance. If your website is loaded with multimedia, Varnish cache will definitely come in handy.
24/7 Support
Cloudways offers 24/7 live chat service that is available even on public holidays. Apart from that, you can always open a support ticket and the expert team at Cloudways will take care of your issue. The support includes a strong knowledge base that will help you get over most of your issues.
Signup to 3 Month Free Cloud Hosting Now!
If I were you, I would have already launched my WordPress application on Cloudways because this deal is just not worth missing. Just use the discount code WPB30 and enjoy 3 months of free Managed WordPress Cloud hosting.
More Cloudways Promo CodeCloudways DiscountPromo Code
| | |
| --- | --- |
| Get $30 Free hosting credits | WPB30 |
| 10% Off For 3 Months | CLOUDWAYS10 |
| $25 Credit When You Sign Up | FASTHOSTING |
| 20% Off For 1 Month | CLOUDWAYS20 |