Beginners Guide to WordPress SEO – 21 Online SEO Tools Free & Paid
— February 15, 2017
•

9

Minutes Read
Search engines regularly update their algorithms to better serve the requirements of the users. For digital marketing experts, this presents a unique set of problems. Every time there is a change or update in the search engine algorithms, the website's WordPress SEO strategy has to be updated to reflect the update.
To facilitate the process of digital marketing and to help keep up with the fast pace of updates, every digital marketing expert needs a set of tools. This is a challenge in itself because of a large number of paid and free tools available on the internet.
In this article, I have tried to present a set of paid and free SEO tools that take most of the effort out of the SEO strategy implementation and execution.
21 Online Free SEO Tools
Perhaps, the best thing about free SEO tools is the price tag! however, do not confuse free with poor quality. the following free online tools are considered to be the best of the lot.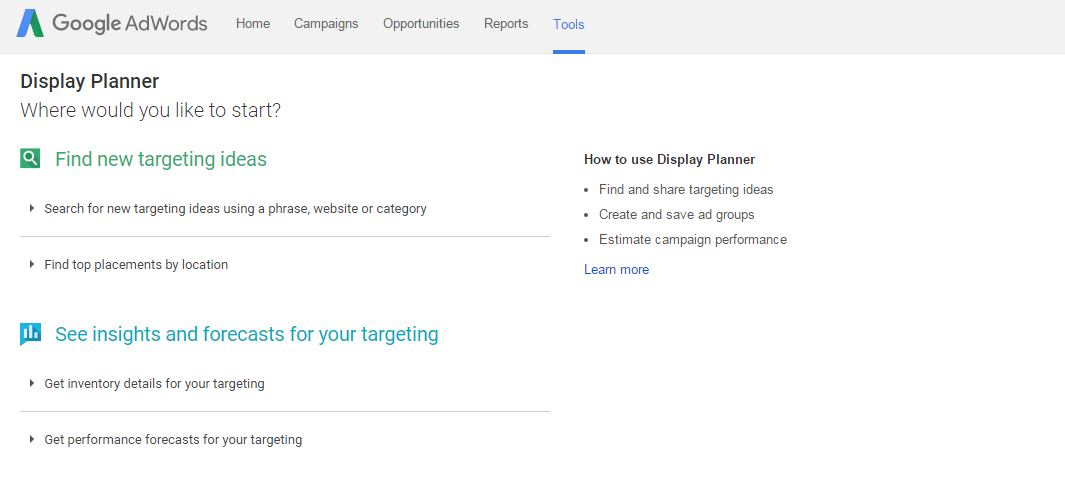 For both SEO beginners and experts, Google AdWords Keyword Planner is the place to start keyword research and planning. This is a must-have tool by Google directly taps into the search giant's databases to offer accurate and competitive analysis of your selected keywords along with suggestions for related keywords.
For every keyword you enter, Google AdWords Keyword Planner provides monthly search numbers, related keyword ideas and CPC. These three statistics form the core of the content and ad development/placement strategies.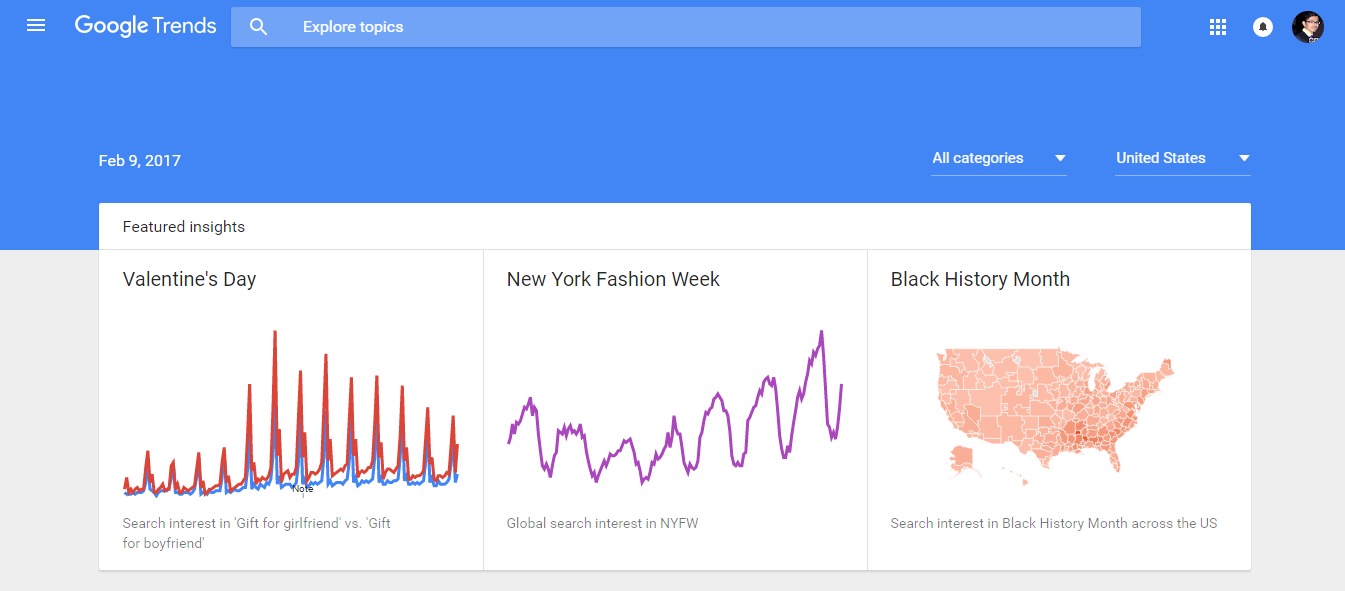 Google Trends is the ideal tool for tracking and analyzing trends. Using this tool, you can find top trending searches and top charts. Using the available filters, you could easily isolate and explore popular topics and trending ideas.
An important feature of this tool is the keyword research against trends. This is an invaluable for incorporating the most appropriate keywords in your website's SEO strategy. Thus, this tool should be used very frequently to ensure that the website is ranked for popular trends and keywords.

Uber Suggest is a very popular keyword research tool that directly competes with Google Keyword Planner. The developers claim that it finds you the keywords that are not available in Google Keyword Planner. The online version of the tool has a Word Cloud tab that offers the most common related terms for the query. The tool is available online and as a stand-alone download the keyword list data in CSV format.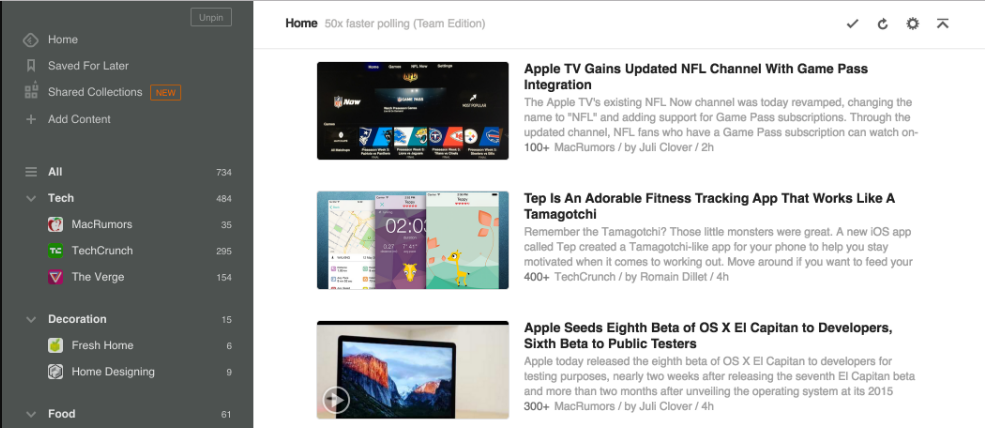 Feedly is the perfect tool for keeping up with the latest trends. Feedly helps you discover relevant content trends to help you increase both traffic and sales. The alert feature could be set up for specific keywords,  enabling you to follow blogs and YouTube channels that relate to your specific requirements.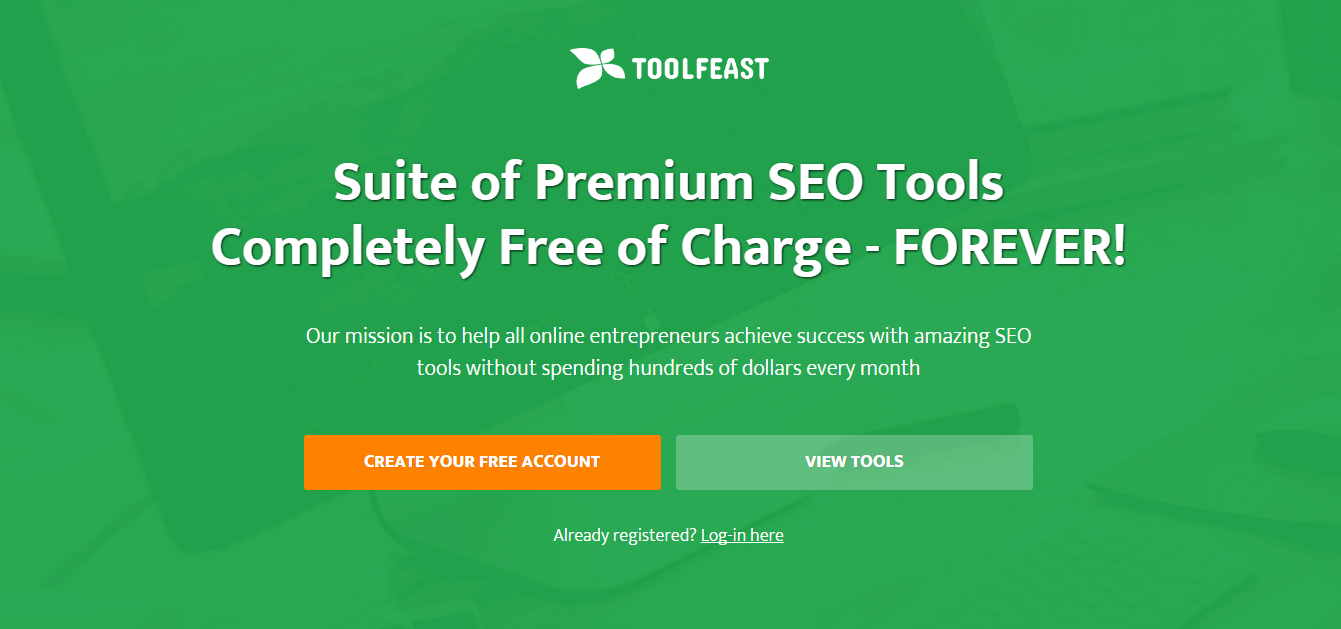 ToolFeast is free set of SEO tools that is especially targeted towards entrepreneurs who want to attract relevant traffic to their online properties. In particular, AutoSuggest is a powerful Long Tail Keyword Research tool that help users find search volume and CPC against a keyword.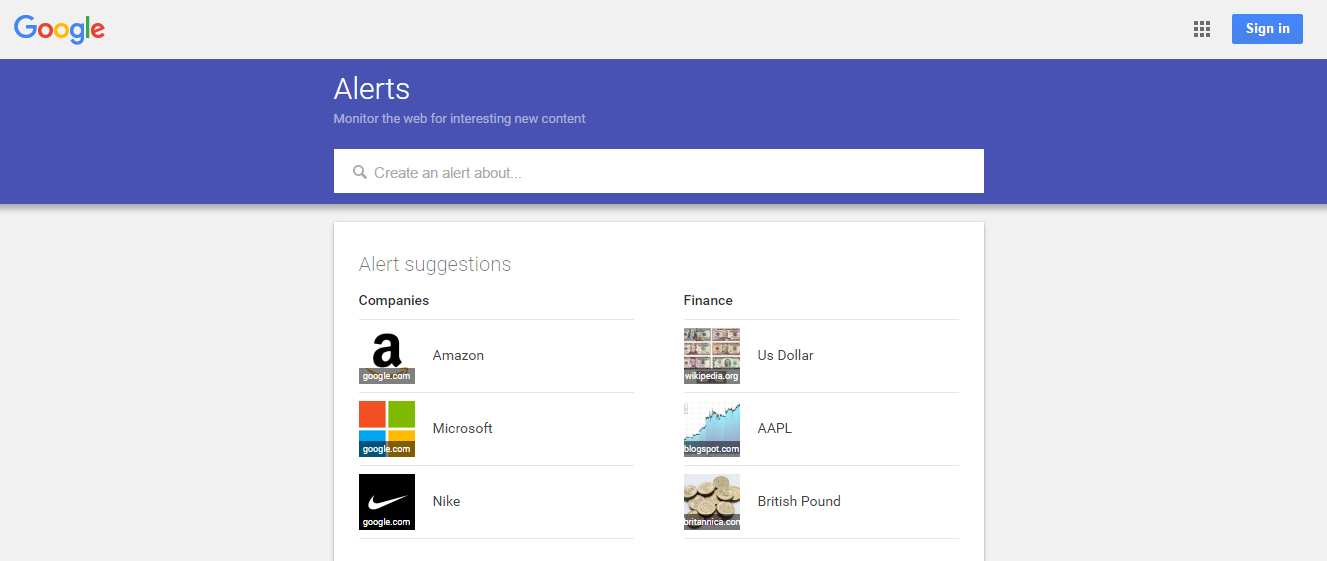 Google Alerts is a very popular tool for discovering news and trends as they happen on. This way SEO and digital marketing professionals could remain on top of the latest news without major effort. You can create alerts for a particular keyword, and whenever an article containing that keyword is published, you are notified through email. Thus, this tool could be used for both keyword research and competitor analysis.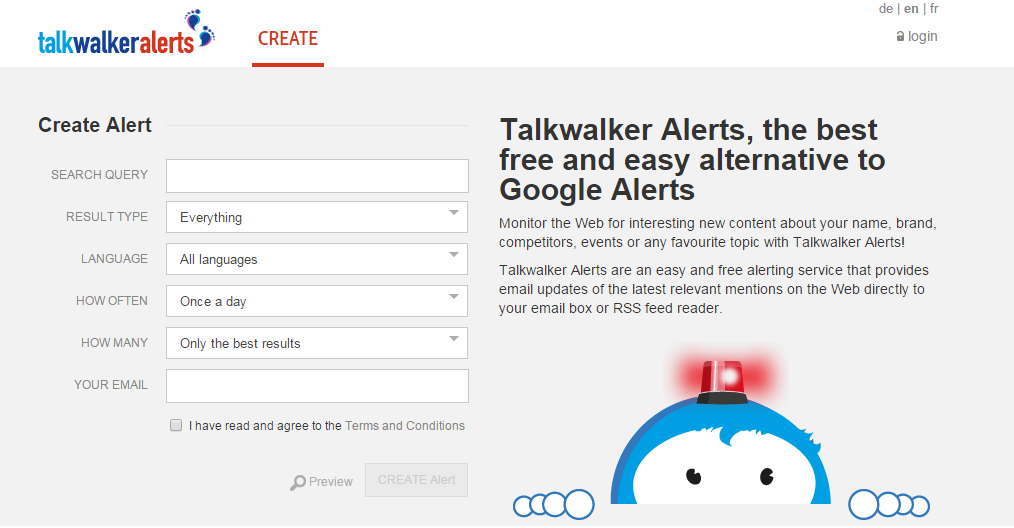 If you don't like your inbox being filled to the limit with Google Alerts emails,  this tool is the best alternative. Talk Walker Alerts can set up very customized alerts based on specific keywords. You select a query, select the type (news, blog or discussion), language, settings for the results and how many emails you want for a given alert.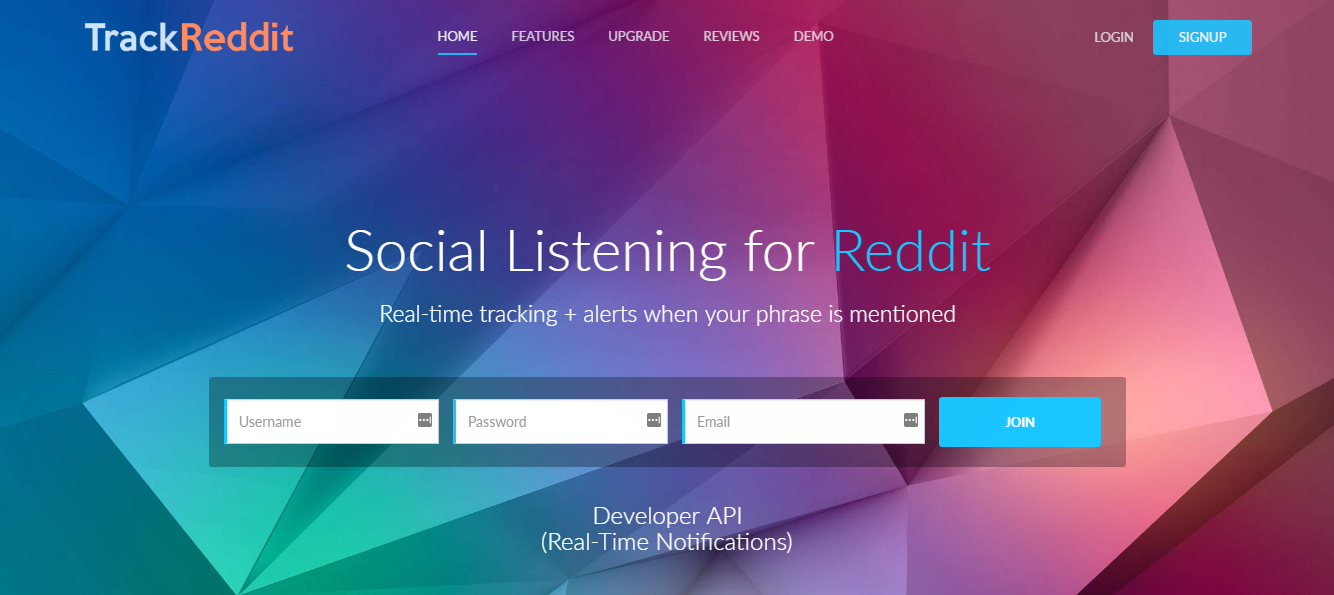 SEO experts and digital marketing understand the importance of Reddit in search engine optimization strategies. You can use TrackReddit to keep track of Reddit activities and mentions for your brand/website. The feature list include broadcast tracking campaigns, full-text search, instant and real time alerts, developer API and much more.
This is the go-to tool when you are all out of ideas for your next blog. Just enter the keyword and this tool will present content related ideas that will help you beat the content production and SEO woes. This greatly streamlines the SEO strategy implementation because of very concrete and relevant ideas.
Online Paid SEO Tools
Paid SEO tools take the game to the next level! I always suggest that professionals should use free tools for the basic needs. However, once they have enough knowledge and experience, they should should transit to paid tools that offer much higher level of functionality and performance.
In this section, I will share market renowned paid SEO tools that will help you achieve success by setting up the roadmap and diving deep in analyzing the competition. Moreover, these tools will help you conduct advanced keyword research and provide valuable insights into how you can revamp your digital marketing strategy.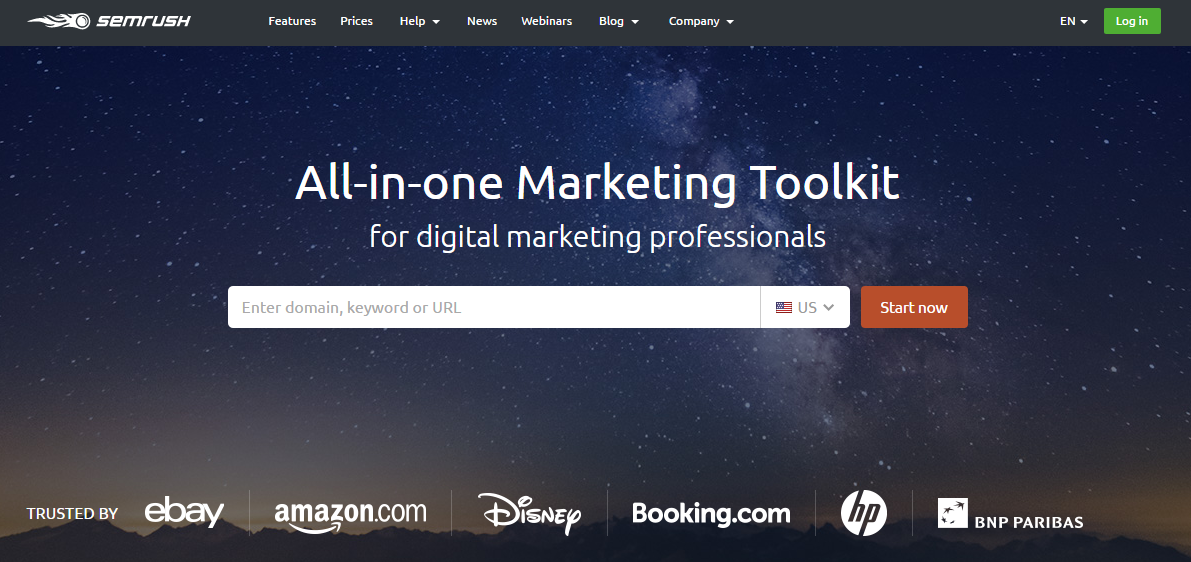 SEMRush is probably the most advanced and efficient competitor analysis tool out there. You will be amazed to see the results that SEMRush returns for competitor analysis. You can go through their keywords; ranked pages for a given keyword, traffic volume, and sources..
Other than competitor analysis, SEMRush features include cognitive SEO (position tracking), site audits and insights of advertisements. SEMRush automatically highlights the issues so that you can plan accordingly and figure out ways to stay ahead of the competition.
The price plans vary from USD 79.99 to USD 149.95 per month.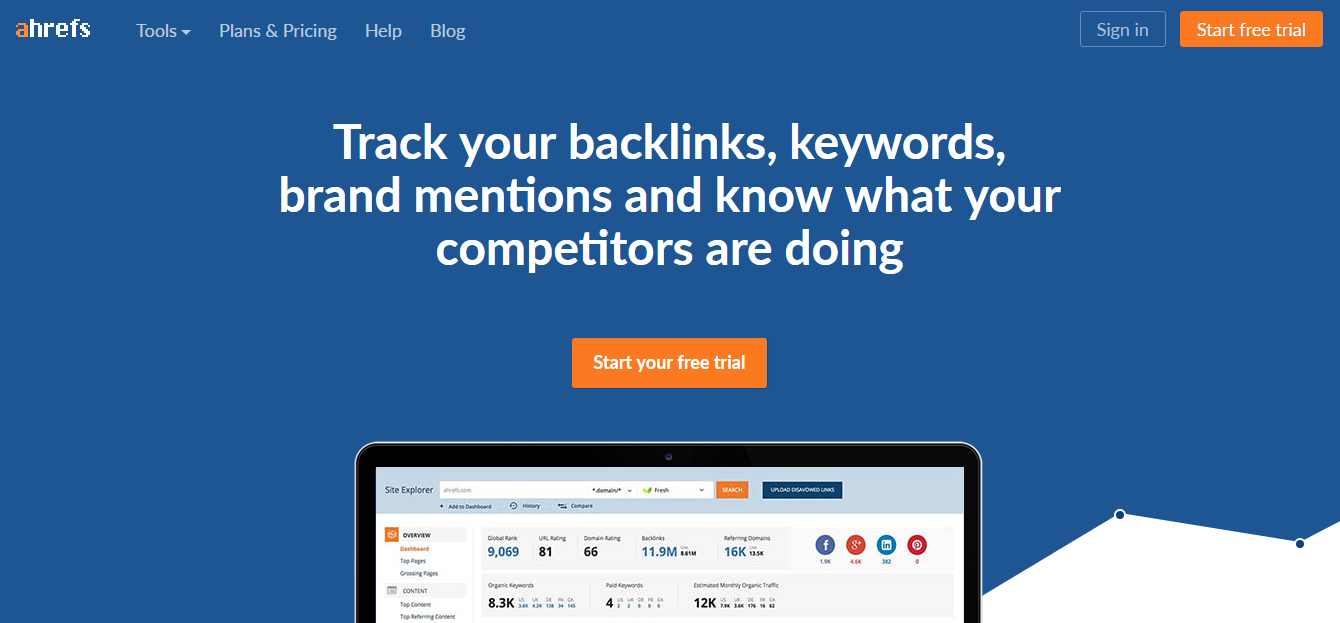 Ahrefs is another compact keyword tracking and competitor analysis tool. But what makes Ahrefs unique is that with this tool you will have a complete backlink profile for your website.
You can track which websites link to yours, the growth of your links and the backlink strength. Other than tracking your backlinks, you can research your competition and discover the content that works for them in the context of SERP.
Price plans vary from USD 99 to USD 999.
Alexa is a powerful tool for SEO professionals who are interested in website traffic statistics. Alexa is probably the best keyword research, competitor analysis and website rank finder for people who like to crunch numbers. The tool offers detailed reports about the ranking of the website in terms of global and regional rankings, traffic patterns and sources.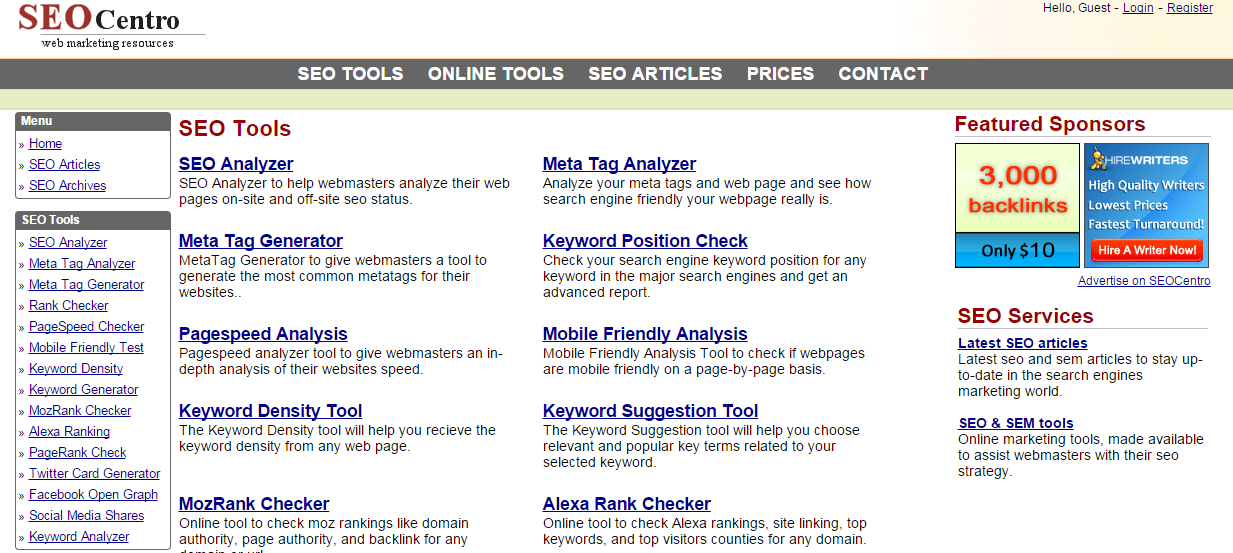 SEO Centro is a SEO tool that is designed to enhance your SEO strategy. It offers a wide arsenal of tools including SEO Analyzer, Rank Checker, Page Rank Checker, Keyword Density Tool, Mobile Friendly Analysis and various social media tracking tools. Price plans vary from USD 9.95 to USD 39.95 per month.
TermExplorer will help you find the most profitable keywords by presenting the search volumes of relevant keywords and detailed competitor analysis. With this tool, you can find search volume, CPC, PPC competition, link strength, and difficulty to rank against a keyword score and relevance score. TermExplorer offers over 90,000 items in its exporting keyword option. Price plans vary from USD 34 to USD 499.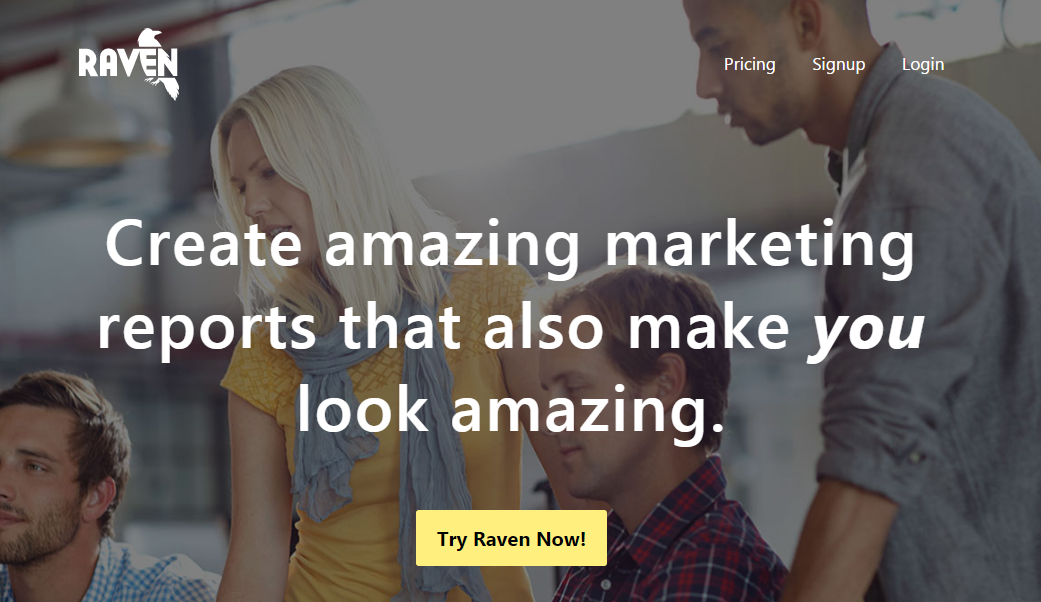 Raven helps marketing and business analysts keep track of their website's performance and create effective reports in minutes. Raven also suggests SEO fixes for your website through a series of custom SEO, Social and PPC marketing reports that are delivered to you weekly, monthly or quarterly. It extracts data from Google Analytics, AdWords, Google Search Analytics, Bing Ads, Facebook, Twitter and more. Price plans vary from USD 99 to USD 249 per month.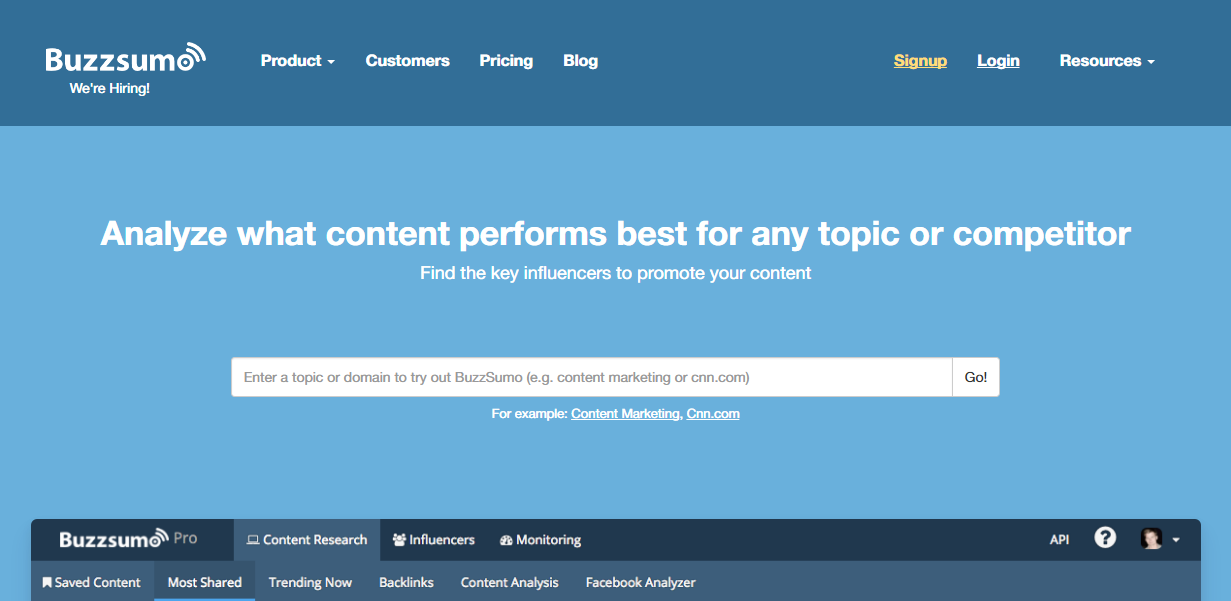 BuzzSumo is a keyword analysis tool that will help you discover content against a keyword. In addition, the search results include articles with the highest shares and backlinks. This helps you get an idea of the type of content that will perform the best for a keyword.
BuzzSumo has an alert service that will notify you whenever a keyword gets mentioned on the web.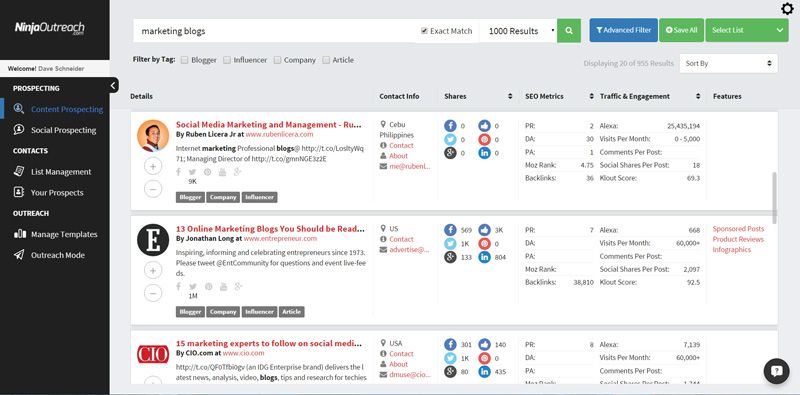 NinjaOutreach is an all-in-one influencer marketing tool that will help you with your outreach efforts from A-Z. You can use its content prospecting tool to find top shared contents and which influencer shared it with just a keyword search. In addition, you can use its built-in CRM tool to reach out to prospected influencers for link building opportunities to boost your SEO. It also provides customisable email templates to make your outreach efforts easier.
The price plan is one of the most competitive among other paid SEO tools. Starting from as low as $69 for individual use to $599 for large agencies.
Top Chrome Extensions For SEO
In this section, I will share several must-have Chrome extensions that are ideal for the SEO and search engine marketing. I will only discuss Google Chrome here because it is the a lightweight and very fast browser.There are tons of extensions that are especially designed to help you carry out various objectives of SEO strategy implementation right from the Chrome's top bar.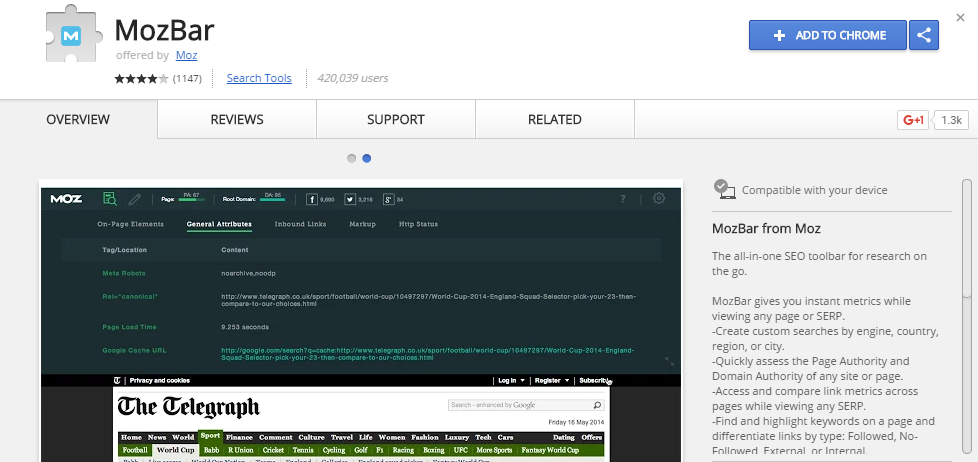 SEO Moz needs no introduction and with this extension, you can check out every webpage you visit. You have access to an instant metrics that offers a bird's eye view of the SEO related parameters.
The feature list include domain authority, highlighted keywords and link comparison. A free account with limited features is also available. However, I recommend the premium account that offer full access to the features.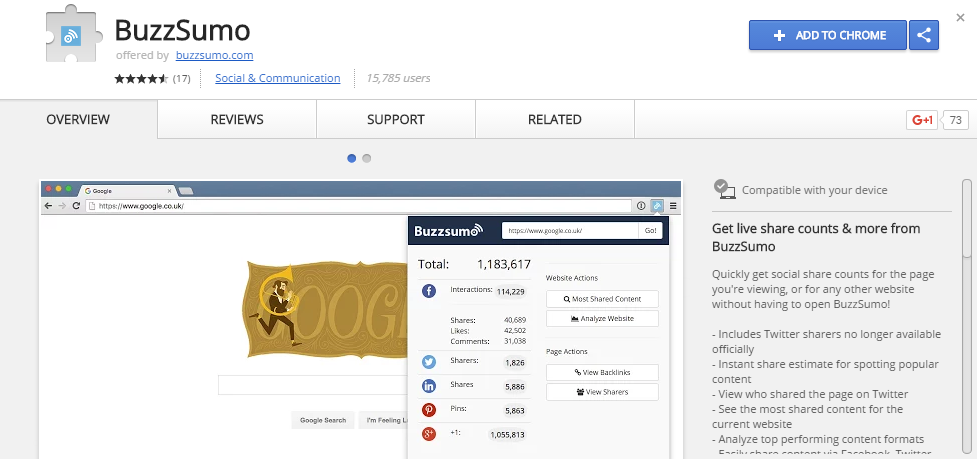 BuzzSumo offers a comprehensive look into content performance against keywords. This extension lets you see the total social media shares and backlinks without any problems.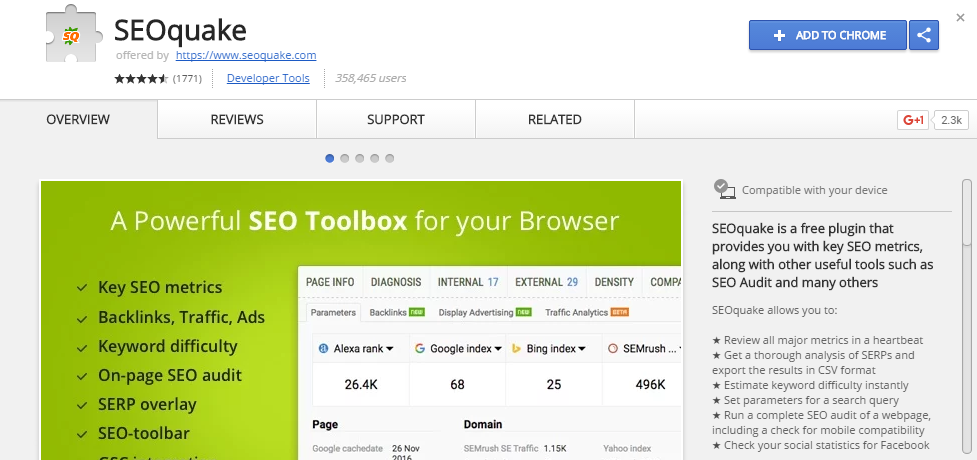 SEOquake is one of the most widely used extensions for viewing a website's information and competitor analysis. Whenever you carry out a Google search, you will see SEOquake results with each link. This feature also provides relevant website statistics as well.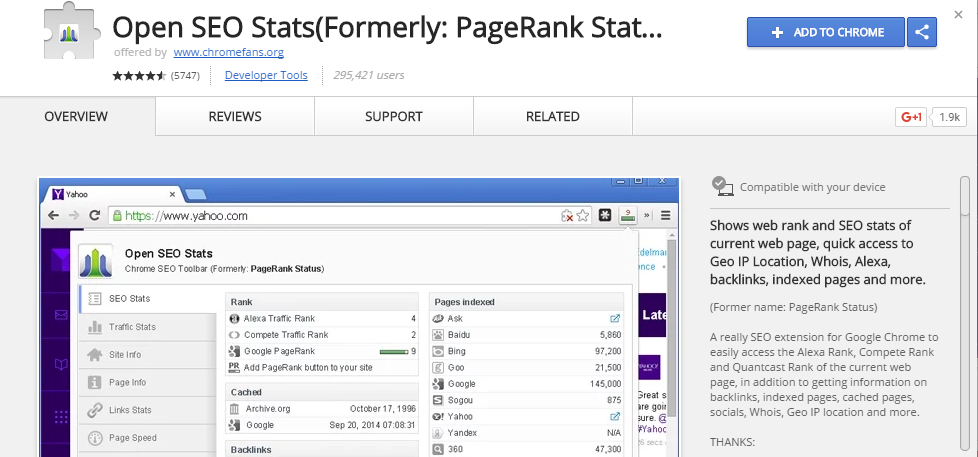 This extension is ideal for viewing detailed SEO data about any web page. You can get the page info, website's information, traffic stats, SEO related performance statistics, page speed and much more.
There is no way you can skip this extension if you want an in-depth competitor analysis for a website.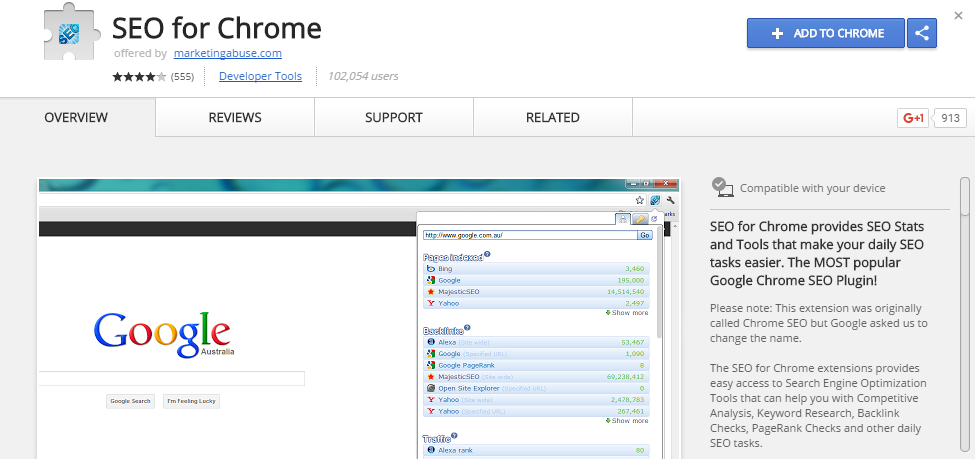 SEO For Chrome helps you find details like backlinks, search engine results, indexed pages, ranking reports and Google PageRank.

Linkio is the best way to plan, track, automate, and report on link building campaigns. Linkio's AI uses predictive analytics to guide your anchor text strategy,  enabling you to move from start to impact – fast
Conclusion
SEO trends are quickly evolving, and the search algorithms are being updated on very regular basis. In this competitive environment, you need proper tools to align your search engine optimization strategy to the latest demands of both the users and the search engines.  The above mentioned free and paid SEO tools will greatly facilitate the process of developing and implementing changes in the SEO strategy for your website.  These tools are the result of years of experience of both SEO experts and developers who keep the all versions of the tools updated with the changing trends.
Whether you are starting your own website or working for a client, you should begin with the free SEO tools and then move on to paid SEO tools for better analytics and keyword research.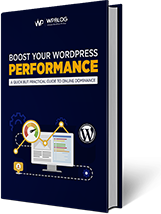 Create Faster WordPress Websites!
Free eBook on WordPress Performance right in your inbox.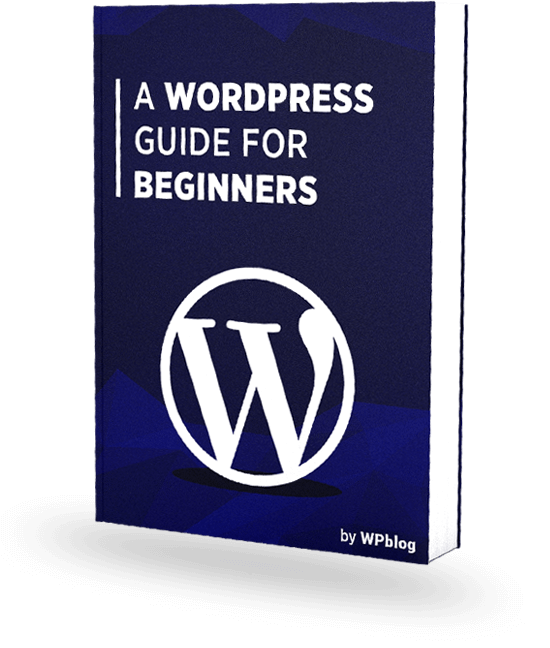 Create Faster WordPress Websites!
Free eBook on WordPress Performance right in your inbox.