The Ultimate Guide to WordPress Multisite – Setup and Best Practices
— February 18, 2019
•

10

Minutes Read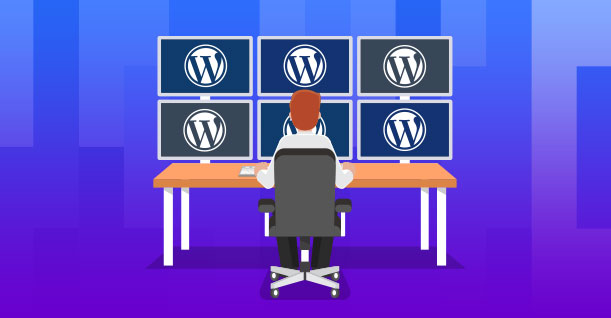 Disclaimer: WPblog is a part of Cloudways, a Managed WordPressHosting service, but any assumptions or analysis made on this property belong solely to their writers.
As of March 2018, WordPress had officially powered 30% of the web. WordPress, being the only CMS that offers a simple enough environment to set up and run a website, is on a continuous rise. Regardless of all the hacking incidents over the years, people are moving their websites on to WordPress.
One of the main reasons behind this migration of websites to WordPress is a feature that lets users manage multiple websites from a single platform. That feature is called WordPress multisite.
In this article I will be taking you through the following topics:
What is WordPress Multisite
Difference Between WordPress and WordPress Multisite
When to Use WPMU
When Not To Use WordPress Multisite
Setup/Enabling WordPress Multisite
WordPress Multisite Best Practices
Let's begin!
What is WordPress Multisite?
In 2010 an advanced algorithm was introduced within WordPress that allowed users to create more than 1000 sites from one WordPress installation. The great thing about WordPress multisite is that the admin panel is almost exactly the same as a normal WordPress installation. This means you can manage content, design, and functionality of every WordPress website you own from a single dashboard.
In a nutshell, a single WordPress server manages all your WordPress websites. This keeps you from logging in different WordPress websites to manage a particular website.
WordPress multisite is particularly popular among agencies that handle a wide range of WordPress websites. It makes it easier and quicker for agencies to manage a plethora of WordPress websites from a single dashboard. We will discuss further why you would and would not need a WordPress multisite.
Difference Between WordPress and WordPress Multisite?
While both the WordPress installation are the same, there some slight differences between the two. There are three major distinctions between a normal WordPress installation and a WordPress Multisite:
Admin Screens
Multisite Files
Database
Admin Screens
As soon as you install WordPress multisite, you will see a few screens added to your admin panel. These screens are useful for when you have to manage your multisite network. The screenshot below shows the admin screen after you have installed WordPress multisite.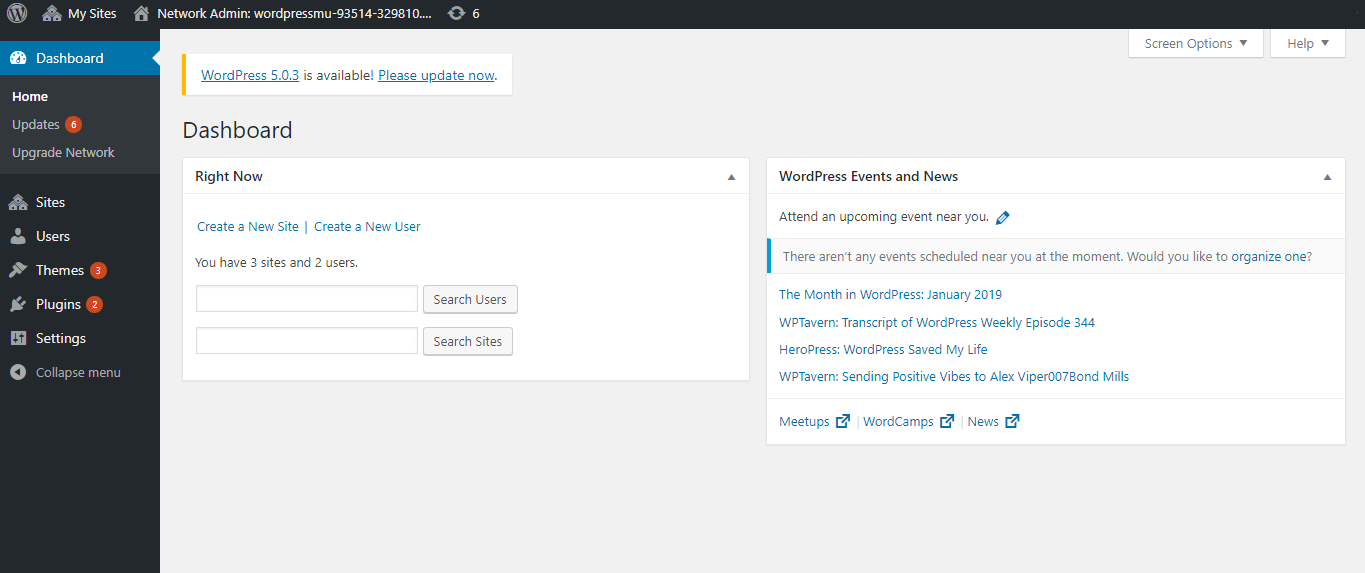 This admin screen or the dashboard is only accessible to the Super Admin, the one who Manages the WordPress multisite network. This screen lets the super admin to install plugins and themes and manage different websites in the network.
Other admins can access their own WordPress websites but can undertake limited operations. For example, site admins can activate or deactivate plugins on their website but cannot add or delete them.
Multisite Files
Two WordPress files are different in the WordPress multisite:
wp-config.php
wp-uploads
The wp-config.php file contains some extra lines that activate WordPress multisite. These lines also indicate how the multisite network is operating.
The wp-uploads folder will contain subfolders of all the WordPress sites in the multisite network. The websites are added and sorted according to the site's numerical ID and its name. Any update made to that site is uploaded on that site's folder.
These files are folders are managed by WordPress itself so you don't have to worry about it.
WordPress Database
The WordPress multisite database is different from a normal WordPress database. The database of a standard WordPress contains 11 tables for storing your sites content and other data.
In a multisite database, 9 of these 11 tables are duplicated for each site you add to the network. So if you have a lot of websites in your multisite network, you will have a lot of tables in your database.
When to Use WordPress Multisite
WordPress multisite may seem exciting but it's not for everyone. Here are some of the best use cases of a multisite network.
Education
An educational institute might have a number of websites running under a single network. A perfect example is a university that has a portal which facilitates its faculty. Faculty members can upload syllabuses, grades, and attendance of students on that portal. Then there is a portal which is dedicated to students. Students can see their results, calendar, syllabus, and other necessary resources. Another web entity could be the official website of the university.
All of these are owned by the university and can be run effectively through a WordPress multisite network.
Media
Media outlets have a lot of content that they share through different websites. They can use WordPress multisite for their news channels, sports websites, and regional websites. These websites can be managed easily through a multisite network.
BBC currently operates on a WordPress multisite network. The British news outlet has a separate website for each of its programs and is managed through a WordPress multisite.
Agencies
As mentioned above in the article, WordPress multisite is very popular among agencies. Usually, agencies have multiple subsites running under their name. All of those websites can be managed through a single multisite network.
Hotels
Hotels with branches all over the world create regional specific websites with content that caters to people of that particular area. These regional websites offer localized information while the main website is for hospitality, features and other generic information.
Just like a university, hotel management can create two different portals, one for internal management and the other for external management. The internal management can keep a record of data like housekeeping, staff roster, and WordPress training while the external management can keep a record of a number of guests, services, etc.
When Not to Use WordPress Multisite
So far, we have discussed what exactly is WordPress multisite, how is it different for a standard WordPress and when should we use it. Now let's take a look at why you shouldn't be using WordPress multisite.
You Don't Plan on To Create More Than One WordPress Website
So far we have made it clear that WordPress multisite is for users who manage multiple WordPress websites. So if you're working with just one site, you don't need a multisite network.
Websites in Your Network Want to be Hosted on Different Hosting Providers
Even if you are managing multiple websites in your network, but if they are hosted on different providers, you can't run WordPress multisite. This is one of the drawbacks of a multisite network. It creates an environment which is similar to a shared server. So if your clients' websites are hosted on different providers, multisite is not for you.
Websites in your multisite network would need a separate, more secure database
Suppose you have ecommerce websites in your network that is sensitive about its customers' information. Credit card numbers, home addresses, telephone numbers are all examples of data that need added security.
These websites would need a separate database with more security which is not possible in a WordPress multisite network.
Your hosting provider is not suitable for WordPress multisite
Later in this article, we will discuss how a good hosting provider is essential to run a WordPress multisite. So if your hosting provider is not reputable or has high downtimes, then you should either switch to a better web host or shouldn't use WordPress multisite.
Site administrators in your network want control over websites
As mentioned earlier in the article, the super admin has the majority of the control over all the websites in the multisite network. The right to add or remove plugins is with the super admin so the site owners can only activate or deactivate plugins on their respective sites.
If the site owners demand more control over their sites, then you should move them to separate WordPress installations and not use a multisite network.
Some More Reasons Why WordPress Multisite is Not For You
You'll need to move your sites to another server (which can be done but is more easier than for a standard site, and can be avoided completely if all you need are separate domains).
You don't have access to the files on your server for editing.
Each site will need its own IP address.
Setup/Enabling WordPress Multisite
Setting up WordPress multisite is not a difficult task. There are just a few steps that you need to complete before you have a multisite network at your disposal.
Later in this article, I will discuss how important it is to have a powerful hosting solution to manage your WordPress multisite. Cloudways is one such hosting provider that offers a separate application if you want to launch a multisite network. You can try its WordPress multisite hosting for seamless and user-friendly management of your websites from a single dashboard.
Here is how you set up WordPress multisite through Cloudways.
If you're not using Cloudways, then you need to sign up to a 3-day free trial. Once you have signed up, you must log in to the Cloudways platform from where you launch your server and application.
Once you have logged in to your platform, you must launch a new server to setup WordPress multisite.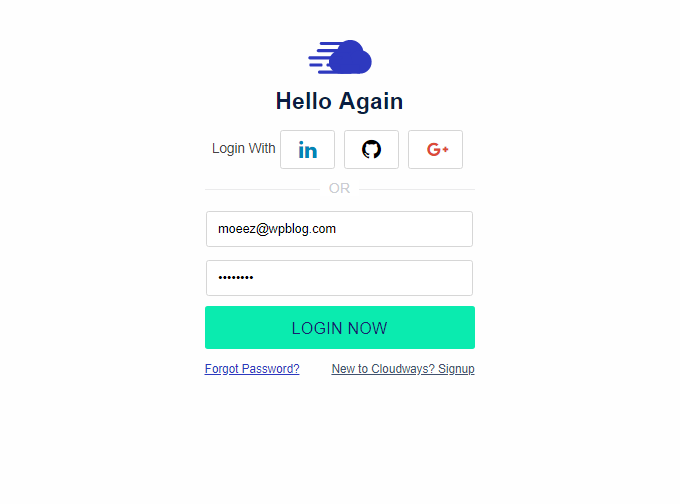 To launch a new server, click on Add Server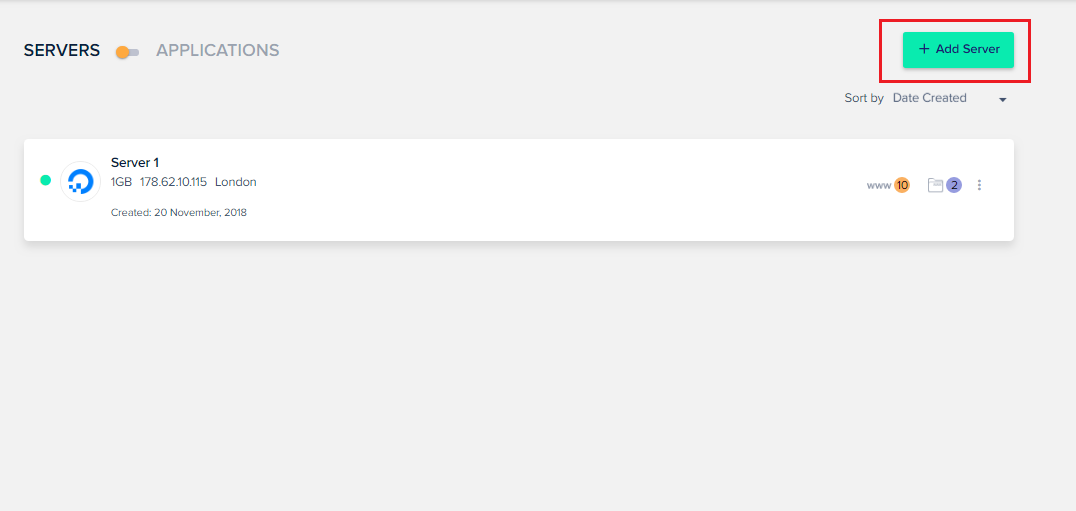 Then, you will have to select your Application, Server Size, and your Server Location.
From the Application drop-down, select the Multisite version.

Once you have selected Multisite Version, you will be asked to name your Application and Server and also to select your Project. From the Project drop-down select WordPress.

After you have named your application and server, you will be able to select your server size and server location.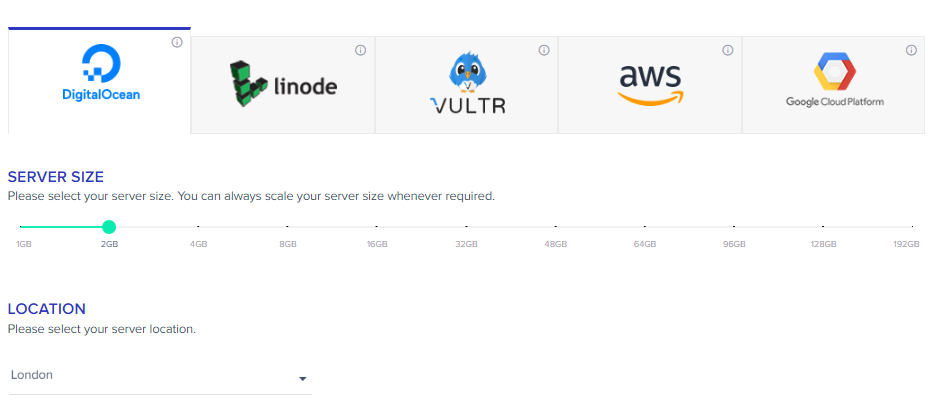 After you have launched your new server to set up WordPress multisite, you will have to wait while it is made ready for you to use.

Once your server is launched, navigate to Applications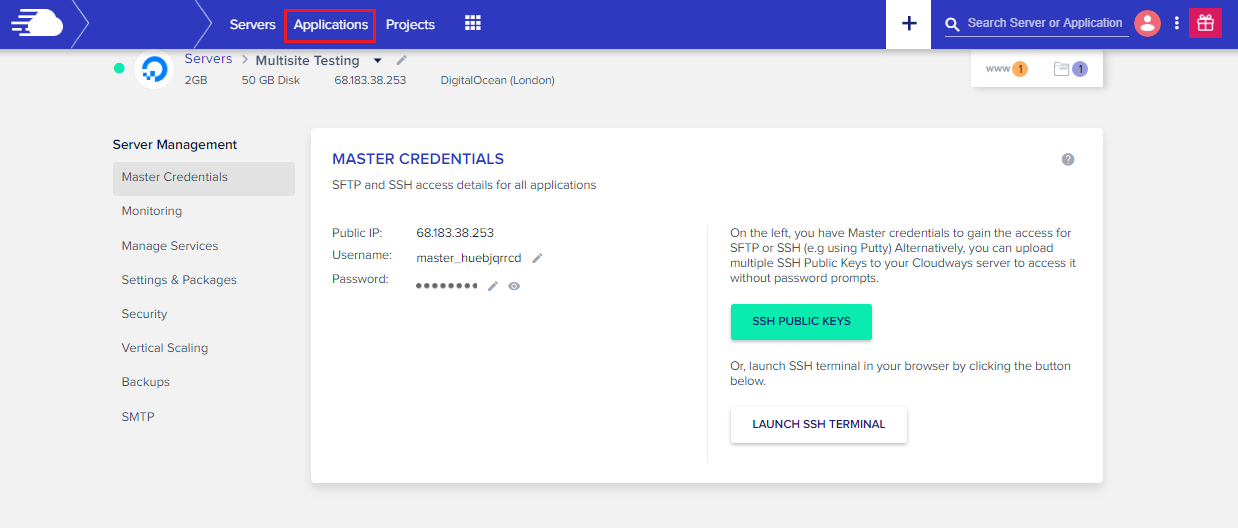 And find the Application that you just launched to set up WordPress multisite. If you have a lot of applications you might have to scroll down a bit.
Select the application and find the admin credentials to your WordPress website.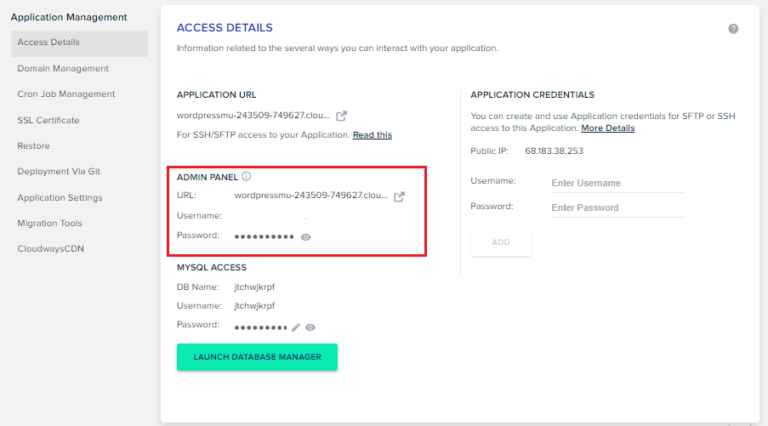 On your WordPress dashboard, navigate to Tools → Network Setup
Once you click on network setup, you will be asked to deactivate all your plugins.
Return to network setup after deactivating all your plugins and you will see a new page. On this page, you choose between sub domains and sub directories along with network title and email address.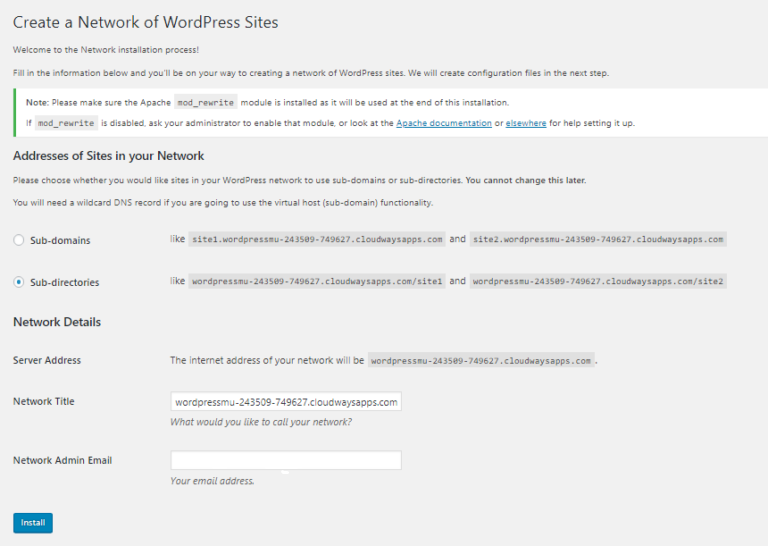 Note: You will not be able to alter these settings later so be very sure when you are setting them.
Click install to install the multisite network. Once it is installed, you would need to enable the network to finish set up WordPress Multisite Network.
To enable the network you would need to enter the following code in their respective files. To access those files you need a FTP client like Filezilla.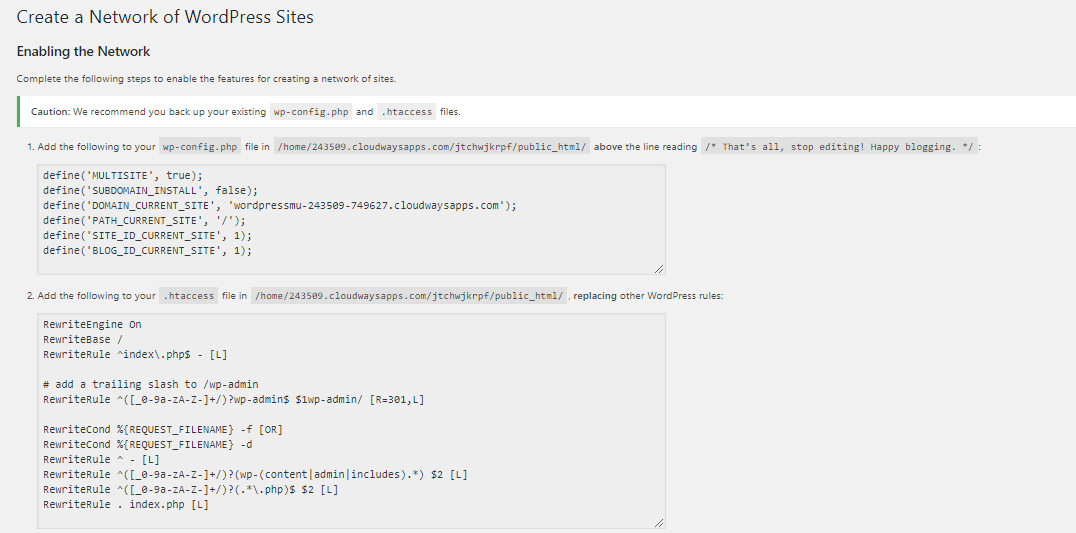 After you have followed the steps, your WordPress multisite network will be enabled. To use the network you will have to login to your WordPress again.
How to Add Websites to Your WordPress Multisite Network
From your WordPress admin panel, navigate to "My Sites" → "Network Admin" → "Sites"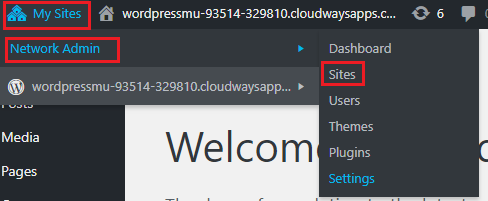 Click on Add New and enter your new website's information that you want to add in your multisite network and click Add Site.
Through this process, you can also view all your current websites in your WordPress multisite network.
WordPress Multisite Best Practices
Once you have installed a WordPress multisite network, there are some best practices you must follow. These best practices are essential if you want your multisite network to function smoothly.
Use Only Fast And Reliable Hosting
Earlier in the article, we mentioned that if you don't have a reliable hosting provider, you shouldn't use WordPress multisite. Not every WordPress hosting provider has the capability to run a multisite network. Cheaper hosting solutions tend to have a significant and more frequent downtime. Because you will be having a large number of visits most of the time, you need a hosting provider that is powerful enough to withstand server load.

In a WordPress multisite network, you are not only managing multiple websites but also multiple databases. These databases need rock-solid security and without a reputable WordPress hosting, that is not possible. A good hosting provider ensures security and round the clock protection of your server, website, and data.
Cloudways is a popular managed hosting provider with unmatchable uptime and impenetrable security. It offers one-click WordPress multisite installation on the following infrastructures:
Amazon Web Services
Google Cloud Platform
Digital Ocean
Vultr
Linode
So if, after reading this section, you are thinking about migrating to a reliable hosting service, consider Cloudways, and use this discount code, WPB25, to get a 25$ free credit and GET STARTED ON A FREE TRIAL. You are also provided with a free WP migration plugin to take care of the migration process.
Take Regular Backups
Managing a single WordPress website is a lot simpler than controlling a number of websites in a multisite network. For example, the frequency of backups for a single site can be around 3 to 4 times a week but for a multisite network, it shouldn't be less than once a day. Your network is critical because it contains a database of a number of websites.
Keep Your Plugins and Themes Updated
In recent times we have seen WordPress at the center of security vulnerabilities and attacks. One of the main reasons behind this was outdated themes and plugins. With a multisite network, it is even more crucial to update your themes and plugins because they are being used on multiple websites. An outdated plugin is a security threat to not just one WordPress website but to the entire WordPress multisite network.
Use WordPress Multisite Compatible Plugins
There are a lot of plugins that are essential for a WordPress website, but before using them on your multisite network, make sure that they are WPMU compatible. Only compatible plugins will ensure that your network runs smoothly without any interruptions.
Have Only One Admin to WPMU Network
For obvious security reasons, it is best to give WordPress multisite access to just one admin. The more the people have access to your multisite network, the more security threat there is.
Secure your WordPress Multisite Login With Brute Force Protection
Working with WordPress means your website is always a target for malware and brute force attacks. Make sure that you have a protected WordPress login against brute force attacks because a single breach can compromise all of the websites in the network.
Wrapping It Up
WordPress multisite is a popular WordPress feature that has not only made managing multiple websites easier, but it is also easy to set up. It is even easier when you set up WordPress multisite on a WordPress managed cloud hosting solution like Cloudways.
If you any questions regarding WordPress multisite feel free to leave a comment.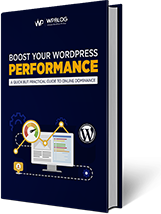 Create Faster WordPress Websites!
Free eBook on WordPress Performance right in your inbox.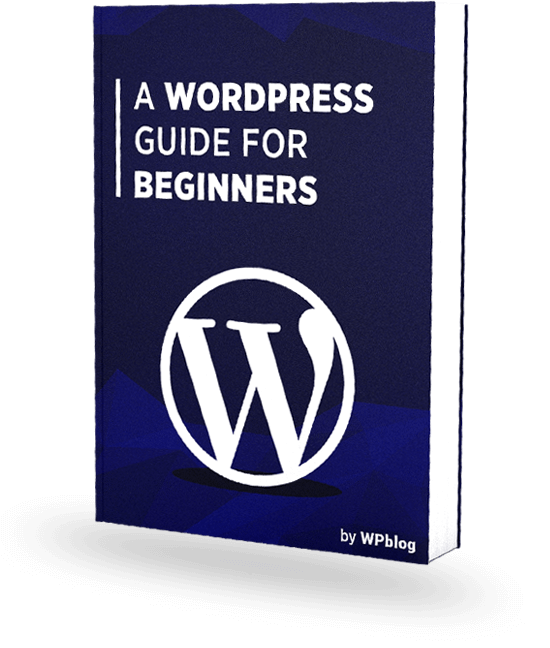 Create Faster WordPress Websites!
Free eBook on WordPress Performance right in your inbox.