Ytravel Blog's Success Story – Caroline Makepeace Talks About Her Blogging Success
— December 29, 2018
•

8

Minutes Read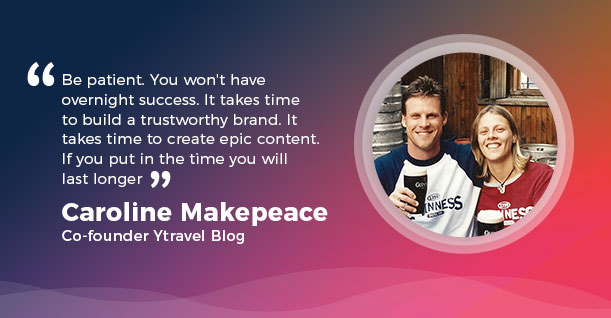 One big misconception about blogging is that "it's easy". Most people start their blogs because they think it's easy money. Just start a blog, throw in some content that will generate traffic and you will have cash flowing in. Right? Wrong!
Blogging is much more than just creating content and driving traffic. It takes a lot of patience, persistence, and passion if you want to succeed at blogging. This is why, out of the hundreds of blogs that are started every day, only a handful achieve their full potential.
We found one such blog that has achieved massive success over the years. Ytravel blog is a travel blog that is run by Craig and Caroline Makepeace. They share their traveling experiences on their blog which is not only good storytelling but is also helpful for people who are interested in traveling.
Their success inspired us to reach out to them and ask how they have managed to achieve what they did. We thank Caroline Makepeace for taking her precious time out to answer our questions.
Let's hear it from her!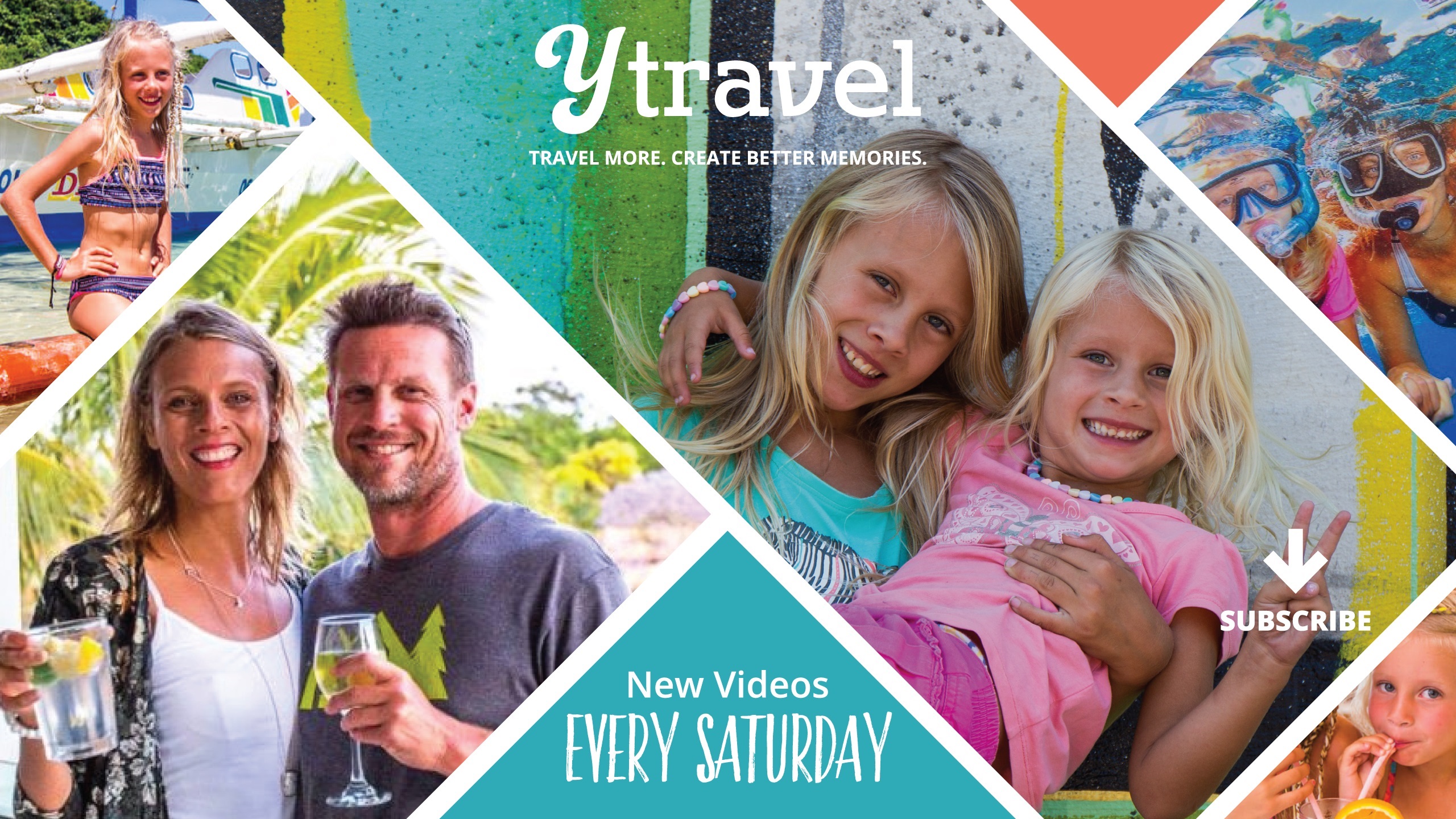 Why Blogging? What's your story and inspiration? Could you describe the initial process of setting up your blog?
I was an elementary school teacher, and Craig worked in construction. These jobs helped us to live and work in other countries. I was never passionate about teaching and once I hit 30 and ran out of options for working holiday visas in other countries, we started looking for something of our own that could still give us the travel lifestyle we loved. We attempted a wide variety of things that only ended in disaster.
One day I happened to stumble upon travel blogs and a fire was lit inside me. I realized they were writing about my life for the past 10 years so I could do the same. I loved keeping a journal when traveling and writing to friends back home to share our adventures, and Craig liked taking photos of our travels, so starting a travel blog seemed like a good fit for us. Turns out it sure was. I also understood very well the transformative power of travel. So my thinking was if I could help people travel more, I'd help more people experience joy, which in turn would help create a better world. So it was a small part I could play in helping the world become a better place for all.
I can barely remember the initial process for setting up our blog. We spent a lot of time figuring out our vision and mission and ensuring our content spoke to this. We somehow worked out how to start a blog through WordPress and began creating content. We then created a Facebook community around it with the intention to make it like the hostel couch – warm, friendly, helpful and conversational. I also began doing a lot of guest posting which helped us immediately build our brand wide and deep!
Why did you choose traveling to be your niche? What made you fall in love with traveling?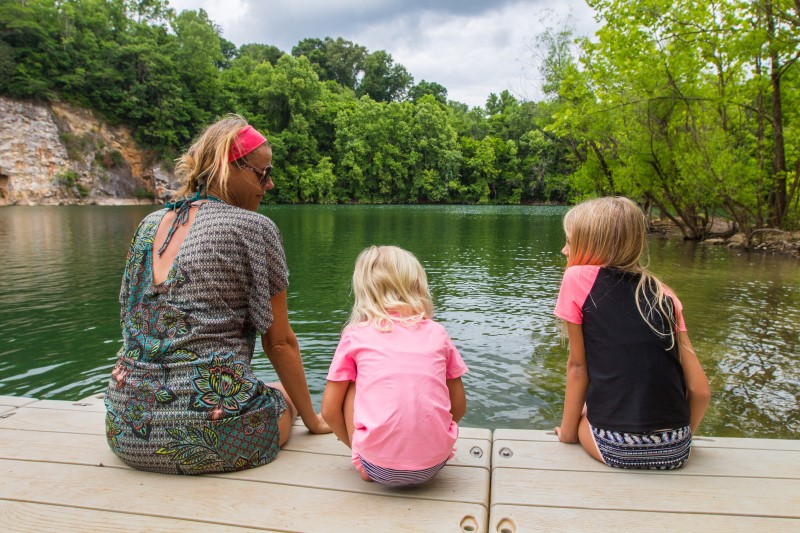 Traveling was the only niche that made sense to me since I had been traveling for many years. I first started traveling when I was 21 straight after graduating from University. I loved the freedom and adventure of travel. I was hooked on living outside my comfort zone and discovering more about myself and the world around me. It was something I knew I wanted to do forever. So a travel blog was perfect for me: I was passionate about it, I had years of experience, and I loved helping people travel more and create better memories.
Which travel blogger was your inspiration when you first started? Who do you look up to?
Travel Blogging was only quite new when I started so there wasn't a lot of travel blogs around and not many of us knew what we were doing. The first blog I discovered that made me see I could do something similar was Nomadic Matt. Planet D has always been a big inspiration to me as has Wandering Earl. I also get tons of inspiration and advice from Camels and Chocolate, Expert Vagabond, Everything Everywhere, Crazy Family Adventure, and 365 Atlanta Traveler.
What is your recipe for success? What three strategies have proved to be the most fruitful?
1. Walking our talk – I've been traveling since 97. I've made it a full-time lifestyle as a solo traveler, couples traveler, and now family traveler. I've also done working holidays, expat travel, digital nomad, long-term travel, and short trips. I live and breathe it and so have strong authority and expertise.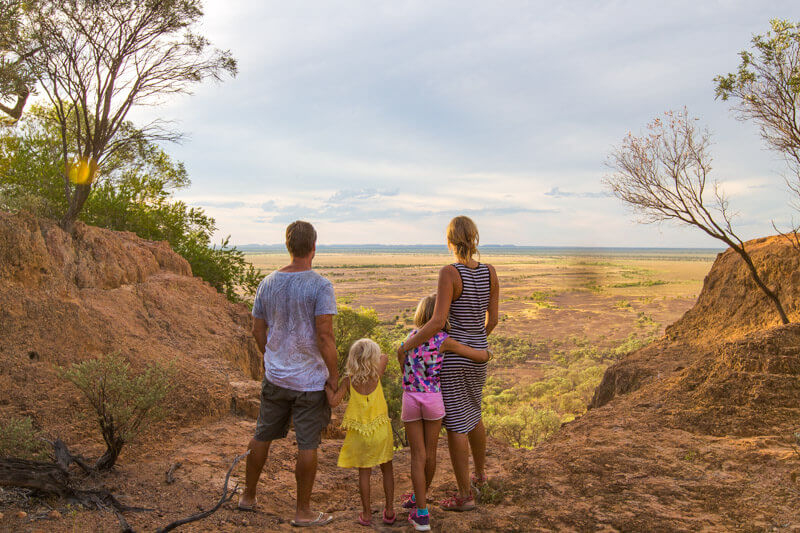 2. Providing epic content that's shareable. We write with the intention of inspiring but empowering people to do the same. Our posts are very in-depth and offer a lot of useful information. We have become a trusted resource for travel
3. Becoming an expert on a region. We road tripped around Australia for 18 months so was able to provide a lot of content on Australia. This elevated our expertise on this topic and helped us dominate the Australia travel landscape. It helps your content rank better on Google search as well. We are now replicating that with an indefinite road trip around the US. We can definitely see a similar impact occurring!
What challenges you have faced and how did you overcome them?
Our biggest challenge is time. We travel full time with our two daughters while managing and growing a full-time travel blog and social media channels + homeschooling our girls. It can be very intense.
We have to be very careful with our time. We don't spend it on anything that does not help us grow or earn an income. ROI is something we consider highly. We're now in a position where we can outsource a lot of tasks or pay for premium tools that help us leverage our growth. We started with one tool at a time in the beginning – what we could afford that would give us the biggest ROI.
We also are good at layering – I tend to look at this as a new form of multitasking. Instead of doing multiple things at once, you take one action to give you multiple results. So if we are exploring a region, we're spending time together as a family and pursuing our travel interests. At the same time, we are taking photographs and gathering information to later produce content for the travel blog. We're usually incorporating outdoor experiences like hiking, kayaking etc so we are taking care of our body at the same time. And we are using it as an opportunity for our girls to learn. Most of our homeschooling happens as a result of our in the moment life and travel experiences.
What tips would you give to people who wish to launch their travel blogs in 2018?
It's a very saturated market so how can you be unique and different. It's become so easy for travel bloggers to write SEO content that is mostly them gathering tips from other bloggers or doing desktop research, which creates a stale, cold and boring experience for the reader. I see little content coming from genuine travel experiences.
Walk your talk and you'll have longevity and a loyal following. People will come to you as they'll know you have experienced it and so can give them the best advice.
Be patient. You won't have overnight success. It takes time to build a trustworthy brand. It takes time to create epic content. If you put in the time you will last longer. It took us at least three years before we started to have success, but that was three years of building our authority and creating great content. It was a solid foundation that has helped us now earn multiple six figures each year and have incredible growth. You can gain more tips in this post
How do you monetize your travel blog? What are some monetization strategies you use?
We have a variety of income streams, which help bring us consistent and secure income. It's important to diversify as blogging income can be seasonal and reliant on outside factors like social media algorithms and Google search results.
Our top three income streams are advertising, affiliate income, and brand partnerships/ DMO marketing campaigns.
We also sometimes make money through freelance writing, speaking, sponsored posts, social media promotions, and our own products.
You must have traveled to a lot of countries. Which one's your favorite?
This is such a difficult question to answer as each country offers something so unique. We loved our adventures backpacking through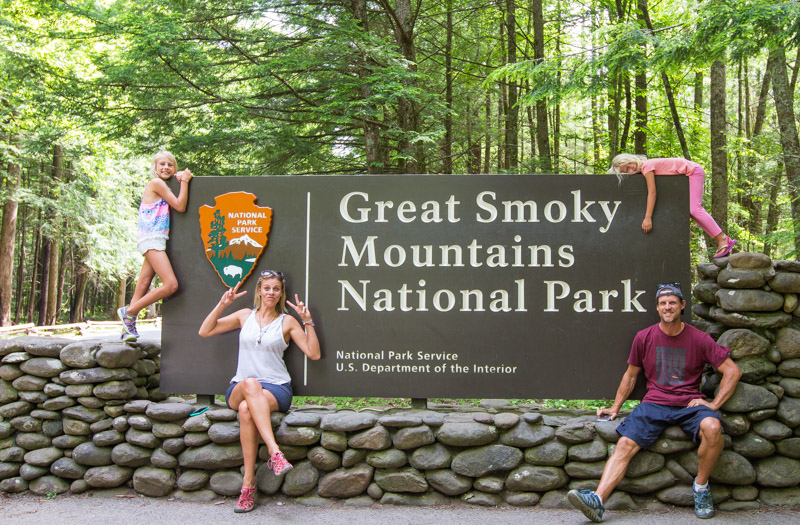 Africa – I don't think you can beat that for raw adventure. We love the USA for its diversity, Australia for its exoticness, natural beauty, and wide open spaces, and South East Asia for its exoticness and chilled way of living.
Your Passion is Your Niche
I have seen a lot of bloggers in the community discussing the perfect niche for a blog. They are often looking for a niche that is lucrative and often come to the conclusion that entertainment or politics is the perfect blogging niche. These bloggers are destined for failure because the niche they have selected is not something they are passionate about.
Caroline and Craig picked traveling to be their blogging niche because it is something that they love. They eat, drink and sleep traveling. As Caroline mentioned that traveling was something she was doing since she was 21. Nothing else made sense to her except the fact that traveling is what she will blog about.
Furthermore, Caroline had no past blogging experience so everything was new to her. But because she was pursuing her passion, she found her way around everything, including WordPress. She, along with Craig, figured out how to launch a blog on WordPress on their own and started their blogging journey.
Shareable Content Works Everytime
The key to Ytravel blog's success is shareable content. Now, this type of content requires a lot of hard work.  Caroline mentioned that she has been traveling since 1996. She has traveled alone, with friends and with family so she has developed a strong rapport as a full-time traveler. She is not some blogger who feeds off of other's experiences. She has an ample amount of experience to create shareable content herself.
Apart from being authentic, shareable content is also accurate. To ensure that their content's accuracy, Caroline and Craig have been trying to become experts in specific regions. For example, they road tripped around Australia for several months so that they know every inch about the region. This way, no one can challenge their content on any grounds.
Multitasking Goes a Long Way
Caroline and Craig's success story is even more inspirational because they manage their blogs while taking care of their two kids. While traveling is a lot of fun, it's really hectic. When you are a travel blogger, you seldom travel for fun. Traveling is basically your bread and butter and you must make sure that you take down enough points to create good content out of every travel experience.
The couple mastered the art of multitasking to make their blog run like a well-oiled machine. As a blogger of any kind, you must multitask to make sure that you are always ahead of the curve. Since blogging is an extremely competitive landscape, you cannot afford the ineffective utilization of time.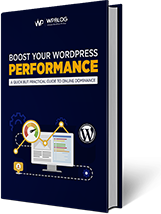 Create Faster WordPress Websites!
Free eBook on WordPress Performance right in your inbox.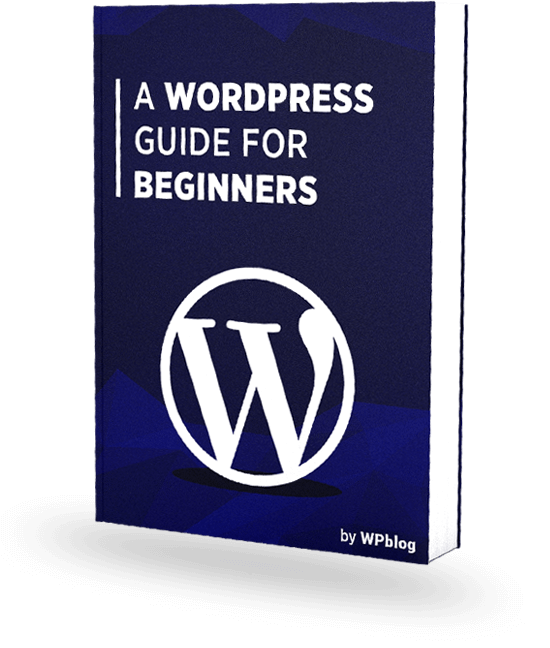 Create Faster WordPress Websites!
Free eBook on WordPress Performance right in your inbox.