7 Blogging Mistakes That Stop the Money Flow
— June 11, 2018
•

6

Minutes Read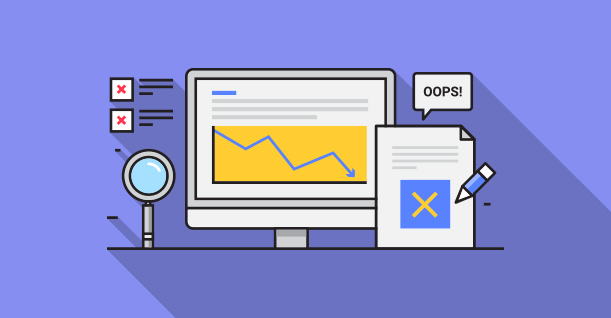 "Anyone could become a blogger. You know how to write? Well, all you need to do is pick your niche and start sharing your wisdom and creativity with the world."
That's one of the greatest misconceptions about blogging. Sure; anyone could do it… if they are good enough and if they are informed enough. Unfortunately, we constantly see blogs that are not good enough. There are thousands of blogs that show up and disappear without getting noticed and all these bloggers started with great enthusiasm. They all planned to make their blogs popular, and they surely planned to make money with the content they published. Unfortunately, that didn't happen.
It is a misconception that starting a blog and making successful is easy, it isn't. There's a lot of input that's involved altogether.
At the end of the day, most bloggers end up wondering: "Why isn't my blog making any money? How do you write a great blog post? Is there a special recipe I can follow?"
Well, the best place to start is with your own content. If it's not successful enough, you must identify its flaws. When you fix those flaws, you'll be on your way to a more effective and meaningful blog.
We can help with that! We'll list the seven most common mistakes that stop WordPress blogs from making money.
1. Focusing Solely on Words
"Why do people like blogs? – Because they like to read high-quality content."
That's a fact, but it may lead to a misconception. Bloggers often think that words are the most important part of the post. In fact, they assume that every other aspect of blogging is irrelevant.
Although the importance of formatting and the inclusion of visual content is constantly being emphasized, we still keep seeing endless texts full of typos and boring sites.
These tools can help you in editing:
l Grammarly.com – a nice option for editing all common typos.
l BestEssays.com.au – here you can hire professional editors.
l WhiteSmoke.com – an online grammar checker better than Word's Spelling feature.
l HemingwayApp.com – a software that analyzes the complexity of reading your content.
However, boring design and posts focused solely on text won't make you money. Stanford researchers found that 46% of the users judged a website's trustworthiness on the basis of its appearance.
Take a look at any post at Neil Patel's blog. This guy has content; that's for sure. You may find the long-form posts great or annoying, but the mere fact is that the blog is getting tons of traffic. You'll notice one thing: each post is accompanied with tons of graphics and screenshots.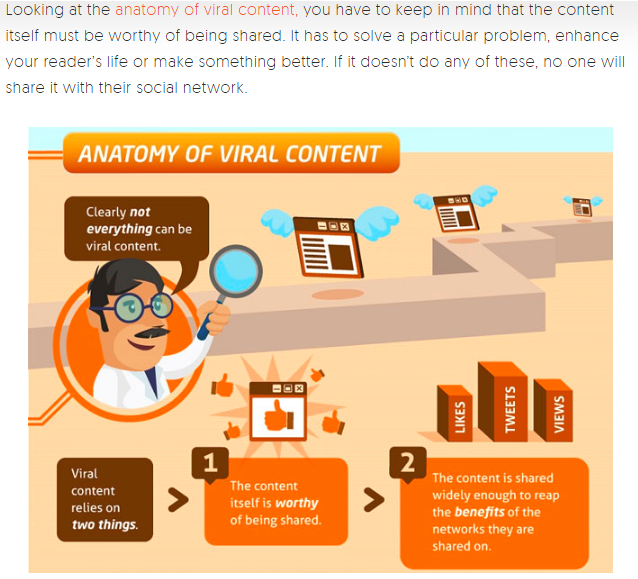 So how do you fix this mistake?
l Include more visual elements in your posts. Use graphs, charts, screenshots, graphics, high-resolution photographs, videos, infographics… anything that would break up the text in a nice way.
2. Keeping It Short
"People don't have time to read long blog posts."
That's a common misunderstanding among bloggers, especially among beginners. The true fact is: people don't have time to read boring and useless posts.
If your post is long and it's neither boring nor useless, the readers will most definitely appreciate it. You may try an experiment: type a keyword in Google and check out the first results. Let's go with "how to promote a blog."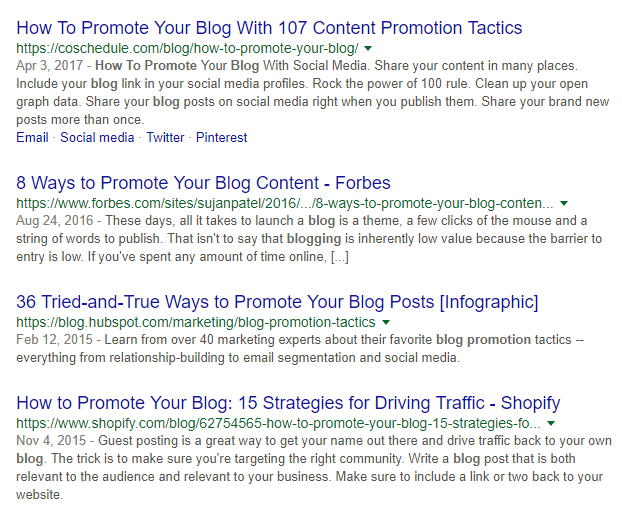 The first result we get is How to Promote Your Blog With 107 Content Promotion Tactics. The headline itself tells you it's a huge post: 107 tactics. Even the infographic that appears in the top results is pretty long.
What does this tell us? Google prefers long-form posts because they give in-depth answers to people's queries. If you're interested in a topic, you'd prefer getting as much info as possible from a single place instead of browsing through different websites.
l You don't have to make all your posts long. But when a certain topic has the potential for a long-form post, write a long-form post! That's one of the best tips a blogger should follow.
3. Failing to Focus on Email Lists
How will your blog make money? You will probably sell something, such as eBooks or souvenirs when your blog becomes successful. Wait But Why is doing it. You'll also promote different products and services, just like many bloggers do. But how do you get to the point of popularity?
Unfortunately, many bloggers ignore the importance of email lists. They assume that it's an outdated strategy because no one really reads promotional messages nowadays. They believe that social media promotion is more than enough. They are wrong!
l Email messages allow you to deliver a personalized message to people who actually care about your content.
l This campaign gives you an opportunity to make your followers feel special through unique discounts and offers.
l Use pop-ups to invite people to sign up for your email list. Offer something in return – an eBook, for example, is a great trigger.
4. Including Too Many Categories
With WordPress, it's really easy to keep adding new categories to your site. Some bloggers take this opportunity way too seriously, so they create endless lists of categories, making it impossible for you to find the one you're looking for.

.
Having too many categories may work for a loyal visitor used to the categorization of your site. For a new visitor who came to explore, however, they will be really confusing.
Here's a simple solution for you:
l Create only a few major categories. If there's need for more detailed organizing, you may create subcategories, too.
l Add an effective search bar, which will allow your visitors to find the content they need without the need to browse through categories.
5. Using a Free Theme
Since you're just starting and there's an opportunity to set up a WordPress site for free, you might think that a free theme is your best option at this moment. It's not if you want this blog to make you some money.
The theme is the foundation of the entire site. It's not just about appearance; it's about functionality as well.
l Invest in a high-quality premium theme! Choose the one that fits your site's needs, as well as the preferences of your target audience.
6. Ignoring the Comment Section
If we're talking about making money from a WordPress blog, you clearly want to trigger activity. So you write this great post and it really does get shares, likes, and comments. At this point, many bloggers make a serious mistake: they fail to moderate the comments. We end up reading promotional text from other bloggers, and tons of spamming we don't want to see. That discourages a real reader to comment since they see how ineffective the comment section is.
Let's check a BuzzSumo post. In the comment section, you'll see only a few comments, but no spam. When the author decided it was enough, they closed the comment section. That's called moderating.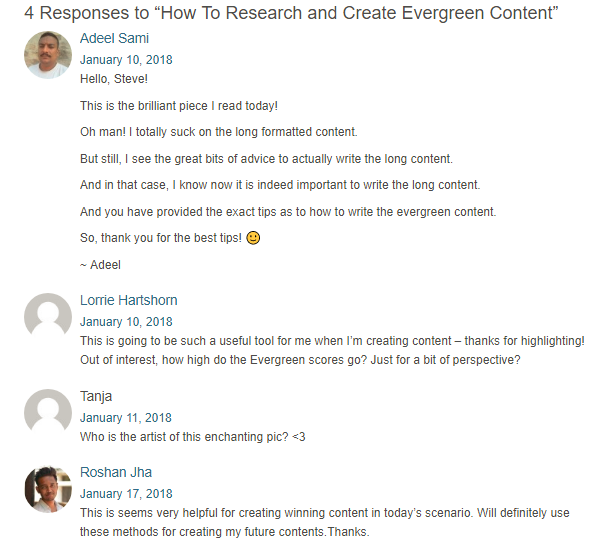 l Observe the comment section and delete all irrelevant or annoying messages.
l Don't delete criticism. Respond to it!
l Take part in the discussion. Answer questions!
7. Not Applying a WordPress Security Plugin
WordPress is really easy to use. You can set up a site in minutes and start blogging away. If you plan on building a high-quality blog that would bring you money, however, that won't be enough. Not implementing security measures means you're putting your site at risk of being hacked or taken down. Now that won't be pleasant, would it?
Hackers can install malicious software, steal user information and passwords, and even spread malware among your users.
When you start blogging because you love writing and have tons of great things to share with your audience, you don't pay much attention to technicalities. You assume that standard WordPress features are enough. That's your biggest mistake.
Even if you don't have advanced technical skills, there's a simple way to fix this mistake: security plugins. They won't make your website 100% secure, but they will surely protect you up to a certain extent.
Here's a list of few WordPress security plugins you can try:
l BulletProof (malware scanner, login security, firewall, anti-spam, and more)
l WordFence (firewall and malware scan)
l All In One WP Security & Firewall (user account, registration and login security, file system security, database security, blacklist functionality, and file backup)
l Sucuri Security (malware scanner, auditing, and security hardening)
It's important to avoid common mistakes since people are getting tired of encountering them. Avoiding mistakes means you're doing things right, and that means that your blog will start making money, sooner or later.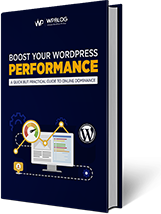 Create Faster WordPress Websites!
Free eBook on WordPress Performance right in your inbox.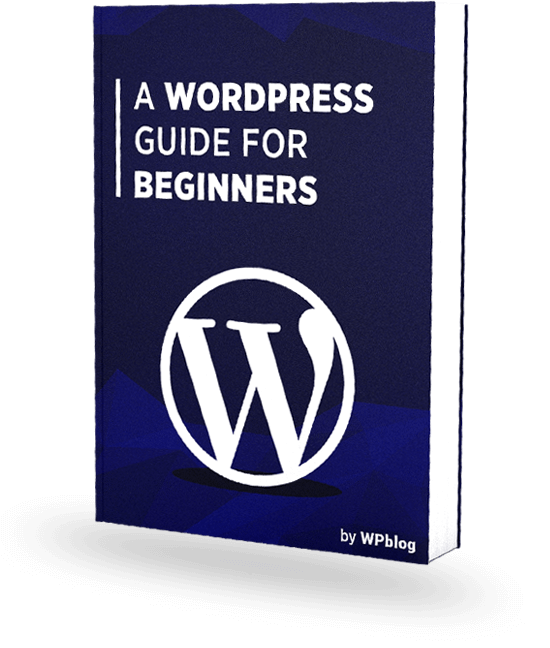 Create Faster WordPress Websites!
Free eBook on WordPress Performance right in your inbox.