Divi Theme The Ultimate Drag and Drop Builder for WordPress
— December 21, 2016
•

7

Minutes Read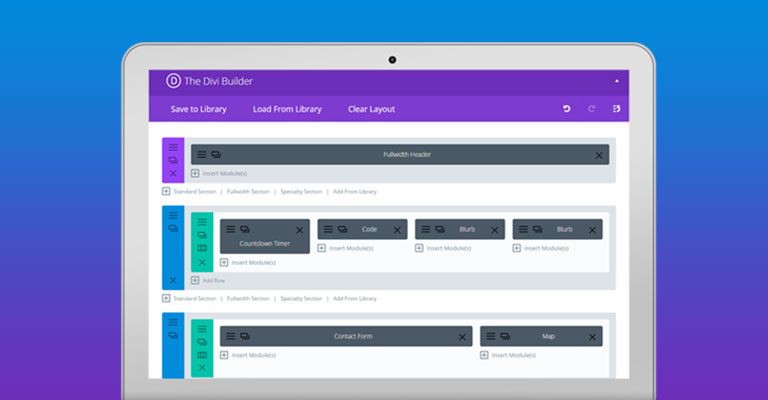 In this article, I will be introducing one of the best WordPress theme, Divi Theme by Elegant Themes. Elegant Themes is a famous WordPress development company, who has delivered some of the market's top themes and plugins. Today, I will be sharing one of their best products with you. With over 8 years of experience and 87 different themes in their portfolio, Elegant Themes have done a fantastic job designing the "Divi Theme." Divi is available as a part of their pack of 87 themes.
Why Choose Divi Theme for Your WordPress Website
It contains superb graphics and an incredibly powerful page builder. Due to its increased popularity, we can observe that Elegant themes have more than 400K happy customers using this theme. If you are looking for a stylish WordPress theme with a powerful page builder, Divi theme is the most perfect solution for you.
Here are a few points to help you decide why you should choose Divi as your preferred theme. With Divi, you get,
Click and Type feature to add content to your website
Draggable width and customization at its best
Draggable elements for nearly every feature you want
Best Drag and Drop theme builder
Translated into 32 different languages
Let's have an in-depth look at the features of Divi theme.
Divi Theme Features
As it is one of the Elegant Theme's best product, so they regularly update it while features are added continuously. So without any further Ado, here are some of the features discussed in detail:
With Real Time Design changes you make are being applied in real time right in front of you. There is no need to refresh or save the page over and over again.
Every element is right in your access so that you can customize it and give a look according to your preference. You can create full-width websites, add custom features, update each and every detail of your site in just a few number of clicks.
Responsive Editing helps you track and preview of the changes you make on the website of your theme. You can use live previews and apply custom changes on the go without saving and testing.
Divi comes with fabulous and ready to use 20+ templates all fitting to the best of your needs. Believe me, you don't need to go through these templates before implementing them to your theme design. It will save a lot of your time.
Create and Save Your Own Layout
Well, once you have done the hard work and created your own layout, you can save the template as well for reusability. This feature saves a lot of your valuable time so the next time you need to use the same layout you can have it saved in a builder template section.
You can design as many websites with this theme as you like. This offer is not given by most premium theme sellers, as they will ask for additional licenses for every website you create.
Security Certification from Sucuri.net
Divi theme is reviewed and tested by Sucuri.net. They found no issues with this theme so we can use this theme without any security concern.
32 Language Translations Ready
Divi supports 32 languages, and RTL (Right To Left) shift support as well.
You can find elements for most feature you need to be added to your website. You can add image sliders, audio, circle counters, gallery, pricing tables, Call to Action and many other elements.
Intuitive Theme Options Panel
You can upload custom logo's, use third party scripts, adjust colors of your website easily and do a lot more.
Divi Theme Builder
Let's have a closer look at how you can use Divi theme's easy to use and powerful page builder to create an amazing website.
Theme Control Panel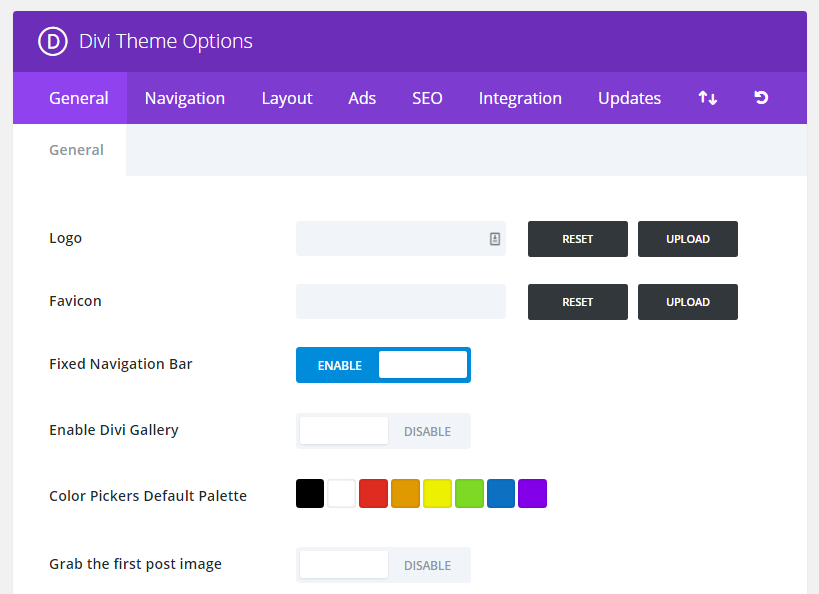 Divi recently updated the theme options panel and gave it a more pleasing look. You can do a lot of stuff right here in the control panel now. Social media integrations, Ads, and SEO settings are right in front of you now.
Drag and Drop Page Builder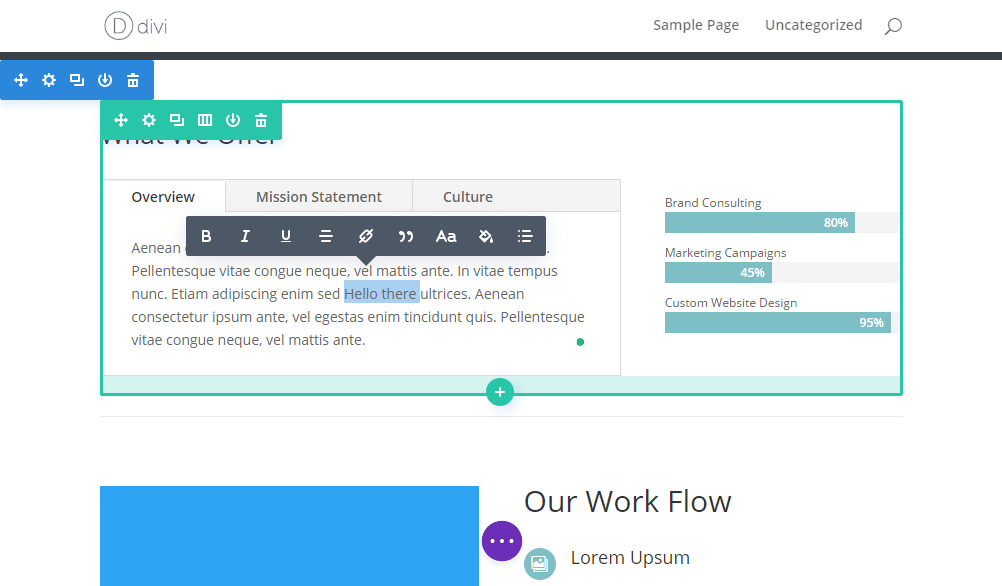 This is the feature that made Divi popular and customer's number one choice. In Divi 3.0 update, this feature is highly improved and knows that you can create custom page designs for your WordPress website via the live and graphical interface.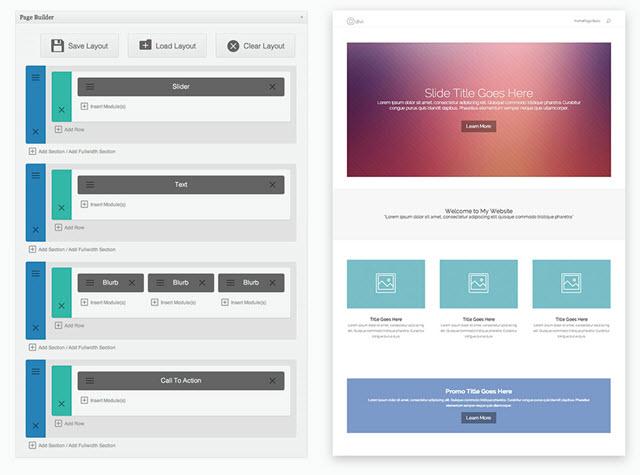 You don't have to create any back-end custom page designs to see how your website really looks. You can check this out right there with real-time preview and design feature.
Adding New Page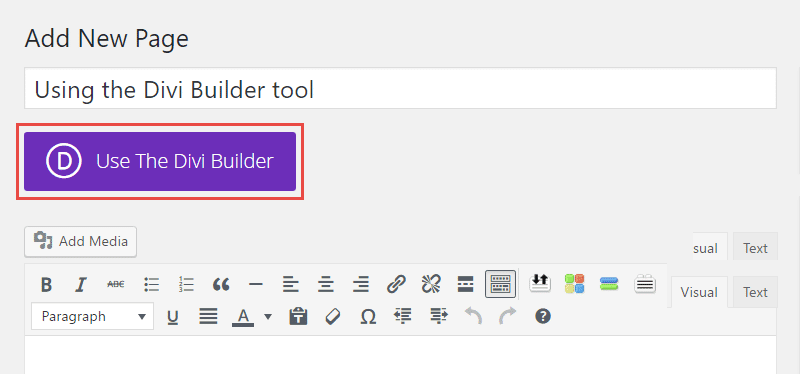 Whenever you want to use Divi theme builder to create pages, just select the option "Use The Divi Builder." You will be directed to a more graphically interactive page for meeting the designing purposes. Divi has a very strong Builder at the back end that can help you create powerful pages with every content element you wish to use on your page and post.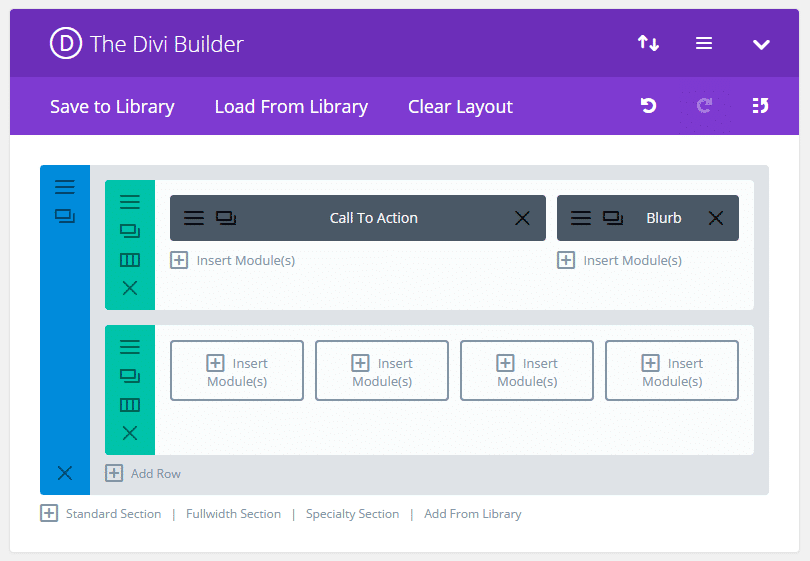 You can create custom rows and columns which are draggable for easy customization. You can see the page is filled with layouts and modules and you can customize every module according to your needs.
Front End Visual Builder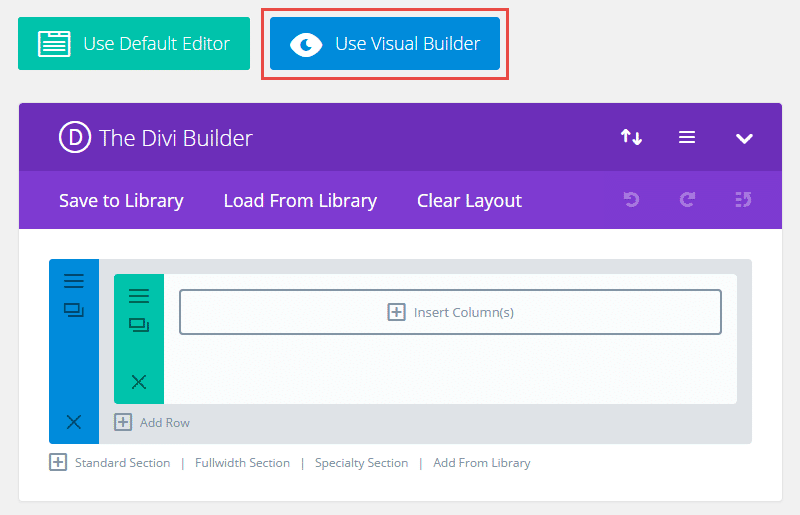 This "Use Visual Builder" option enables front end editing which lets you edit the page on the front end, and this is an easy process as it just requires clicking and typing in new content. As you launch the Visual Builder, you will realize that this is not an ordinary WordPress Page Builder.

You just click on an element and editing options are available for you right there. You can add images to the image element, update text and links without facing any issue. You can have a real-time view of the changes as well.
Click and Type Feature

As I have mentioned above that this front end editing feature makes Divi a must use a theme for your website.

You can simply click on any content on your website and start editing the text right away. This is how simply you can create websites in Divi Theme.
Divi Page Builder Modules
Divi builder is packed with amazing 40+ content modules that you will need for your website. You can check them above in the picture that all these elements are just a selection away from being used on your website.
Divi Templates and Layouts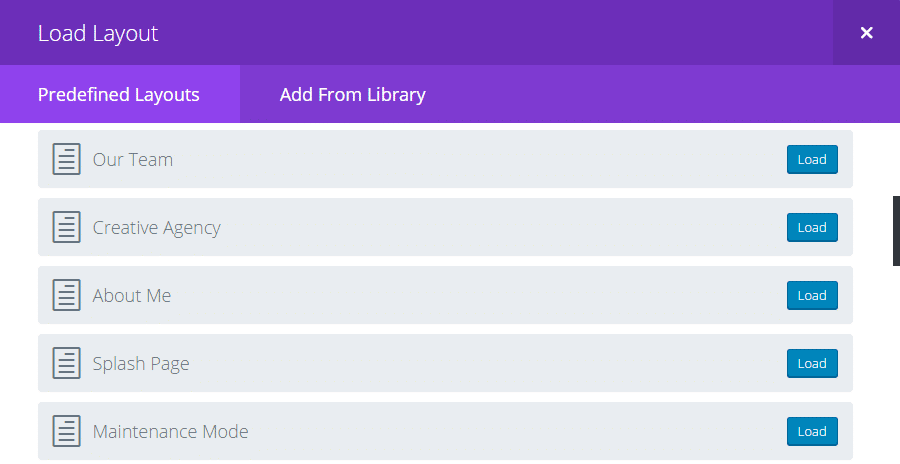 You can use from 20+ layouts that you get free with Divi. These are just one click away from being installed on your website.
Creating and Saving Your Own Template
On the other hand, if you want to create your own template you have the freedom to do that. Moreover, you can save this template for future use as well.
Right Click Context Menu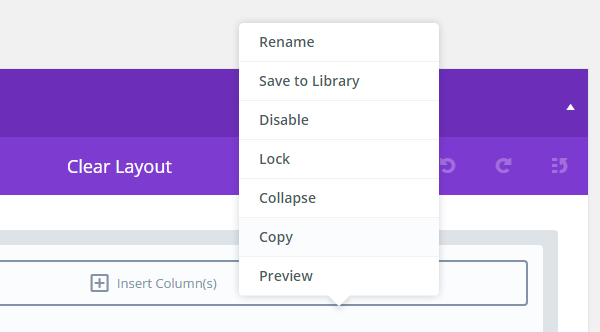 We have another useful feature inside Divi Builder, right-click context menu. This menu contains most commonly used options about the element that has been clicked with the right mouse button.

One of the prominent features of Divi theme is the number of useful modules that you can insert into your page layout. Now these builder modules are fully customizable so you can adjust them with rest of your website.
Create Reusable Content with Divi Library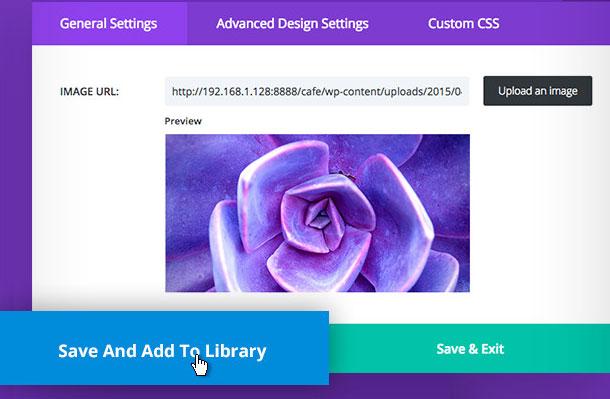 Once you design modules, sections and rows you can save them and add to the library for reusability. These saved items are real time saver once you create your website and designing more for yourself or clients.
Conclusion
With Divi, you can create an amazing website without even altering even a single line of code. This is best for a nontech business person, entrepreneur or a product seller who just wants to add the stuff and not want to dig deep in the theme. To be honest, there are only a few themes that offer so many features in a single theme. Divi considers the needs of every niche. I feel no hesitation calling it as one of the best theme available because it serves each and every purpose of building an amazing and professional website. Whether you have past experience of WordPress themes or not, you will love how simple you can design such powerful websites using Divi theme.
So that would be all folks, I hope this article helped you in understanding the importance of Divi theme and how it can help you build an amazing website.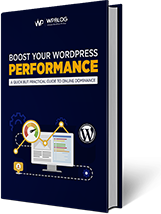 Create Faster WordPress Websites!
Free eBook on WordPress Performance right in your inbox.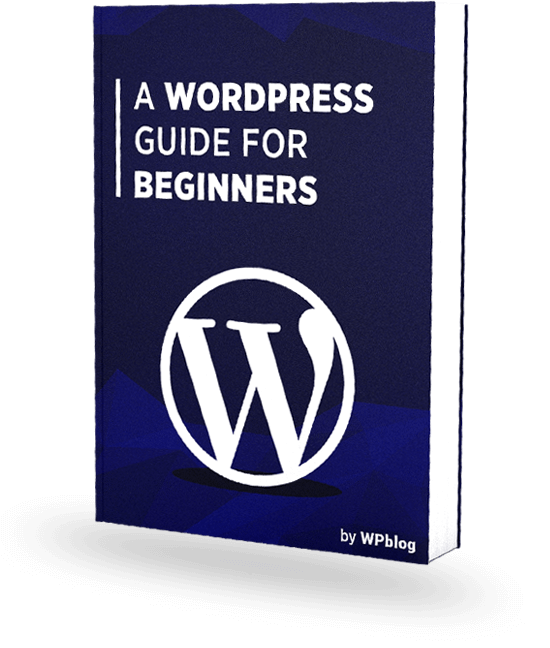 Create Faster WordPress Websites!
Free eBook on WordPress Performance right in your inbox.