9 Best Gutenberg Block Plugins You Must Download in 2019
— March 4, 2019
•

7

Minutes Read
With the announcement of Gutenberg and its beta version, WordPress has been getting mixed responses as of late. It's primarily because of the fact that there are several plugins and themes that still aren't compatible with this latest update. Therefore, users are finding it a bit difficult to discover WordPress Gutenberg Block plugins.
As if that wasn't enough, even while navigating through compatible plugins, there is a lot that users would have to keep in mind. And, if you're a new user in this domain, things can be a bit difficult for you.
If you're sailing in the same boat, don't fret. This post mainly focuses on the best plugin options that you can consider for your WordPress website.
But, before that, here are a few things that you must keep in mind before deciding upon an adequate plugin:
 Number of downloads of the plugin
 Users' ratings
 Help support from the developer
 Type of blocks it offers
 Quality of blocks
And, more.
Why There Is a Need for Advanced Gutenberg Blocks?
With every significant development, it's essential to evolve with the trends not just to adopt modernization, but to provide advanced usability to your visitors. Moreover, with upgraded plugins for WordPress, you get a chance to extend the functionality of your website altogether.
With a number of customization options, you can easily tweak the appearance of your site and create a striking platform to showcase your products or services.
Furthermore, updated plugins provide you with complete control over designs.
Hence, you get to regulate how your website turns out to be.
Having said that, here is a list of top plugins that are Gutenberg compatible, and can be used for better functions.
Have a look!
Guteblock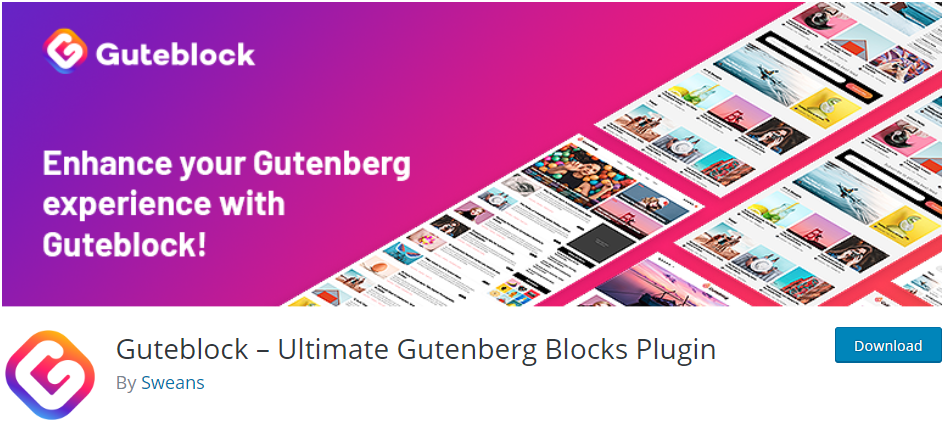 The Guteblock is a collection of 12 creative custom blocks developed by Sweans Technologies, a London-based digital marketing agency. The blocks come with unique styles and customization features, that enable you to create a perfect website or a landing page of your style. While the blocks enable a smooth page-building experience, the number of blocks is minimal.
Here are some of the notable Gutenberg blocks from the library:
• Team Members Block
• Testimonial Block
• Container Block
• Post Grid Block
• Separator Block
• Number Box Block
• Drop Cap Block
• Notification
• CTA
• Author Profile
• Sharing Icons
• Spacer and Divider Block
The list doesn't end here. With many more blocks under development, Guteblock's free version would soon enhance its collection with more than 34 blocks.
Here is the list of blocks joining the Guteblock's free version library soon:
• Accordion
• Advanced Columns
• Blockquote
• Button
• Cards
• Count Up
• Feature Grid
• Google Maps
• Custom Header
• Icon List
• Image Box
• Inline Notice
• Newsletter
• Pricing Table
• Video Box
• Video Popup
The Team also plans to launch a premium version of Guteblock in the future. The premium version would include some advanced blocks such as Quick Contact block, Amazon Affiliate Link Block, PayPal Donation Block, Stripe Payment Block, Add Event to Calendar Block, Advanced Button Block and much more.
The developers have also tailored a blog and magazine WordPress theme that fully utilizes the Gutenberg blocks, called the Guteblog. The Guteblog Pro theme offers nine different layout designs that enable to build high-quality news and magazine websites.
Qubely – Gutenberg blocks and ready elements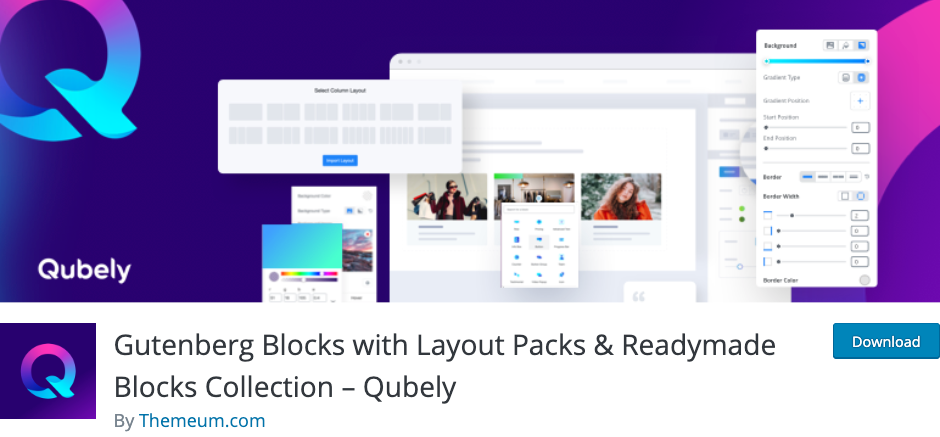 Qubely is a Gutenberg block toolkit with plenty of ready custom blocks, sections and page layout bundle to create beautiful websites. It offers a whole new experience by minimizing the limitations of the Gutenberg editor and opens up unlimited possibilities. Create any simple to complex layout on Gutenberg editor with Qubely.
Take control of Gutenberg editor with 20+ custom blocks and plenty of styling options. Some of the notable blocks are:
Row block
Button block
Testimonial block
Heading block
Counter block
Tabs block
Accordion/Toggle block
Advanced Text block
Video Popup block
Google Map block
Progress Bar block
Icon block
And many more
Qubely blocks are so powerful with unlimited customization features. Alongside blocks, you get typography control, Box-shadow, built-in animation, classic & gradient color and background, row video background & blend mode, and many more.
Ultimate Addons for Gutenberg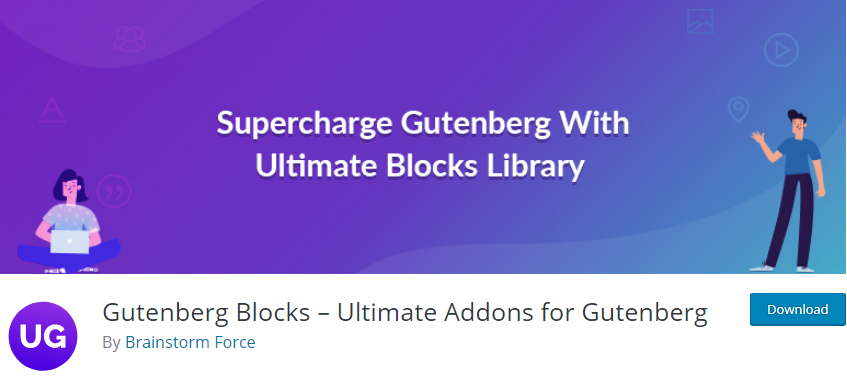 Standing tall at the first position is this plugin designed by the team of developers behind Astra theme. Hence, you can be completely sure of reliability. You can easily find a variety of reasons to use this plugin for Gutenberg WordPress.
With more than 30,000+ active installations on WordPress.org, this plugin has received several 5-star ratings from users.
As far as blocks are concerned, you'll find a variety of options as mentioned below:
Blockquote
Advanced Columns
Advanced Heading
Call to Action
Content Timeline
Google Map
Icon list
Info Box
Multi Buttons
Post Layouts
And many more…
One of the primary reasons to use this plugin would be that it has been ranked in the first position in the repository of WordPress, even above the Gutenberg plugin. Being free of cost, Ultimate Addons won't let you face any problems while using.
Get Ultimate Addon for Gutenberg
Stackable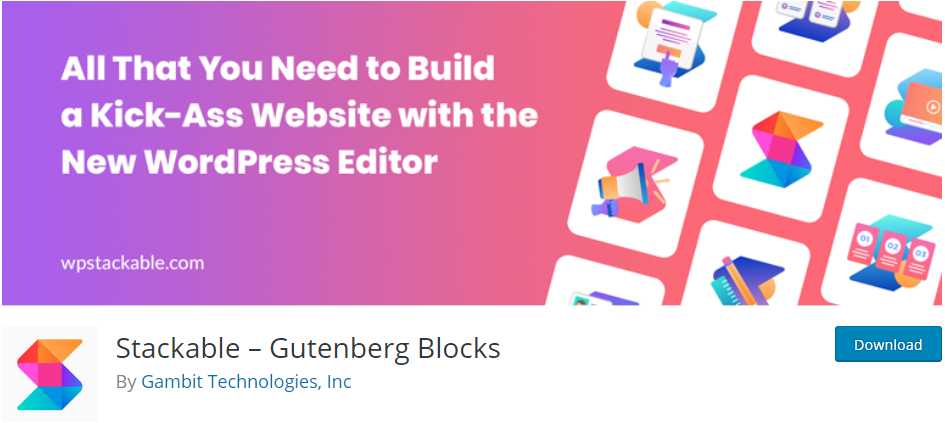 Next on the list is Stackable. It provides ready-to-use blocks for your Gutenberg editor. You can create landing pages and websites with these blocks.
Currently, Stackable has 24 blocks to offer, which includes the following blocks:
Container Block
Feature Grid Block
Feature Block
Card Block
Call to Action Block
Header Block
Video Popup Block
Notification Block
Button Block
Divider Block
Developers have also come up with a free WordPress theme, compatible enough with this plugin. Hence, the combination can be used to design an attractive website for sure.
Advanced Gutenberg by JoomUnited
Coming from the inventory of JoomUnited, Advanced Gutenberg is another blocks plugin that is capable of adding missing configuration options and blocks to your professional website.
It has a variety of options and more than the conventional 20 blocks which you can easily take control of. Some of the blocks are:
Advanced Button Block
Advanced List Block
Map Block
Tabs Block
 Contact Form Block
Counter Block
Advanced Image Block
Social links Block
Advanced Video Block
Display Image Block
And then, with this plugin, you can also create and apply custom CSS styles in paragraph blocks. It also provides the ability to create edition profiles and assign users amidst several other features.
Get Advanced Gutenberg by JoomUnited
CoBlocks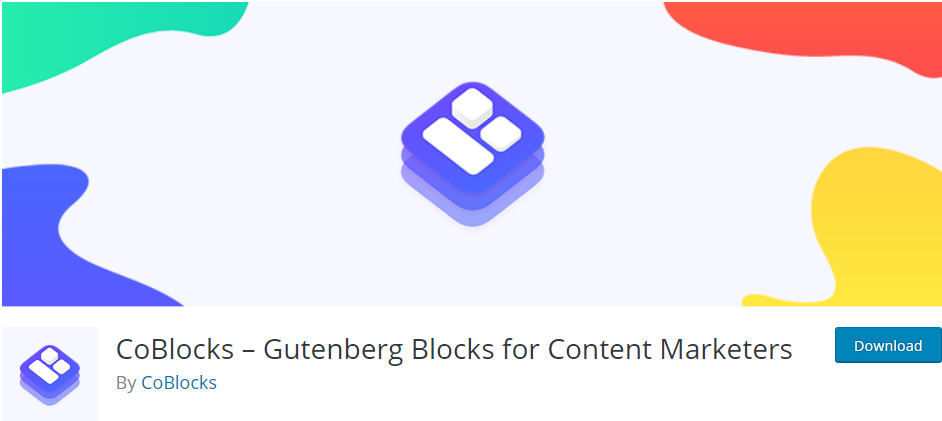 Developed by ThemeBeans, this is another free plugin that you can use to come up with good blocks for your Gutenberg editor. The list of blocks is quite huge, including the following:
Shape Divider Block
Media Card Block
Icon Block
Map Block
Accordion Block
Click to Tweet Block
Dynamic Separator Block
GitHub Gist Block
Pricing Table Block
Social Sharing Block
Furthermore, this one also comes with custom typography controls that let you design web pages with attractive typographic elements. In this control panel, you can set fonts, weights, sizes, transformations, and do a lot more than expected.
Advanced Gutenberg Blocks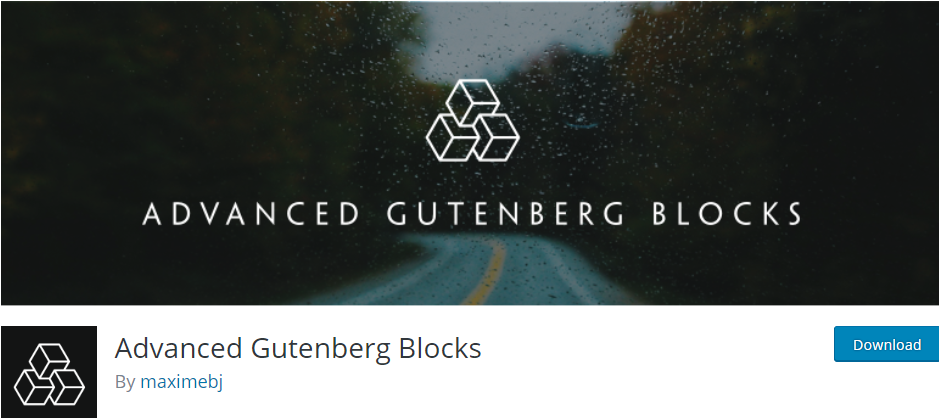 Advanced Gutenberg blocks is another considerable option when it comes to choosing a plugin compatible with the latest editor. It comprises dozens of new and useful blocks. Not just that, but this plugin also provides an option to manage these blocks adequately, too.
Advanced Gutenberg currently has:
Notice Block
Post Block
WooCommerce Product Block
WooCommerce Add to Cart Button
Website Card preview
Table of contents
Giphy Block
Code Block
You can also customize the editor experience as per your own comfort level. If you don't wish to use certain blocks, you always have an option to disable them and move on with the ones you liked.
Elementor Blocks for Gutenberg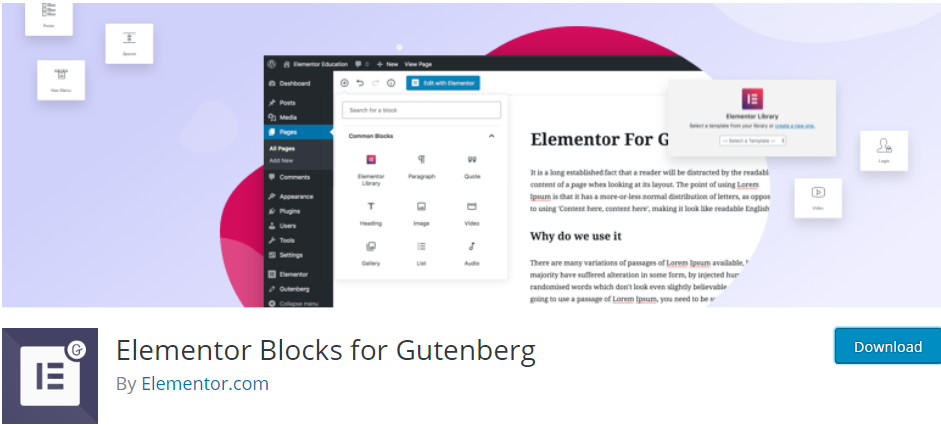 Officially designed by Elementor Page Builder, this plugin ensures smart incorporation of advanced layouts into the Gutenberg editor. Along with easy access to editing, this plugin also provides you with the freedom to add blocks and templates anywhere inside the Gutenberg.
Integrated with more than 100 pre built templates and more than 300 pre-designed blocks, Elementor makes sure that you develop an elegant website without facing any considerable troubles.
Get Elementor Blocks for Gutenberg
Ultimate Blocks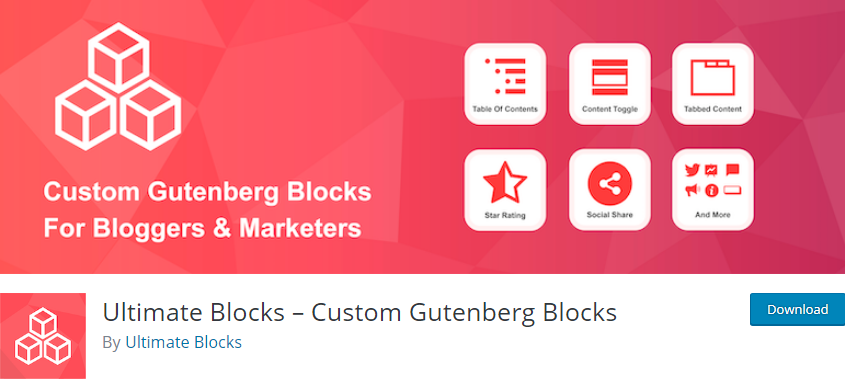 Moving further down the list, Ultimate Blocks is a plugin that consists of a collection of different Gutenberg blocks, meant for marketers and bloggers. The primary goal of this plugin is to simplify the process of creating engaging and lively content.
When talking about block types, you can count upon
Table of Contents Block
Tabbed Content Block
Call to Action Block
Content Toggle (Accordion)
Notification Box Block
 Number Box Block
 Click to Tweet Block
 Social Share Block
 Countdown Block
and much more in the list.
Otter Blocks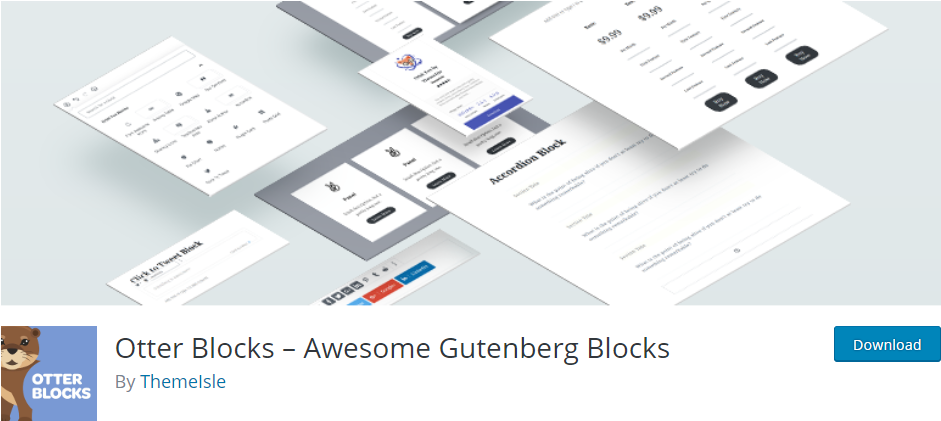 Last but not least, this one is a lightweight plugin that offers an extra number of Gutenberg blocks for your WordPress website. Whether you wish to create a post or a page for social media, blogs, e-commerce, business, or anything else; the available blocks can do the job instantly.
It consists:
Section Block
Advanced Heading Block
Button Group
Service Block
Pricing Block
Testimonial Block
About Author Block
Post Grid Block
Font Awesome Block
Plugin Card Block
Thanks to its easy and intuitive interface, every block that this plugin offers can be optimized with ease. Hence, you can flawlessly develop a website for your business.
Wrapping it Up
Considering how Gutenberg is evolving tremendously with each passing day, plugin developers would be left with no choice but to upgrade their tools from time-to-time, just to meet the necessities and expectations of their users.
While it will take some more time to have such plugins that are comprehensible compatible with the latest editor, meanwhile, you can make use of the options mentioned above. As far as our perception is concerned , the Ultimate Addons for Gutenberg is what we'd recommend for the best outcome.
However, we'd like to hear about your experience as well. If you've been using any additional plugin for Gutenberg, don't forget to let us know in the comment section.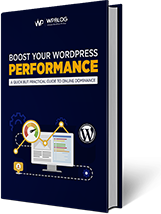 Create Faster WordPress Websites!
Free eBook on WordPress Performance right in your inbox.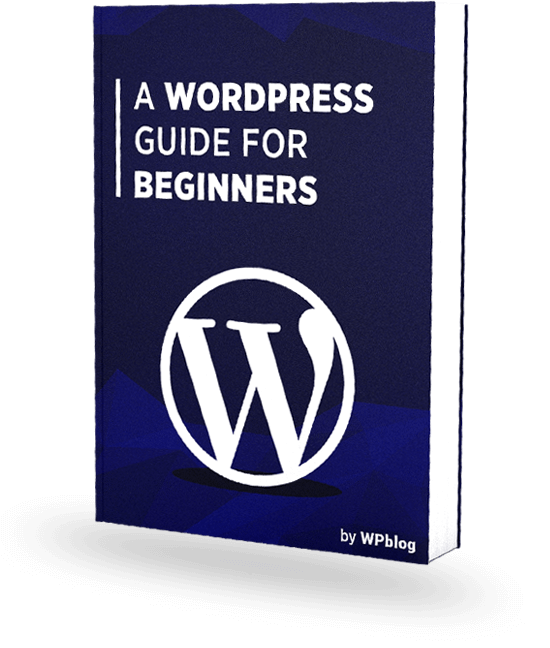 Create Faster WordPress Websites!
Free eBook on WordPress Performance right in your inbox.