Kinsta vs Flywheel: Which Cloud Hosting Deserves Your Money?
— August 28, 2019
•

13

Minutes Read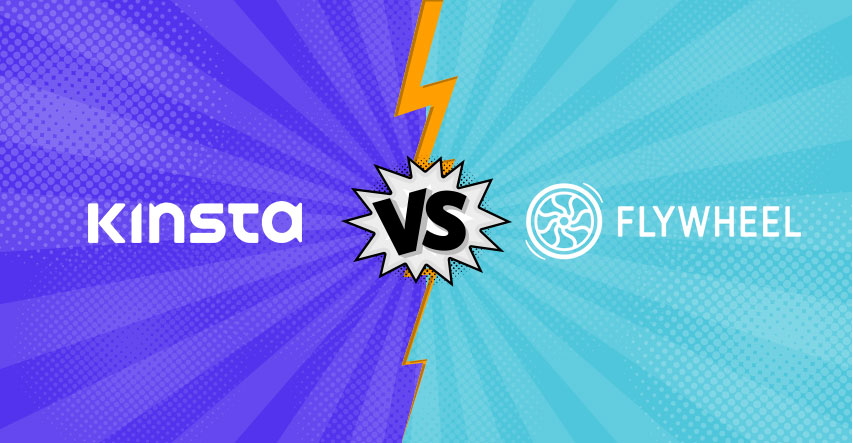 Disclaimer: WPblog is a part of Cloudways, a Managed Cloud Hosting service, but any assumptions or analysis made on this property belong solely to their writers.
In our series of head to head web hosting comparisons, here is another nail-biting contest between two of the most renowned hosting providers in the WordPress industry.
Kinsta

vs

GetFlywheel

So why did we choose to compare Kinsta & GetFlywheel?

Here are a couple of reasons why we've chosen to take these two great hosting options head to head:
Both provide managed WordPress hosting on cloud servers.
Both have a platform for managing WordPress applications
Both offer similar pricing models.
Both of them target Agencies (based on our assumption)
What's Our Testing Criteria?
Any given hosting comparison or review goes through a similar grueling method to determine whether it's good enough for our readers or not.
To begin with, I test the signup process. This is extremely important from a user's point of view because a complicated signup process can put off potential customers.
Secondly, I test them on their platform experience. Is the platform really helpful in managing WordPress? Does it have one-click features? Does it provide sufficient, useful information to the users regarding their application?
Thirdly, and most importantly, I test them on their performance. I use a blank website with no performance plugins on GTMetrix and compare their results head to head.
So let's begin!
Overview (Tl;dr)
Sign up process
Winner: Kinsta
Platform experience
Winner: Kinsta
Performance
Winner: Kinsta
Head to Head Winner
Kinsta
This was the overview of the entire comparison between Kinsta and FlyWheel. I would suggest you read the entire review for a better understanding.
Signup Process
As I mentioned, the signup process is an important step that sets the tone for a user's experience with any service. This is more important because a lot of hosting services tend to get it wrong. Either the signup process is too complicated or it ends up asking so many questions, it's off-putting.
Let's see how Kinsta fares in this department.
Kinsta
To begin with, Kinsta's website is pretty impressive with a clean and futuristic design and a prominent CTA right in the first fold. This is similar to what I experienced on Cloudways (our current hosting provider), but theirs was slightly more enticing because it said 'Get Started Free' (the trial period lasts only 3 days, so not that big of a deal).
Let's not digress, though.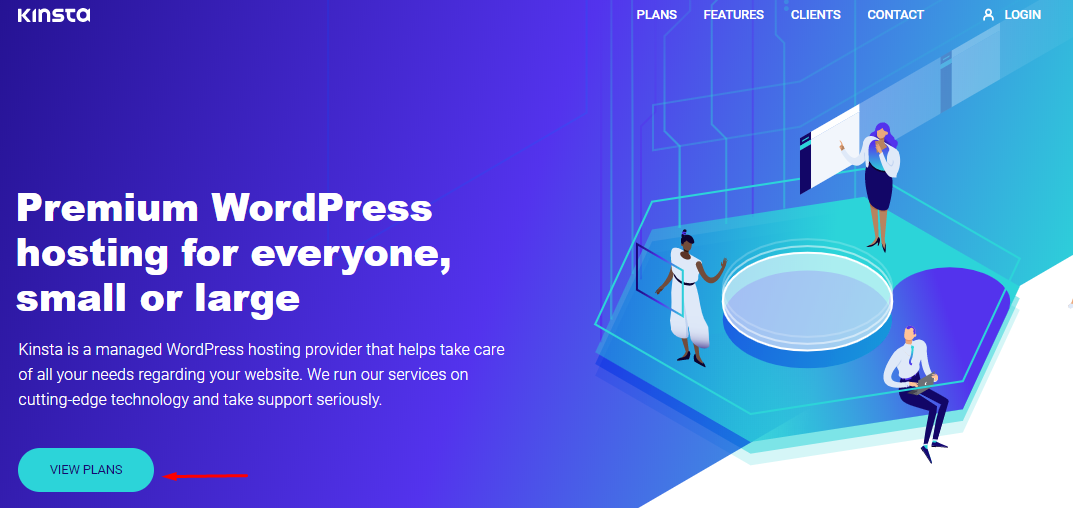 The CTA takes me to their pricing plans where I selected the $30 Starter plan.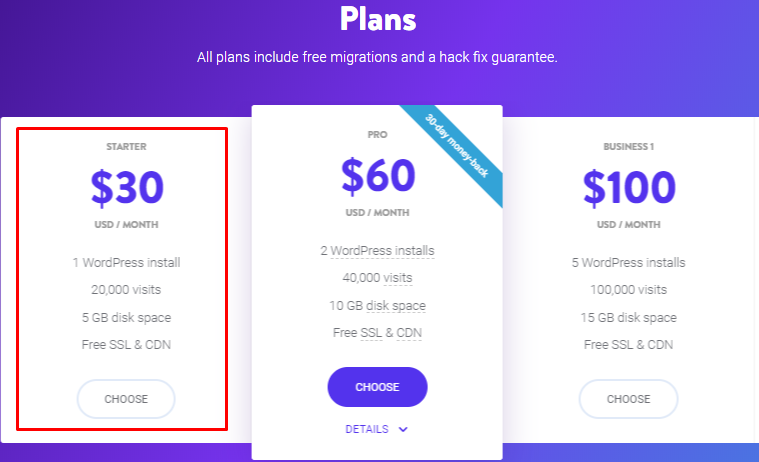 As you can see in the description, the Starter plan comes with 5GB of disk space and free SSL and CDN. It would have been great if they had mentioned the RAM they provide with this plan as well. In fact, they don't mention RAM with any of their plans which left me a little puzzled because it's managed cloud hosting, and it'd be great to know the server size that I'm getting with each plan.
But that's just my opinion.
The next step was to enter the basic information needed for my account.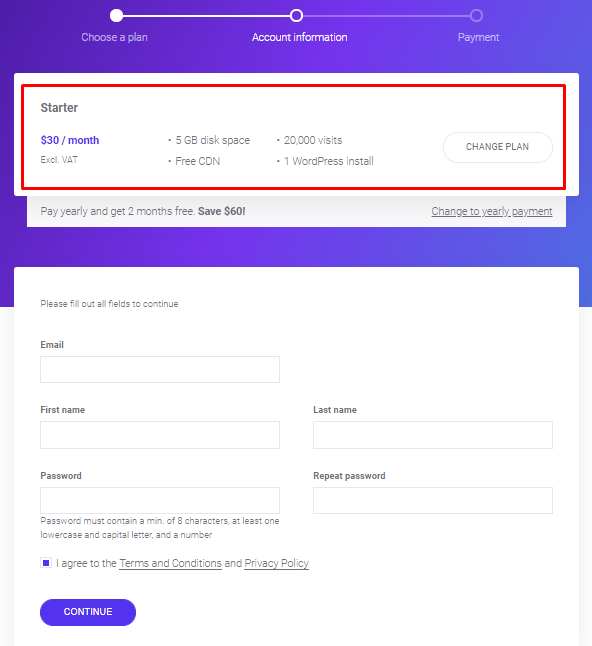 What I liked about this page was that they mentioned the details of the plan that I chose for final verification, and if I wanted to, could easily change my plan by clicking the "Change Plan" button.
After filling the basic information, I entered my billing information, and the signup process was done. It went like a breeze without any stutters. The missing RAM size information bothered me, but that was it.
GetFlywheel
Flywheel's website, on the other hand, has a delightful, almost serene look to it. The use of light colors is pleasing to the eye and makes it easier to absorb all the information. They have a SIGN UP FOR FREE button, which is always more enticing.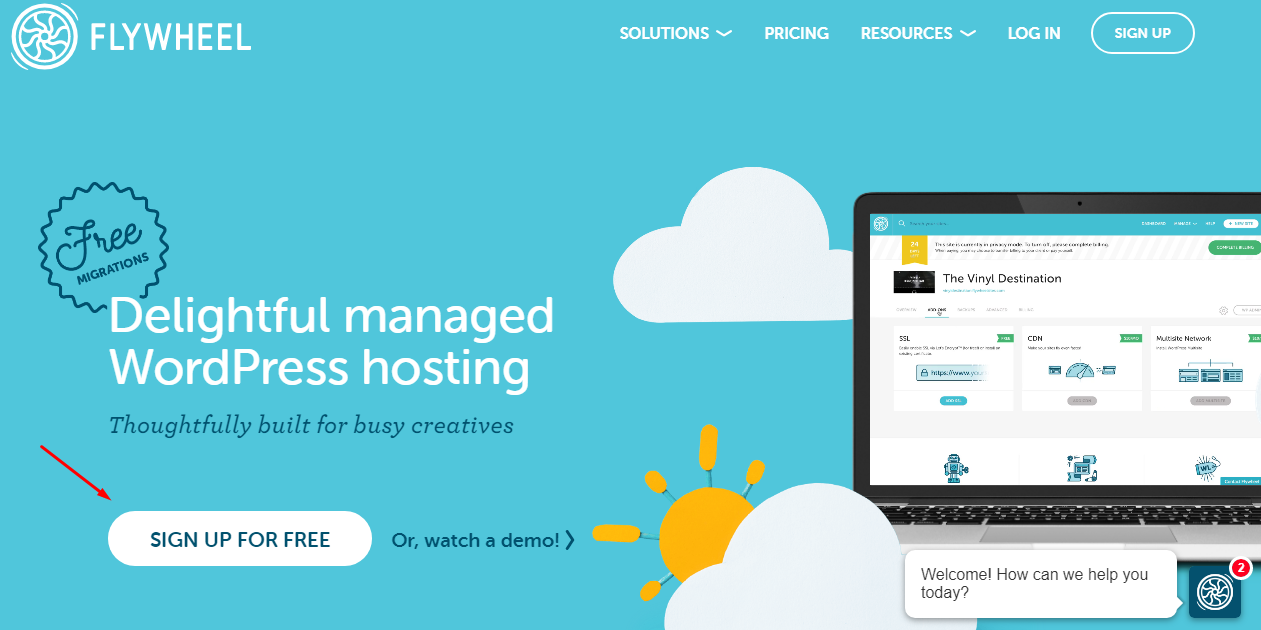 Notice the watch a demo button next to the signup button? It gives you an overview of their platform.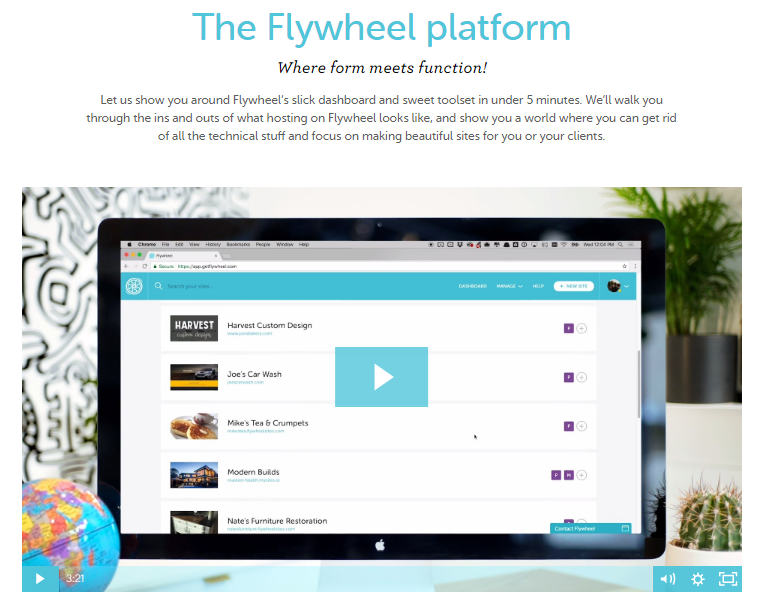 This is a great little inclusion because it gives potential customers an overview of the platform before they decide to shell their hard-earned cash.
Getting back on track, after clicking on the signup button, I was redirected to their signup form.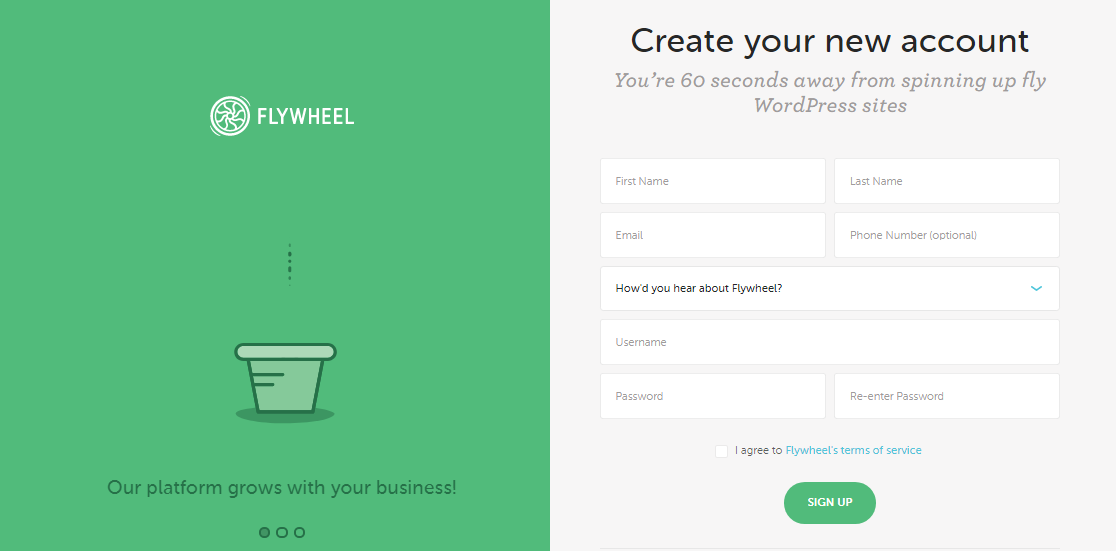 While Kinsta asked me to choose a plan before entering my information in the signup form, GetFlywheel gets serious from the get-go. It asks for basic info like my name and email address BEFORE I can choose a plan for my server.
Clicking on the SIGN UP button reloads the page, but not without an annoying popup.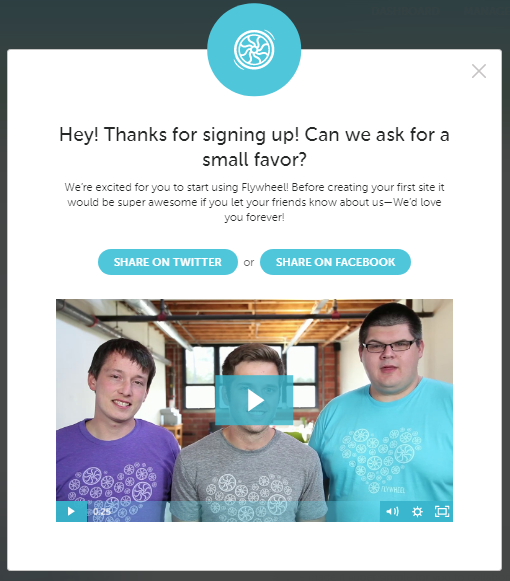 Yes, it's a great marketing technique to let other people know that you are using Flywheel. However, I'm not sure if this is something many users would appreciate. I would rather that this prompt appears a day or two after I've used Flywheel and more inclined to giving feedback and share my experience with my friends on Twitter or Facebook.
But since I'm using Flywheel for testing purposes only, I skip the prompt and I'm greeted by a welcome message and a button asking me to create a new site.
This left me a little confused since I hadn't selected any plan, chosen a server, or decided how much I wanted to pay them, so why, and where am I creating my new site?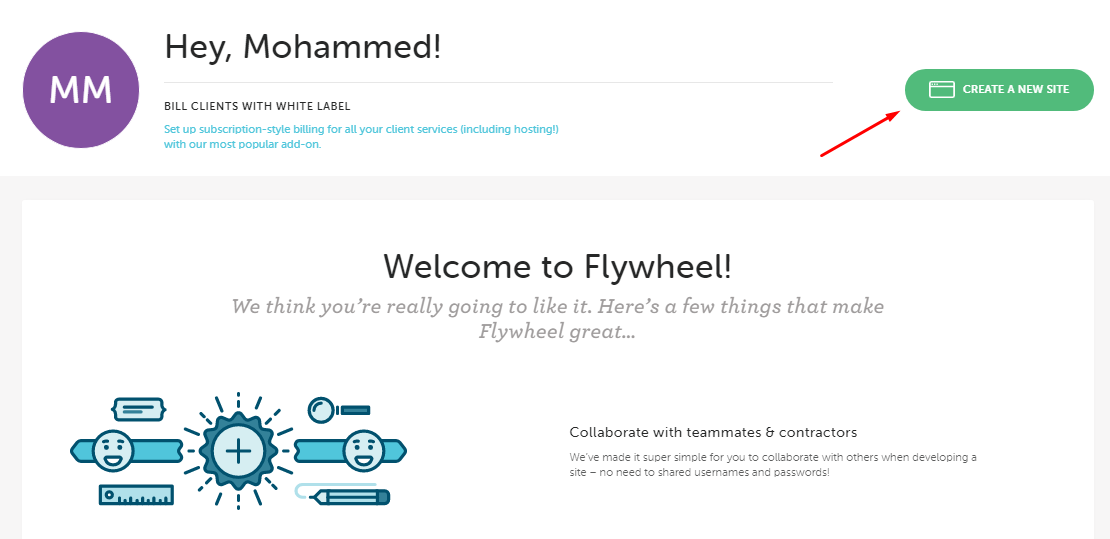 Clicking the 'Create a New Site' button gave me those answers.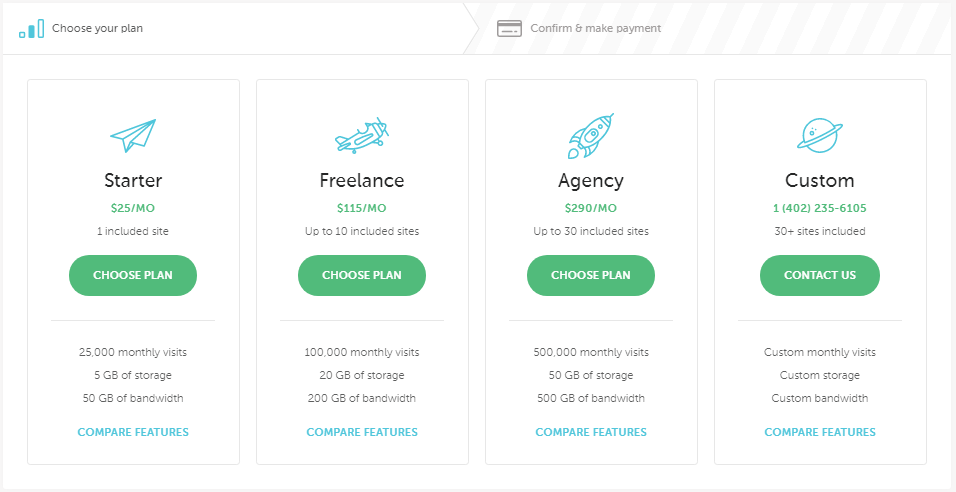 I chose the Starter plan which goes for $25/month. Akin to Kinsta, they haven't mentioned the RAM size of the server as well.
Once I chose my plan, I had to input my payment information with the option to pay yearly or monthly, whatever I preferred.
After entering my information, I clicked on the Make First Payment button, and I was done purchasing my hosting plan from Flywheel.
My Verdict
Leaving aside the slight annoyance of 'share us' without earning from FlyWheel, the signup process of both the providers was smooth. Neither took more time than necessary. The only deal-breaker which most people might not care about) was that neither Kinsta nor Flywheel mentioned the RAM size with their plans because it's better to know the capacity of the server you are buying.
Kinsta, though, was the clear winner thanks to its simplicity, the option to change plans throughout the signup process, and the fact that you get to choose the plan before you need to sign up!
Platform Experience
Now it's time to probe both Kinsta & Flywheel's platform to see which provides better user experience and which fares better in our grueling tests. Let's start with Kinsta again because, why not?
MyKinsta
Dashboard
So Kinsta's platform is called MyKinsta. After I signed up, I logged in to MyKinsta to get started with their managed WordPress experience.

The screenshot above gives you an idea of what greets you when you log in to their platform. It displays my resource usage on a dial, making it easy for me to understand the information. You can see that I've used 15 of my 30 days testing account. Similarly, it also shows my visits and CDN usage.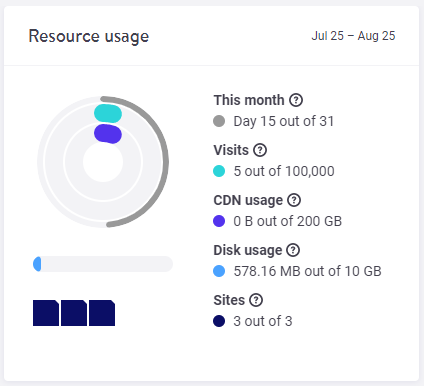 Under the dial, you can see your character's health bar. No. Wait. That's the disk usage bar. My bad. But I absolutely love what they've done to display all the information.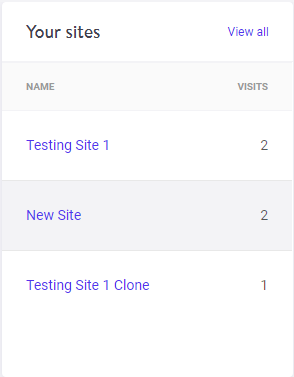 On the left of the interesting display of information is my site's information showing my testing site, live site, and the clones I've created. The View All button takes me to the Site's page which we'll discuss later.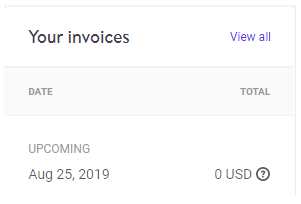 On the far right sat my upcoming invoice of 0 USD, which is awesome. It displays the due date of my invoice and the total amount to be paid; a good reminder for people who tend to miss out on due dates, like me.
Scrolling down this page, we see two visuals: Data transfer and Unique visits.

The data transfer graph is there to help you keep track of the bandwidth that you are consuming every day.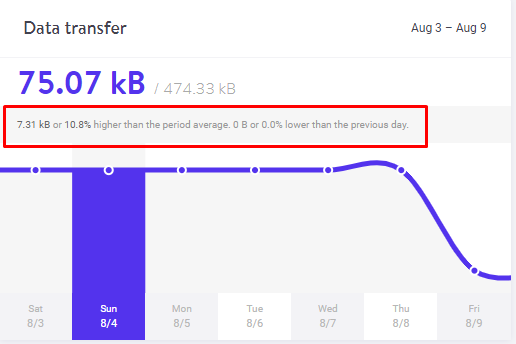 When I hovered on one of the dates, it even showed me how higher or lower my bandwidth for the day was as compared to the previous day. The same feature is there on Unique Visits.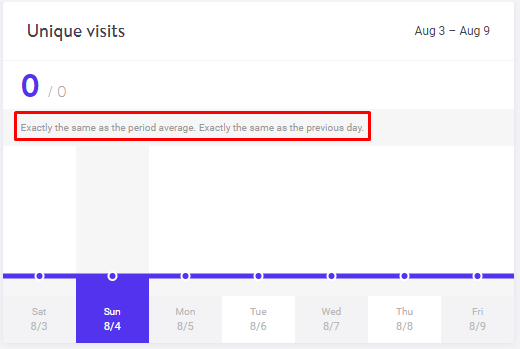 These are handy pieces of information and add great value to the entire managed WordPress experience that the platform offers.
Lastly, there's the resource page with all their blogs. I understand that they want their users to get more knowledgeable about WordPress, but placing a blog section on the platform made little sense to me.

Users who are using the platform to manage their website would benefit more from FAQs about the platform or some useful KB. The Knowledge Base link on the right does take me to a list of KBs, but from a user experience point of view, blog posts are distracting and I'd rather have the KBs in their place.
Sites
The Sites page is where you can quickly go through important information on your launched websites, be it live, cloned, or in staging.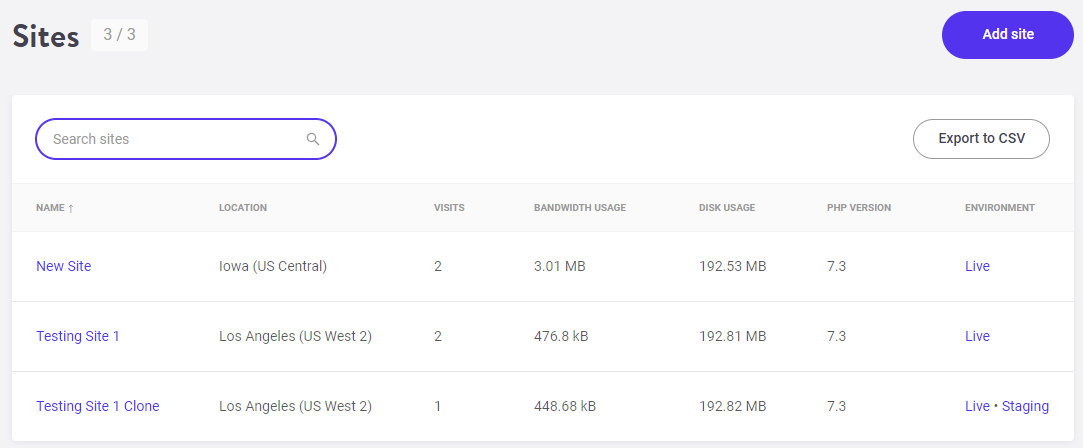 But I wanted more detail about my site, so I clicked one of the live sites.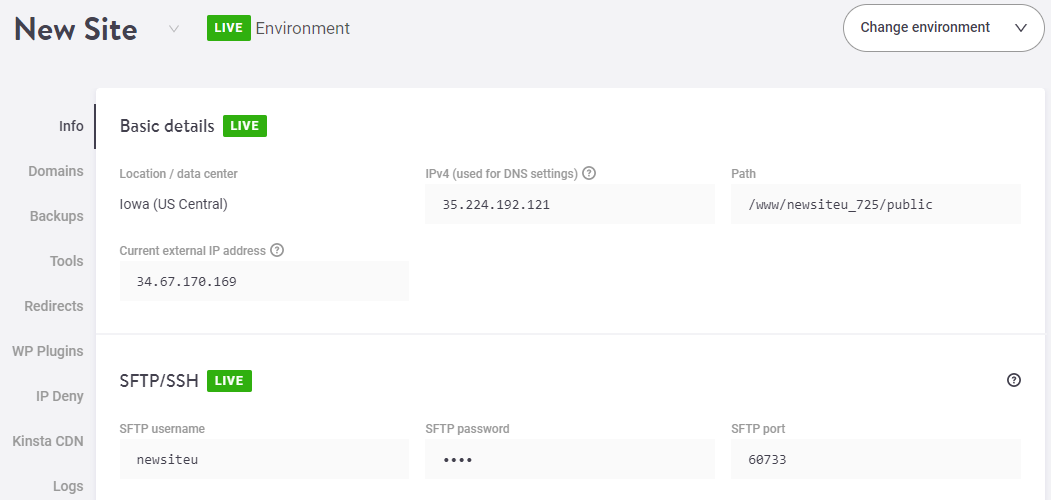 The navigation on the left allows me to navigate to different options for my website. For example, it lets me add a domain from the Domains option.
Migration
Kinsta offers two types of migrations: Premium and Basic.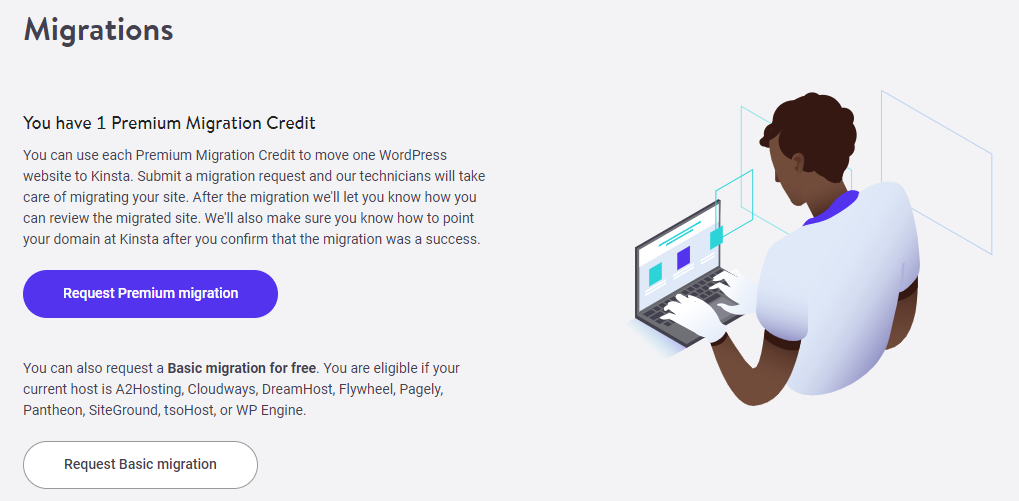 With Kinsta, Migration is a simple process. You just have to give them your website information and their support team will handle the rest. So if you're looking for managed migration, Kinsta is a great choice.
The process is the same for Premium migration.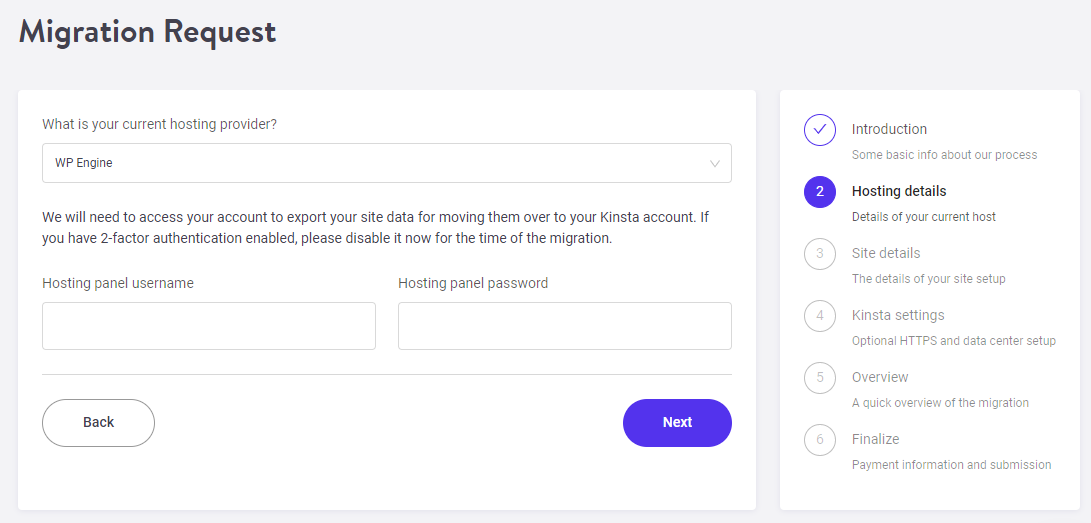 Analytics
Kinsta's platform comes with an Analytics option. This option shows how your server and the application is performing and I really like it. Information is easy to analyze and easy to understand even for a layman.

Flywheel
Now let's put Flywheel under the lamp. After signing up to Flywheel managed WordPress hosting, I signed in to their platform. This is the first screen I saw when I signed in.

While Kinsta's platform displayed a bunch of useful information about my site and server on its platform, Flywheel falls really short of doing anything of the sort. The page has one button that is asking me to CREATE A NEW SITE.
As you can see, I have already created a site. But for the sake of this review, I will show you how to create a site on Flywheel's platform.
But first, let's explore this page a little more.

The screenshot above shows three useful links at the bottom of the page. The first one is about Flywheel Local. This is Flywheel's own local WordPress development tool. It lets you create and develop your WordPress website locally.
The second is the WordPress migration. Flywheel offers free managed migration, just like Kinsta. All you have to do is enter your site information, and Flywheel's team will take care of it.
The third is targeted towards agencies. It's about reselling Flywheel's hosting by white labeling your server. So if you are an agency and plan on selling hosting, this might be of interest to you.
Now let's create a new site on Flywheel!
Create a New Site on Flywheel
The CREATE A NEW SITE button directed me to a form where I entered the information for my new site.

Since I've already created a site, my plan's new site quota has been exhausted. I assumed that I would be able to delete this site later like with Kinsta but that wasn't the case.
Speaking to a customer service representative over their Live Chat, I was informed that to delete my existing site, I'll have to cancel my current subscription. I was left puzzled as to why there simply wasn't a Delete Site button like most managed WordPress hostings, but I'll leave the judgment to you.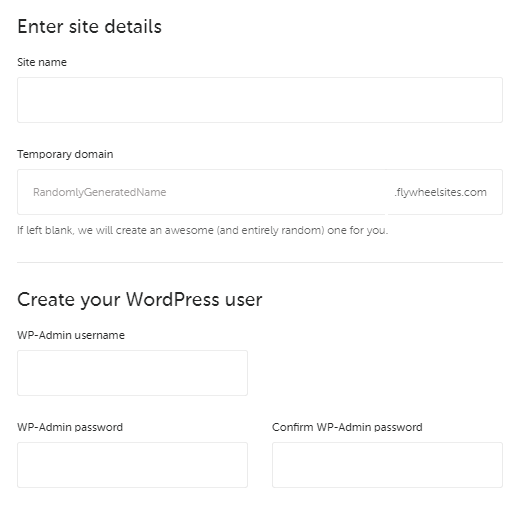 After entering the required details, I clicked on Create Site and my new WordPress website was ready in a few minutes after which it appeared on my Flywheel's dashboard, like this.

The plus sign you see on the right is for adding collaborators. If you have a team working with you and you want one of your team members to manage this site with you, you can add them through this button.
Now that we have created a site, it's time to manage it. To see managing options, I clicked on my site name and was directed to this page.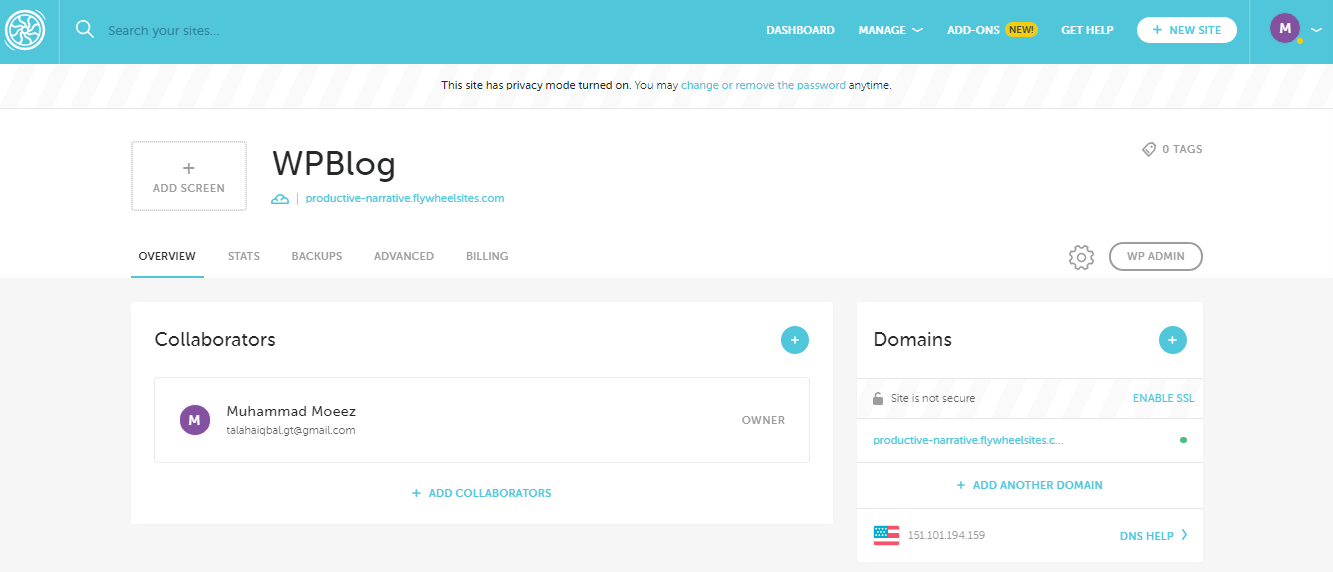 Here I can see the URL of my site which is productive-narrative.flywheelsites.com. On the top of it, there's a WP ADMIN button which will take me directly to my WordPress dashboard and right next to it is the Settings icon.

The Settings button lets me change my site name, create a blueprint of the site, and most importantly, create a clone of the site. This makes cloning my website super easy. All I have to do is enter my clone site information and click ADD TO PLAN AND CLONE SITE.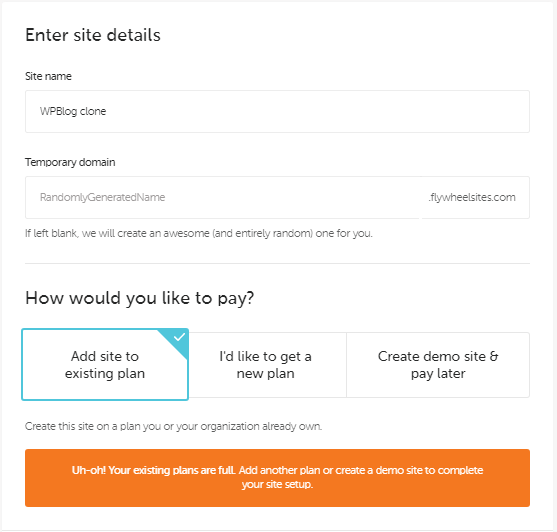 Stats
The stats option on the platform shows the traffic stats on my website.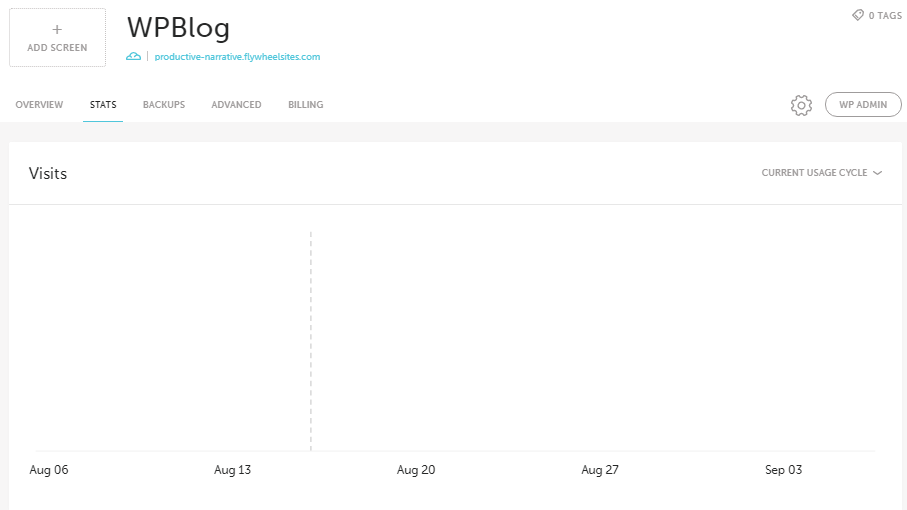 If you want, you can change the time frame from the drop-down on the right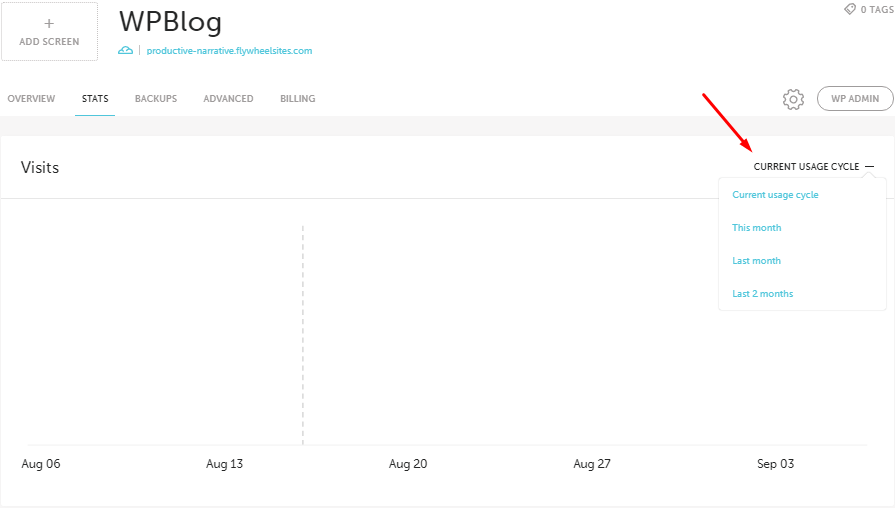 At the bottom, you can see the usage stats of my server, those useful stats that can help you keep track of your resources.

Backups
The Backups tab lets you see the backups of your website on your server and the dates on which the backups are made.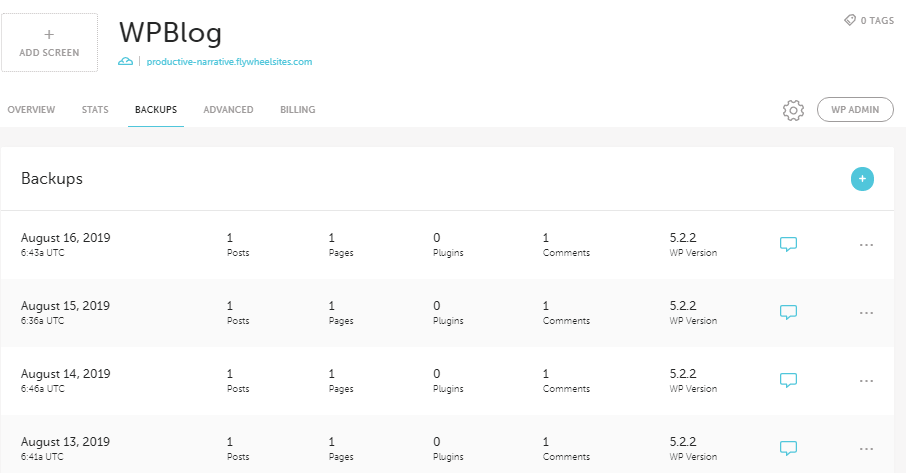 Advanced
The Advanced tab is where you actually get to manage your WordPress application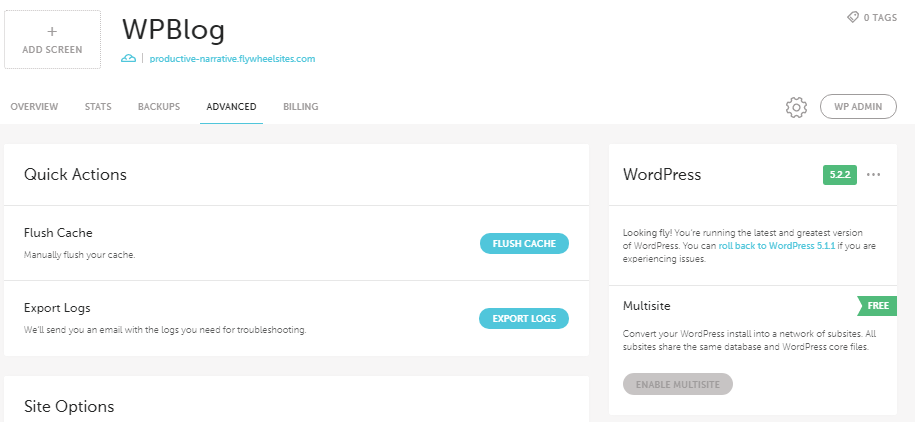 From here you can purge your cache by clicking on FLUSH CACHE button.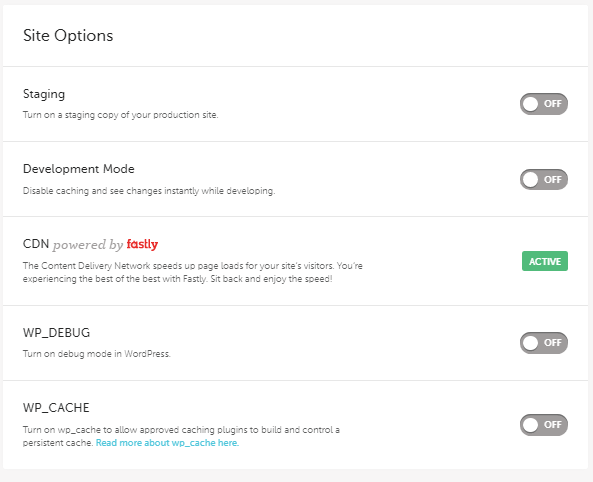 You also get options to enable staging and development mode on one click. These functions usually take hours if done manually but this platform does it in minutes. You can also turn on WP_DEBUG and WP_CACHE on one click.
Billing
The last tab shows your billing history. The three dots on the right lets you do multiple things like changing your plan name, update a payment method, and canceling your subscription.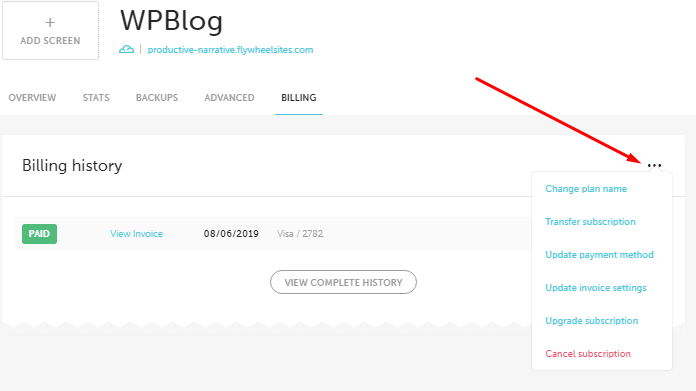 That wraps my overall look at the Flywheel platform. It's pretty straightforward but I feel the functions are a bit limited. Overall, though, it was a good experience using Flywheel.
My Verdict
Both Kinsta and Flywheel offer a great platform to manage WordPress applications and both have one-click features that let you enable functions in minutes and even seconds.
My experience with Kinsta's platform was however better than Flywheel's. MyKinsta, it seemed to me, is better structured. The most important information, the server information and usage, was right there on the first page. Also, one thing that really put me off while using Flywheel was that I wasn't able to delete my current application without going through an unnecessary procedure, while Kinsta provides a one-click delete button.
The design philosophy, which I hold accountable in my review books, was better than Flywheel's as well.
Performance
Finally, we've reached the final and most important part of this head to head comparison, the performance test. Since I've launched a WordPress application on both hosting providers, now I will put them to test and GTMetrix is my go-to tool for this section.
Let's begin!
Kinsta's Performance
1 https://gtmetrix.com/reports/wordpresstest.kinsta.cloud/76qm4Zs4

2 https://gtmetrix.com/reports/wordpresstest.kinsta.cloud/DUiDdAR6

3 https://gtmetrix.com/reports/wordpresstest.kinsta.cloud/Kp38XSny

Flywheel's Performance
1 https://gtmetrix.com/reports/productive-narrative.flywheelsites.com/qLTW7kqA

2 https://gtmetrix.com/reports/productive-narrative.flywheelsites.com/ApTmXAWs
3 https://gtmetrix.com/reports/productive-narrative.flywheelsites.com/xZSg8ece
My Verdict
I ran the performance test 3 times for both the hosting providers so that I could get a clearer idea of their load times and their scores. The tests show Flywheel with a better load time than Kinsta. In the second test, Kinsta's load time was 1.1 second which is significant considering the website had no additional pages or media. Flywheel, however, maintained a load time below 1 throughout the three tests.
Final Words
Using both Kinsta and Flywheel was a great experience. Both offer great platforms and seamlessly managed WordPress hosting at reasonable prices. In our head to head comparison, though, Kinsta edged Flywheel because of the better signup process, and a more comprehensive platform. However, Flywheel showed better load time in the performance test.
To sum it up, Kinsta is a clear winner in this head to head comparison. My experience with Kinsta was not only better than FlyWheel, but it was better than most managed hosting providers that I have tested. I always wondered how they have managed to get the community talking about them so quickly. Now I know.
So this was the head to head comparison of Kinsta and Flywheel, let us know who do you want us to compare next.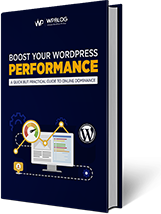 Create Faster WordPress Websites!
Free eBook on WordPress Performance right in your inbox.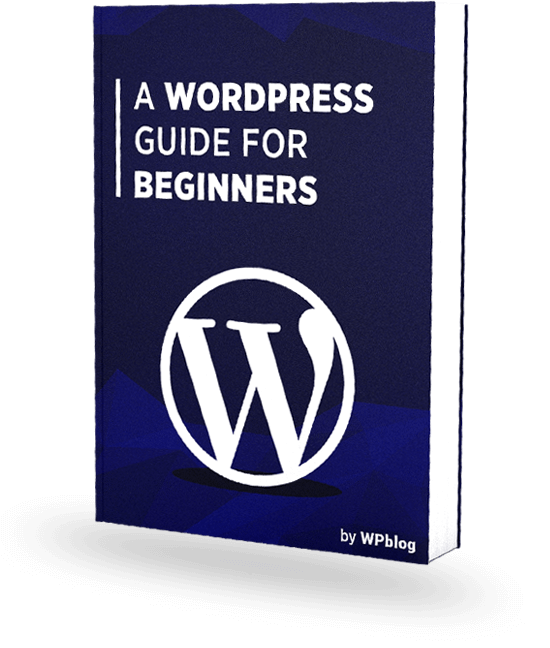 Create Faster WordPress Websites!
Free eBook on WordPress Performance right in your inbox.