19 Best WordPress News Themes for Your News Websites
— August 8, 2018
•

10

Minutes Read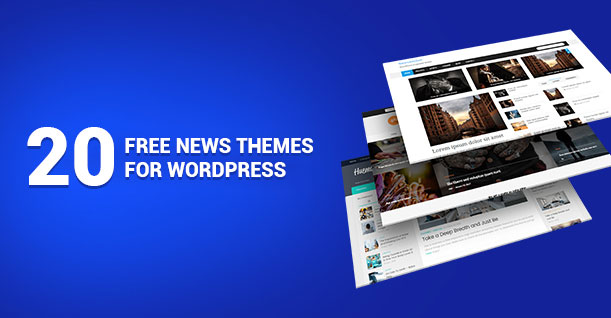 In the world of websites, there is never enough customization. And rightly so, there are tens of thousands of WordPress news themes available online designed to make your newspaper website look awesome. But, there are some that are better than the others.
In a relentless quest to dig out the best free news WordPress themes, we've organized a list of the best ones. But what makes this list intriguing is the fact that every theme you'll see here is not just beautiful and purposeful, but free as well. Now that we have your attention, let's begin;
1. SuperMag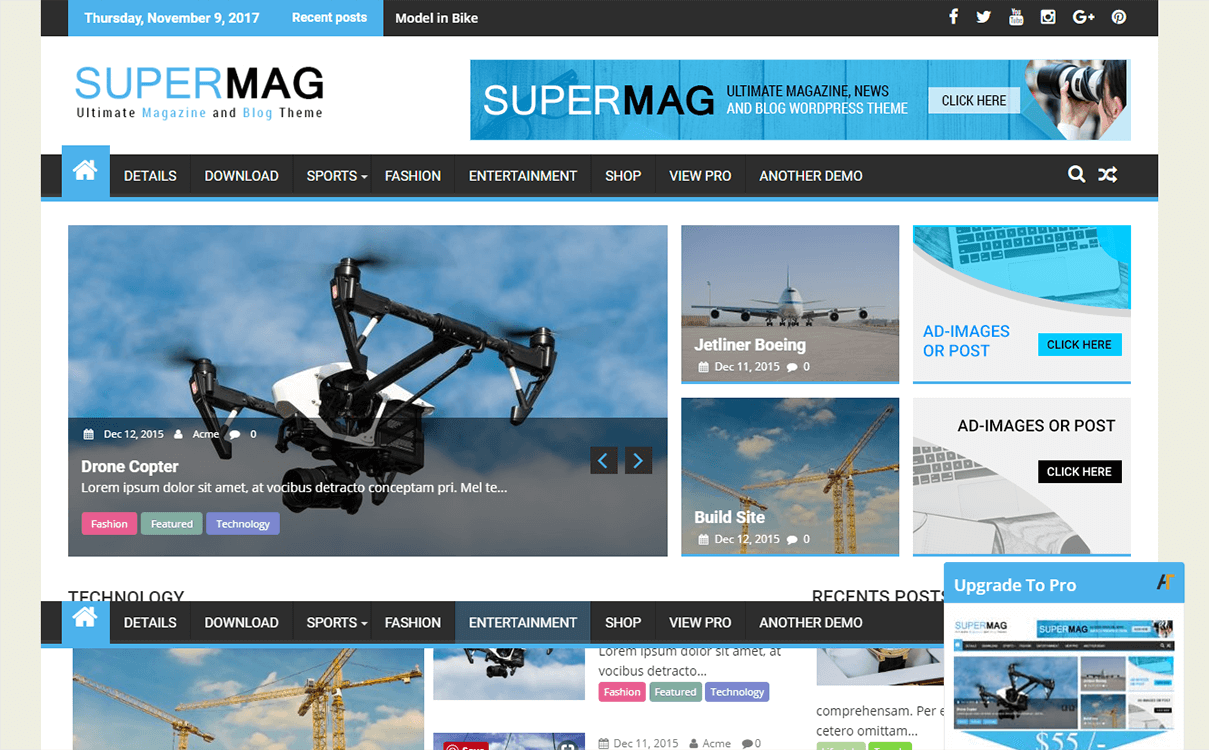 For online magazines, newspapers, and blogs, SuperMag is one of the very best. What makes this theme so special is that it features a great, intuitive layout that will get you started with your newspaper WordPress website in no time. You have a breaking news ticker, several ad banners and the ability to upload loads of content without compromising on loading times.
In addition, you also get AdSense integration, widgets and custom backgrounds to make your WordPress website a standout. It's updated regularly too.
2. ionMag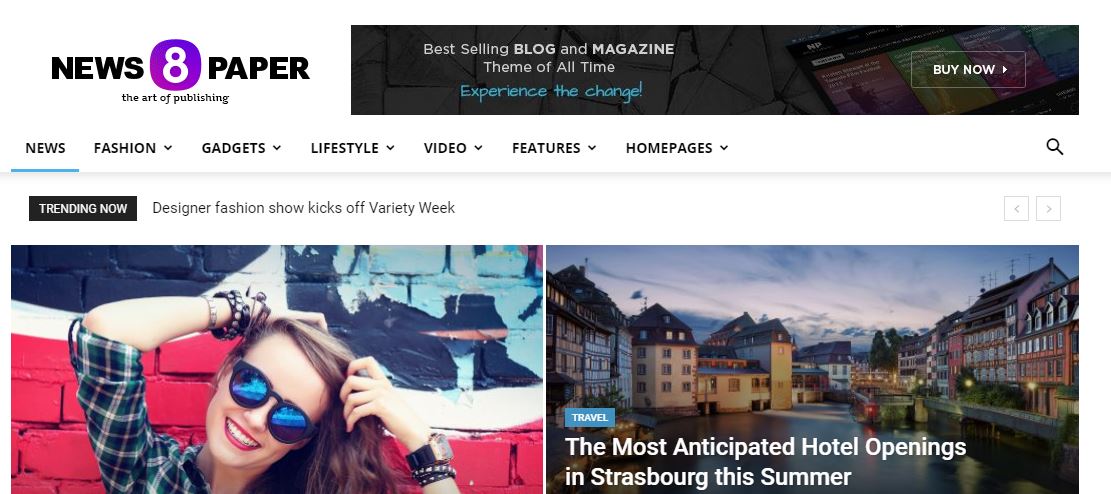 Great visual appeal, easy customization and loads of options are yours for the taking with ionMag. ionMag is one of the top WordPress news themes which is often overlooked in a quest to find out the free ones, why? Because with the quality you get from this theme, it's mistaken for being paid. It is responsive and retina-ready too.
For the theme, you get loads of options which includes customizable categories, header menus, blocks and a news ticker to keep those breaking news pouring in for immediate attention. The theme gives the visitor a welcoming experience with an intuitive layout, a modern design and can integrate the most popular plugins.
3. BfastMag
For an ultra-fast browsing experience with a minimal design, give BfastMag a check. This theme is great for personal, fashion blogs and photo gallery. If you're a photographer looking for a great WordPress theme, BfastMag is the one to check out. Ranked as one of the best WordPress news themes, BfastMag offers an excellent layout with customizable blocks, grids, drop-down menus, lots of sidebars, SEO and Retina ready mobile-optimized design.
With support for loads of third-party plugins, you can make BfastMag your go-to theme if you're just starting out.
 4. EditorialMag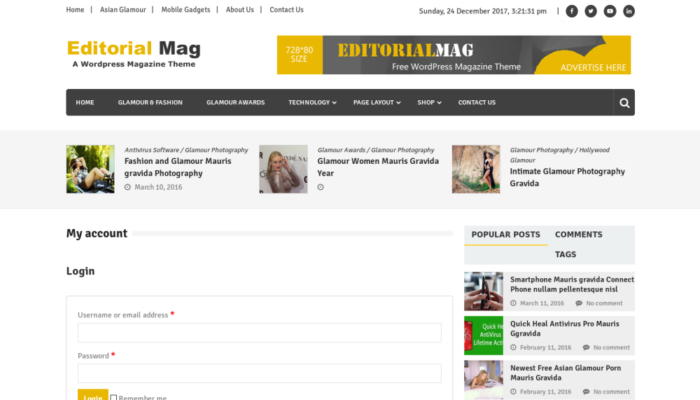 With a straightforward name like that, you'd be forgiven for thinking that this theme isn't free. But it is. EditorialMag is one of the most sought-after WordPress news themes offering a more contextual layout that is often found in the most evident online news portals. Inspired by simplicity, EditorialMag integrates all the features you'd need if you're into building a minimal website that is focused more on offering quality content rather than looks.
Offering great options for magazines, news portals and 9+ different drag and drop widgets, you also have the option of creating multiple sidebars and adding lots of widgets. The clean and minimal interface helps navigation easy on both pc and smartphones, making EditorialMag one of the best WordPress news themes
5. MagazineHoot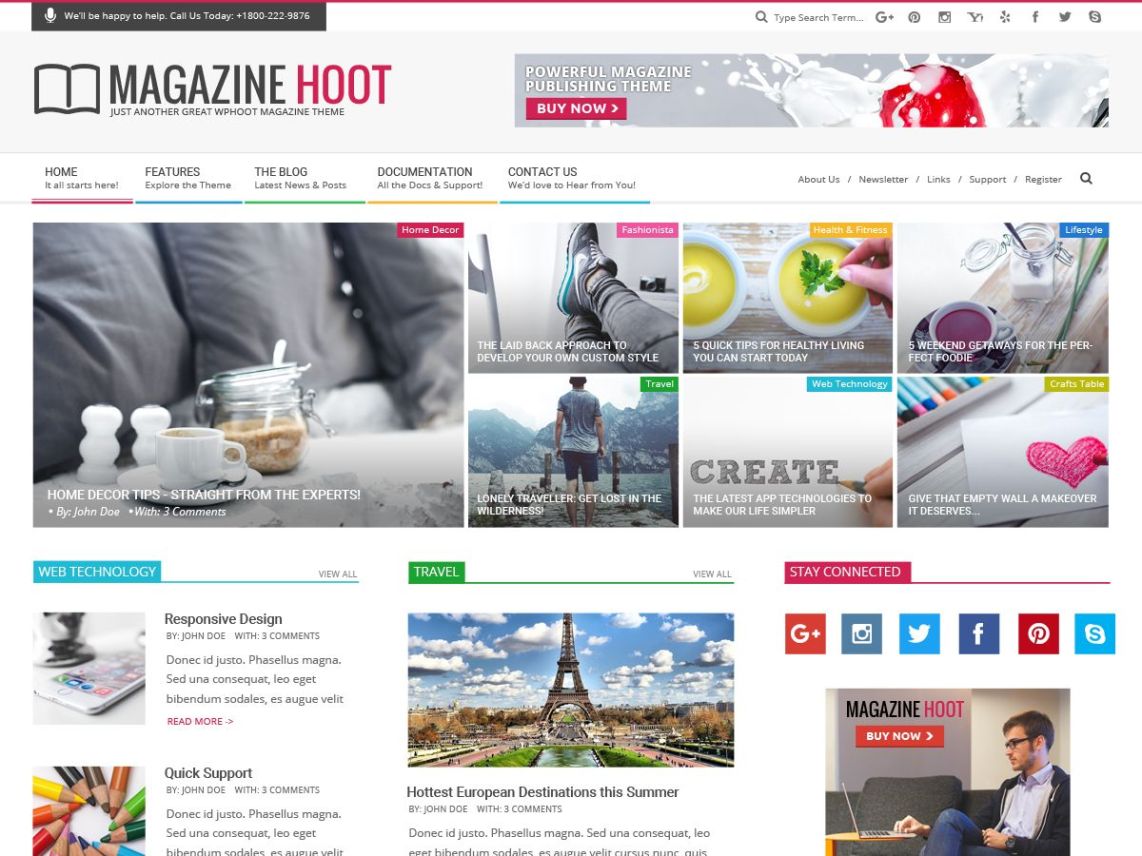 Want to make your newspaper WordPress website colorful and engaging? Try MagazineHoot. Rated as one of the best WordPress news themes online, MagazineHoot offers a very innovative and colorful layout for your news focused WordPress website. This theme is not only great for news related websites, it can be used for marketing and advertising websites as well.
With lots of widgets, SEO optimization, Google Maps integration and various other plugins compatible, MagazineHoot is a free theme focused to bring out the creative aspect of your WordPress website.
 6. Advanced Magazine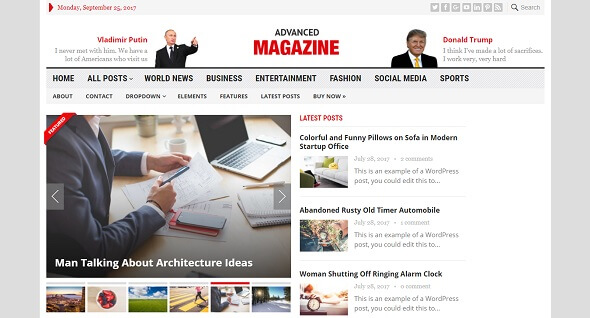 Advanced Magazine is one of the best WordPress news themes available. It has a great layout which helps make your WordPress news website not only attractive but easy to navigate. Advanced Magazine also incorporates the best SEO principles to help optimize your website, along with Google Ads and AdSense support.
Advanced Magazine is a responsive theme that brings together a simplistic design with a choice of widgets, helps make Advanced Magazine a must try for those who want to get their newspaper or blog website up and running in no time.
 7. ReviewZine
This regularly updated free news theme for WordPress is a great choice for news and review websites. ReviewZine can be used to design an exceptional responsive review website because it features all the tools you'd need to make a WordPress website that is not only attractive but intuitive as well. ReviewZine is retina ready to make sure it delivers the best experience on mobile and PC, as well as being SEO friendly, helps keep your WordPress website great for SEO optimization. Lots of banners, widgets, custom backgrounds tags and filtered gallery options are available.
ReviewZine also ranks as one of the best WordPress news themes with superior control over every aspect of the website because it comes with social links as well which can help make articles and news pieces easily shareable.
8. IsleMag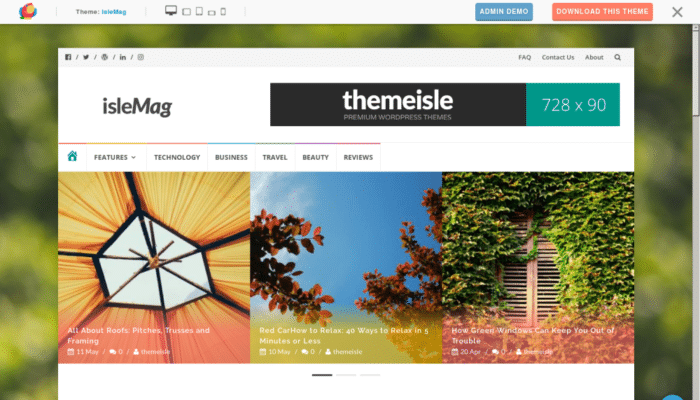 Looking for a more modern free news theme for WordPress? You should take a look at IsleMag, a great free theme for those who prefer a more contemporary approach towards a news website. A great organized layout with the option of ad spaces and social media feeds makes IsleMag a great free news theme for WordPress.
But that's not all. IsleMag also features a responsive design with lots of customizable widgets, sliders and carousels along with many other options to give the user a great experience overall. We really dig the carousels layouts being offered with IsleMag because they have a different way of engaging users. The carousels are smooth to scroll and extremely responsive which gives the confidence to load as many engaging images as you want without worrying about the theme slowing down or creating a negative experience on your visitor.
There are also tons of spaces available for ads which makes IsleMag a must for those looking for a free news theme for WordPress.
 9. Magbook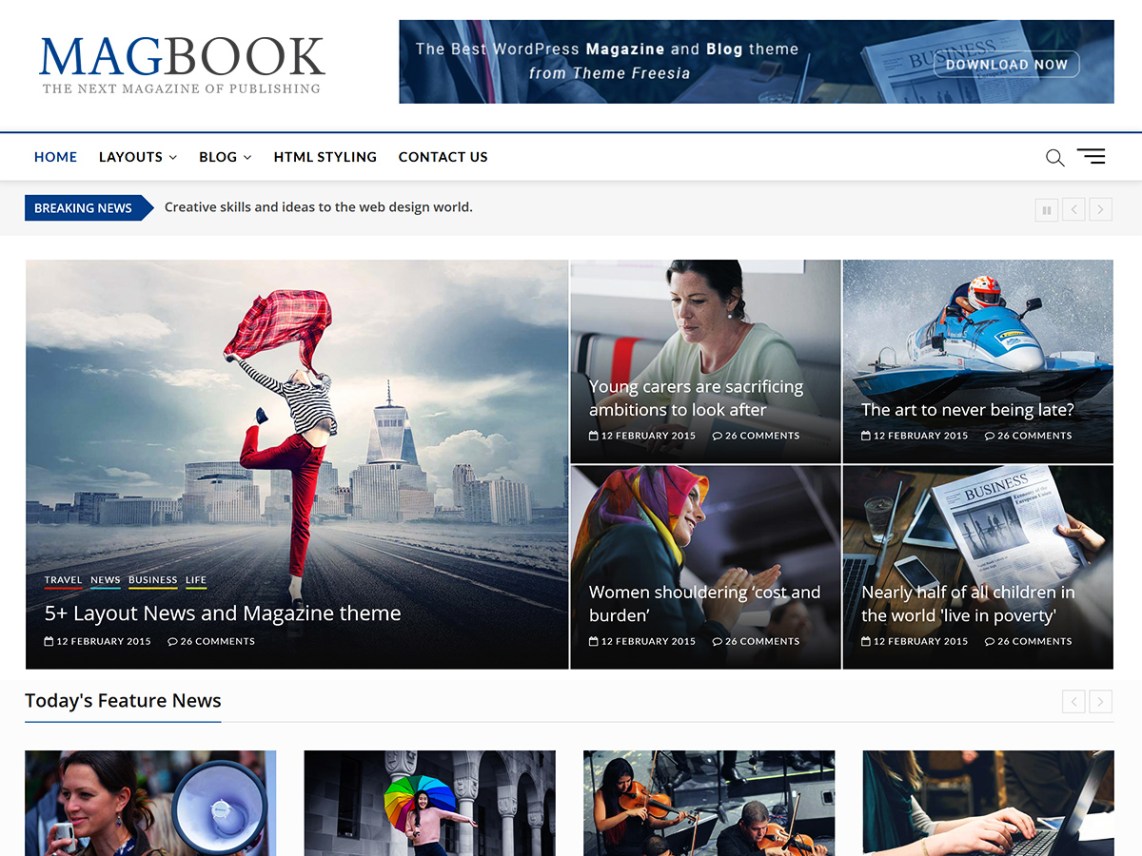 A free magazine theme for WordPress with a bunch of useful and innovative features. Magbook was developed exclusively for news centered and publishing websites offering a unique but minimal layout. But, being minimal does not mean that Magbook lacks in features. The theme is featured packed with lots of carousels for easy navigation. The theme offers a smooth experience with a responsive but SEO friendly layout which makes content presentation easy and seamless.
Magbook is also regularly updated which means most plugins are readily compatible. The mentioned features and minimal layout helps Magbook rank as one of the best WordPress news themes.
10. NewsPro
Concluding our list of the best WordPress news themes is NewsPro, a great but free theme for those who want a great layout for either a news-centric or review focused WordPress website. What's more is that you can also use this layout for creating a blog.
With NewsPro, you have the option for headlines and custom social menus. There are lots of options for customization when it comes to widgets and modern plugins to help you get the exact look you crave for your WordPress powered website.
There you go, the top 10 WordPress news themes, guaranteed to help you get the look you crave with your WordPress powered website. Try out each theme and do comment on which theme works best for you.
11. GreatMag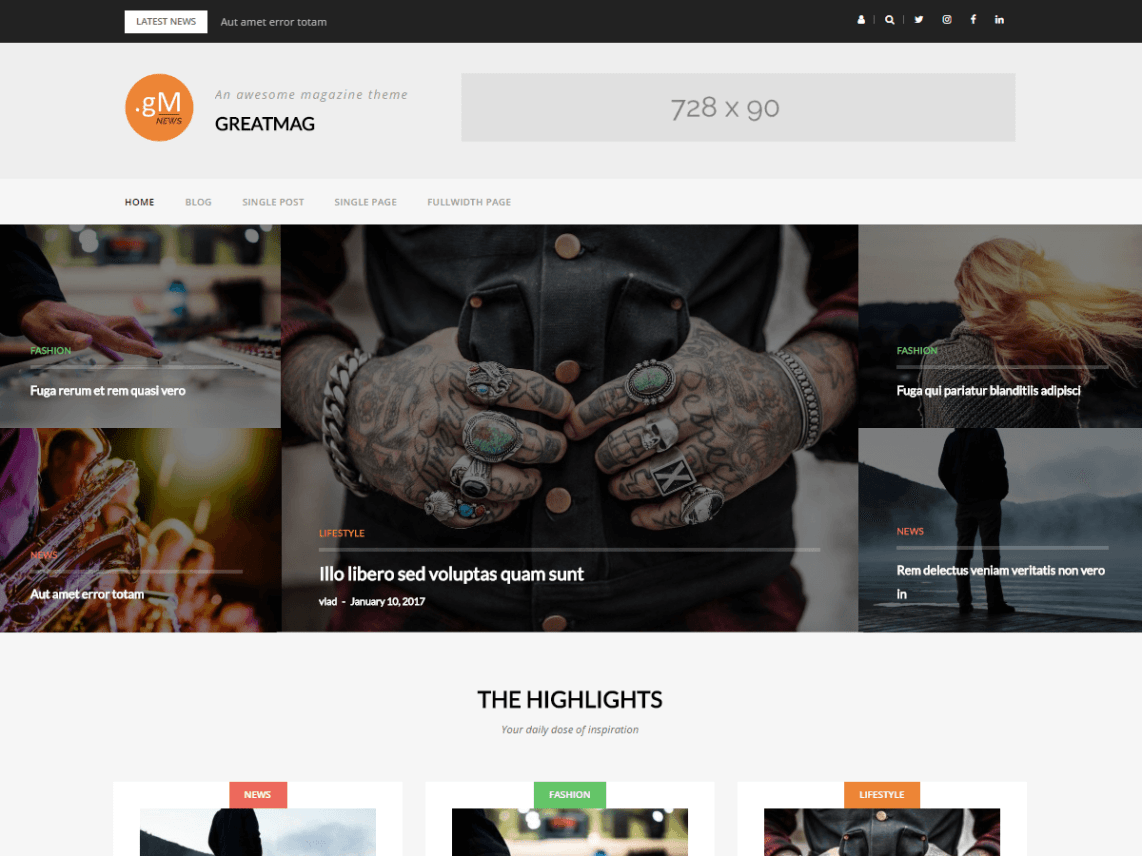 If you're looking for a great, minimal interface for your news related WordPress website, GreatMag is a great option for you. The GreatMag theme offers a wide variety of colors, fonts and widgets, all designed to make sure you're delivering a seamless experience to whoever visits your website. The design process is easy because everything is laid out in a very easy to manage interface that helps users bring out the best in their website. You have access to over 800 fonts from Google, more spaces for advertisements and fully customizable widgets which could be used for breaking news and eye-catching visuals.
On top of all that, you get great customer support if you run into any problems with the theme. With the theme regularly updated for plugin support, GreatMag is one of the best WordPress news themes available online.
 12. NewsAnchor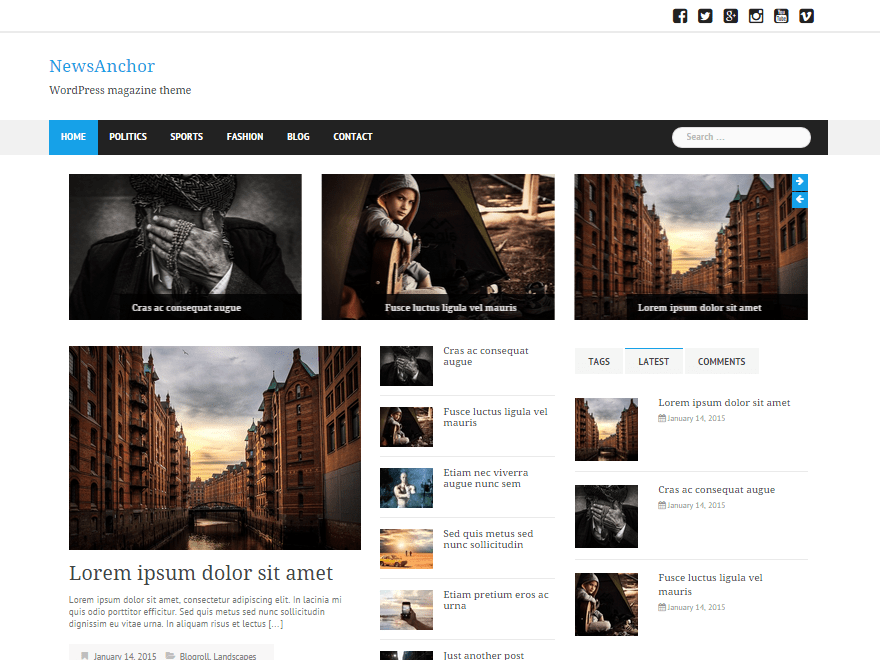 A clean and modern interface waits for you with the NewsAnchor theme for WordPress. NewsAnchor also happens to be one of the very best WordPress news themes available online because it delivers in performance and customization. You are greeted with a great variety of widgets that are customizable, you have resizable boxes for any type of images you want to use to capture the attention of the visitor. You can use custom colors as a background or even an image of your choice to really help make the website your own and deliver the exact interface you want.
NewsAnchor also brings along a wide variety of carousel customization along with the choice of using more than 600 fonts by Google. As a bonus, you can also use resizable social media buttons to help promote social sharing.
13. Fashionista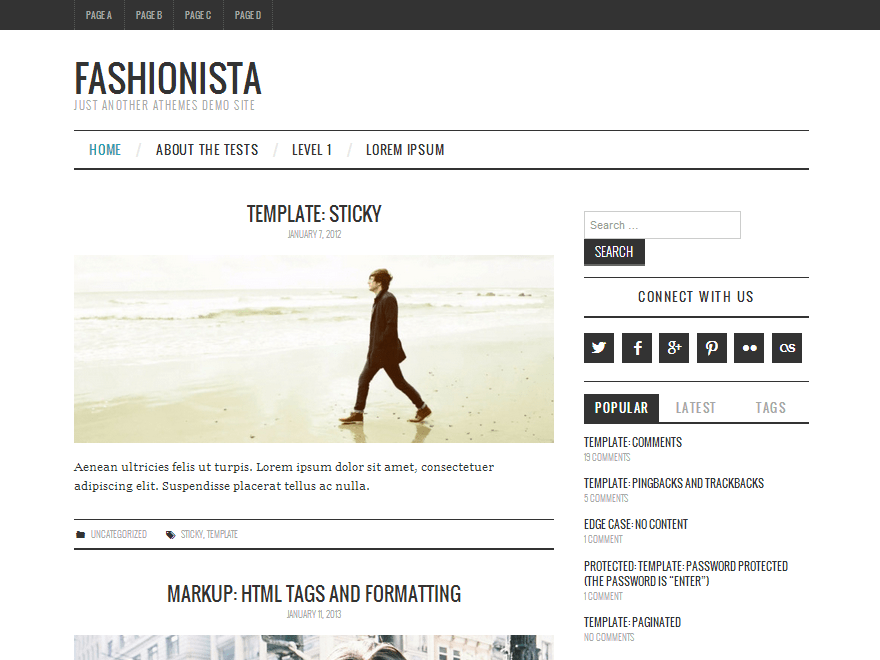 If today's fashion screams minimalistic designs, then the Fashionista theme for WordPress ranks amongst the top ones. The minimal interface, simplistic approach towards content is a breath of fresh air when it comes to modern designs for either a news related website, a blog or a photographer's gallery.
To bring out the creativity in you, you have multifunctional widgets, social media sharing buttons and a responsive website theme that delivers the performance necessary to provide a great overall browsing experience.
If you are showcasing your creativity as a gallery or displaying products for a fashionista out there, the Fashionista theme is one of the very best WordPress news themes available out there.
 14. Heuman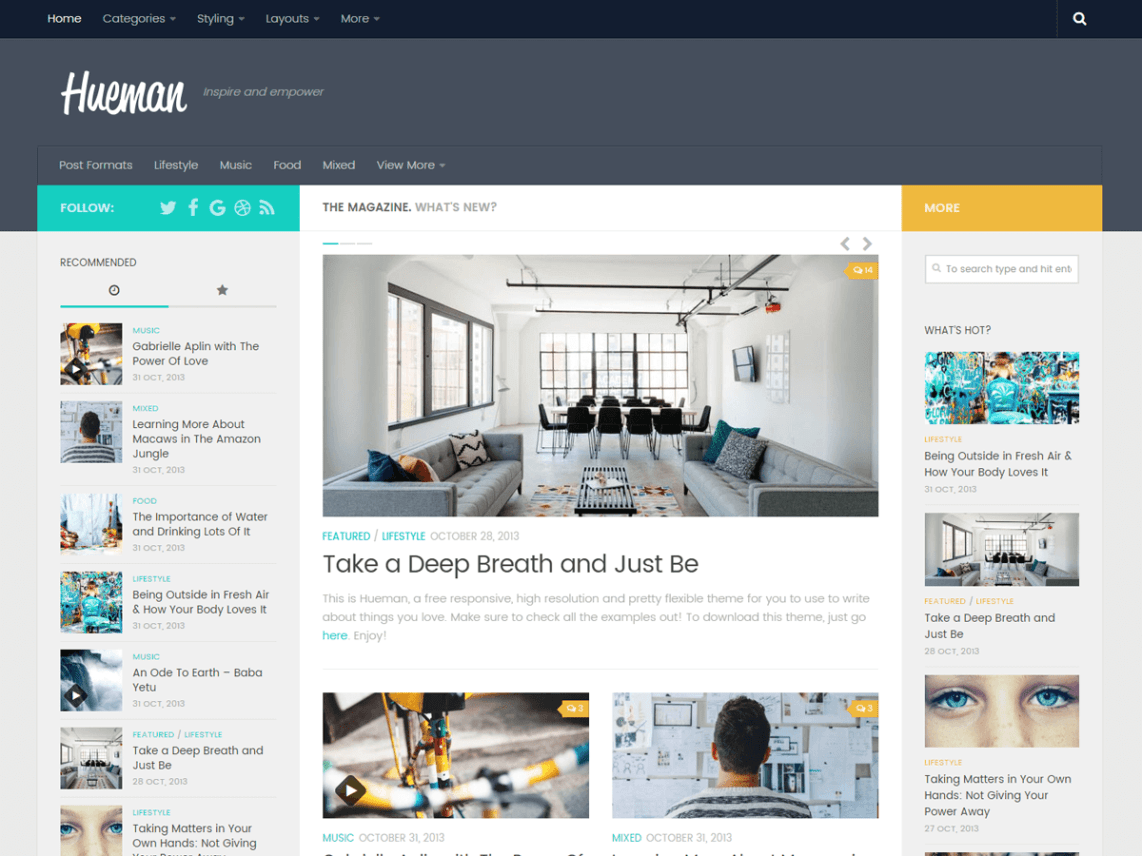 One of our favorite news themes to ever grace our list is Heuman. It is a complete theme with an aim to wow the user and the visitor with widgets and carousels all around for immediate action. The theme was designed keeping in mind usability and experience. Knowing that it is a free WordPress news theme, it delivers options those found in paid ones. The top bar, footer, and header are all customizable, as are the widgets.
The theme offers an intuitive but responsive design that makes the following stories a great experience. You have the option for breaking news tickers and stories that are right up there for immediate action and being a free theme, makes it one of the best on the list.
15. WorldPlus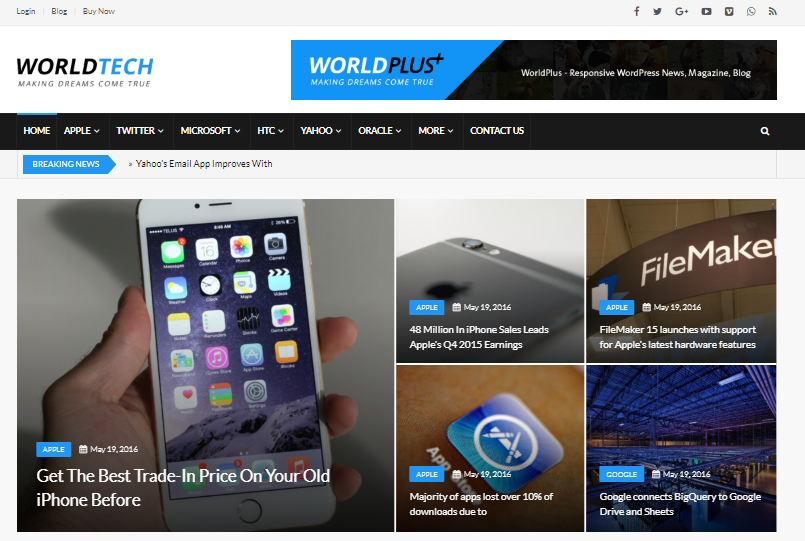 WorldPlus is one of the most popular WordPress news themes that is crafted and designed for news, magazine and other publishing websites. The themes flexibility means that it can also be used for blogs of all sorts.
The theme allows users to create news websites with all the necessary elements without using a single piece of code. WoldPlus comes with 7 different premade layouts giving users a wide range of options to choose from.
16. Onfleek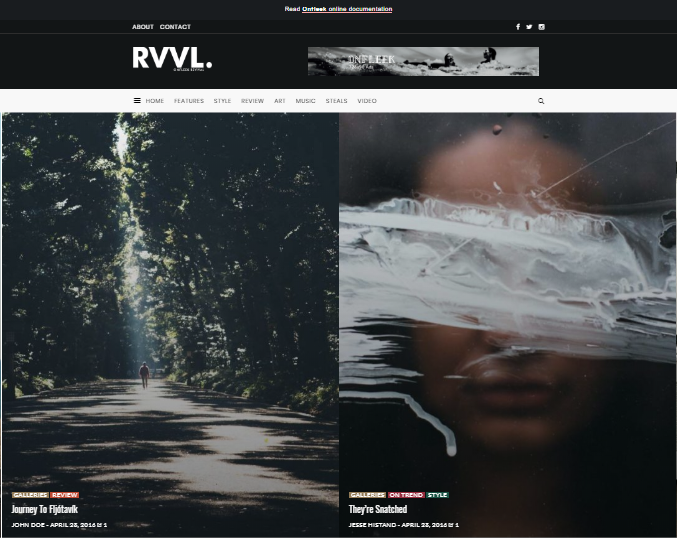 Onfleek is a trendy and responsive WordPress news theme. The theme gives users a platform where they can easily design their news website without many technicalities. It further simplifies the website building process by offering professionally created layouts and demos.
The theme is also search engine optimized which gives you an edge when you are trying to rank higher in the Google search results. It is lightweight which means it loads faster and takes up less data on the mobile connection.
17. The Fox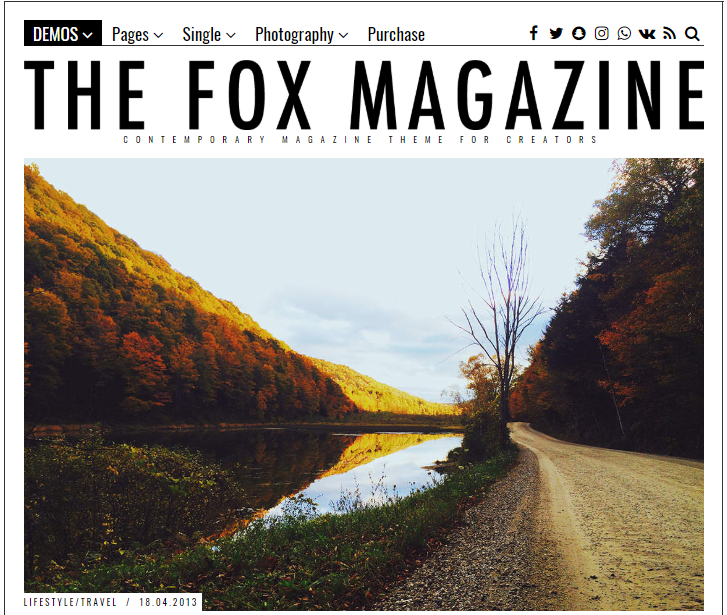 The Fox is one of those WordPress news themes that will make your website and content look fresh for a longer period of time. The theme combines modern web development technologies and trendy design to give an attractive visual presentation.
The theme offers more than 100 live customization options so that users can create a news website the way they want. Customization options include colors, fonts, background and much more.
18. Zox News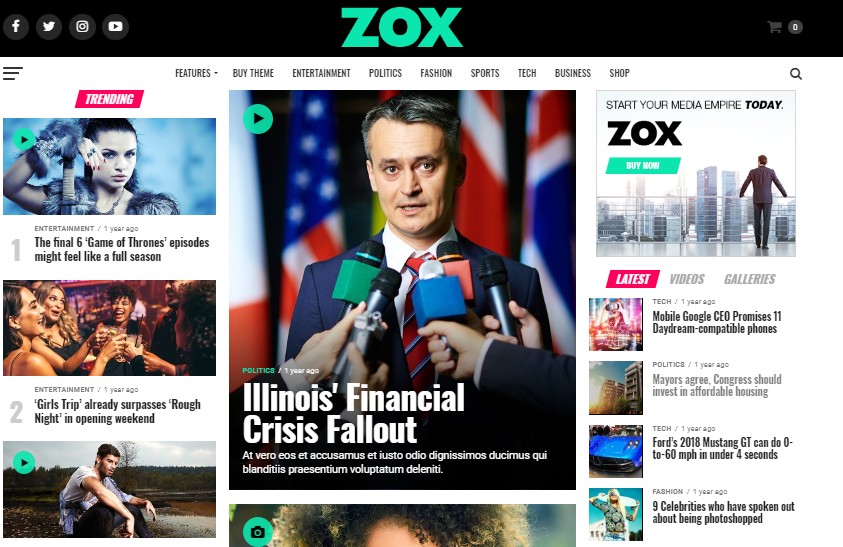 As the name suggests, this WordPress news theme is made specifically for news and broadcasting websites. The theme comes with unlimited ad spaces and is translation ready. It lets users integrate videos from video streaming websites like Youtube and Vimeo.
Zox News comes with unlimited color options and hundreds of fonts to choose from making your news website fully customizable. The theme also has a builtin bbPress plugin which can help you create a forum on your news website for more discussion and engagement.
19. Tana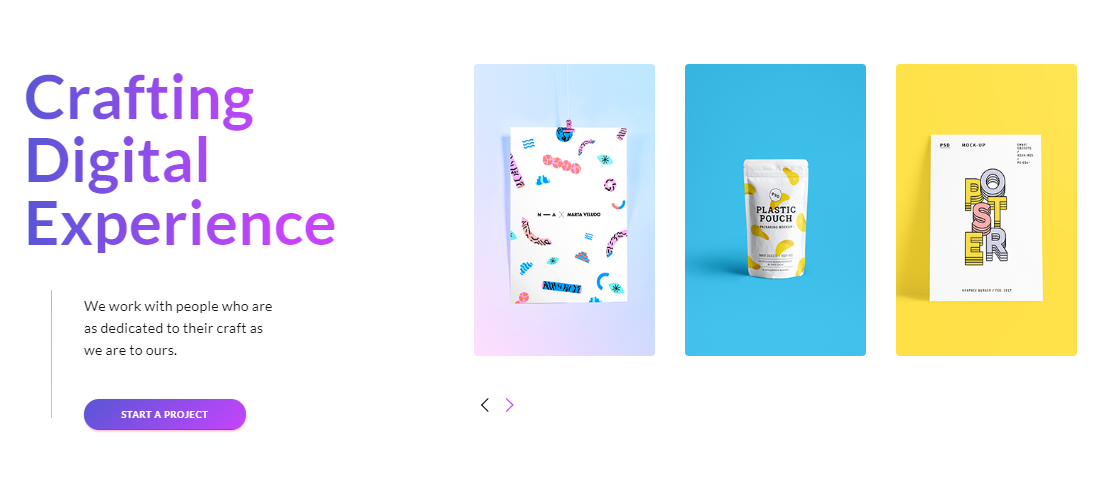 Tana is another popular name in the list of WordPress news themes. The theme is highly resourceful, responsive and modern. The theme lets the user create their news website with minimum complication which makes it attractive to newbie website owners.
The theme comes with Visual Composer which makes it, even more, easier to create your website from scratch. Tana also lets you integrate WooCommerce if you ever feel the need to sell something through your website.
Conclusion
In our opinion, the mentioned themes are the best if you want a news related website that is not only responsive but engaging as well. You can check and demo all the above and select one that suits you and the message you want to convey to your visitors. So, which one is your favorite? Tell us in the comments below and why you think it should be a part of the list as the best free WordPress news theme.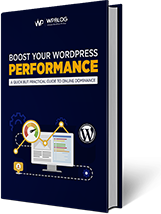 Create Faster WordPress Websites!
Free eBook on WordPress Performance right in your inbox.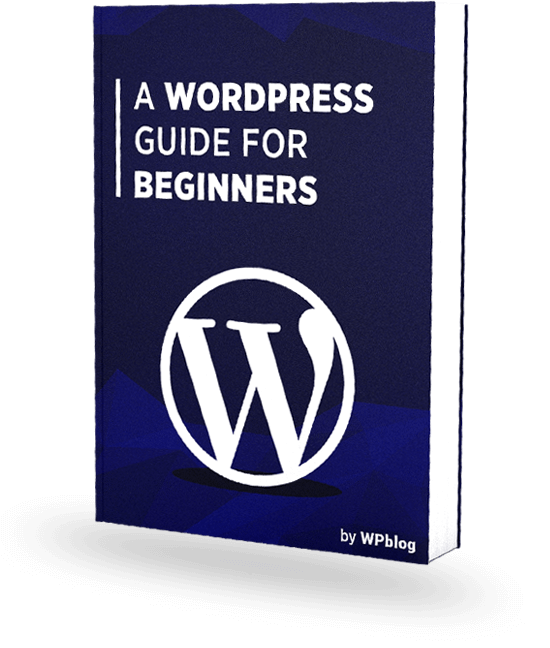 Create Faster WordPress Websites!
Free eBook on WordPress Performance right in your inbox.