Akismet WordPress Plugin Review & Why You Should Start Using Akismet
— July 12, 2017
•

4

Minutes Read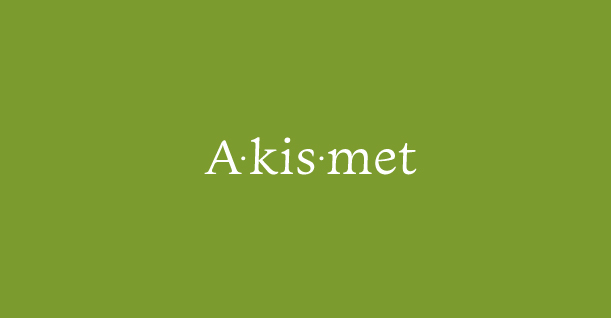 If you are an avid WordPress user, you must have heard of the Akismet WordPress plugin. Akismet is one of the few pre-installed WordPress plugins, however, you need to activate it in order to use it. This article will cover what is Akismet and how you can set it up on your WordPress website.
What is Akismet WordPress Plugin?
WordPress is spammer-friendly. This means that spammers find it extremely easy to drop spam comments on a website created with WordPress. But thanks to Automattic and Matt Mullenweg, we have Akismet. Akismet is one of the most popular WordPress plugins that filters spam comments from your WordPress website.
Since spammers are getting sneakier with their spamming techniques, it is becoming difficult to differentiate between a spam comment and a real one. Akismet uses a clever algorithm to spot a spam comment. When a number of different websites start reporting similar comments, Akismet starts recognizing it as a spam.
Comment moderation is also a hefty task and Akismet can save you a lot of time which you can invest elsewhere.
Akismet also tops our list of best anti-spam plugins for WordPress.
To this point, I think we have established that installing Akismet on your website is a no-brainer.
How To Set It Up?
Since Akismet is a pre-installed plugin, you just need to go through some steps to activate it on your WordPress website.
Once you have opened your WordPress admin panel, click on "Plugins" to open the plugins section.

Click on "All", so you can see all the active and inactive plugins on your website then click on "Activate".

Once you click "Activate", it will ask you to configure Akismet settings on your website by going to the "Akismet Settings Page".

The Akismet Settings Page will ask you for your Akismet API key.
After you have clicked on the "Get your API key" button, you will be directed to Akismet's page where you will be asked to sign up for your WordPress.com account. Once you have entered your credentials, you will be taken to the pricing page where you will select the plan of your choice.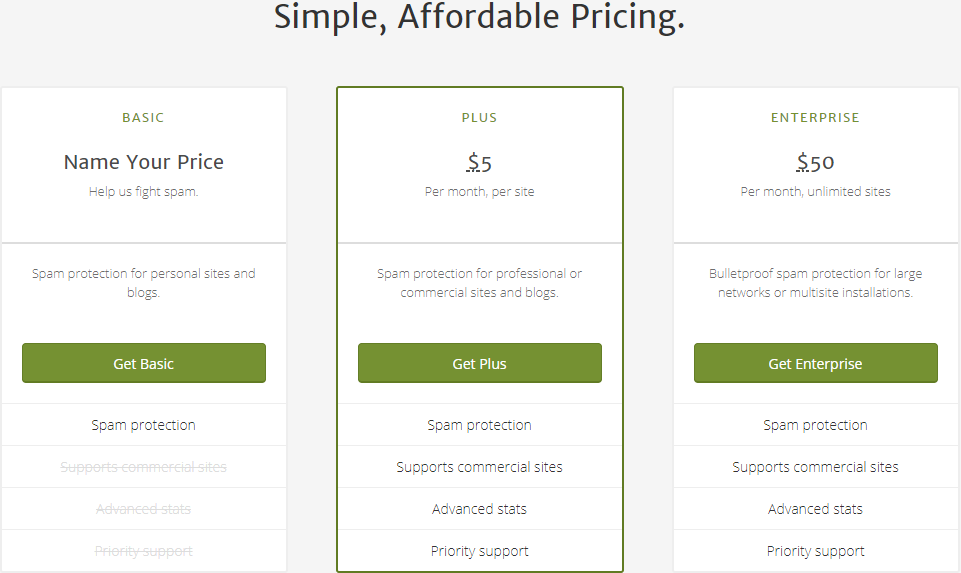 I will select "Get Basic" for this tutorial. The next step is to select the payment plan but since we are going with the free plan, we will drag the panel to zero.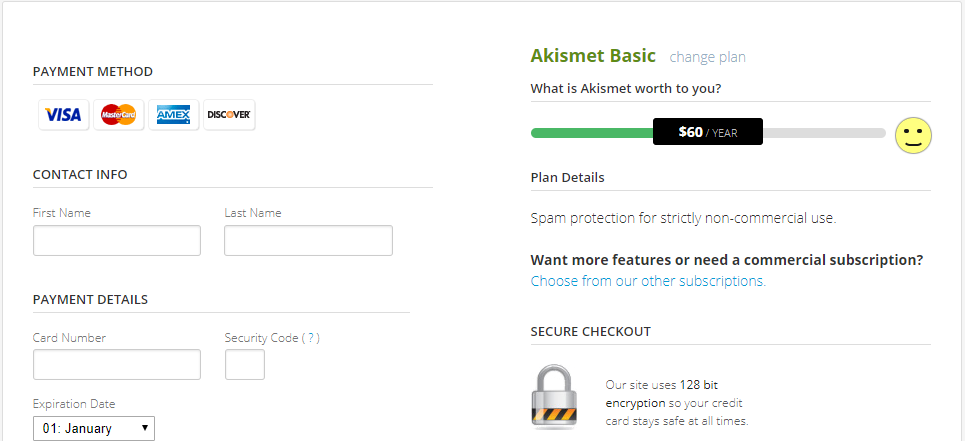 That's it! You will be allotted an Akismet dashboard where you will manage the plugin for your website. The API key will also be displayed on the dashboard.
Remember, your API key is like a password. Do not share it with anyone except for people working on your project.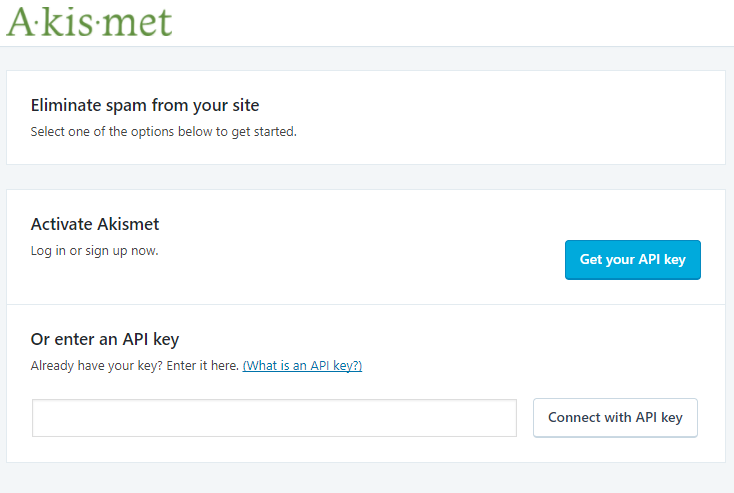 Getting your API key was easy wasn't it? Don't worry, the following steps are even easier.
Go back to the admin panel of your WordPress and enter the API key that you have just acquired.
You can see in the above image there are 0 active sites. Click "Add Site", enter your website URL and you are done. Akismet is now active on your website and you can manage basic Akismet settings from the WordPress admin panel.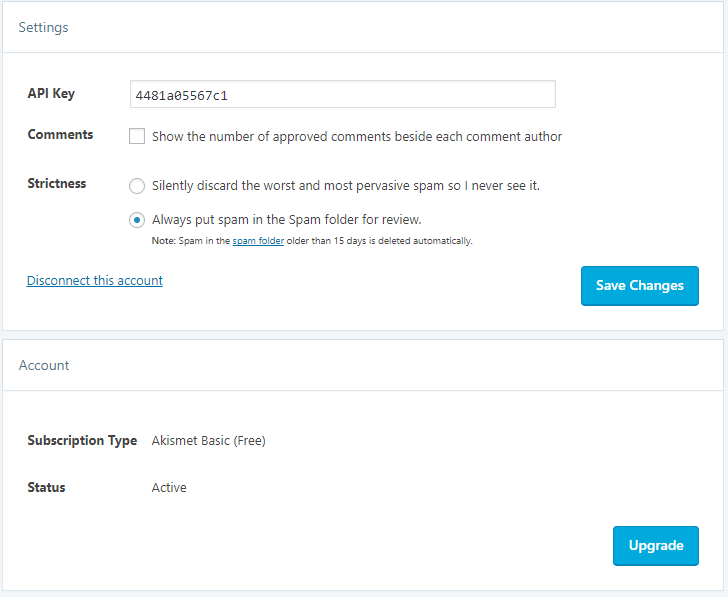 The Akismet dashboard is pretty cool as well. It allows you to see a detailed statistical report on the comments on your website. It displays graphs and other numbers so that you can analyse how the plugin is actually working.
Just click on the tiny bar graphs as shown in the image below and it will show all the stats you want to see.
So there you go. All your spamming worries are behind you with Akismet taking care of your comment moderation like a pro!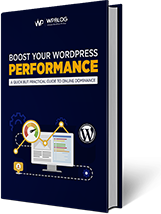 Create Faster WordPress Websites!
Free eBook on WordPress Performance right in your inbox.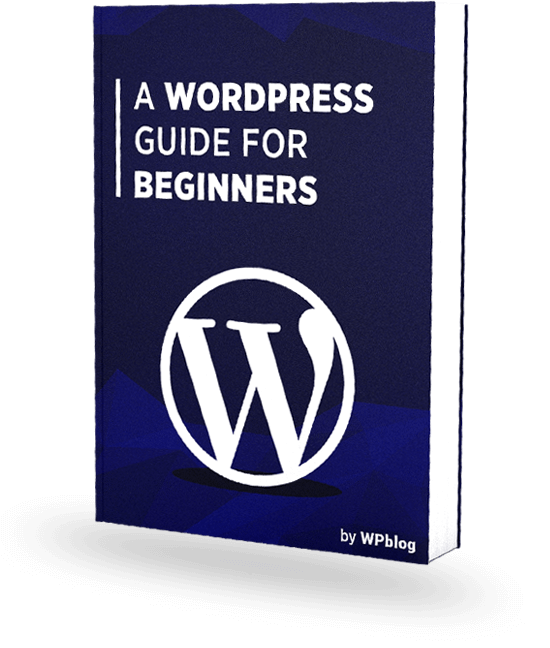 Create Faster WordPress Websites!
Free eBook on WordPress Performance right in your inbox.