Beginner's Guide to WordPress Post Formats
— December 7, 2016
•

7

Minutes Read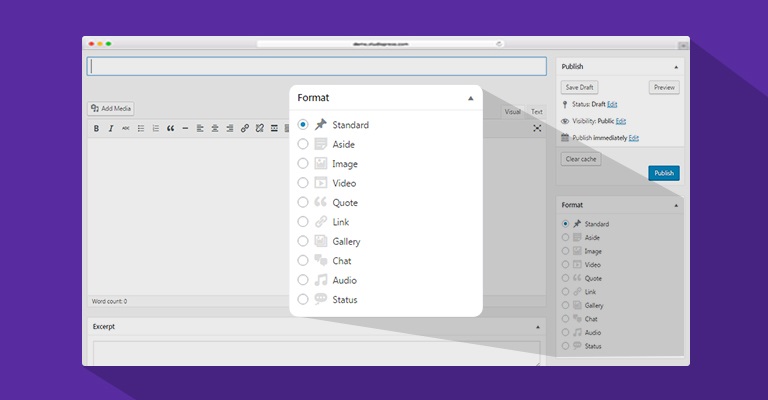 Take a look at the various WordPress Post Formats that can help you create specific types of posts, each one with its own unique style.
Hopefully, after reading my previous tutorial, you are now equipped with the essential knowledge you can use in creating a post on WordPress.
You can find a lot of different Post Formats in your WordPress Post Editor. The Format widget is located on the right side of your Post Editor screen. Depending on the type of post that you are working on, you can check the options available.
This article will answer all the questions related to WordPress post formats including "What are WordPress Post Formats?", "Different types of WordPress Post Formats? " and "Why to use WordPress Post Formats?"
Posts can be formatted as Standard, Aside, Image, Video, Quote, Link, Gallery, Audio, Status, etc. Most of the time, you will be creating a standard post which contains the title and content.
What are WordPress Post Formats?
Post Format is a WordPress feature which was introduced in WordPress 3.1. Before 3.1, users had to tweak "Categories" to accomplish this styling feature. Now, users can create "Post Formats" to make sure a post type is displayed the way it should be. For example, to create a video post, you won't have to create a seperate post format everytime you want to publish a video. WordPress post format fetches the display setting of a video format and will display it on your page.
However, this feature often goes unnoticed by WordPress users. If you are running a WordPress powered website, there is a high chance that you might have never used this feature. WordPress post formats are displayed on the right-hand side of the post editor.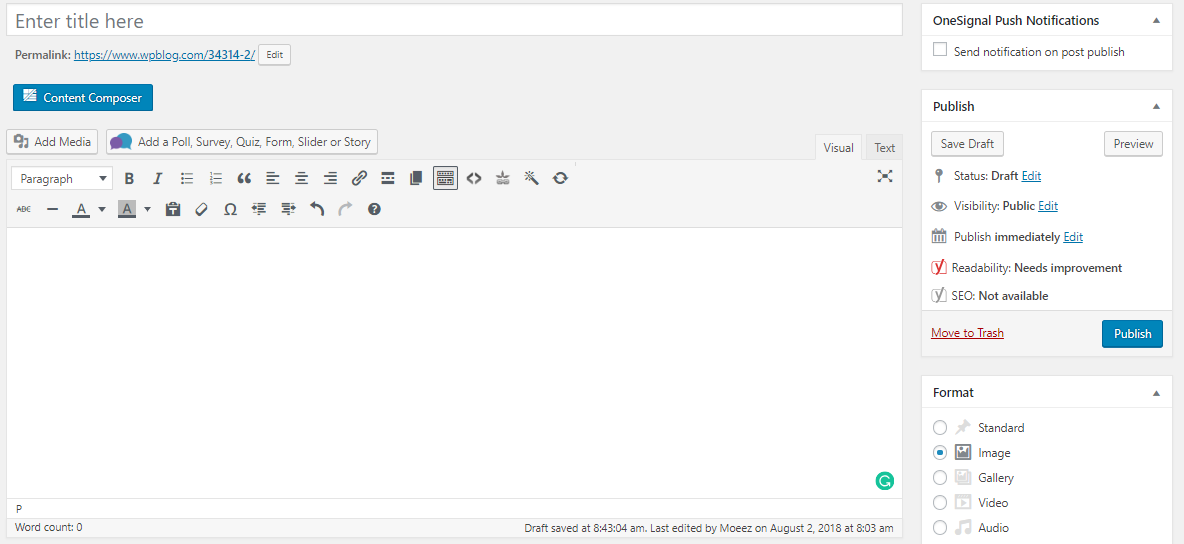 Not only videos, this feature can be used to format images, quotes, codes, and more. In short, post formats make WordPress a more complete blogging platform.
Why You Should Use Post Formats?
Using WordPress post formats is easy for WordPress users. As mentioned above, previously developers used to create clutters by tweaking "Categories". By using post formats, you will not only be making life easier for users but will also be making your blog more portable between themes that are supporting those formats.
You can use post formats to create links, share twitter feeds, 3rd party videos, and build galleries with just one click.
However, if you want to use this feature, you must use a theme that supports post format. Also, not all themes support all types of post formats. So it is recommended to do your research if you want to use WordPress post formats.
Types of WordPress Post Formats
WordPress Post Format offers 10 different type of Post Formats. Let's discuss them each in detail to create a better understanding, how important Post Format really is for your WordPress theme.
Standard Post Format
Standard Post Format is the default post format on WordPress. It is mostly used for content related posts such as blogs and articles. You can also specify any other post format as a standard post format as well. It is the most basic visualization of how your content is displayed on the front end of your website. It can contain a gallery of images or even an article containing a video.
Either, your theme can come with built-in support for formatting and display a specific post in accordance with your requirement, or you can customize it to your theme and classify it by educating yourself using Post Format from WordPress Codex.
Aside Post Format
Aside is a post format that is used by bloggers to add additional information as a post on their website. It can be an external link or a reference to a specific article from an external source. It can also be an interesting piece of information.
It is a supported post format i.e. Theme developers can provide support for a post format using Aside through visual representation. Basically, it mitigates the concerns encircling with writing a standard post and rather focuses on directing viewers to an external source to gain more information on the related topic.
Gallery Post Format
This post format is more focused towards adding multiple images to your published or drafted post or page on your website. Suppose it is a gallery or an individual number of images, and you wish to display them as a specific post on your website, with Gallery post format, you can successfully achieve it. Add support for it, define gallery presentations within your theme and do much more, all using the Gallery Post Format.
You can create an image gallery in WordPress by inserting images using Add Media option available in your Post Editor. Once you are done, all you have to do is simply click "Create Gallery." Your amazing image gallery will be created instantly.
Link Post Format
A Post that contains a link to a specific web location is specified as a Link Post Format. This type of format is basically used to share a link to a post instead of the whole post. It saves the hassles of writing a complete post and publishing it.
You can simply add a title of the topic that you are covering in your post and add a link or a URL to it. You can further add a little bit of information on what the link is for and post it along.
Image Post Format
Not only does an image speak a thousand words, it is also a more captivating form of content that increases engagement of your website. They are more shareable and have a better CTR. Think from the visitor's perspective. In a world full of textual content, visual content has great value that can get you more traffic.
A specific post that only displays a single image without any content in it is categorized as Image Post Format. Such Post formats are commonly used when you are crafting a portfolio based website or a website related to interior decor.
Quote Post Format
Quotes are the new sensation of social media. Quotes are one of the most shareable contents on the internet. Whether they are motivational quotes or humorous ones, people love to read them, resonate with them and share them with their friends so that others could take some inspiration from them as well.
When your post contains only a single Quote, you can simply select Quote Post Format before publishing it. You can also wrap your Quote around HTML Tag.
Status Post Format
It is one of those post formats supported by WordPress, which allow you to categorize your status as a post format. If your specific post contains just tweets or statuses, irrespective of the length of the status, then this Post Format can be used.
Video Post Format
Internet users love videos. A research by Hubspot says that users spend 1/3rd of their time of the internet watching and sharing videos. This stat is enough to make up your mind about publishing more video content for your users.
If you wish to post a video as a post on your website, then you may categorize it as Video Post Format in your WordPress. Videos can be embedded in your post from a third party website such as Youtube, Vimeo, Dailymotion, etc. However, in time, WordPress has advanced and with the version 3.6, it enabled users to upload native videos and playbacks.
Audio Post Format
Audio posts and Podcasts are a popular content format. People would rather listen to people talk about their favorite stuff than read long and never-ending paragraphs. In the gym, while cooking, driving or taking a walk, people love listening to podcasts.
If your website contains an audio podcast, it can be simply categorized as Audio Post Format. Podcasting can be done for multiple reasons such as educating individuals about a specific subject area. Such posts usually contain audio files from a third party website that can be easily uploaded to your Post Editor using the WordPress media uploader.
Chat Post Format
Last but not least is the Chat Post Format. Chat Post Format specifies chat supported by WordPress on a specific WordPress post. Mostly, chat transcripts are displayed using Chat Post Format. It can come in handy for businesses that wish to display chat transcripts for educational purposes for their specific visitors.
Themes Supporting WordPress Posts Format
As mentioned above, not all themes support WordPress post formats. So you have to be careful when you are purchasing your theme. For your ease, I have decided to list the top themes that support post formats.
Top Magazine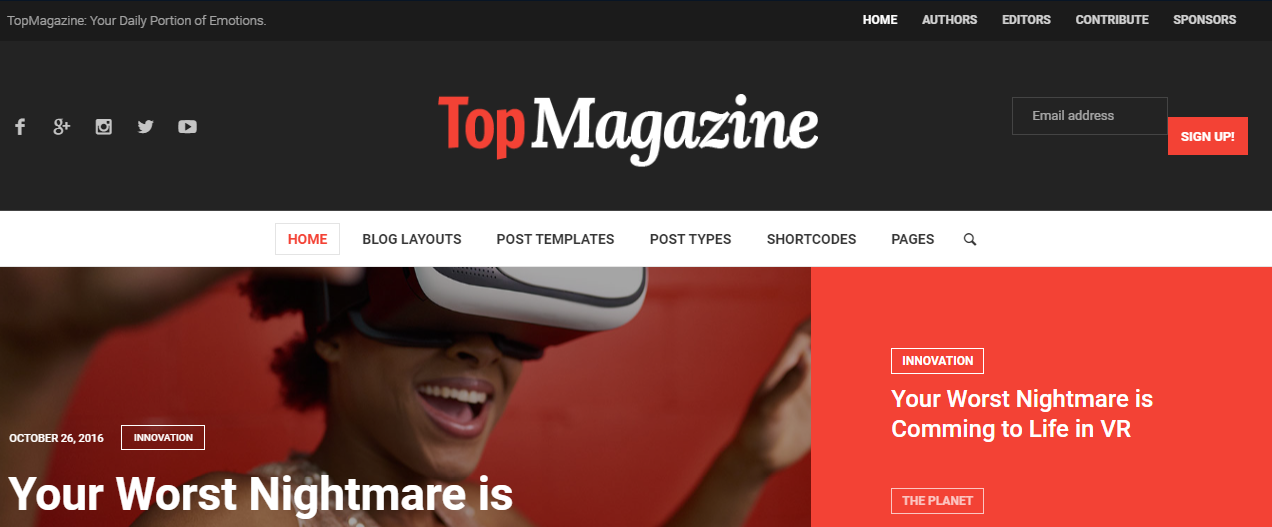 Top Magazine is an amazing WordPress blog theme that supports WordPress posts format. However, it supports only:
Standard Post Format
Image Post Format
Gallery Post Format
Video Post Format
Audio Post Format
SmartMag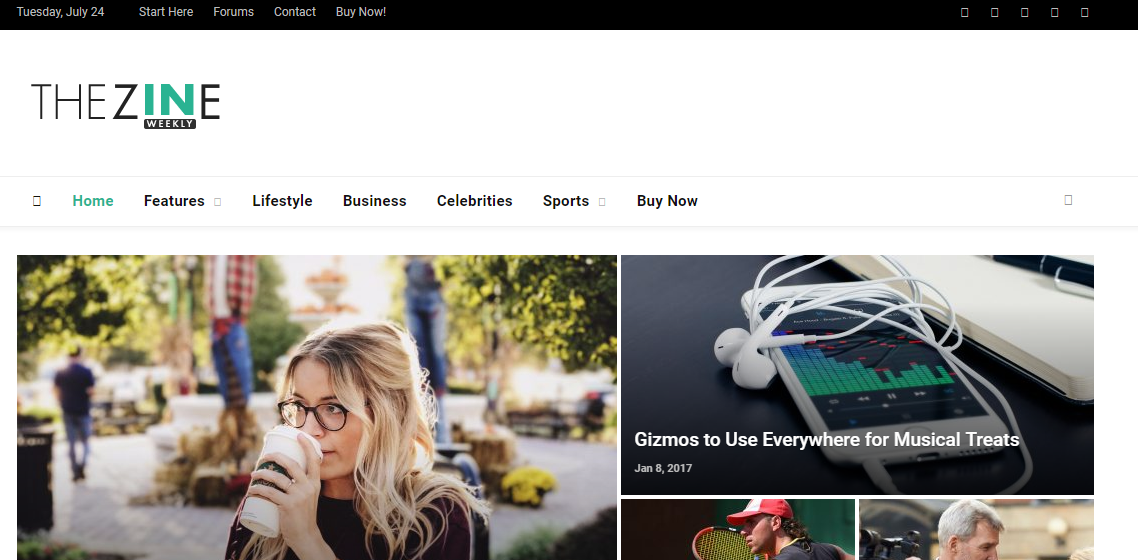 SmartMag is another premium WordPress theme that supports WordPress post format. The following post formats are supported by this theme:
Standard Post Format
Image Post Format
Gallery Post Format
Video Post Format
Audio Post Format
If you wish to know more about WordPress Post Formats, then you can refer to the WordPress Codex. If you are building a new WordPress theme from scratch, then you will need to enable support for the post format as mentioned in the codex.
WordPress Post Format vs Custom Post Types
As explained above in the article, WordPress post formats are the type of blog posts on your website. When you are publishing a blog post, you can assign it a post format from the selection of post formats in your backend.
Custom post types have been confusing WordPress users since forever. The basic difference between custom post types and WordPress post format is that custom post type is any content that is being published on your website. It can be a blog post, a landing page or even menus.
Frequently Asked Questions
Q1. Is it secure to use the WordPress post format?
Using WordPress post format is completely secure. Since it is a WordPress core feature, there is no issue in using it.
Q2. Is the WordPress post format completely free?

Some anti-spam plugins are free to use and they can be found on the WordPress repository. There are some premium plugins as well and if you are running a bigger website you should for those.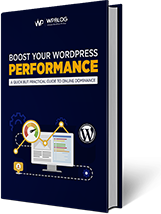 Create Faster WordPress Websites!
Free eBook on WordPress Performance right in your inbox.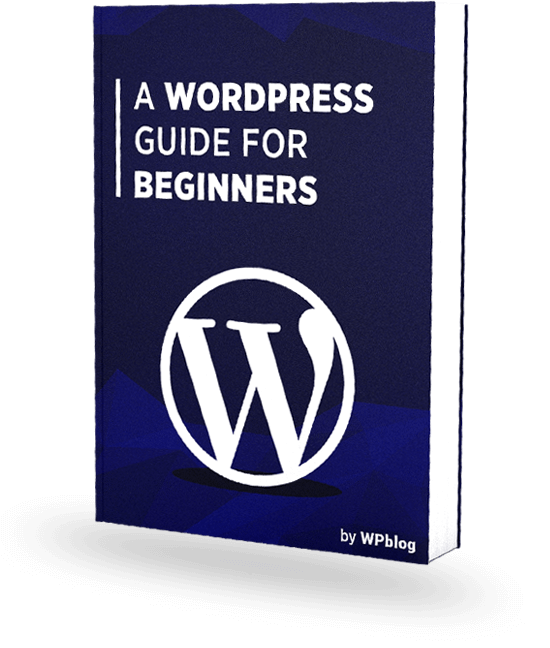 Create Faster WordPress Websites!
Free eBook on WordPress Performance right in your inbox.