8 Best One-Page WordPress Themes 2019
— December 4, 2018
•

7

Minutes Read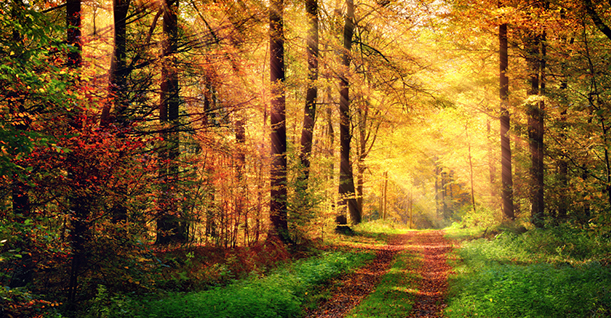 If you could get all of your website's content and display it elegantly on a single-page, your site will be reaching marquee levels of recognition real fast. Add that with parallax effect and some gorgeous animations and you've added that extra something that will elevate the interest of your visitors even more.
Many businesses are taking advantage of this approach in the hopes of not only enhancing user experience, but also to drive traffic and increase call-to-action. The one-page design is typically for sites with limited content like highlighting a single service or product.
If you're one of those businesses looking to make use of these themes, be sure you go for the ones that are retina-ready, have stunningly appealing parallax effects and above all, are highly responsive like the ones I'm about to mention in this article.
With that being said, it's time to get into the real meat of this write-up as I share with you all of the latest and most buzz-worthy one-page WordPress themes there are today.
Creativo 6

Creativo is definitely a keeper. It's powerful Drag and Drop Builder allows you to effectively craft and personalize each and every element of your site to your choosing. And the Theme Options interface adds to that juicy goodness.
It is a real treat for both professionals and novice users as one does not necessarily need to know how to code. It is ideal for business, portfolio and photography websites. It comes with several one-click demos including that of a one-page site.
There is a wide variety of templates available in which you only need to replace the content to make it all yours. It is completely integrated with WooCommerce, 3 design layouts, unlimited color choices, multiple header layouts and you can pay less and save big. Pretty neat huh?
Urban Grill – One Page Business WordPress Theme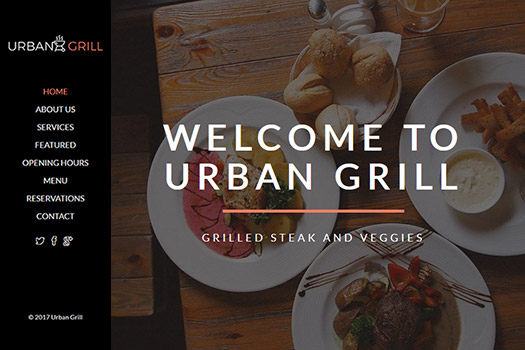 Urban Grill is a fresh one page WordPress theme suitable for any type of business that will smarten your website. It has amazing features like horizontal scrolling, typography options, translation-ready, multiple social icon formats,etc.
This single page WordPress theme is feature-rich and will help you promote your small business.
Features:
– Horizontal scrolling
– Full width Slider
– Section with accordion panels
– Vertical Menu
– Consists of options to add wholeness of a multi-page theme
Hestia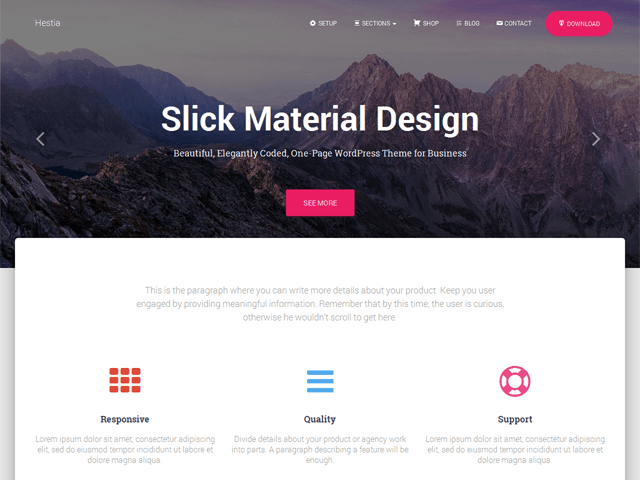 If beautiful had another name for it, it would be Hestia. It is an astonishing multipurpose material design theme that gives rookie brands the jumpstart they need. Here's where Hestia shines the most:
WooCommerce Compatible: You can build the front page of your WooCommerce store in a matter of minutes. There is no coding required and the clean and neat presentation helps boost sales and makes the store accessible to anyone.
SEO-friendly: Now you can make Google love your site with the help of Hestia's SEO-ready structure that also comes with a clean and optimized code.
Live Customizer: Everything you change from the colors, to the design details and the number of sections can be monitored in real-time with Hestia's built-in customizer.
Optimized For Speed: Speed is what makes a great site and Hestia allows you to optimize source code and compatibility with popular caching and minification plugins.
Mega Menus: Hestia grants you use of a highly responsive and user-friendly mega menu, which makes it easier for you to arrange and organize your submenu content as well as give you full control of the structure and design of your menus.
Himalayas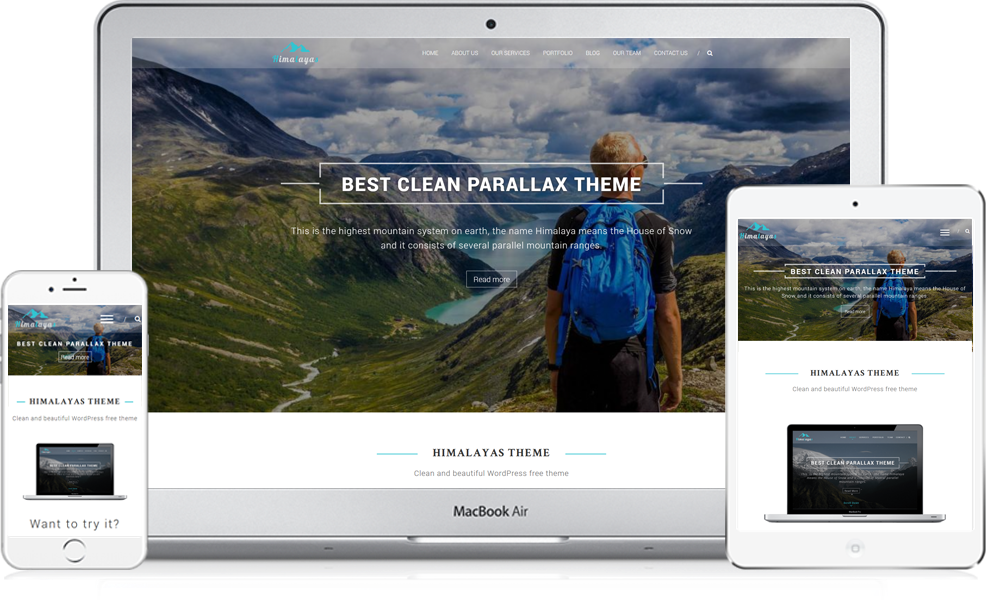 Like the actual mountain ranges, the Himalayas WordPress one-page theme is a sight to behold. This one page wordpress template is very suited portfolio, corporate, business, agency, photography and other sites. These are the charms that speak volumes for Himalayas:
Amazing Slider: You can display all the most important content of your sight beautifully with the theme's own image slider.
Primary Color Option: There's only one color that suits your brand and logo and that is what this option aims to provide.
Deeply Integrated with WooCommerce: Those who wish to open up an online store will be happy to know that this site is compatible with WooCommerce.
Translation-Ready: If English ain't your first language, then Himalayas can tweak the site in your own native tongue.
24/7 Support: You will have the full support of the theme 24 hours a day.
Custom CSS: If you don't like the default design of the theme, you can modify its design by rewriting its custom CSS.
Montblanc
If you're familiar with the name Montblanc, then you probably had it pegged for popular supplier of watches, leather goods and writing instruments. While that comparison isn't precise, it does certainly stand out in terms of beautiful design.
The Montblanc theme has an array of powerful features and also a professionally written code base. With $39, you can acquire the Visual Composer, which is a great drag and drop builder that helps you structure the content of your pages without even having to touch the code.
It also has:
Clean and elegant design
Deep WooCommerce integration
5+layouts of homepage and shop
Responsive Design
Retina-ready
One Paze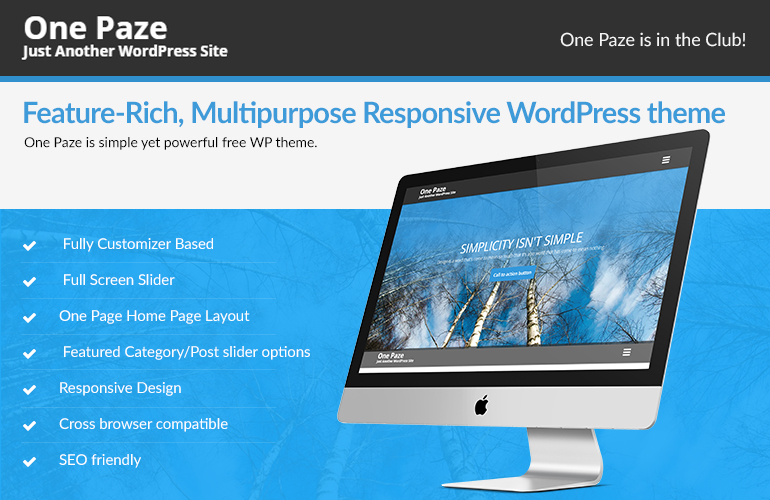 One Paze may be free and simple, but this little fella can dish it out big. It is highly revered because of the following:
Built-in customizer: You can simultaneously make changes to every element of your site and then view them in real time.
Custom Logo/Favcon Option: Uploading a logo is made easy and you can effectively personalize your website.
One page parallax OR normal multi page setup: You can turn your website into a single page with stellar parallax effects or make one with multipage menus.
Modern and beautiful design
Fullscreen slider: Give all your products and services the visual appeal they need.
Call to action
Multiple widgets
Client Testimonial Sliders
Beautiful blog layouts
Flash
ThemeGrill's Flash is hands down one of the most advanced, feature-rich and flexible one page WordPress themes around. It presently powers over 8000+ websites and also consists of an assortment of possibilities such as:
Drag and Drop Builder: Thanks to its integration with the SiteOrigin Page Builder, Flash allows you to give your the finest personal touches it needs to stray away from being generic.
Flash Toolkit Plugin: This plugin allows you to enhance the features of your plugin.
6+ Widget Areas: You can add widgets to areas like the header and the footer sections of your site.
Call to Action Widget: This widget lets you create call to action areas to help guide your visitors to important parts of your site or outside.
Social Menu: The social menu option is easily integrated on the top header area. These icons help you connect with your social profiles.
Translation-ready
Well-documented
Propel

Bloggers and portfolio developers are going to have a ball with Propel. It comes with a responsive design that enables it to look real good on any device possible. It consists of parallax scroll effects that makes browsing and navigation enjoyable.
It has a single-page layout along with separate layouts for blogs and any additional pages you wish to add. It has unlimited colors and a Twitter widget. It even comes with an AJAX portfolio expander to make it easier for people to view your portfolio without any interruptions.
Divi
Feel like you're on the clock to get your site up and running? Then give Divi a run. It is powered by the Divi Builder, which is an incredibly fast and intuitive front-end editor, that will very likely give your site the original flavor it requires to make a worldly impression.
It has all the tools you need to whip up a showstopper of a site, such as:
Responsive Editing: You can apply mobile breakpoints.
Real-Time Design: Any changes you make will occur right before your eyes, ensuring the results meet your desired expectations.
Simply Click and Type: Now you no longer need to open the settings panel to add text content. All you need to do is just click on the page and start typing.
Customize Everything: Everything from fonts, colors and sizes are customizable. You can even apply custom CSS.
Global Elements: You can sync global items from a number of pages. You update them once and they get updated everywhere.
46 Content Elements: With over 46 content elements you can mix, match and build just about anything.
Little to No Loading: Divi has no page refreshing of any kind and has almost no loading involved.
One Engine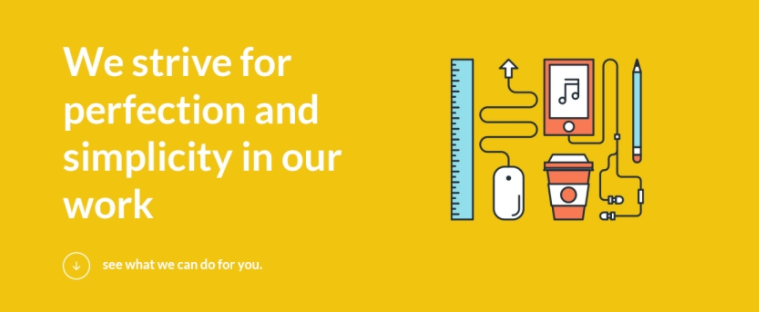 One Engine is a WordPress one-page theme for business websites. It's simple and focuses majorly on the usability aspect. The theme is in line with the latest design trends in the industry as well. The options panel is easy to use and you can get your site up and running very quickly.
Mustache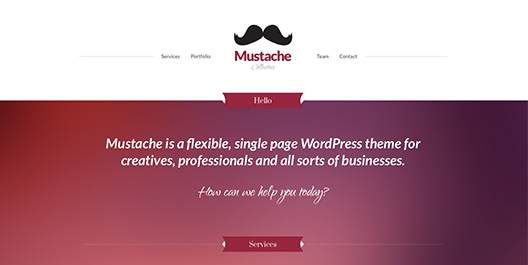 Mustache is a WordPress one-page theme dedicated towards photographers, designers, and artists. The theme's flexibility makes it compatible with multipage websites as well.
Finishing Touches
This is the part where I concede my proud list of one-page WordPress themes for my readers. Be the artist that you were meant to be and produce a website that would grab the attention of those from Apple and Microsoft. If you think I have missed out on a couple of other themes, do fill me in on them in the comment section below.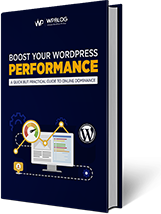 Create Faster WordPress Websites!
Free eBook on WordPress Performance right in your inbox.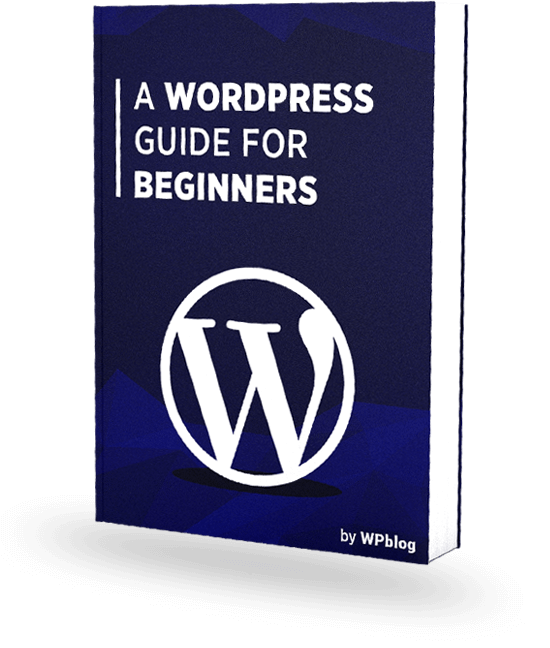 Create Faster WordPress Websites!
Free eBook on WordPress Performance right in your inbox.