Most Popular Free and Paid cPanel Alternatives
— January 10, 2020
•

8

Minutes Read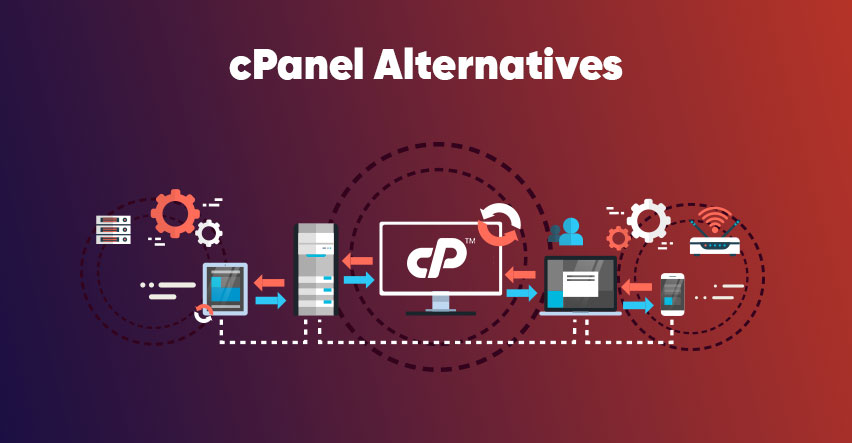 Are you looking for cPanel alternatives? If yes, then you are in the right place.
It's common for WordPress users to think that cPanel is the only panel that provides a good GUI for web-based control for WordPress. Despite the fact that we've numerous cPanel alternatives that provide more powerful features and extensive functions, we tend to jump to cPanel without actually ever exploring other options.
Initially, cPanel's affordability attracted many users, especially newbies, who had just started their WordPress career. But now, things have changed as cPanel's pricing is not the same. The increase in pricing has forced users to look for cPanel alternatives which ultimately lead hosting providers to launch their own platforms as people are looking to switch from cPanel. A recent example is SiteGround who has released its own managed WordPress hosting where it offers a platform to manage your WordPress website.
In this article, I'll take you through the best cPanel alternatives that will help you make the right decision so that you can switch to the platform that best suits your needs. Some of these platforms are similar in functions and some are better than the other, but before we start looking at cPanel alternatives, we need to develop a thorough understanding of cPanel and why exactly do you need its alternatives.
What is cPanel?
cPanel is a popular web hosting control dashboard that allows users to manage their websites from a web-based interface. Through GUI and a set of tools, you can control your Linux server and simplify the hosting management process. It also makes website hosting simple and easy for non-techies.
cPanel uses the tier structure controlling which offers different levels of access from admin to end-users that is used to control various aspects of the server. It also offers a WordPress hosting plan with a set of features that includes the ability to manage databases, domain names, backups and mail accounts.
Additionally, exploring hosting reviews can offer insights into the experiences of users who have switched to alternative hosting solutions, helping you make an informed decision. No doubt, the cPanel dashboard provides ease for its users to manage their hosting with no technical skills, so what is the reason that forces its users to look for its alternatives? Let's take a look at them!
Reasons to Look for cPanel Alternatives?
There are numerous reasons to look for cPanel alternatives but I would like to highlight some of the main ones which I think are the factors which people would not like to compromise on:
Pricing
Performance
Security
Limitation
1.  Pricing
Pricing is one of the main reasons why people look for cPanel alternatives because, in the past, cPanel had cheaper plans which attracted a lot of users, especially beginner developers with a limited budget. Now, users are looking for cheaper solutions and there is no surprise that there are a number of them available.
2. Performance
cPanel uses Apache web server which is compatible with any platform and application but it consumes a lot of RAM which results in increased load time as compared to NGINX web server. cPanel also doesn't officially support the NGINX web server which is a drawback for the performance.
Also, cPanel is integrated with many features and services that are not actually needed by users that ultimately result in performance issues.
3.  Security vulnerabilities
cPanel is the most widely used control panel for web server and also one of the most popular targets for hackers. As we know, cPanel plays a middle role between a server and a user, which means hackers can easily exploit and get access to all of the server's data. This is why you have to update your cPanel to the latest version if you don't then security vulnerabilities increases.
Also, cPanel is more prone to hacks because it provides full access to the Linux system.
 4. Limitation
cPanel is designed for small scale business which has low site traffic but when your business starts to grow along with your traffic, cPanel fails to provide the required value. Mostly, a large website suffers from this limitation because it is very important for a web host to grow at the same pace as your business. Slow website speed, increasing downtimes, 502 errors are some of the common issues reported by cPanel users with larger websites.
The solution? NGINX! Larger websites run faster and smoother on NGINX as it consumes less RAM as compared to Apache.
Best cPanel Alternatives
There are several cPanel alternatives that provide more or less similar features but I've picked the 6 best cPanel alternatives for you:
SPanel
Webmin
Plesk
Ajenti
ISP config
st cPanel Alternative – Managed WordPress Hosting
1. SPanel
SPanel is an "all-in-one" cloud platform you can use to manage your server, e-mails, WordPress installs and take care of backups, security, and more. It's developed by the ScalaHosting R&D team and it comes for free with any of their managed VPS services. It has a very similar interface to cPanel and for those that are not in the mood to learn new functionality, SPanel is a perfect choice. On top of that, it features free integrations that cPanel lacks such as Nginx, OpenLiteSpeed, and it has an administration module similar to the cPanel's WHM.
It also has its own advanced cybersecurity system called SShield, which is like Imunify but free. For WordPress lovers, there is an integrated 1-click manager called.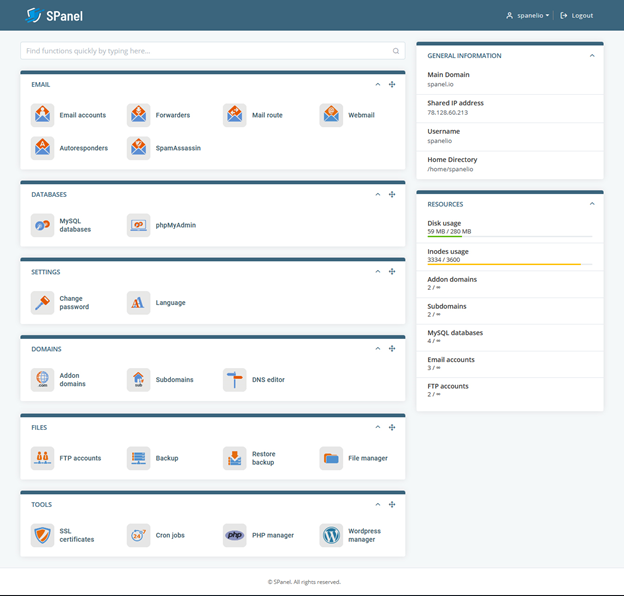 The migration from cPanel is really easy as SPanel is fully compatible with it, and you can transfer an unlimited number of websites for free.
 2. Webmin
Webmin is one of the best cPanel alternatives out there which offers a feature rich interface that helps users manage their web servers with ease. It simplifies the process of managing a Linux system with modules that lets you monitor bandwidth, manage users, set up cron jobs, and much more.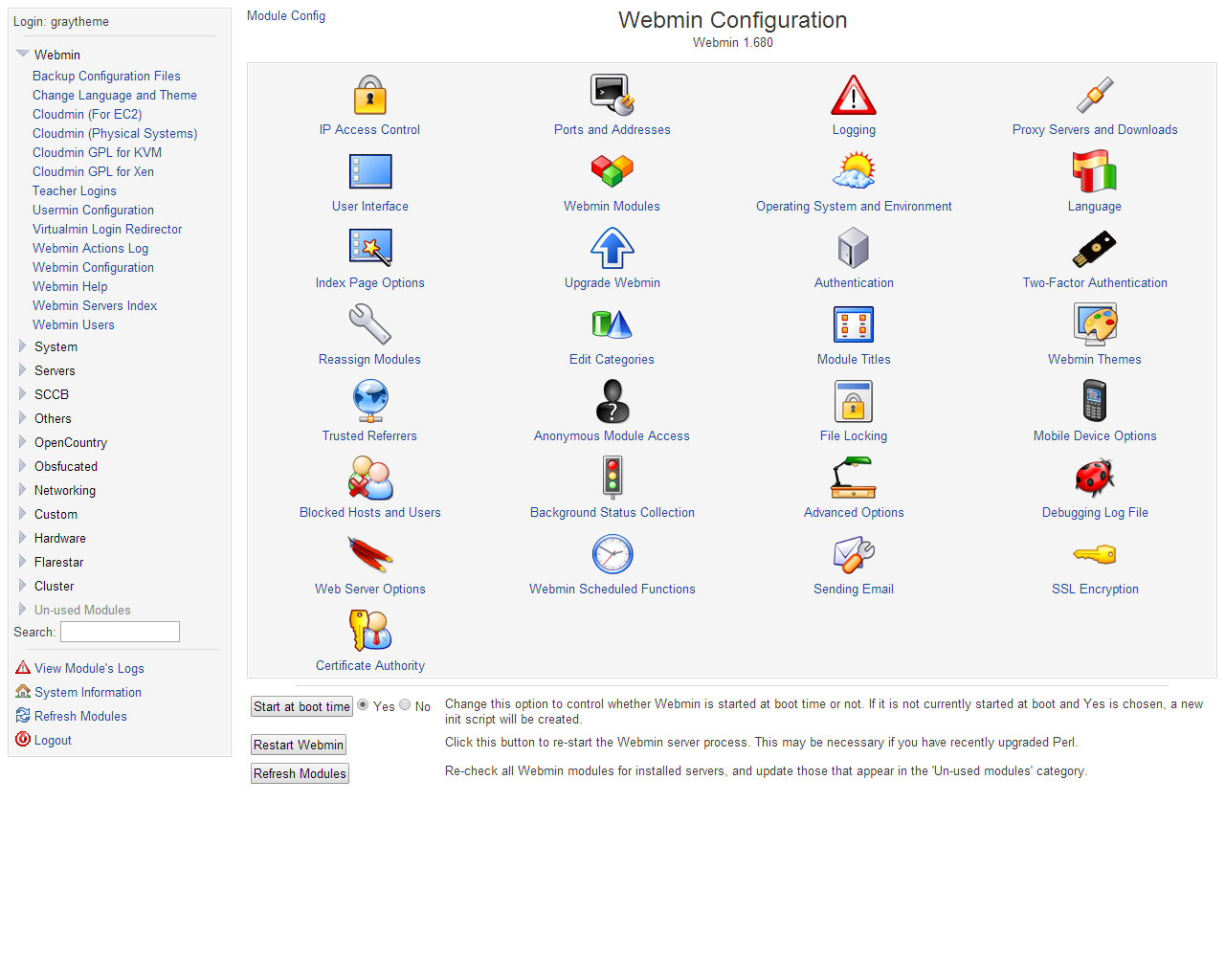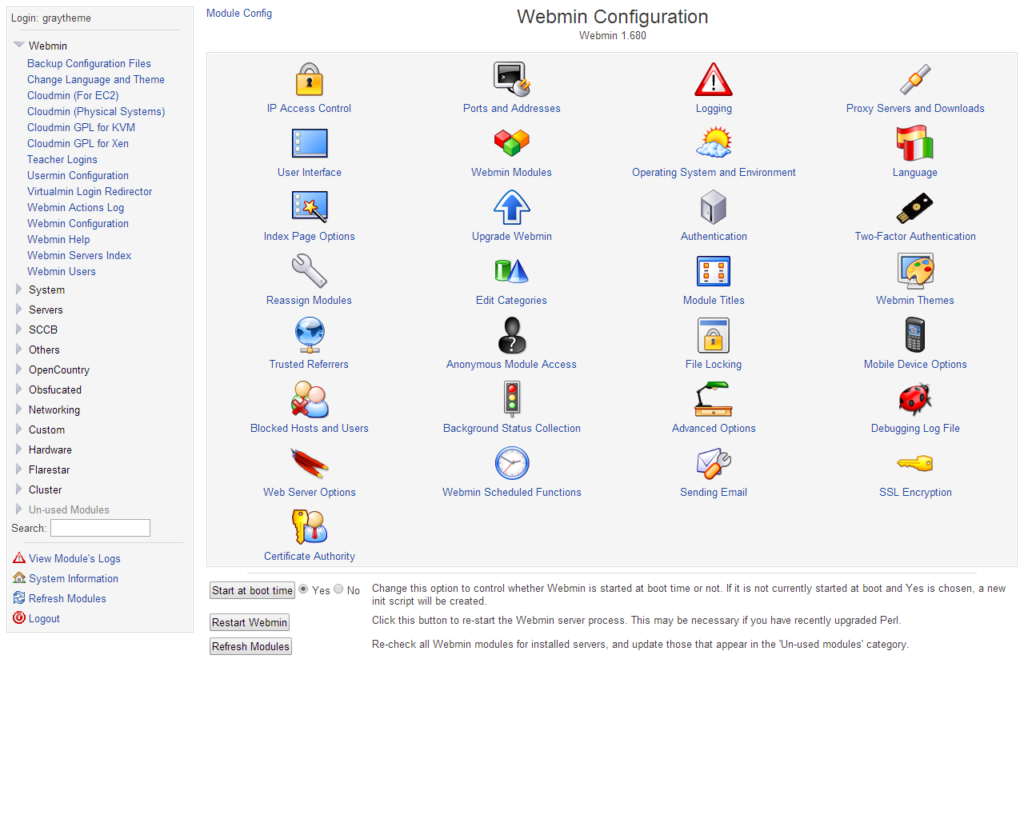 Webmin comes with a modern, easy to use web interface that is also suitable for beginners who are just starting to get the hang of managing their websites.
You can easily create, edit, and delete accounts on your system. Also, you can manage databases, tables, and other fields. It also offers other rich features such as Linux Firewall, Disk Quotas, Software Packages and many more.
3. Plesk
Plesk is not only a close competitor of cPanel, but it is also the second most popular hosting panel in the current market. Plesk is a great cPanel alternative that offers the most user friendly interface. It is popular in the industry for having a flawless user experience and many developers switch to Plesk for that particular reason only.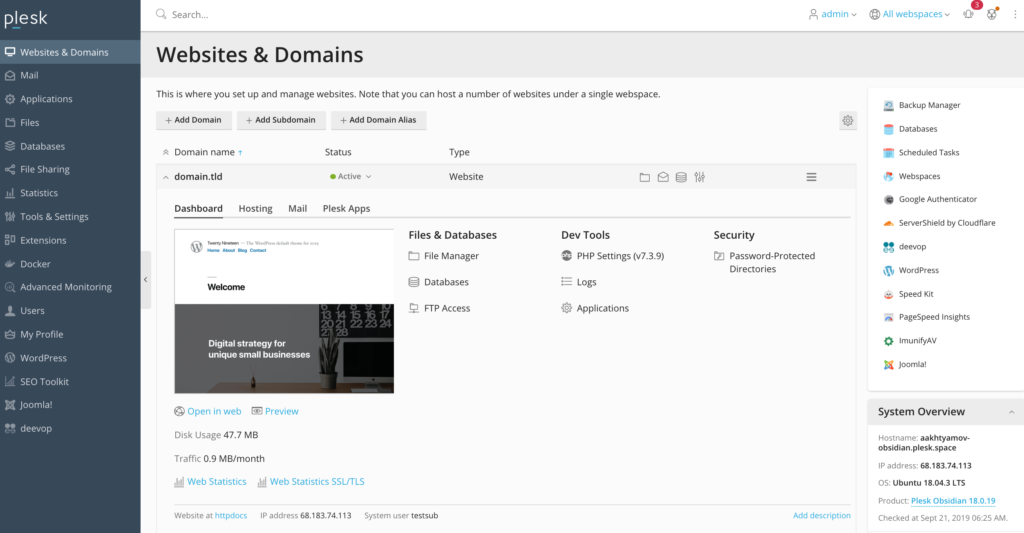 Plesk is the only web based control panel that offers support for Windows. Along with that, it also supports the Linux Debian environment which is a complete contrast from cPanel as cPanel only supports a few Linux distribution.
What's interesting is that Plesk is owned by the same company that owns cPanel. This has always sparked a lot of speculations about the future of both projects.
4. Ajenti
Ajenti is a free cPanel alternative that is ideal for smaller projects. If you are a developer that often runs personal projects, then Ajenti is the perfect platform for you. It is completely open source and supports a number of Linux distributions.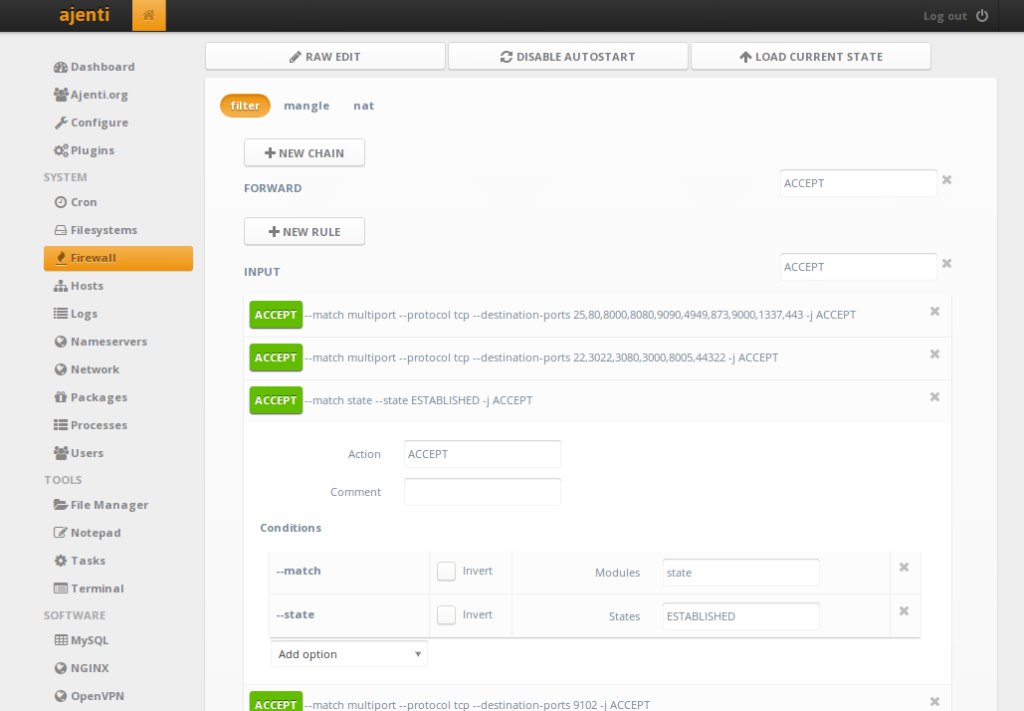 It is a lightweight platform that has proven to be a great cPanel alternative. It comes with firewall protection which adds an added layer of security for your server. Monitoring and analytics make it a great solution for data enthusiasts.
5. ISPconfig
ISPconfig is a free cPanel alternative and has been one of the most popular cPanel alternatives around. It offers a similar set of features with just a little twist. ISPConfig enables you to manage multiple servers from a single panel. It's an open source, and free to use cPanel alternatives.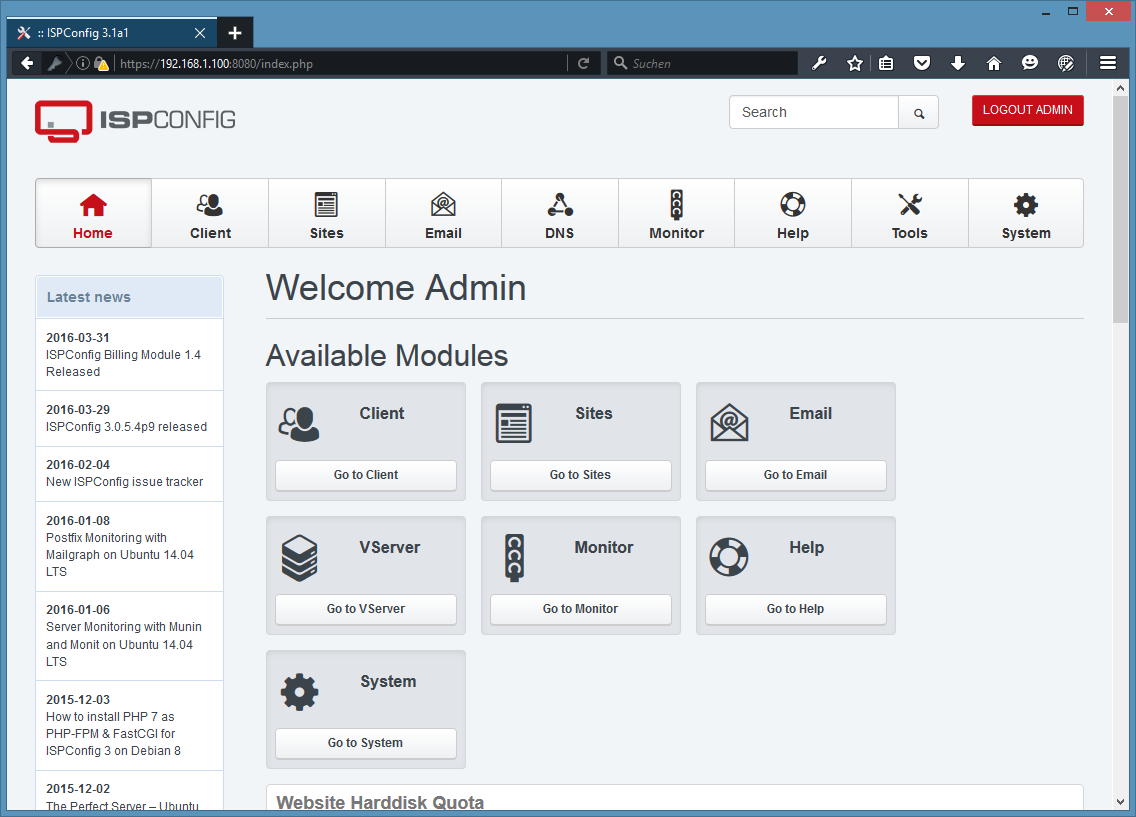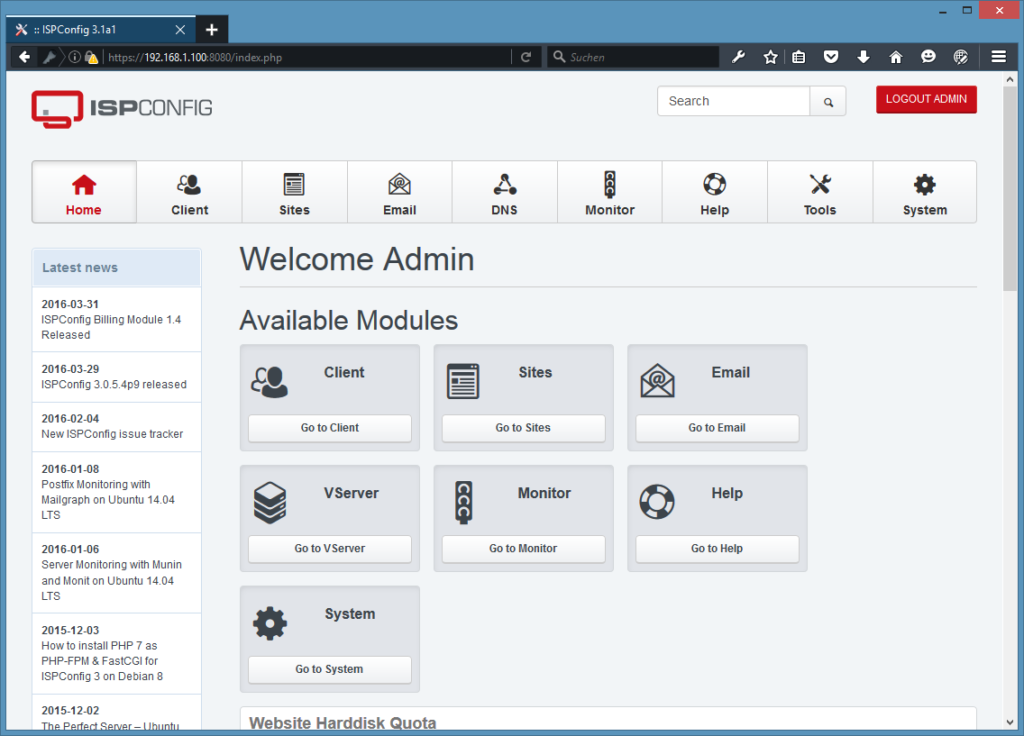 It offers support for Debian, Ubuntu, and CentOS which makes it desirable for a variety of users.
6. Best cPanel Alternative – Managed WordPress Hosting
Lastly, Managed WordPress hosting is the best alternative to cPanel powered hosting where you can easily manage your WordPress site. It not only saves your time but it also saves you from the hassle of managing your server related tasks and responsibilities. The best part is that you don't need any technical skills or expertise to manage your application through a managed WordPress hosting as it offers one-click deployment of both WordPress and your server.
A managed WordPress hosting provides you an advanced level of:
Security
Automatic Backups
Hassle Free Hosting
Technical Expertise
Scalability of Business
Flexibility
User Experience
Let's discuss some of the reasons why managed WordPress hosting is the best cPanel alternative and see how it can benefit you as a business owner.
Managed WordPress hosting provides a great web environment specifically for WordPress users, which provides better performance, scalability, and uptime.
Managed WordPress hosting provides a better support service as support engineers and experts only deal with WordPress related issues on a daily basis which improves their problem solving skills, resulting in high quality answers.
Managed WordPress hosting provides a better user experience for managing your site via powerful custom dashboards. This provides a nice change from your typical cPanel and is usually cleaner, faster, and more intuitive to use.
Managed WordPress hosting provides automatic backups for your WordPress sites with no additional charges. In case you lose your WordPress site data, you can easily recover that through a few clicks which is the essence of managed WordPress hosting. In cPanel powered hosting, however, this service is included in higher plans.
Managed WordPress hosting provides a more secure environment as compared to other cPanel based hosting providers and provides additional precautions such as enforcing a strong WordPress admin passwords, banning certain plugins that are known to have issues, and they most likely have the expertise to provide assistance if your site is hacked.
Let's have a look at Best cPanel Alternative – Managed WordPress Hosting providers:
Cloudways
WP engine
Kinsta
1. Cloudways
Cloudways is a popular managed WordPress hosting platform. It has a very unique value proposition for developers, bloggers, agencies and eCommerce stores where it offers a state of the art platform that lets you manage your server and your application. It is a managed cloud hosting platform through which you can easily deploy cloud servers in over 40+ global locations with optimized WordPress instances. Cloudways offers very powerful features such as 24/7 support,  Free automatic backups (application and server level), HTTPS redirects, free SSL certificates, Server monitoring and many more.
2. WP engine
WPengine is known in the industry for its immaculate support and lightning fast servers. They are one of the pioneers in the managed WordPress hosting industry and have since been at the top. Wp engine provides great security, flexible solution, and many other powerful features in order to make your hosting experience great.
3. Kinsta
Kinsta is one of the new hosting solutions in the block but they have quickly covered a lot of ground and are now competing closely with WP Engine and Cloudways. Their prime motto is to provide high performance for high-traffic and demanding sites with great features like automatic backups, 24/7 support, monitoring, and many other advanced features.
Also, on WPblog:
Final Words:
So, we have seen this there are numerous cPanel alternatives but we've addressed 6 best free and paid cPanel alternatives that provide less or more similar features and the managed WordPress hosting is the popular cPanel alternative that takes away all the difficulties and hassles of server management.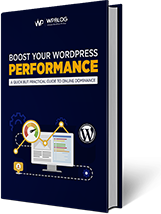 Create Faster WordPress Websites!
Free eBook on WordPress Performance right in your inbox.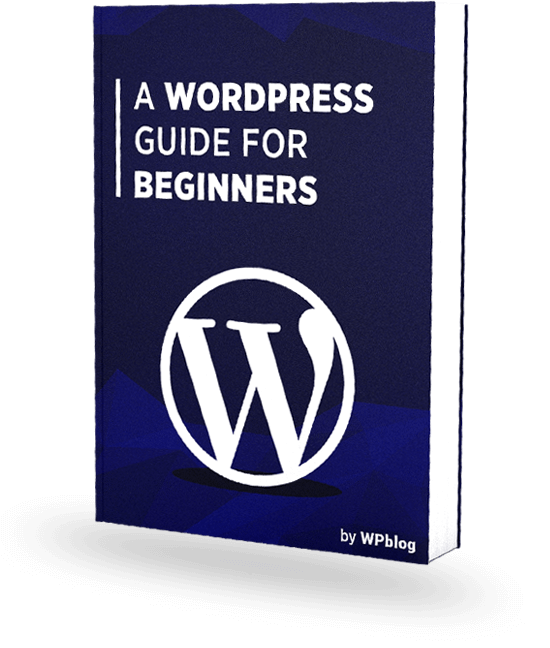 Create Faster WordPress Websites!
Free eBook on WordPress Performance right in your inbox.