Kinsta Managed WordPress Hosting Detailed Review
— January 20, 2020
•

9

Minutes Read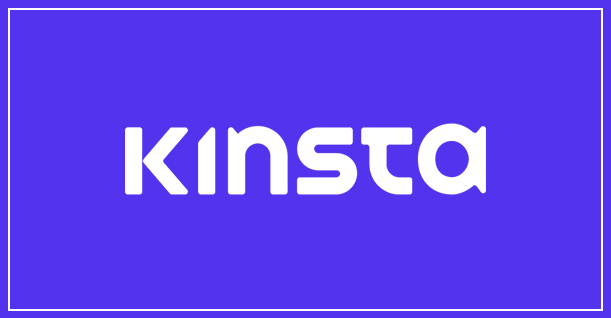 When it comes to running your business, one of the most important commodities you have is time. Many of you are juggling all sorts of tasks from marketing, to sales, and the day to day of running your WordPress site. This is why it is so very important to invest in a high-performance managed WordPress host, the reasons of which we will go into more below.
There are many hosting providers out there to choose from, and sometimes it can be overwhelming with all the information and reviews sites on the web. Instead of giving you a list of the top 20 managed WordPress hosts, today we are simply going to take a deep dive into one, and that is Kinsta.
Benefits of Managed WordPress Hosting
Before we get into the review, let discuss some of the reasons how managed WordPress hosting can benefit you as a business owner, and why it differs from other setups such as shared or dedicated servers.
Managed WordPress hosts typically have fine-tuned environments specifically for WordPress, which in turns provides better performance, scalability, and uptime.
Support is better as representatives only focus on one platform every day, and this in itself creates a knowledge learning machine to provide customers with higher-quality answers.
A lot of managed hosts have custom dashboards to provide a richer experience when it comes to managing your site. This provides a nice change from your typical Cpanel and is usually cleaner, faster, and more intuitive to use.
Server software is generally tweaked for WordPress developers to ensure for a more rapid workflow. This includes things such as WP-CLI.
Managed hosts are generally more secure (for the CMS) as they monitor and patch for security updates in WordPress. They also might implement additional precautions such as enforcing a strong WordPress admin passwords, banning certain plugins that are known to have issues, and they most likely have the expertise to provide assistance if your site is hacked.
About Kinsta WordPress Web Hosting (Review)
Now it's time to dive into the review. Kinsta is a managed WordPress host who launched back in 2013, with offices based out of Los Angeles, London, and Budapest. Their sole focus is on performance for high-traffic and demanding sites. They were the first host to exclusively use the Google Cloud Platform to power client's WordPress sites. Some of the brands they work with include GE, Intuit, Mint, and AdEspresso. Their support team is made up of actual WordPress developers who contribute to core and other open source projects, which allow them to provide top-notch 24×7 support.

Kinsta also uses Linux containers (LXC), and LXD to orchestrate them, which enables them to completely isolate not just each account, but each separate WordPress site. This is a much more secure method than offered by other competitors.
Utilizing Google Cloud Platform gives them access to Google's private Fiber network, which is one of the biggest in the world, comprised of hundreds of thousands of miles of fiber optic cable. This allows for Kinsta's machines to process more data in less time.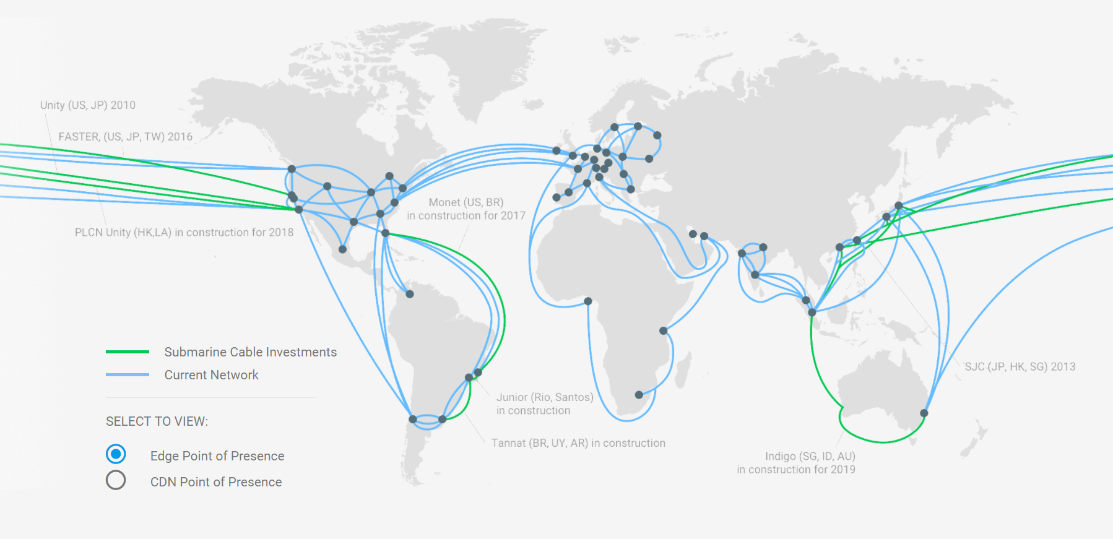 "Google's ability to build, organize, and operate a huge network of servers and fiber-optic cables with an efficiency and speed that rocks physics on its heels…This is what makes Google Google: its physical network, its thousands of fiber miles, and those many thousands of servers that, in aggregate, add up to the mother of all clouds."  — Wired Magazine
They use Google's multi-regional deployment mode. This means that you can choose a different data center for each of your WordPress sites. Currently locations in the United States, Europe, and Asia are available. Picking one closest to your most profitable clients can ensure the lowest latency in those regions.
They also specialize in WooCommerce hosting, having helped many companies survive the "Shark Tank effect." They have fast server-level caching in place with the following rules to ensure proper WooCommerce functionality:
By default, certain WooCommerce pages like cart, my-account, and checkout, are excluded from caching.
Users automatically bypass the cache when the "woocommerce_items_in_cart cookie" is detected to ensure a smooth and in-sync checkout process.
Ability to programmatically purge individual URLs using the kinsta-cache/purge_list filter.
Programmatic purging can also be done via cURL by calling a URL with a prefix provided by our support engineers.
This allows for their infrastructure to easily handle thousands of concurrent users.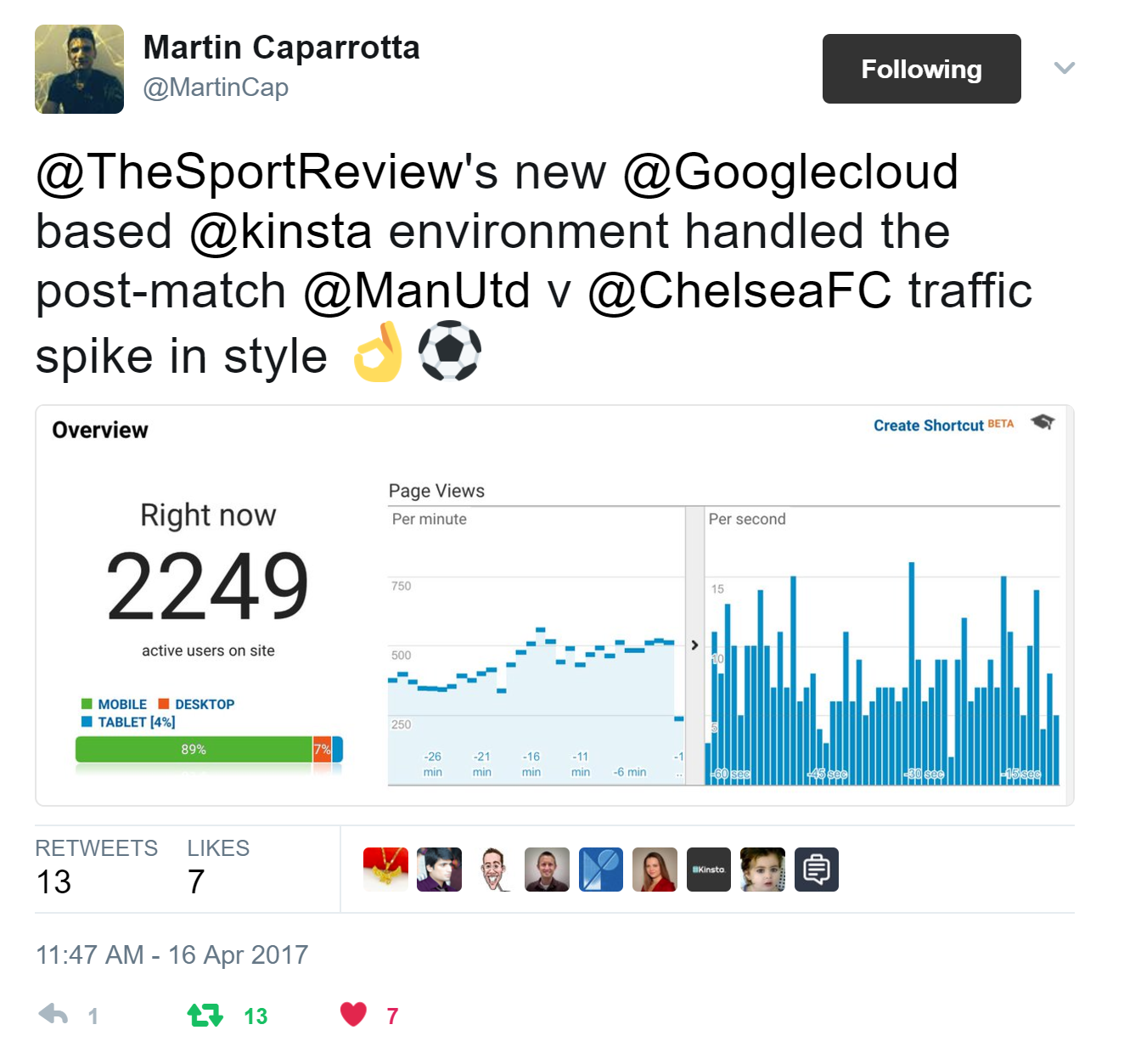 Key Features of Kinsta's WordPress Hosting Include:
Fast server-level caching: This means you don't have to waste time hassling with caching plugins. No more reading "the best caching plugin" reviews!
Power of Google Cloud Platform and NGINX: You can choose your data center to minimize latency.
WordPress website management: A clean and fast dashboard designed from the ground up to allow for easier management of your WordPress sites.
HTTP/2.0: out of the box along with one-click free SSL certificates via Let's Encrypt
PHP: Your choice of PHP 5.6, 7, and 7.1. Kinsta has emphasized on their blog that they only use the latest supported versions of PHP for security and performance reasons.
HHVM support: If you have a high-traffic site and PHP 7 isn't cutting it, you can take it one step further and utilize HHVM, which can easily be enabled from their dashboard.
Data center locations: Ability to choose data center location to minimize latency.
Automatic scaling and daily backups
Staging Environment: One-click staging environments and cloning
1440 daily uptime checks per site
MariaDB and easy phpMyAdmin access
SSH, WP-CLI, Git
Uptime checks: Multisite support
DNS: Premium DNS via Amazon Route 53
Support: 24×7 Support
Post-hack clean up services: Hack fix guarantee
Testing Kinsta Web Hosting Performance
The speed of your WordPress site is so very important! Much more than most people realize. This can affect your SEO, conversion rates (which in turn directly affect your sales), bounce rates, time on site, and the general overall user experience.  That is why we wrote our post on 26 ways to speed up your WordPress site. And #2 is choosing a "reputable hosting provider." To make an informed choice, consider reading hosting reviews to ensure that your WordPress site is hosted with a provider that offers both performance and reliability.
Thankfully Kinsta's infrastructure is built for speed, scalability, and high-availability. They achieved "top tier" performance awards 3 years in a row from ReviewSignal. Beating out pretty much every other competitor. They were also named the most reliable host by CodeinWP.
Pingdom
Here is our test result on wpblog.kinsta.com when we ran it through Pingdom. As you can see it loaded in 236 ms, with a 98 performance grade! Which is pretty great.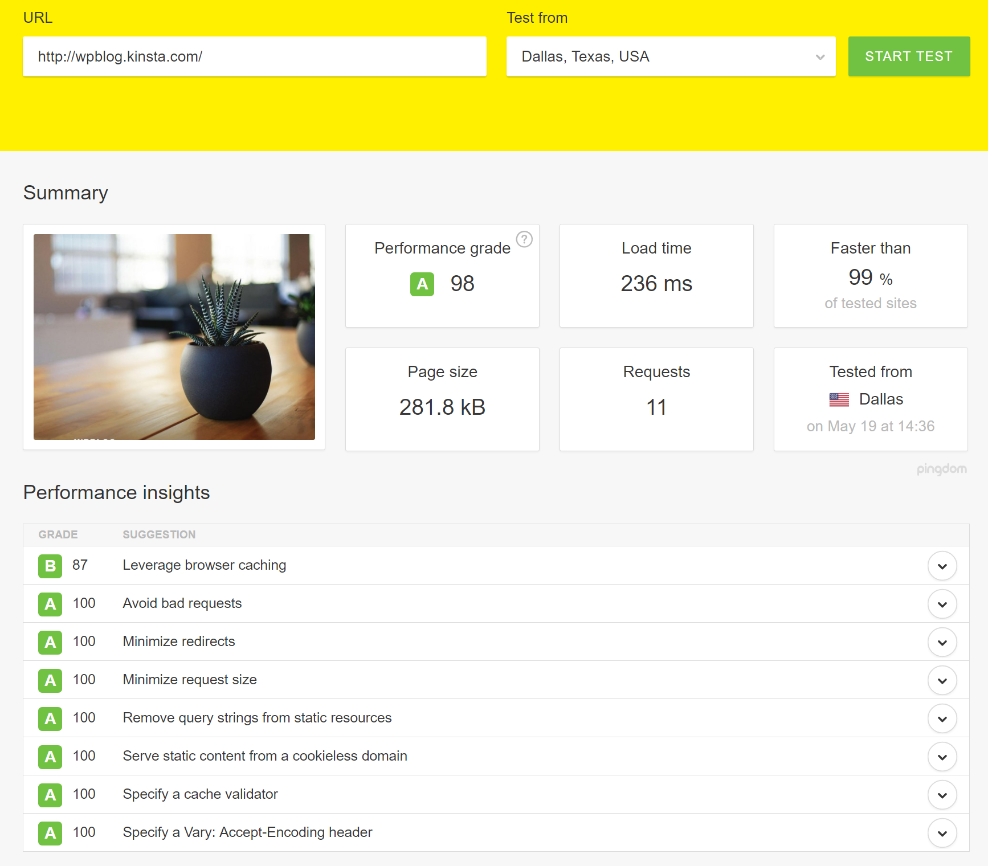 GTMetrix
We then ran a test on GTMetrix. It scored a 96% PageSpeed score and a 93% YSlow score.

Google PageSpeed Insights
We then ran a test on Google PageSpeed Insights. It scored a 75/100 on mobile and a 91/100 on desktop.

We then installed the Total WordPress theme and imported the dummy demo data. Total is a large multipurpose theme, which also includes WooCommerce. We then ran another speed test on Pingdom.
As you can see it loaded in 883 ms, with a 98 performance grade! This is amazing for not having the DNS (domain) setup yet, or even using a CDN. This is just stock Kinsta with a multipurpose theme.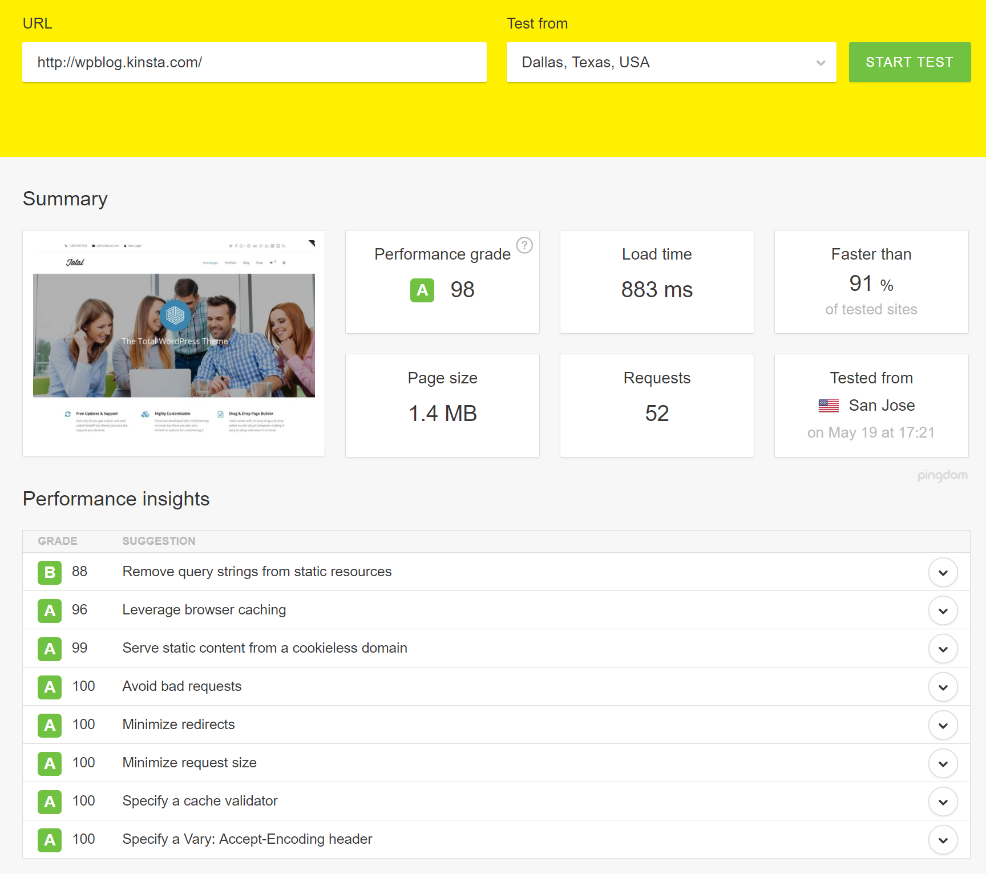 We also ran a test with KeyCDN's performance speed test. This allows us to see the TTFB, DNS, connect time, etc. As you can see below, it is pretty much green across the board. Our Kinsta site was hosted in the United States "central" location.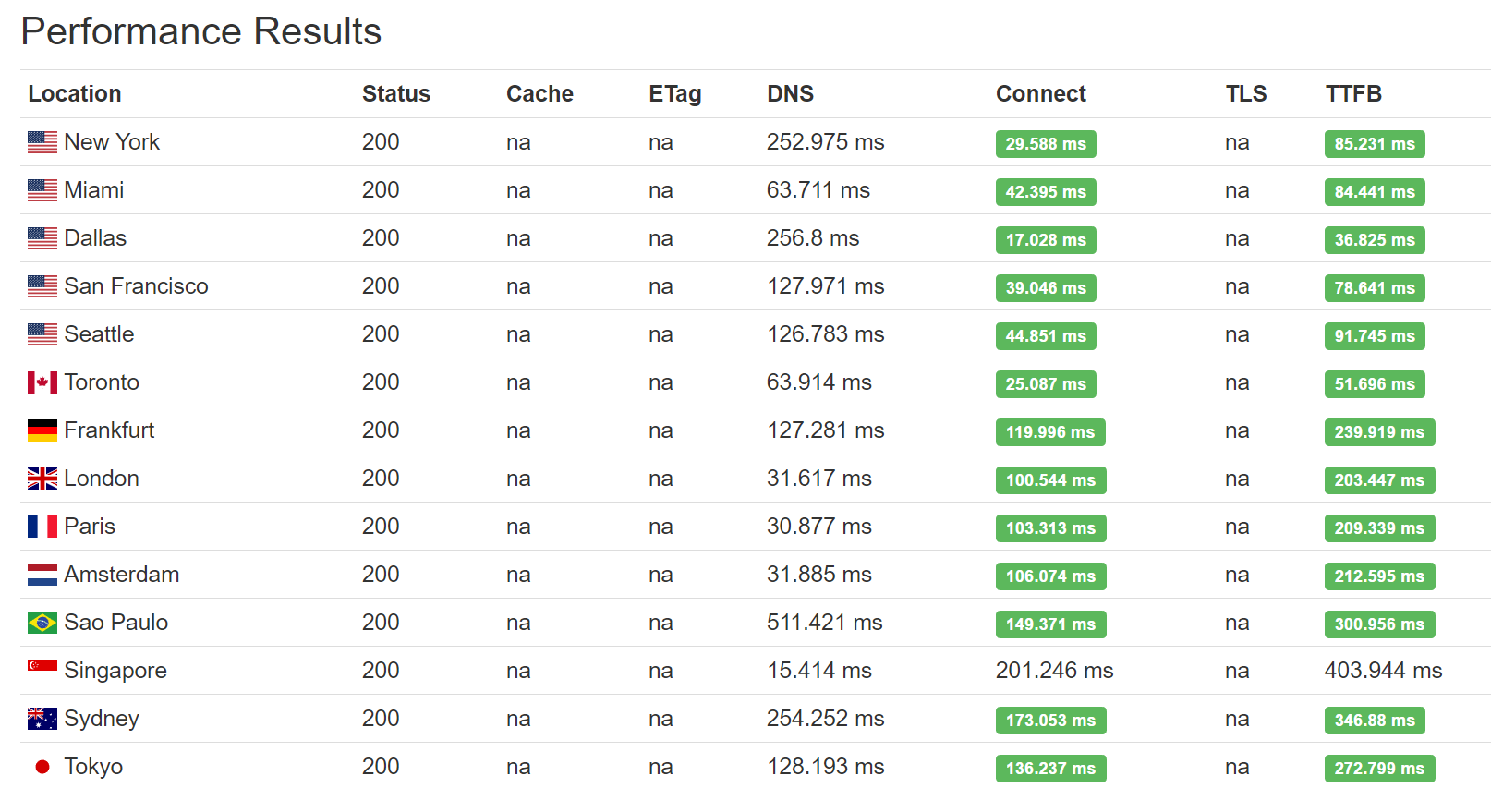 Overall we were very impressed with Kinsta's speeds right out of the box. With a little more work, such as image optimization, implementing a CDN, we could easily see even faster speeds.
Exploring the Kinsta Dashboard
Now for the fun part! Exploring the Kinsta dashboard. When you first login you are met with a quick overview of your WordPress sites, resource usage, invoices, data transfer, and visitor analytics. The UI is very well built and minimalistic which makes it very easy to find and navigate. If you compare this to something like Cpanel, well, there really isn't even a comparison.
Support is available 24×7 from within the dashboard. They utilize Intercom, which makes for a pleasant chat experience… no old school filing tickets and waiting hours for a reply.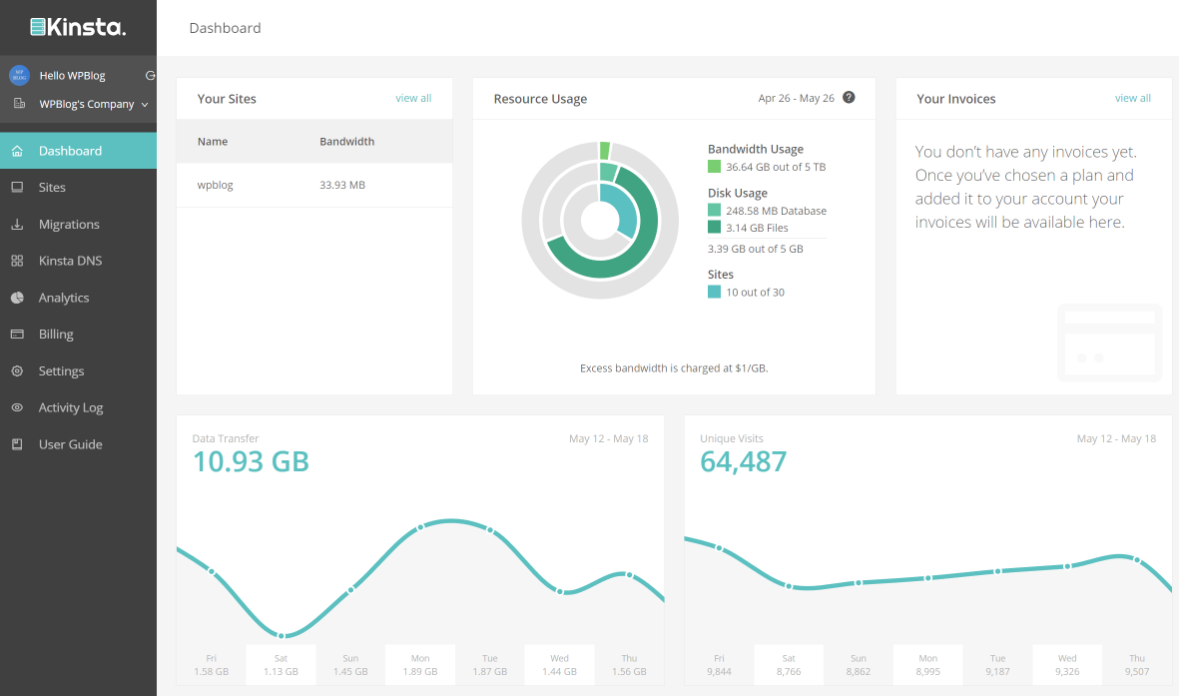 Site Management
If you click into "Sites" you can manage each individual WordPress site. You can quickly access connection information, domains, backups, tools, redirects, plugins, and logs.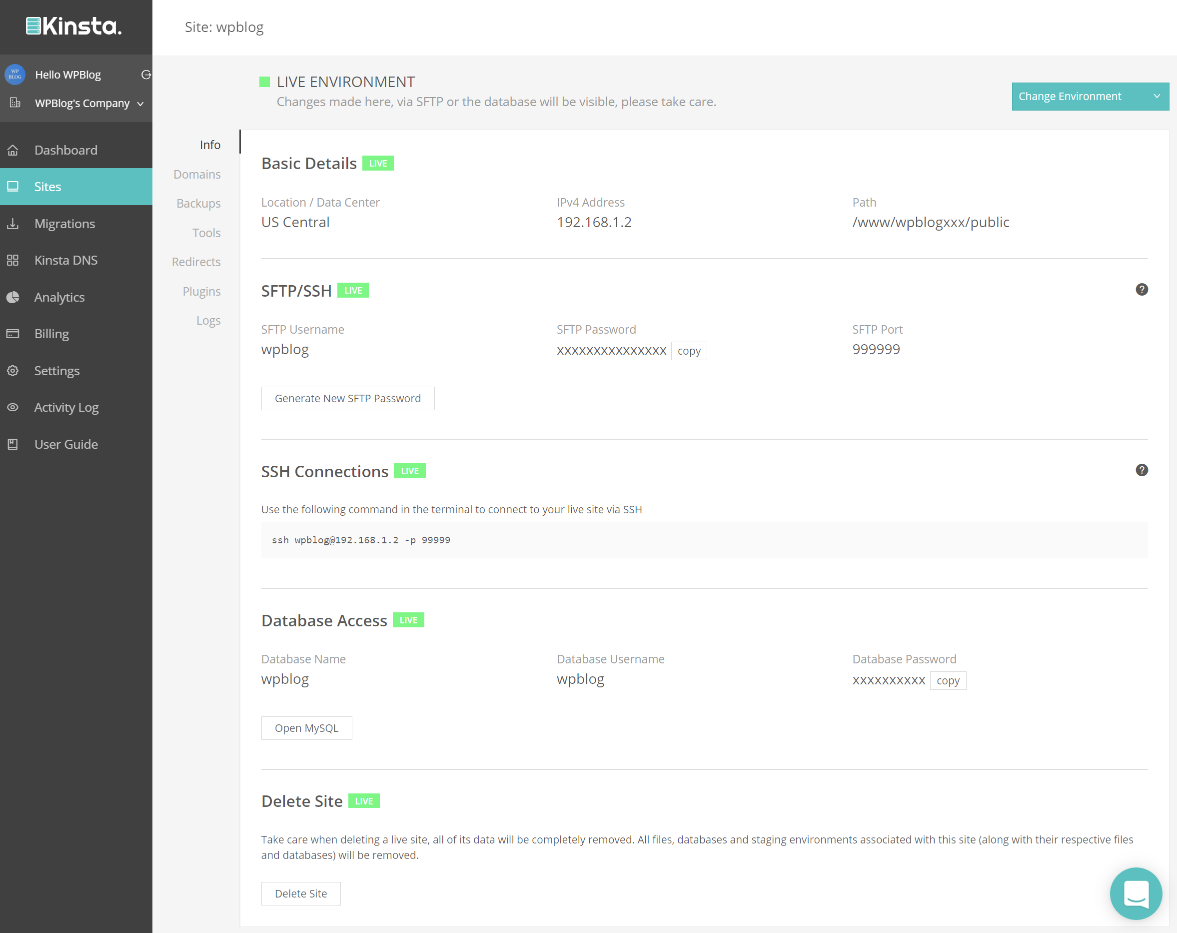 Here are some of the features that stood out to us that we really liked:
Backups
You can access your last 14 days worth of backups at any time and restore them to production or staging. This makes for almost never having to worry about your live site. If something goes wrong, simply head in here and restore to a previous version. You can also take manual backups with a click of a button.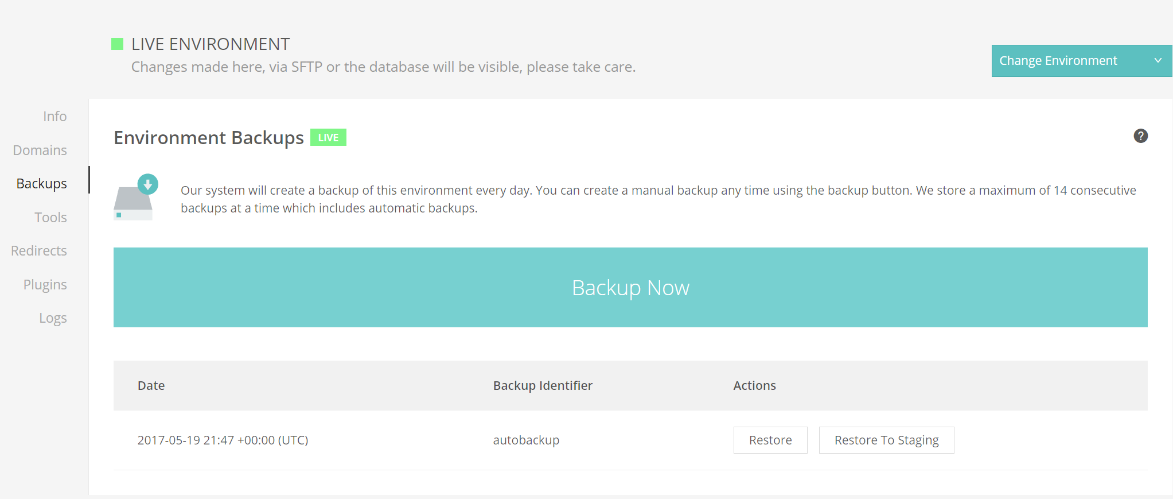 WordPress Tool
The tools section allows for all kinds of things. You can clear your site's cache, enable HTTPS (free SSL with Let's Encrypt or use custom SSL certificate), change PHP engines (PHP 5.6, 7, 7.1 and HHVM), restart PHP if you are having issues, and also enable New Relic monitoring.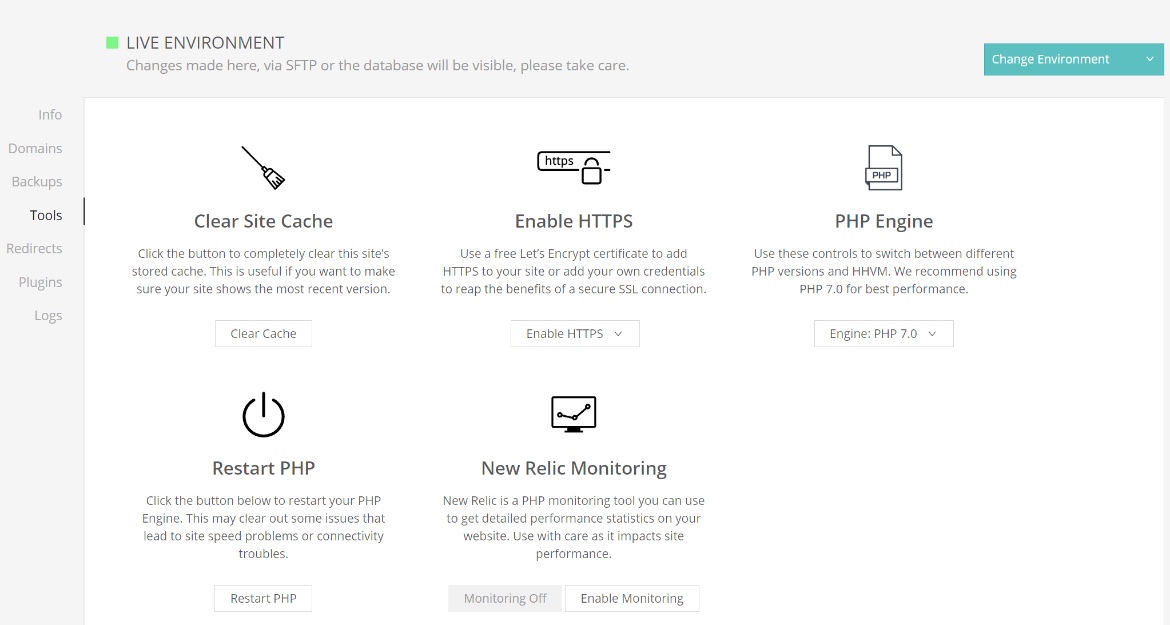 It is important to note that you can also clear the cache from right within your WordPress dashboard. Kinsta's custom built caching plugin is installed on every site by default. However, you can't think of this as a typical caching plugin, but rather one that controls server-level cache.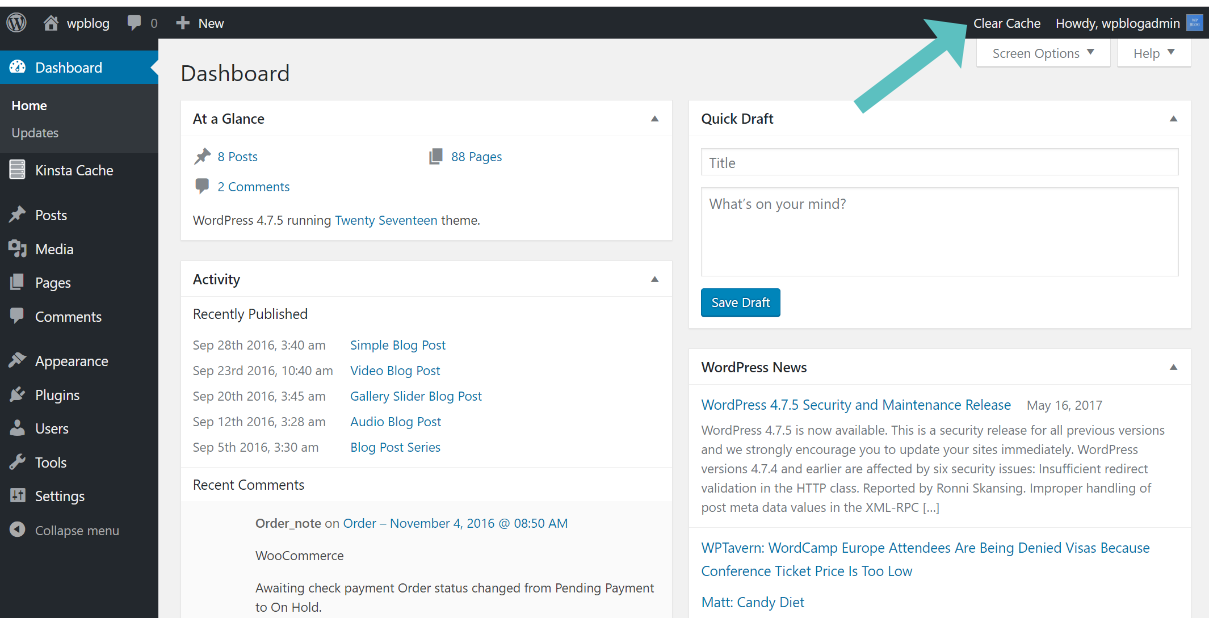 Redirects
Got redirects you need to add? This can easily be done from the dashboard. Add 301 and 302 redirects in bulk and manage them at a server-level instead of hassling with yet another WordPress plugin on your site. It fully supports all regex standard parameters.

Logs
Need to check your logs? Stop messing around with logs files via SSH/FTP and quickly access from the dashboard. You can see your cache logs, access logs, and error logs. This can be a speedy way to debug problems on your site.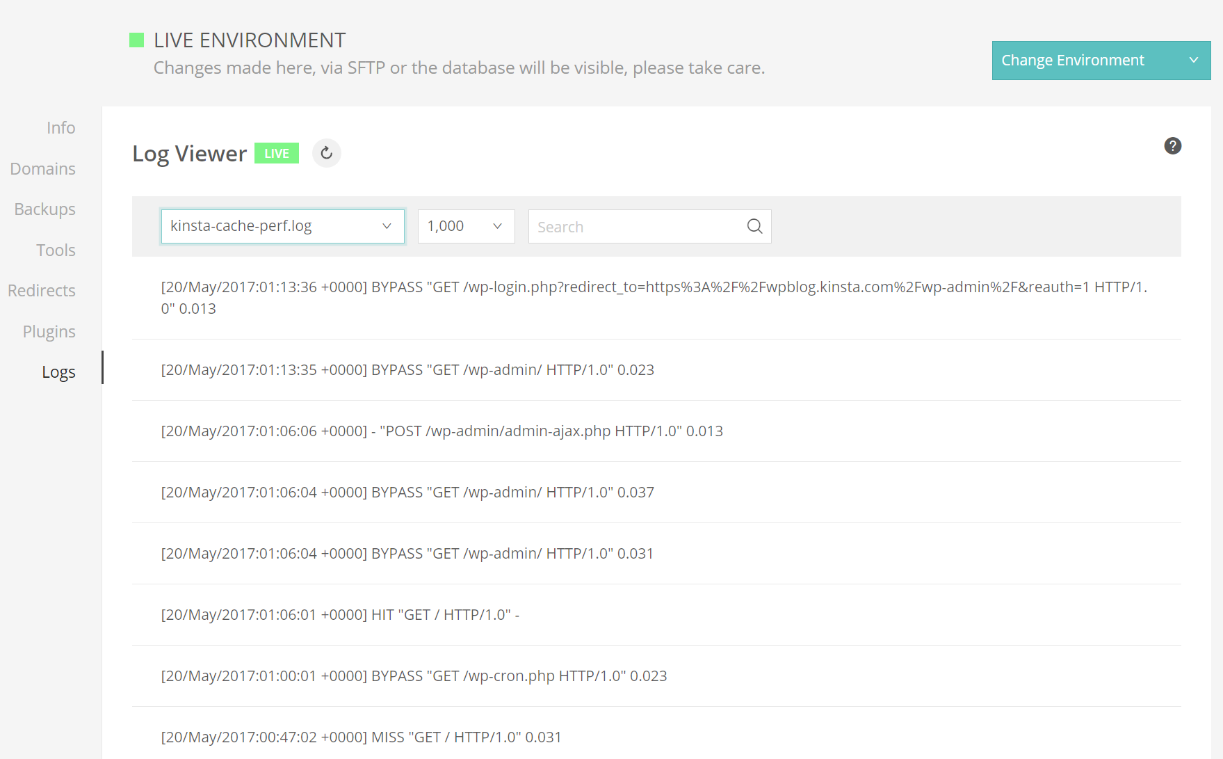 Staging Sites
You can create staging sites with a click of a button. This is a copy of your live site and allows you to easily test plugin updates, WordPress updates, and even develop against a live site. You can then push staging back to production.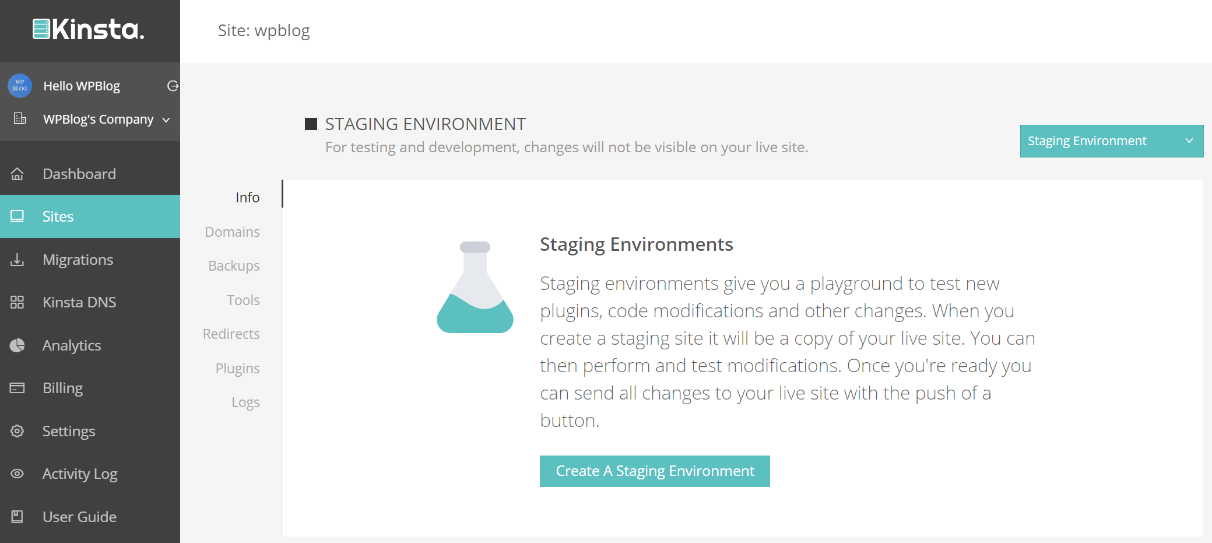 Analytics
Kinsta has their own analytics built into the platform which allow you to see actual visits, pageviews, and unique visits. Google Analytics filters out a lot of bots automatically. This means it is not a very accurate picture of the total amount of traffic hitting your site. The analytics in the Kinsta dashboard are recorded at a server-level, not with JavaScript. This gives you a better overall picture of site usage.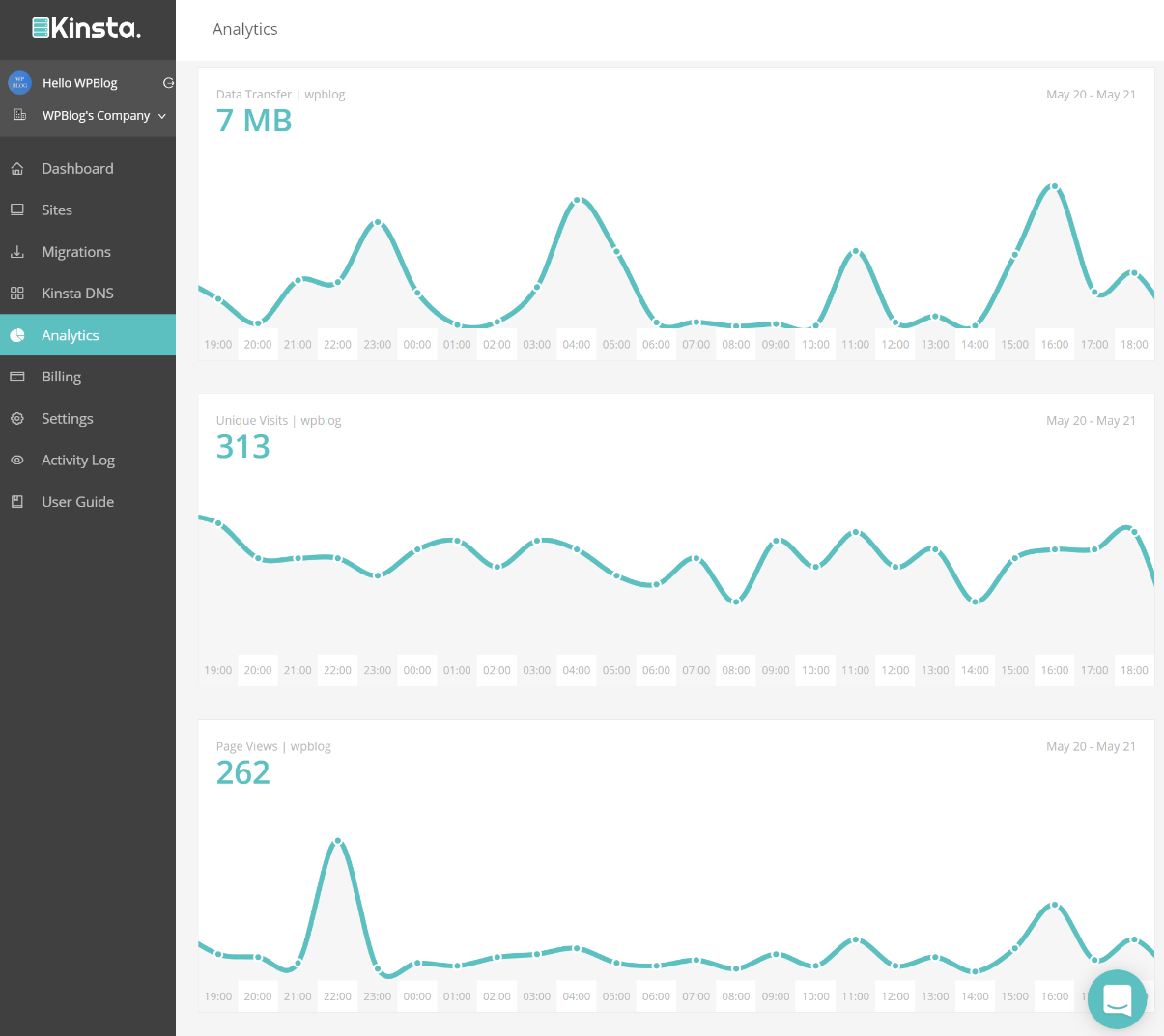 There are many other screens we could dive into, such as management of your premium Amazon Route 53 DNS records, migration wizard, billing, activity log, etc. But hopefully you get an idea of Kinsta's custom-built dashboard from the screens above.
Kinsta Web Hosting Pricing Details
So you are probably wondering what all this costs now? Kinsta's plans start at $30/month and go up from there. A huge difference from other competitors is that they are priced per bandwidth usage of your site, not per number of visitors. All of Kinsta's plans include unlimited amount of visitors and pageviews, and every feature we have mentioned in the review above. Here are the main differences.
Starter $30/month
1 WordPress install
20,000 visits
3 GB disk space
Free SSL & CDN
Pro $60/month
2 WordPress installs
40,000 visits
6 GB disk space
Free SSL & CDN
Business 1 $100/month
3 WordPress installs
100,000 visits
10 GB disk space
Free SSL & CDN
Business 2 $200/month
10 WordPress installs
250,000 visits
20 GB disk space
Free SSL & CDN
Business 3 $300/month
20 WordPress installs
400,000 visits
30 GB disk space
Free SSL & CDN
Business 4 $400/month
40 WordPress installs
600,000 visits
40 GB disk space
Free SSL & CDN
They also include Enterprise plans, and if you need something even bigger, custom plans. And remember, you can combine a CDN to easily keep yourself in the lower plans. Cloudflare is free, and KeyCDN is super cheap. Kinsta + a CDN = a powerful and cost effective combo.
Final Thoughts
What do you think? If you are looking for a managed WordPress host that can take your site to the next level, we recommend checking out Kinsta. They include free hands-off migrations so you can get started with ease. From their knowledgeable support team, to performance which speaks for itself, and the amazing dashboard which makes managing your sites a breeze, Kinsta is a no brainer.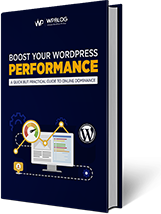 Create Faster WordPress Websites!
Free eBook on WordPress Performance right in your inbox.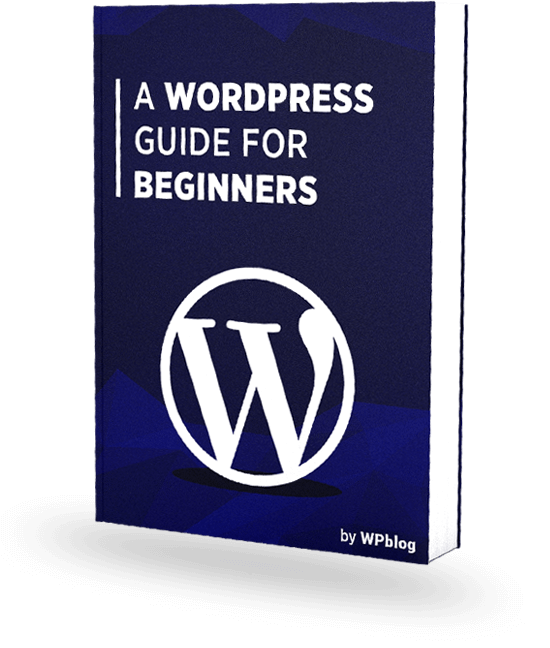 Create Faster WordPress Websites!
Free eBook on WordPress Performance right in your inbox.