Introducing MailOptin: A Robust Email List Builder For WordPress [Review]
— December 26, 2017
•

6

Minutes Read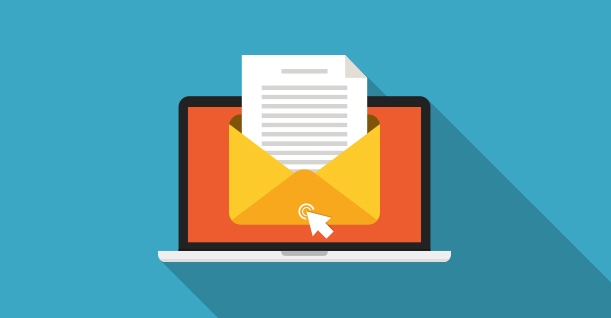 You need a robust email list to drive targeted traffic to your online business and MailOptin has come at an excellent time, especially now that it has become difficult to rely on the changing search engine algorithm.
The beauty of building an email list is that it allows you to bring your loyal readers back to your website anytime you have a new content or you can generate leads when you have new offers. However, the challenge is in building an effective email list, a process that has frustrated all who try.
Anyone serious about building an email list should use a quality premium tool for collecting emails. I recommend MailOptin, a premium WordPress lead generation plugin for your online business and it can make your email marketing journey far more productive.
MailOptin Review: The Plugin Overview
Anyone can set up an optin form and start collecting email IDs, but not every popup has what it takes to harvest leads. This is what differentiates a premium WordPress email generation tool from a low-quality WordPress email subscribers plugin.
Despite the fact that these free WordPress mailing list plugins can display opt-in forms, they lack the fundamental features necessary for building a robust email list.
Here are some of the basic things you need to look out for before choosing a WordPress plugin to get more email subscribers:
· Beautiful themes
· Multiple high-converting optin forms
· Email triggers
· Page-level targeting
· Built-in analytics and reporting
· Exit-intent technology
· Display rules
· Optimization for small screen devices
· Integration with major email marketing services
· Unlimited customization options
Why Use MailOptin?
The answer lies in MailOptin's design, the built-in features, and the simplicity of the plugin.
MailOptin compliments your site's modern design with several template options; you will have the privilege to completely control the placement of your opt-in forms as well as customize it the way you like.
Getting Started With MailOptin
MailOptin comes with attractive built-in templates and unlimited customization options to get your optin form ready within a few minutes.
Once you activate the plugin, you can start creating optin forms using MailOptin's user-friendly interface. The dashboard is simple; you won't even feel the need to visit the Plugin's Knowledge Base to seek solutions because each option comes with a nice description to aid you throughout your set-up process.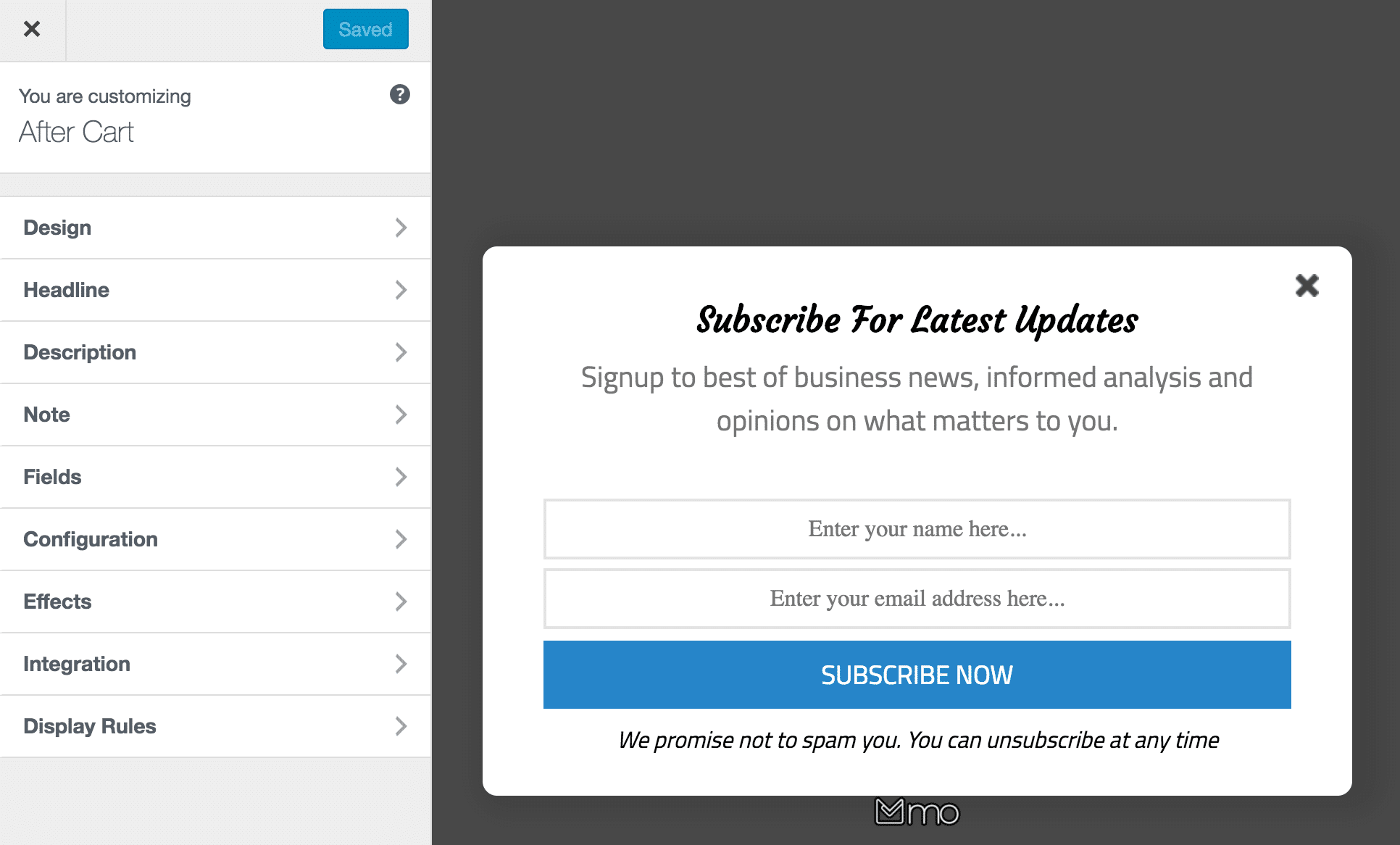 Different Optin Display Type
MailOptin comes with different display type: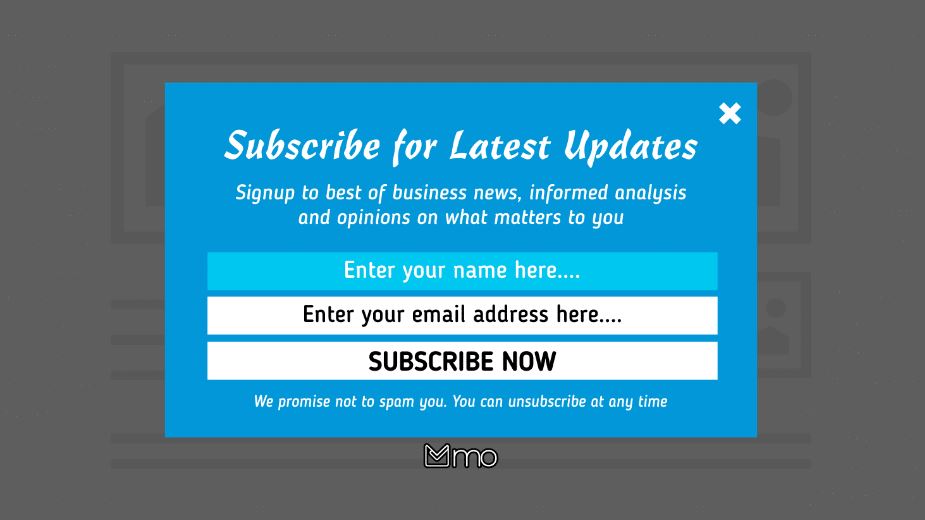 Lightbox: This is the most effective and popular way to build an email list, though it can be very annoying if not setup properly. And MailOptin provides a new technology called "exit-intent" that can help you trigger popups without any distraction.
We will talk about the "exit-intent" features later in this review and let you know why it makes MailOptin stand out from the competition.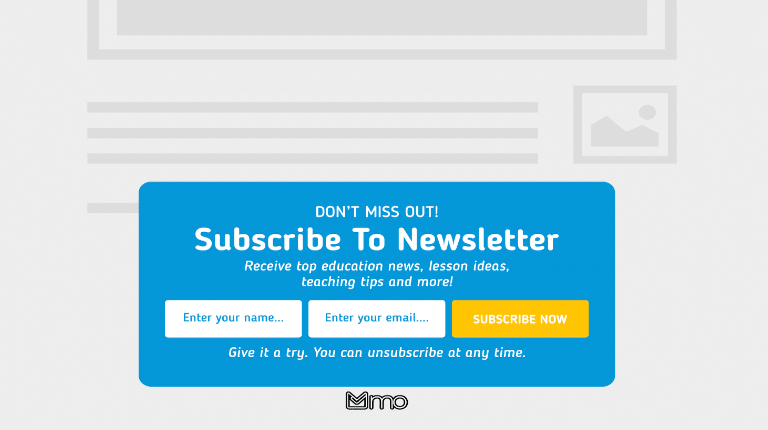 In-Post Optin: You can display your optin forms at the top or bottom of your post using MailOptin; Just configure your form and get it started instantly.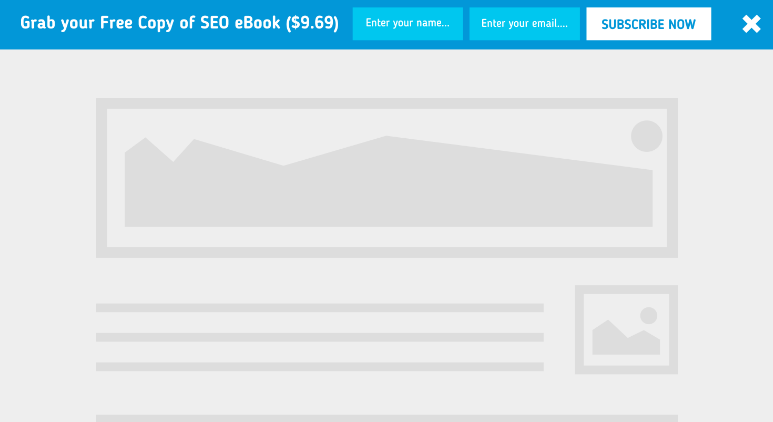 Notification Bar: This is a crafty place for an optin form to be displayed. You have the options to make a notification bar appear with an optin form to collect emails for your visitors.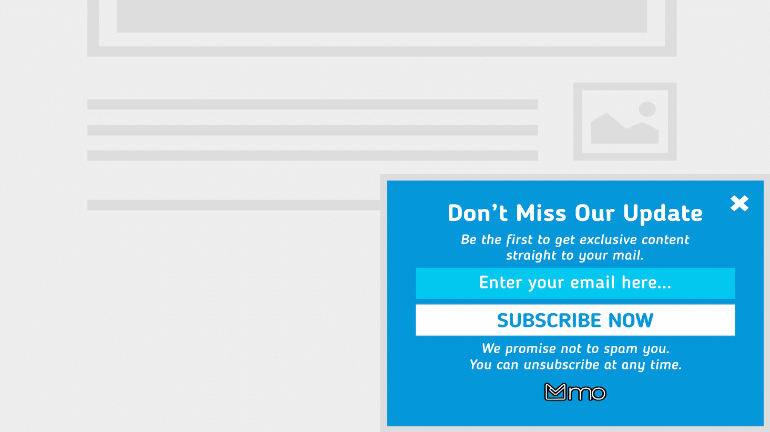 Slide-in: Let MailOptin display slide-in optin forms at the bottom corner of your site.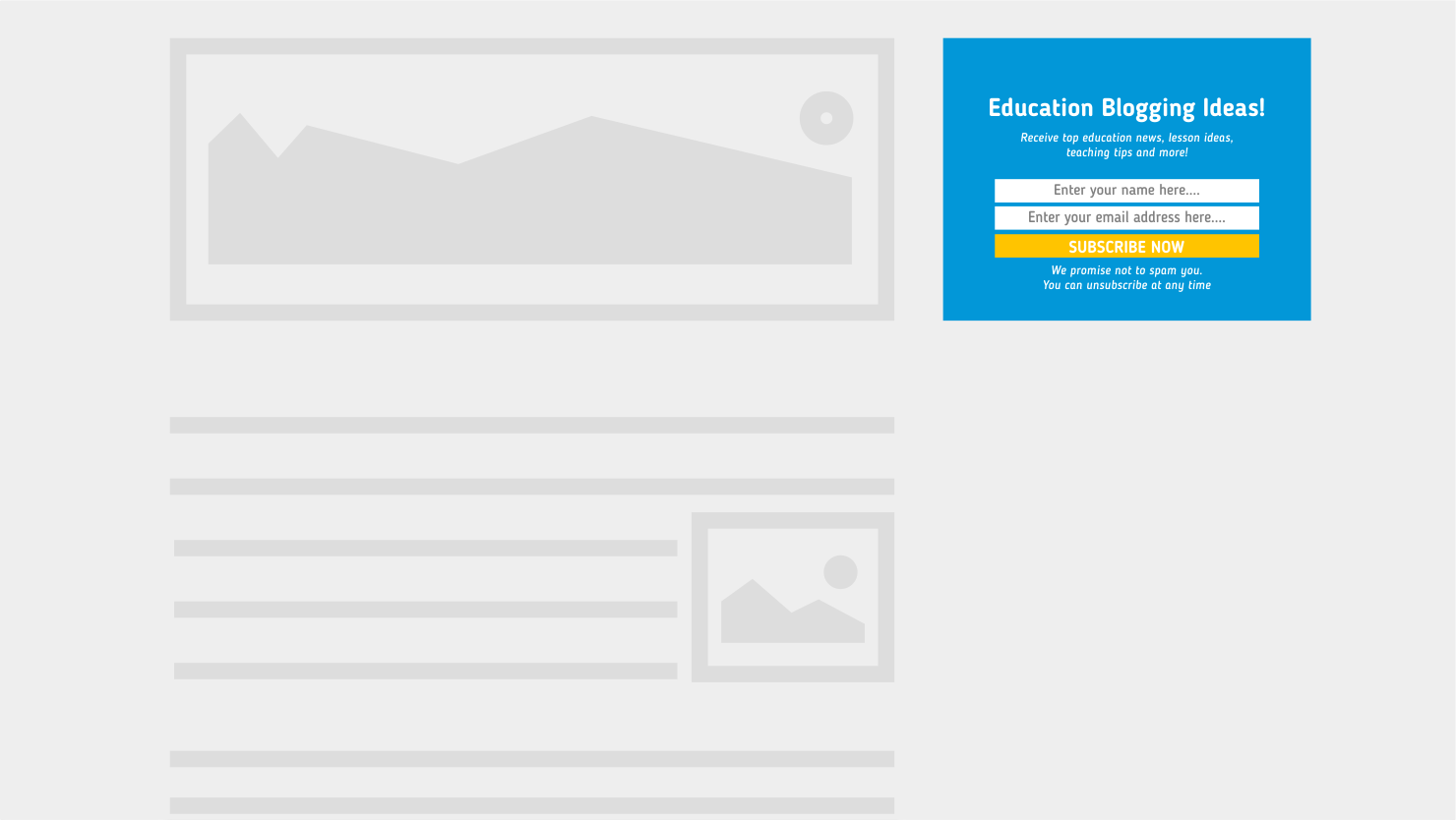 Sidebar/Widget: Sidebar optin form is generally for the sidebar placement.
Automatic Triggers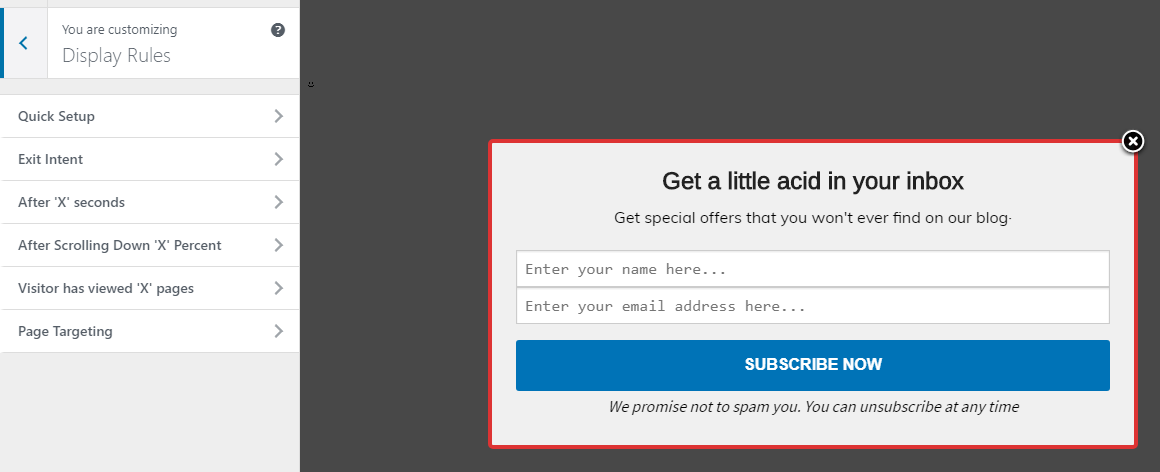 MailOptin comes with different features, and we will take a look at some of the trigger features that define the plugin and enhance your email-list-building strategy to comply with the latest email marketing standards.
· Exit-intent: Using MailOptin, you can set your optin form to display only when the user is about to exit your site. This is a smart feature that retains aggressive email list building without distracting your users. Study has shown that 70% of users get irritated by displaying instant pop ups when visiting sites and MailOptin quietly solves the problem with its "exit-intent" automatic trigger that works like a charm.
· Time Delay: MailOptin can trigger an optin form to display after a predefined time spent by the user on the site. This means that instead of displaying the optin forms when the user is about to exit your site, you can decide to control when your optin is displayed.
· After Scrolling: After a user scrolls through a pre-defined percentage of your page, you can trigger your email subscription form. The plugin makes the whole process easy; all you need to do is define the settings in the "Display Rules" options page.
· Page Number: Do you want your optin forms to be displayed only when a user has visited a certain number of pages on your site? For example, if you want your optin to display after a user has interacted with three pages on your site, it is entirely possible using the automatic trigger feature on MailOptin.
· New Post Trigger: Rather than manually create newsletters after publishing new posts, MailOptin can trigger New Post Notification newsletters to your email subscribers. It uses built-in attractive templates to keep the process alive.
Page-Level Targeting
With this feature, you can separate your email list and create a group based on a user's interaction with your website. Therefore, you will be sending more relevant emails to a targeted audience which will eventually lead to a higher click-through rate, increased sales and a low percentage of subscriber rates.
Actionable Insights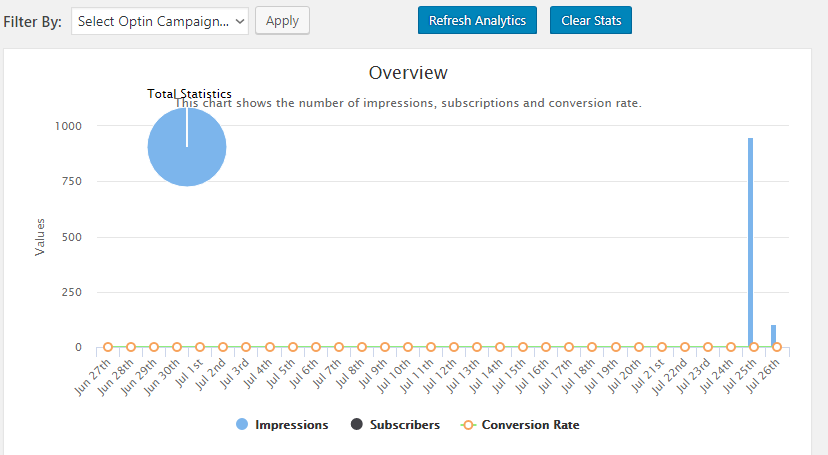 It is fruitless to start building your email list on assumptions. There is a built-in analytics function in the plugin which tracks a lot of data, including the number of impressions, a subscriber count as well as conversation rate. You will get a neat, graphical interpretation of these types of data to plan and monitor your success rate.
With that information readily available on your dashboard, you can quickly detect the optin form that is performing poorly and make the necessary modifications to increase conversion rate.
Email Marketing Integration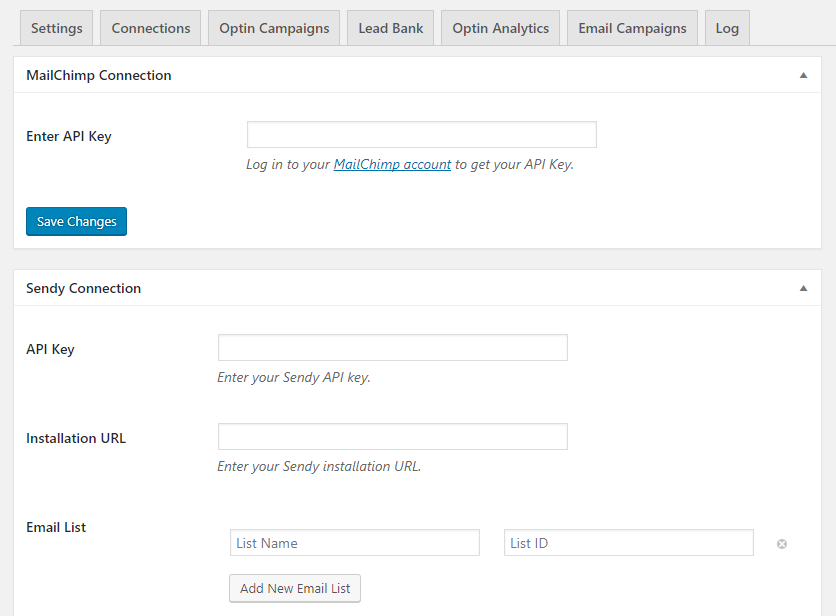 Now that we know the power of MailOptin, there is nothing we can do with such power and features if the plugin cannot be integrated with your email provider. Surprisingly, the plugin integrates perfectly with all the popular email marketing providers including MailChimp, Sendy, Constant Contact, CampaignMonitor, Drip, ConvertKit, ActiveCampaign, EmailOctopus, and Aweber.
Pricing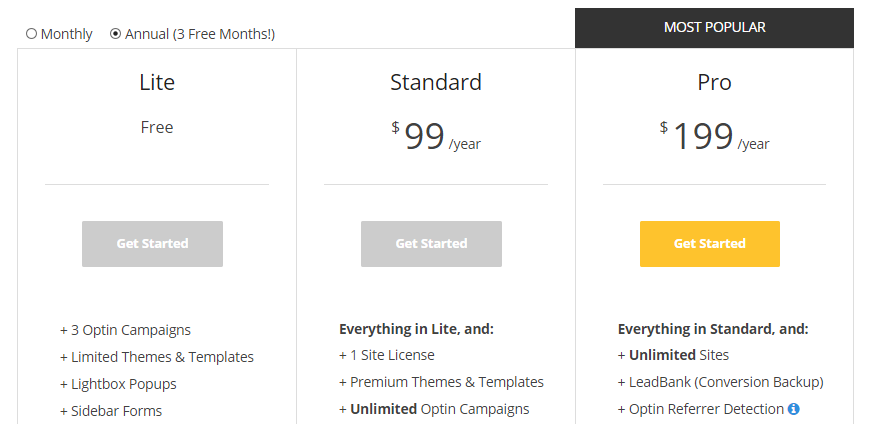 There are different pricing plans available in MailOptin, but there is a free version of the plugin as well; unfortunately it has some limits, to get access to premium features and options, you will need a premium license.
Here is what you get from its free version and premium plans:
Lite – Free for access to three optin campaigns, limited email campaigns, and templates.
Standard – $99 per year for unlimited optin campaigns, exit-intent, sidebar forms, before/after post forms and email support.
Pro – $199 per year for all MailOptin features; advanced optin analytics, priority email support, WooCommerce, EDD integrations, and lots more.
Check the official pricing to see more detailed features associated with each pricing plans.
Final Verdict: MailOptin Review
A quality plugin with the best email-list-building features is what guarantees growth! There is no better investment than creating a strong mailing list to keep your business profitable. There is no point trying out any cheap alternatives and losing out in harvesting emails because they are not built to function properly.
MailOptin opens up a lot of possibilities with its premium features. There are also a lot of attractive templates and you have the option to fully customize them to your desired result.
The Exit Intent feature is the solution to building an aggressive email list without distracting your visitors. There are a lot of display rules as well to give you mastery over your email list building journey and give you an edge over your competition.
The plugin is extremely easy to use; a newbie can start creating opt-ins forms immediately. This means that you don't need to have any coding experience to get things.
Finally, the plugin has a very strong support team to assist you whenever the need arises and it comes with regular updates to keep giving you value for your money. So, if you are really serious about building and growing your mailing list, MailOptin is your answer! Get the plugin today and watch your email list soar.
Must Read: Email Popup Strategies to Boost Opt-In Rates and Conversions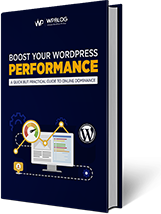 Create Faster WordPress Websites!
Free eBook on WordPress Performance right in your inbox.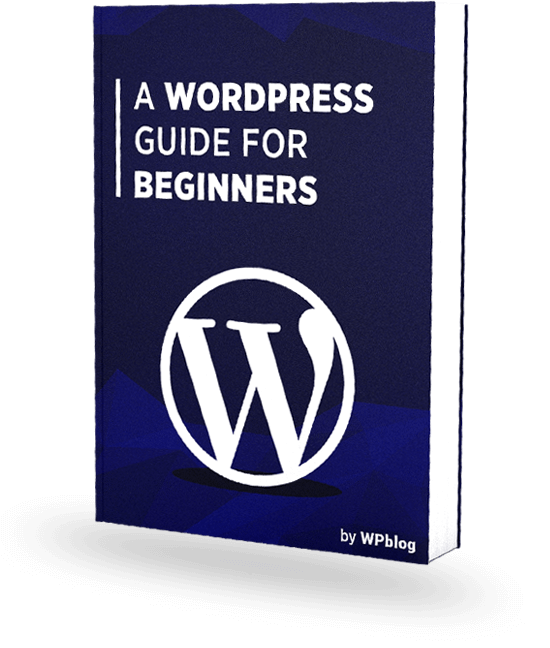 Create Faster WordPress Websites!
Free eBook on WordPress Performance right in your inbox.