Advisor, Trainer & Manager: DevriX CEO, Mario Peshev, In Conversation With WPblog
— September 28, 2019
•

6

Minutes Read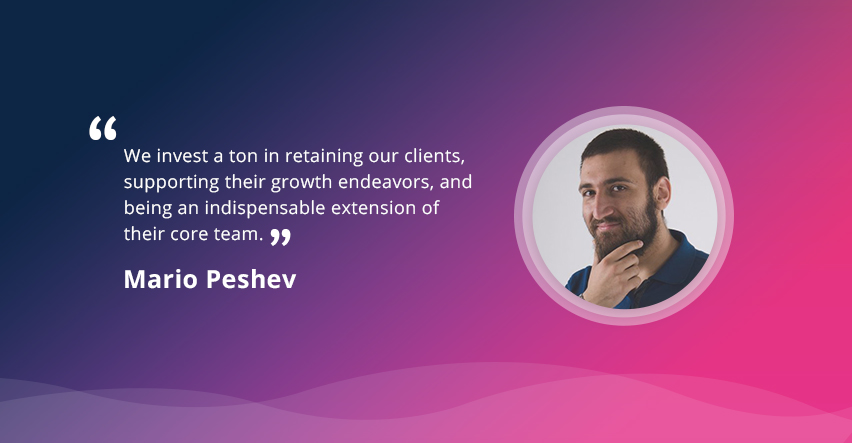 Disclaimer: WPblog is a part of Cloudways, a Managed Cloud Hosting service, but any assumptions or analysis made on this property belong solely to their writers.
Today we have one of the rockstars of the WordPress community, Mario Peshev, for an interview. He has gained immense popularity among WordPress users around the world with his company Devrix, a design and development agency which he founded in 2011.
With nearly 20 years in the tech world, Mario has immense experience in being a WordPress & business advisor to many companies, in writing, as a seasoned trainer, and training & management, etc. In short, Mario is a WordPress powerhouse we can all learn from. And that's what we're going to do here; learn from his experience!
Let's jump right into our interview and hear what Mario has to say about WordPress, his career, and even get a little glimpse into his personal life.
---
WPblog: So before we start with the interview, can you introduce yourself… on VIDEO!
WPblog: Hey, Mario, it's an honor to have you on our Interview series. как си?
Mario: I'm great, thank you! Just boarding a flight here and the extended layover allowed me to catch up on piles of emails 🙂
*Mario, we understand you're a really busy person so forgive us for this Twitter thread. We were just excited to have you for the interview.*
WPblog: So what's your story? Can you give our readers a deeper look into your life (if they don't already know) and how you ended up creating your own company?
Mario: My mom is an accountant and I've been a regular visitor to her workplace ever since I was 3 years old. They had just introduced computers there and I was instantly fascinated with the capabilities of the technology back in the day (also known as "video games" lol).
So I got obsessed with technology and I eventually built my first site at the age of 9 along with my first desktop software application. Going through several part-time and full-time jobs after, I decided to experiment with newer work paradigms, which was only possible in my own company.
I'm glad we're still around, solving some rad problems in the WordPress space at scale!
WPblog: Mario, your company has been around for 9 years now. Can you describe in detail what your company, DevriX, does and which big-name clients you've served?
Mario: I'd love to mention most of the big names but they usually ask for the most comprehensive NDAs out there. Aside from Audi, we've worked with several banks, two telecoms, an airline, and a few other known names on the market.
95% of our business revolves around "WordPress retainers". We sell a complete business solution that includes technical development, creative, marketing, and business analysis and a long-term partnership. We're far from an outsourcing company since we invest a ton in retaining our clients, supporting their growth endeavors, automating tedious processes, and being an indispensable extension of their core team.
WPblog: Your company has developed more than 300 custom plugins. Which proved to be the most difficult to develop and what challenges did you face?
Mario: We've dealt with a broad number of complex plugins over the years. A load testing solution with BlizzMeter was particularly rough since a website was effectively auto-attacking itself for stress testing purposes.
Our DX CRM platform is fairly complex, too. We've got 15+ custom extensions on top of the core.
We also invented our own page builder back in the day. It was doing what Gutenberg does now, basically; a paradigm of rows and columns, with a block template for building extensions with UI and its corresponding output.
WPblog: Sounds like your company has learned a lot from all that experience! Tell me, Mario, if you were a WordPress plugin, which one would you be and why?
Mario: Contact Form 7 – I start with the barebone and do what people expect me to. But under the surface, I serve a broad set of industries and offer a multitude of custom-tailored option for those who seek further 🙂
WPblog: What are some resources that you read and communities that you engage in to learn more about WordPress?
Mario: I have subscribed to most major WordPress blogs and maintain a Twitter list that uncovers some weak spots. In reality, I focus a lot more on the broader spectrum around WordPress – PHP and JavaScript, DevOps, tooling, inbound marketing, SaaS and product development, etc.
WPblog: There are so many great CMSs out there. Why did you choose WordPress?
Mario: Well it currently powers 34% of the web. We want to solve business problems that tend to require short turnaround times, experimentation, proof of concept solutions, and A/B testing certain integrations before building them from scratch.
Back in the day, the design flexibility of WordPress and the ease of use were some massive selling points.
WPblog: Could you give our readers one great WordPress tip? Okay fine, it's for us, but our audience is going to benefit from it as well so it's a win-win.
Mario: WordPress is extremely competitive for automated jobs that don't bring a ton of value. If you're a service provider, identify at least 1 area that requires experience and real-world data and sell that instead. Nowadays, millions of people can install WordPress and play with the options of premium themes.
That's not a tooltip per se, but just as valid regardless 🙂
WPblog: Do you think there is a threat to WordPress from "competitors"?
Mario: No product is ever safe. Technology evolves and new audiences emerge as a result. I don't see WordPress going anywhere, anytime soon. However, it can't solve all problems effectively simultaneously.
There are existing niche solutions that work really well for specific industries or demographics. WordPress hasn't defined its place yet, which is why it's covering multiple grounds right now.
Smaller businesses frequently go for Wix or Squarespace nowadays. Enterprises have their own niche web content management solutions. Shopify is crushing the eCommerce space. It sure is an interesting point in time.
WPblog: Gutenberg is becoming an old story now, but it's still important to know: what do you think about it?
Mario: There's this love-hate relationship here.
Many of our customers don't use the traditional editor and we rely on WordPress as an application framework. We use the underlying architecture and APIs but don't particularly care about UI updates on the backend.
At the same time, I've never had a favorite page builder. Almost all of them are heavy, buggy, insecure, or slow. Standardizing the data layer is generally a good thing, though.
I see a bright future in WordPress once editing the widgets and menus is fully possible. The limitations of the "single post" page are notable, and not all too practical in reality.
WPblog: What's your secret to a successful WordPress career?
Mario: Specialize.
Being a site builder is not competitive and DIY site builders aren't helping out. I already mentioned it earlier but I can't stress this enough.
Either profile in professional engineering or develop another skill that complements your site-building chops.
For developers, we always seek engineers first. People who are comfortable with building an application with a framework (or even from scratch). WordPress saves a ton of time but there's a lot that happens behind the scenes, and engineers have to understand that. Non-tech folks, meanwhile, can dive deeper into UX, behavioral psychology, content marketing, creative, or something else that solidifies what they offer as a complete service.
Marvel or DC? – Marvel
Dog or Cat? – Dog
Game of Thrones or Breaking Bad? – GoT
WPEngine or Cloudways? – Cloudways
Twitter or Facebook? – Twitter
WPblog: We're fascinated with how the workspaces of people powering the internet look like. Show us your work desk. No changes, no cleanups. 😉
Mario: Alright well that's what my messy desk looks like now
(I'm sharing a hookah with a couple of other colleagues sitting around me)
WPblog: Pass us the hookah, will you? 😉 How about a selfie with your business logo in the background or something? Also, we'd love to know your dog's name!
Mario: Here's one with our mascot DiXy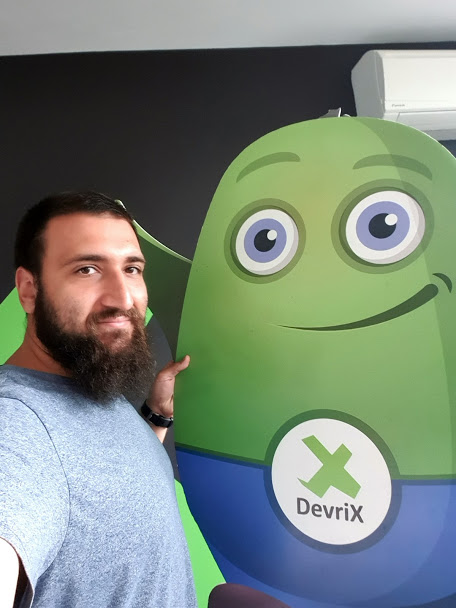 And our dog is Mara, our community manager at DevriX 🙂
WPblog: Mario, who would you nominate for our next interview?
Mario: Marko Heijnen is always a fun guy to interview with plenty of diverse experience across the community. Definitely recommended.
---
Okay, Marko Heijnen, you're next on our list of interview targets!
Mario, thank you so much for taking the time out of your busy schedule for this amazing interview. We'd have loved to give you never-ending questions to keep getting insights from you, but you have other important stuff to take care of, of course! 😉
To all our readers, we hope you get something good out of this interview. Also, you can suggest names in the comments below if you'd like to see us get talking to your favorite personalities from the WordPress world!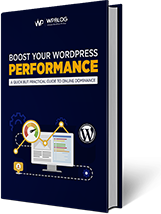 Create Faster WordPress Websites!
Free eBook on WordPress Performance right in your inbox.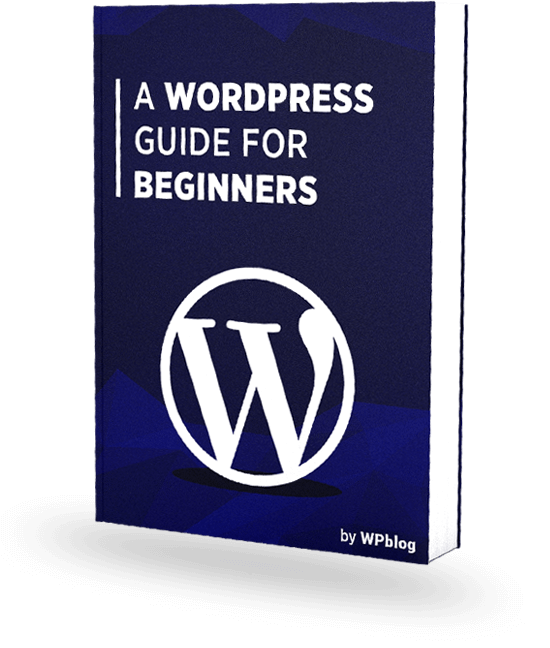 Create Faster WordPress Websites!
Free eBook on WordPress Performance right in your inbox.