What is a Gravatar And Why You Should Use It?
— June 23, 2017
•

3

Minutes Read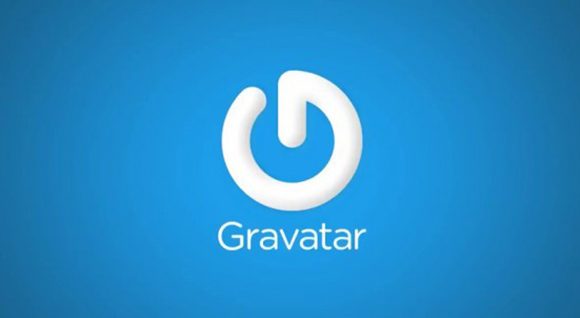 Gravatar comes off pretty cool when you say it and it sounded like a movie title when I first heard it. But no it isn't (and that was Avatar by the way).
If you are a long time WordPress user, you must have heard of Gravatar. Just like the name, the functionality is pretty cool. Many users tend to avoid using Gravatar because they don't know about it and think it is not worth the try.
In this article, I will try to clear things up regarding what Gravatar actually is and why you need it.
What is a Gravatar?
Gravatar mean Globally Recognized Avatar. It smoothly integrates with WordPress and gives you a unique identity among the millions of WordPress users from around the world. Popular applications like WordPress have built in compatibility with Gravatar.
Your Gravatar is something unique to you and it follows you around the network from website to website when you leave a comment or post on a blog. Gravatar help others identify you when they see your comment on a blog post.
When you leave a comment on a website that supports Gravatar, it fetches the Gravatar from the Gravatar servers. The picture is shown beside the comment which allows people to recognize you.
You will need a WordPress.com account to use Gravatar but not necessarily a WordPress.com website. However, that doesn't mean that it is not compatible with the self hosted WordPress. Gravatar integrates with both WordPress.com and the self hosted WordPress.
Why You Should Use Gravatar With WordPress?
Let's break this section into two parts; Identification and Traffic. Gravatar for WordPress helps you set up your own identification within the WordPress community while driving traffic to your website as well.
Identification
It is tough to make a name for yourself within the WordPress community. Your WordPress Gravatar can make the entire process a bit easier by giving you a unique profile that others can identify you from.
Since everything is virtual, it is very unlikely that people will get to meet you in order to get to know you. You must have a strong online profile that depicts the real you so that people can know that there is an actual human being sitting behind that profile. It makes it easier for others to trust you as a WordPress community member if you have a Gravatar.
Traffic
The likelihood of people clicking on your website through a blog comment is increased if you have a WordPress Gravatar. Yes, Gravatar does help in directing traffic towards your website if you use it smartly. Gravatar allows you to display yourself as a real human being and not just a bot which leads people to trust your comments and links.
If you're an active member in the WordPress community and your comments are helpful and relative, they will start to standout with the help of your WordPress Gravatar. Others will start to recognize you with your Gravatar and as your Gravatar starts to develop a reputation, it might result in some clicks on your website.
How to Set Up a WordPress Gravatar?
The first step is to go to Gravatar's official website. There you will see a sign in button which will get you started with the process.

After clicking on the sign In button, you will be taken to the sign In page where you will see a link that will ask you to create a new account.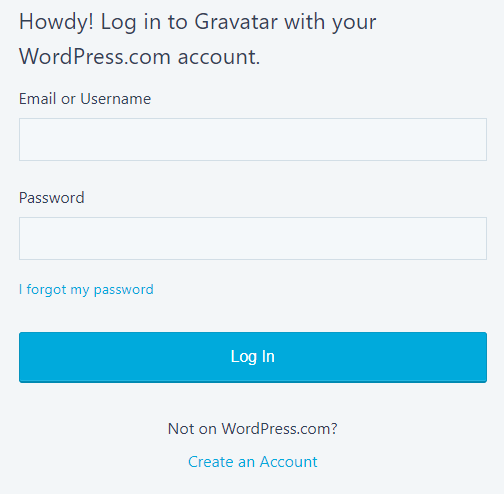 The link will lead you to the signup page where you will be asked to create a WordPress.com account by entering your email address, username and password.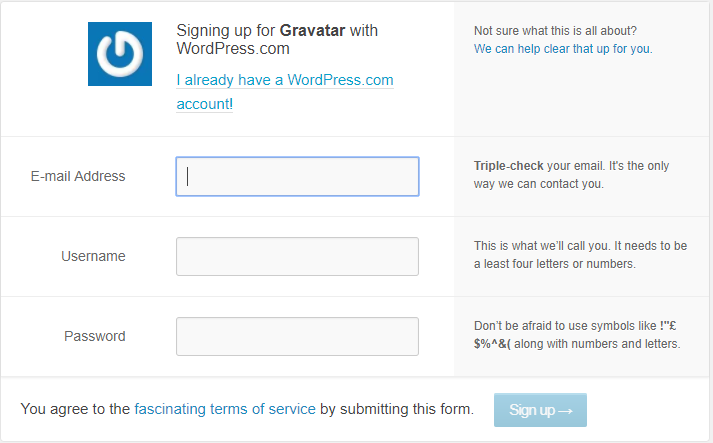 After you are done with entering the required information, click on the sign up button. You will be sent a confirmation email shortly with a link to activate your account. The activation link will lead you to the sign in page where you can enter you credentials and get started!
Easy isn't it? You are all set up to using your own Gravatar and making a unique identity for yourself. With that I also conclude this article with the hope that I have removed all the confusion that you had regarding Gravatar.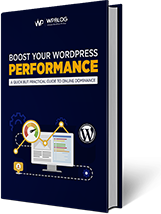 Create Faster WordPress Websites!
Free eBook on WordPress Performance right in your inbox.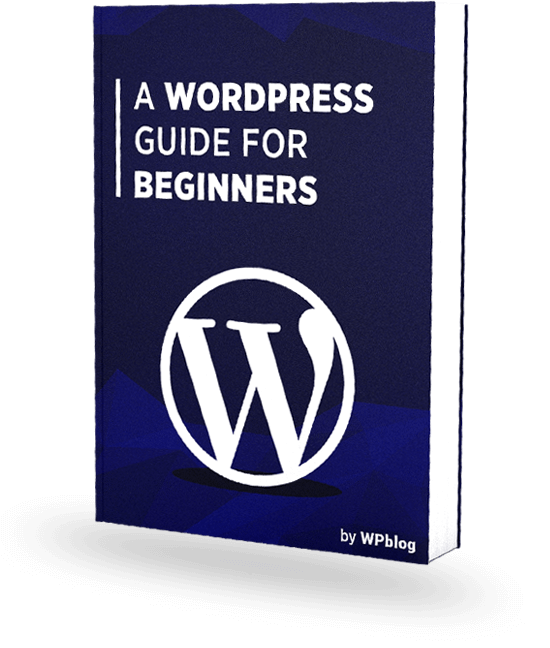 Create Faster WordPress Websites!
Free eBook on WordPress Performance right in your inbox.