How Fast Is Your WordPress Site? Find out with These Free Speed Testing Tools
— April 22, 2019
•

7

Minutes Read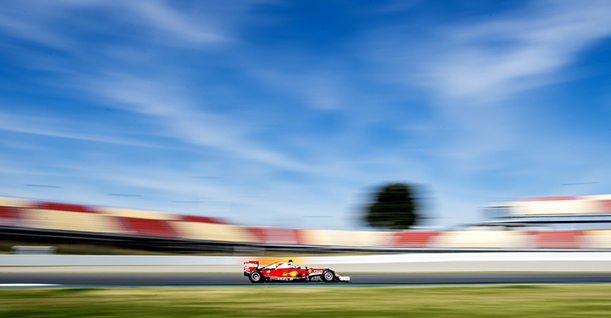 The loading speed of your website plays a significant role in making it a huge success. While it is essential to take necessary measures to speed up your WordPress website, it is also important to regularly run your website through WordPress speed test tools.
Table of Content
Identify scripts, JS and CSS causing loading issues.
Conduct a speed test from different geographic locations
Analyze load time, page size and number of requests
Perform CDN accessibility tests
Perform browser-based testing
Pingdom Website Speed Test
Google PageSpeed Insight
YSlow
GTMertix
WebPage Test
Uploading large images files, installing tons of plugins, using code heavy themes can all contribute to slow website speed. Similarly, using heavy JS and CSS files increase load time. Using them individually might not affect the speed much, however, but collectively they may end up slowing down your WordPress website.
A slow website is neither reputable among visitors nor it is optimized for search engines. On the other hand, a fast loading website gives better user experience, more page conversion, better user engagement, and a higher SEO ranking.
Being a developer or a manager of a WordPress website, it should be your duty to keep a regular check on the speed of your website. It helps you update your web application with a recent patch or release without compromising the performance of your entire site.
The internet is filled with speed testing tools and it becomes overwhelming for users to figure out which ones to use. These speed testing tools not only help analyze your website speed but also explains what measures you should undertake to improve your website's performance.
What Can a Website Speed Test Help You Analyze?
Before we move on to the fun part, let's first understand what can WordPress speed test tools help you with.
Identify scripts, JS and CSS causing loading issues.
WordPress speed test tools help you identify JS and CSS files that are causing your website to load slow. This will let you make changes to those files in order to speed up your site.
Conduct a speed test from different geographic locations
As a site owner, it is essential for you to optimize your website for visitors coming from different parts of the world. WordPress speed test tools help you analyze how your website is performing in various geographic locations.
Analyze load time, page size and number of requests
Testing load time is essentially why you would ever need a WordPress speed test tool. It tells how fast or slow your website is by calculating the time it takes to load completely.
It also tells you your page size. Heavier pages tend to load slower than lighter pages so these tools lets you know if your page is overloaded with images or videos that you need to remove.
WordPress speed test tools also tell you how many requests it takes to load your web page.
Perform CDN accessibility tests
Speed testing tools not only checks your website performance but also tell you if your CDN is performing up to the mark.
Perform browser-based testing
A WordPress speed test tool lets you know how your website is performing on different browsers. It is also known as cross-browser testing where the tool identifies why your website is not performing well on a certain browser.
WordPress Website Speed Test Tools
Pingdom Website Speed Test
Pingdom is one of the easiest and simplest WordPress speed test website based tools that help you analyze the speed of your website from different locations in the nick of time. It provides a visual depiction of the length of time required for each site element to load.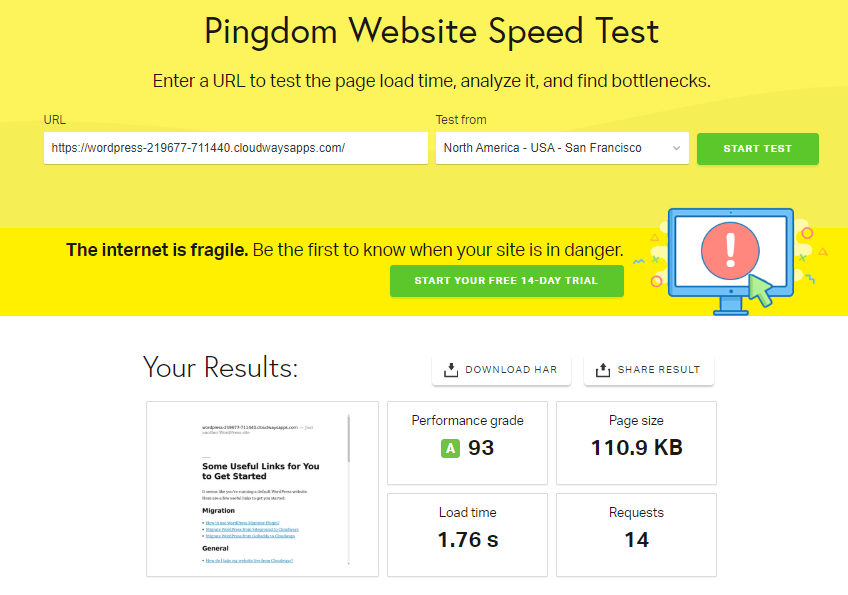 (https://tools.pingdom.com/#5a90f5dc24800000)
The final report is a detailed list of test results containing grades and suggestions. If a link is broken or returning a 404 error it will be highlighted in the report. Plus, your website is tested using Google Chrome to test the real user experience.
Pingdom's detailed list of recommendation and issues makes it one of the best speed test tools by far.
Google PageSpeed Insight
A Google-based tool such as Google PageSpeed Insight can help you figure out what makes your website load time creep. The best thing about this WordPress speed test tool is that it is Google-friendly, providing insight on user thinking patterns. This helps in identifying the cause of slow speed on your website. It fetches the website twice, one for the desktop version, and the other for mobile versions. It grades your website on the scale of 1-100. If your website receives anything above 85 it is considered good.

(https://wordpress-219677-711440.cloudwaysapps.com/)
Google PageSpeed shows very helpful and detailed modifications that can enhance your website speed. This tool is perfect for identifying speed related problems. You can neglect the score and focus your concerns on the issues it identifies. Once identified, fix these issues and test your website with other online speed test tools such as Pingdom and GTMetrix.
YSlow
YSlow is an open-source WordPress speed tool which analyzes a website and compares it to Yahoo's rule of analyzing high performance websites. With YSlow you will see a checklist of recommendations and test results for your website. YSlow first crawls the DOM to find images and scripts. Secondly, it gets information about the size of components like GZIP and expires headers. In the end, it provides relevant information and compiles a graded result of your website speed.
You can try their Google Chrome extension as well.
YSlow should not be taken as a website speed testing tool. This tool is more like Google PageSpeed Insights that measures the effective optimization of a website. Henceforth, the results accumulated using YSlow can help you index your website on search engines more credibly giving you better results. You can check these results using other online speed testing tools as well for confirmation.
GTMertix
My preferred online speed testing tool will be GTMetrix. It is one of the most famous speed testing tools as compared to others in the market. GTMetrix shows much more detailed and better results in comparison to both, PageSpeed and YSlow metrics. It is based on the grading system from F to A. It is quite similar to Pingdom test results, however, it runs your website through Google PageSpeed Insights and YSlow and displays results on the GTMetrix dashboard.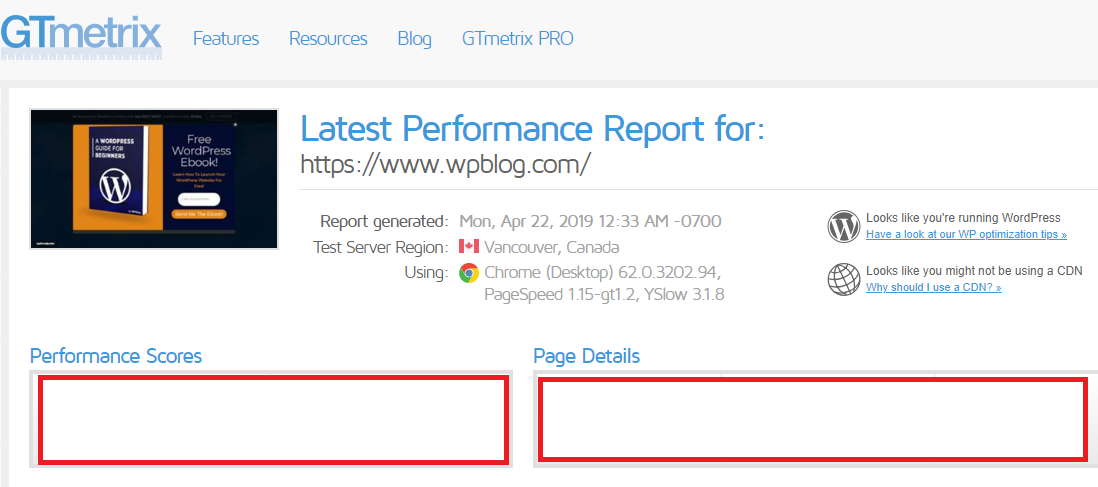 This is why I love using GTMetrix.
The free GTMetrix account can help you test your website from a specific server located in Vancouver, Canada. Although, If you become a premium member, you will have access to 7 server locations making speed testing a lot more feasible.
GTMetrix's free account is the best choice for detailed recommendations and results.
WebPage Test
WebPage Test is also one of the best WordPress speed test tools that has over 40 locations to choose from and 25 browsers (including mobile). Your website is tested for performance via tests as FTTB, Compression, use of CDN, caching and others.
You can select specific server locations and different browsers for each test. This is a brilliant move as it helps users analyze their websites from various locations and browsers.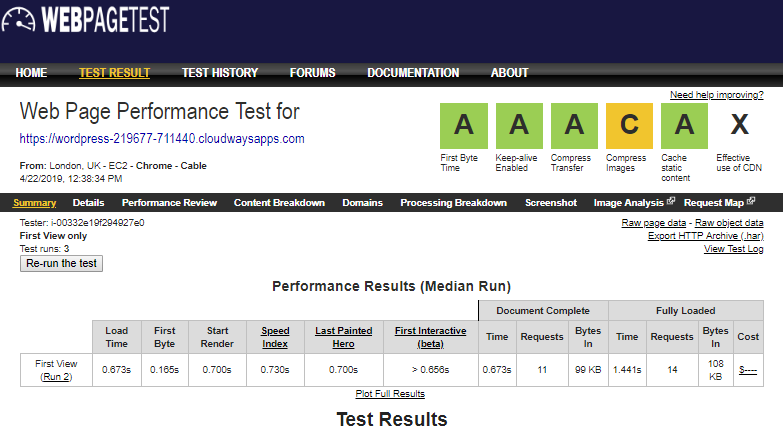 WebPageTest tool goes one step ahead and tests your website on consumer connection speeds so that it can have real-time data results for you. One major flaw of WebPage Test Tool is that it takes time to display results.
And this is the difference between Pingdom and GTMetrix that they show how fast your website loads while WebPage shows you fast it loads for a real visitor.
A few other testing tools you might want to try are:
Dotcom-Monitor Website Speed Test
WordPress Speed Test Tools That Experts Use
My favorite website speed testing tool is GTMetrix. It's free, comprehensive, and tends to give more real-world style tests than other tools. My typical workflow involves testing on both GTMetrix and Pingdom as a secondary check.

Kevin Michael Geary, founder of Digital Ambition
My favorite speed test tool is the one at VoipReview

I like it because it is an HTML5 speed test so it works in your browser without needing Java or Flash. It also works on your mobile device. After you run the test you can see a whole lot of information that most tests do not provide.

Logan Abbott, President, Wirefly.com
We use Page Speed Insights because it's Google's own tool, and will, therefore, give us the best indication of how Google rates our page speed.

Page Speed Insights also provides some great tips and suggestions on what to improve, along with a comprehensive score, which is another reason we use this tool often.

Biron Clark, founder and CEO of CareerSidekick.com
To test our website speed and to determine what changes we need to make, I always head to Pingdom's site speed tool.

What's great about this free tool is you can select a geographic region from which you want to test your site speed (such as 'Europe – United Kingdom – London' or 'South America – Brazil – Sao Paulo'). Our website is international, so it's crucial that we test load times from all corners of the globe to ensure that each user is getting the same experience.

Audrey Strasenburgh, SEO Strategist, LogoMix 
Conclusion
WordPress speed testing tools work well in unison with your site in order to keep track of its speed. It shares helpful recommendations to make your website load faster. A fast-loading website is essential for brand authority, higher search engine rankings and better user experience.
I personally recommend starting with Google PageSpeed and YSlow to see a detailed list of recommendations and then once they're fixed, go with real speed testing tools such as GTMetrix and Pingdom. This will keep you up-to-date and help you get better results for your website and more user confidence.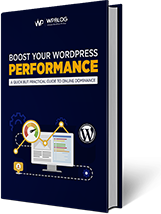 Create Faster WordPress Websites!
Free eBook on WordPress Performance right in your inbox.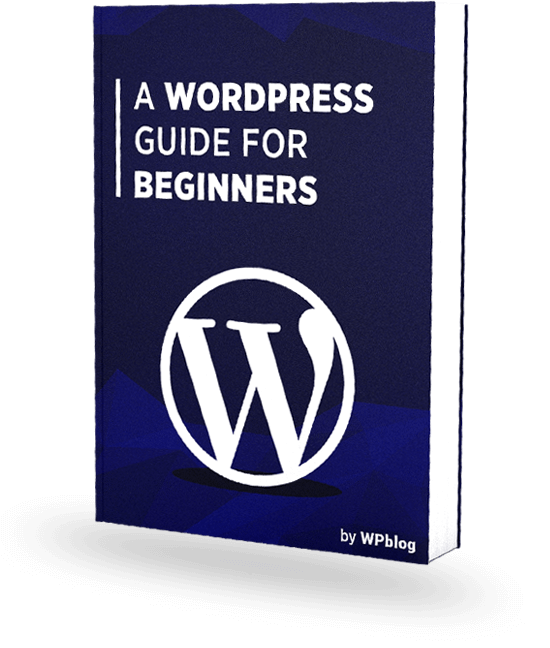 Create Faster WordPress Websites!
Free eBook on WordPress Performance right in your inbox.