Choosing the Best WordPress SEO Plugin for Your WordPress Website
— May 31, 2019
•

7

Minutes Read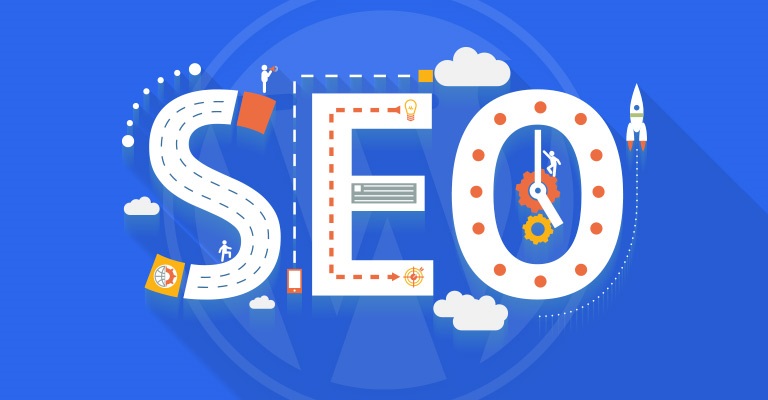 In this article, I will share the top WordPress SEO plugins with you. These plugins will actually work as your SEO managers. SEO Plugins help you get better exposure and increase search engine traffic. I hope you have gone through the earlier parts of this series in which I have covered What is SEO and what are the Basics of WordPress SEO.
I have researched and selected the top WordPress SEO plugins that are not only the best in industry but also reliable as they are maintained by experts.
This part of the series is imperative because this is the most practical you will get in optimizing your blog. We will not only go through the features of these plugins, but I will also educate you on how to set up these plugins and make them work.
Choosing The Best WordPress SEO Plugin
Let's start analyzing the best WordPress SEO plugins, going through their features and how to use these plugins.
Yoast SEO Plugin

If you want to pick the best SEO plugin, I will recommend SEO plugin by Yoast. It is one of the most compact and feature pack plugins for your WordPress blog. It contains tons of features that help you boost your website's ranking. Let's dig down into the features of Yoast SEO plugin.
Features:
Here is a list of features of this WordPress SEO plugin:
Focus Keyword with strength checking on each post
Post Title and Meta descriptions box for each post
Ability to verify Google and Bing webmaster tools and Yahoo Site Explorer
SEO score of total posts and other stats
XML sitemaps
RSS footer/header configurations
Permalinks clean ups while still allowing for Google Custom Search
.htaccess and robot.txt editor
Easy NoIndex, NoFollow page settings
How to Use Yoast SEO Plugin
In this part, I will help you set up Yoast SEO plugin.
SEO Settings Transfer
If you were already using any other WordPress SEO plugin, before deactivating them you must transfer the settings to Yoast plugin. To transfer SEO settings to Yoast, I recommend using SEO Data Transporter plugin. This plugin, however, is not needed if you are setting up Yoast on a new blog.
General Settings
Once the plugin is installed you will see the following general SEO settings on the main page of the plugin. Let's start with the General settings.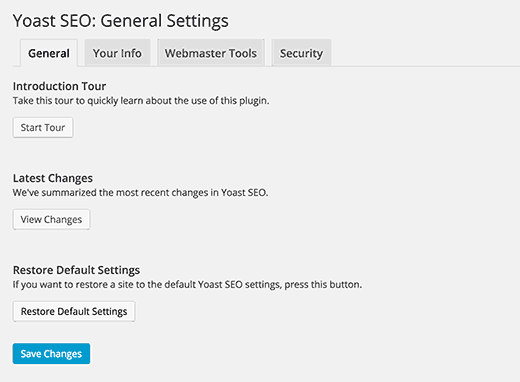 Your Info
Click the Your Info tab and add website and alternative name for search engines.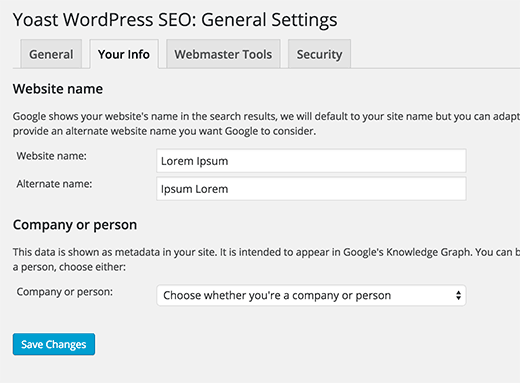 If you do not enter it here, WordPress SEO will automatically use your website's title as the name of your website. Below this, you can select whether you are just a person or a company. In either case, you have to name the respective selection.
Webmaster Tools
Next tab is of Webmaster tools.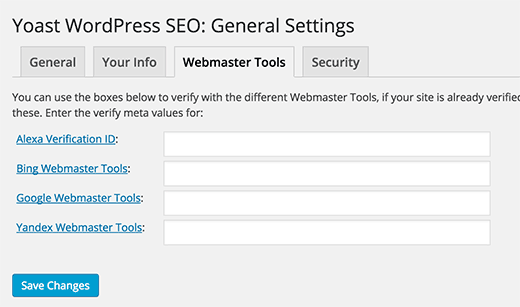 Do you remember why we were doing SEO? Yes to rank our websites on search engines. To do that we must register our website on these search engines and let them know we exist.
Webmaster tools let you see insights and other data about your website on the specific search engines. You have to add a Meta tag to your site or upload a file. And if this process makes you afraid, you can simply add the Meta code in these fields, and it is done.
This setup is quite important as you must add your website to the top search engines such as Alexa, Google, Bing, and Yandex.
Security
There is only one option in this tab which I will recommend you to leave it checked. It is because it disables the advance part of the WordPress SEO meta box.
Titles and Metas
Now let's move to the Title and Meta settings. I will go through them quickly.
General
You can select a Title Separator in this page.
Homepage Title
In this tab, we choose the Homepage title. By default settings are mostly suitable for blogs and works fine, unless you want to choose something unique.
Post Types Titles and Metas
WordPress SEO allows you to set titles and meta for posts, pages, media and other custom posts types.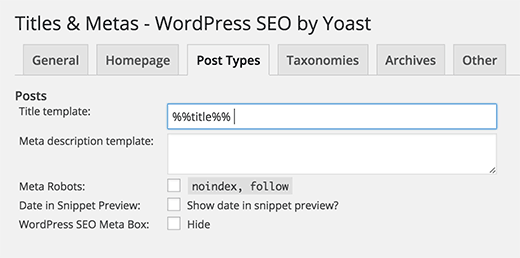 I recommend that you change the title template where you only keep the actual title and remove the site name. Yoast SEO plugin adds a post title and meta box in each post. I highly recommend you to enter a custom title for each post in that box.
Social
Yoast integrates your site with Facebook, Twitter and Google+ platforms. Also, you can add all other social account links in the Accounts section.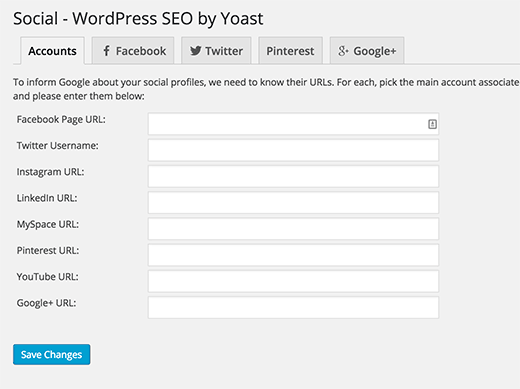 Here, you just need to enter the URL's of your social profiles.
XML Sitemaps
Sitemaps are essential for your website. Sitemaps are the fastest way to index your pages on search engines. Yoast SEO plugin makes this setup as easy as it can get.
In the General section, you can enter max entries per sitemap.
Post Types
My recommendation is that you select Media to NOT index in sitemaps.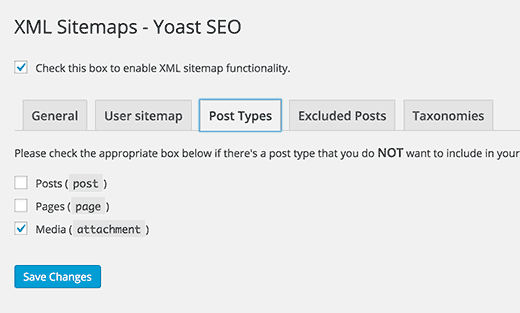 Advanced Settings
These are the advanced settings which includes breadcrumbs, permalinks and RSS feeds. Breadcrumbs are essential for internal linking as they define a clear path to a page or post. Here is an example:

Here are the settings for Yoast SEO plugin breadcrumbs settings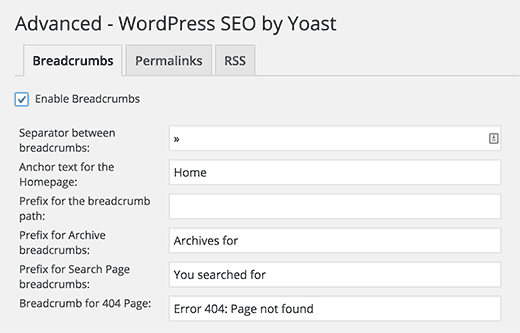 Add Search Console
This section allows you to connect Google Search Console to your WordPress website.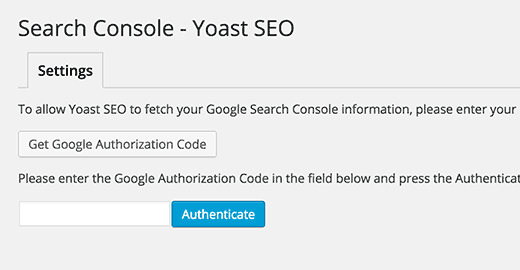 All you have to do is enter the Google Authentication code in the provided box and hit Authenticate.
There are also other settings for this plugin that you can update. However, I have covered the most important and essential settings.
All In One SEO Pack Plugin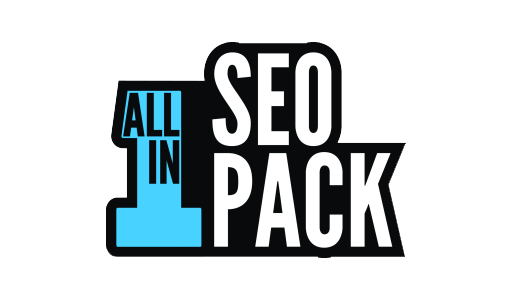 This WordPress SEO plugin has more than a million downloads, and it is one of the most popular SEO plugins for WordPress. Like Yoast, this plugin allows you to update SEO settings in a simple and managed way. Let's go through some "All In One SEO Pack" features and settings.
Features:
Google Analytics support
Post and title keyword support
Automatically optimization of website titles for Google and other search engines
Social accounts
Home page and posts settings
Settings
Let's go through the settings of All in One SEO pack plugin.
Homepage
In this section, you enter a title and description for your homepage.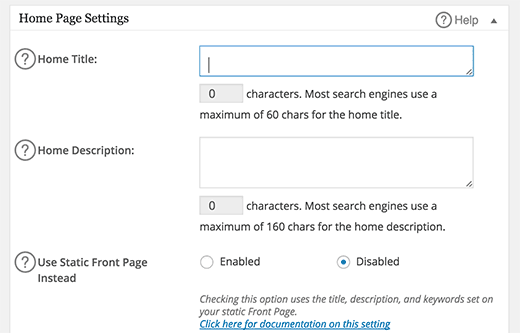 Make sure you write the main keyword as your Home Title. Also, take some time in selecting the right words as your description and homepage title, as they are very important to perform your website SEO.
Title Settings
Just like Yoast SEO, you have to select your title settings for posts and pages.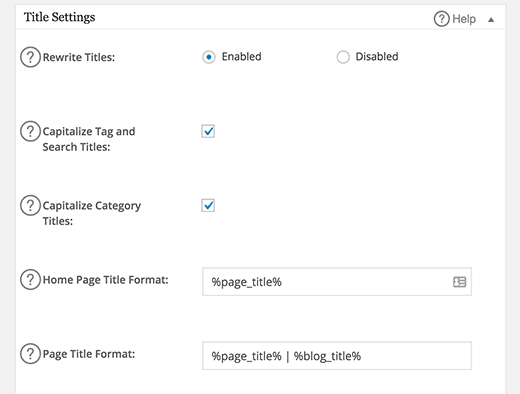 I recommend you use these settings as it is. And update titles for each post and page individually.
Display Settings
This allows you to show post's SEO title and description on posts screen. And you may leave it as it is.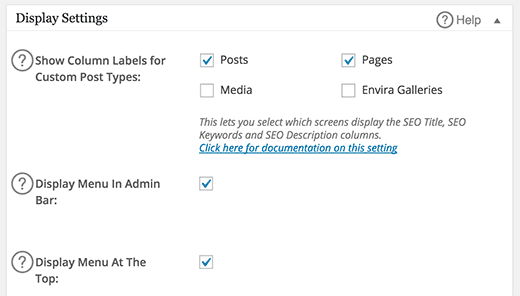 Webmaster verification
Add your webmaster verification code for each search engine in their respective fields.
As I have already mentioned, you must setup your webmaster accounts for all of the above search engines.
Noindex settings
You can update your noindex, no follow and other settings for posts, pages, and media in this section.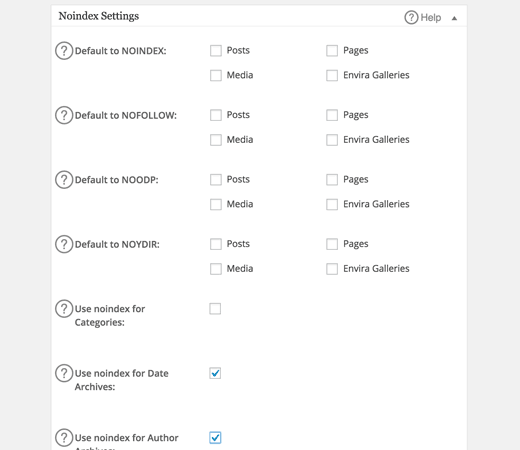 Keyword settings
You can enable the usage of keywords in this section by enabling them.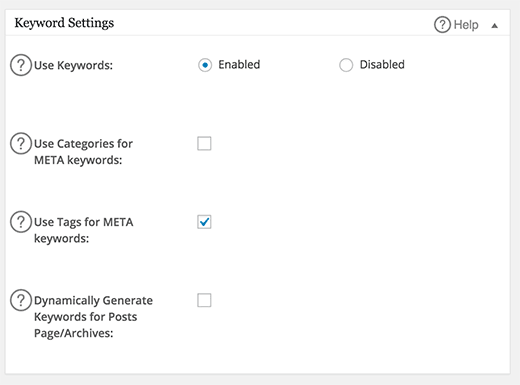 XML sitemaps settings
You just need to select "Notify Google" and "Notify Bing" to update search engines with every new post and page.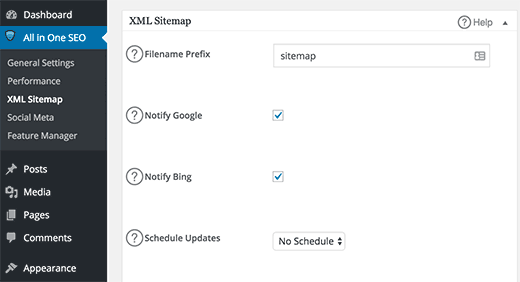 Social Settings
In this section, you can enter your social profile links and display them on your website.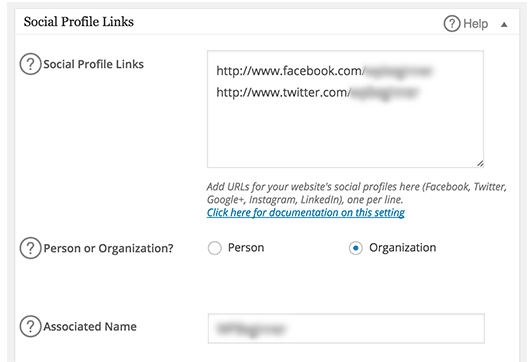 Post settings
When writing a post, you can always add a keyword for each post and update its specific description.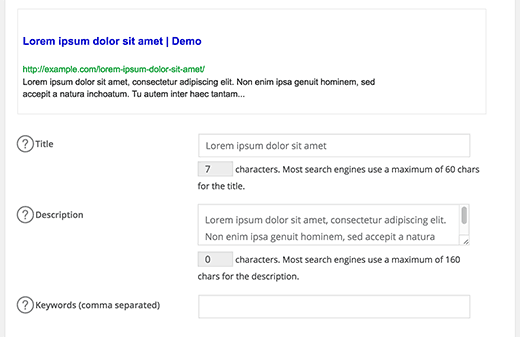 Conclusion
I know choosing the best WordPress SEO plugin is not an easy task. Some WordPress themes come with their own SEO settings, but I recommend you to go with an SEO plugin like Yoast or All in one SEO pack. If you decide to change a theme you will lose all your SEO settings, but, if you use this plugin, you can use any theme for your website. You can also choose any of the above two explained plugins as they both are the best SEO plugins and can bring high-quality results for you. My personal recommendation is Yoast SEO as it easily fulfills all my SEO requirements with ease.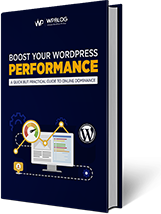 Create Faster WordPress Websites!
Free eBook on WordPress Performance right in your inbox.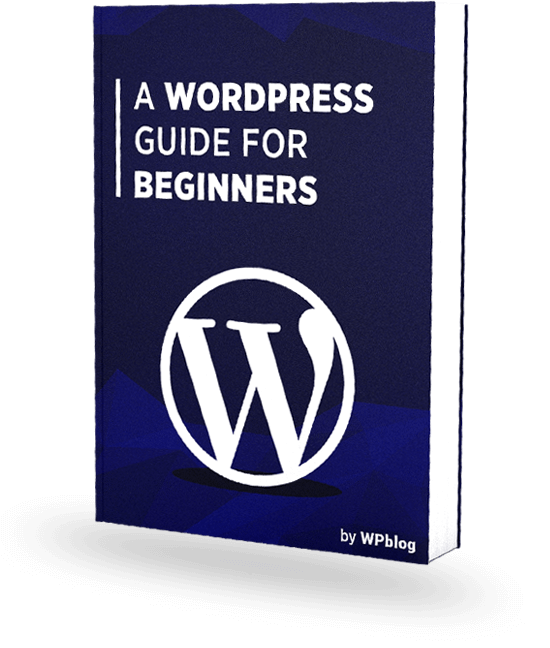 Create Faster WordPress Websites!
Free eBook on WordPress Performance right in your inbox.