Compact One by CyberChimps [Review]: One Page Business WordPress Theme
— November 28, 2017
•

5

Minutes Read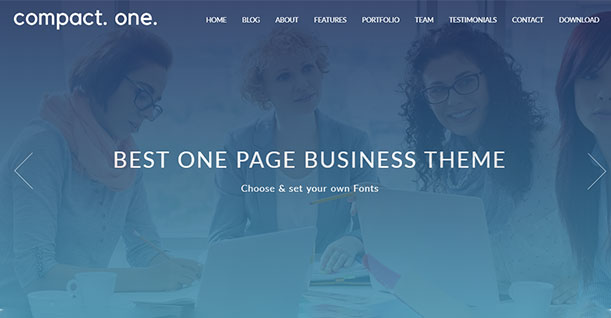 Having a website is not an option for businesses anymore. Online presence is a must for every emerging business. Right from deciding which menus should be there on the homepage to choosing a perfect WordPress theme for your website, every decision must be made carefully. Most of the professional websites usually demand a simple or a formal design, to make their products and content the focus of their business.
Compact One is an elegant one-page WordPress theme, created by CyberChimps, specifically for business purposes. The kind of outlook, menus, and elements a business or a professional website needs are present in this free WordPress theme. Today, I am going to review and introduce you to various features of Compact One.
So, let's get started with the review.
About Compact One – A Free One-Page WordPress Theme
Compact One is suitable for businesses to showcase their prominent features like work portfolio, team, professional testimonials, etc. It is perfectly ideal for small businesses or even start-ups, which can benefit greatly from its premium features at absolutely no cost.
The simple and elegant homepage design of the theme enables businesses to have a responsive and well-navigated website, which can grab the attention of clients smartly.
Features of Compact One
1. Slider Section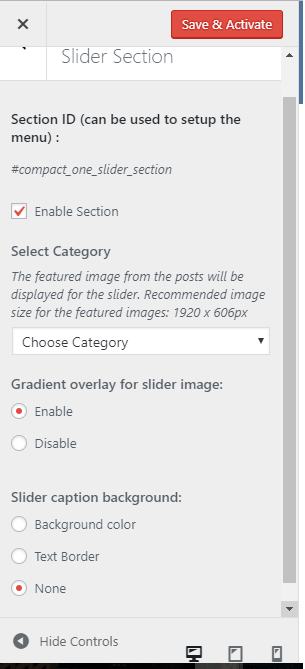 Home Page is the most attractive feature of this WordPress theme. Compact One comes with a full-width slider where you can display the best of your work. Images of sizes up to 1920 x 606 px, can be featured in this slider section once you enable it and select a category on your website.
You have a choice to have a gradient overlay for the slider images on your website. The theme provides you with three color options so that you can choose the one that suits the theme of your website.
With this amazing feature, you can decide what your probable clients should see first when they land on your website.
2. Work Section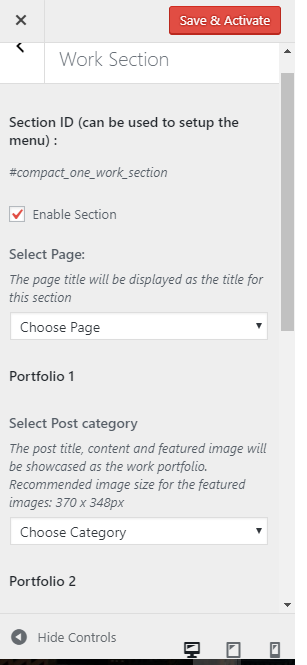 In Compact One's homepage work section, you are provided with three portfolios where you can mention the domains or fields of your work expertise. You have to select a page on your website, which ultimately becomes the title of this section, and then you have to select categories on your website to display the work you have done so far.
The work section also facilitates you to put images that best describe the work done by the company so far.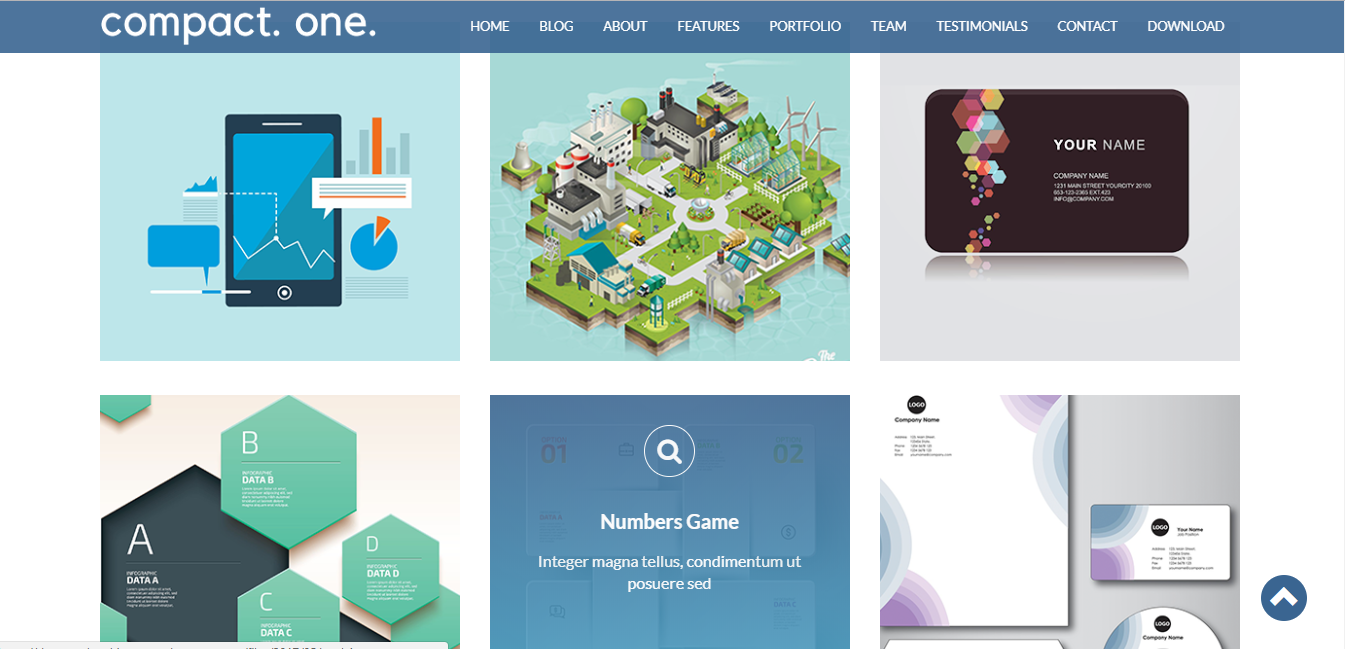 The mouse hover enables on the gallery in Compact One is one of the most advanced features that the theme provides for free. It is recommended that you use the standard featured image size of around 370 x 348 px.
3. Client Testimonials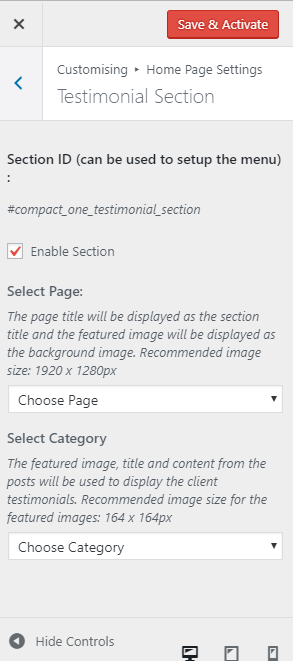 Here is another full-width slider, where you can exhibit the amazing feedbacks you have gotten from your regular clients. It is the best way to prove to potential clients how reliable your services are and how happy your previous clients are with the services you provide.
The images you feature in this page's section should be of size 1920 x 1280px. When you select a category in this section, the image of size 164 x 164px, content and the post title in that category will be displayed in client testimonials on your home page.
4. Social Media Options and Call-to-Action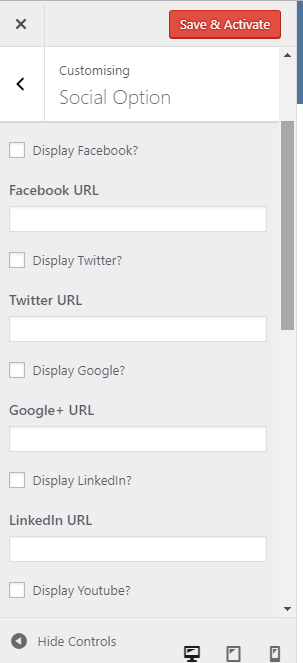 Compact One provides the option of linking all of your business's social media accounts including Facebook, Twitter, Google+, LinkedIn, YouTube, Flickr, Pinterest, Google Map, and Instagram.
You can insert links to your social media accounts, and at the same time choose whether to display that particular social media on your website or not.
The theme provides an option to select one social media icon out of four, to be displayed at the end of your post. Provide a unique footer bar for displaying all the social media accounts as it is helpful and a must-have for any business or professional website.
5. Typography Feature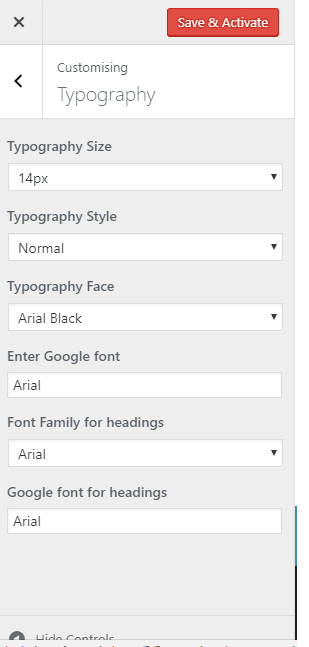 This theme provides the simplest way to implement typography on your website. The business websites usually use a simple font and keep the size and color of your choice, for the content displayed on your website.
You can easily access most of the popular fonts without having to write any kind of code for it. However, Compact One provides you with an option to use Google Fonts as well. With an option to pick the size of the font, and the style of typography, i.e. normal or bold, you can easily create the website just as you want it to look like.
6. Availability of Additional CSS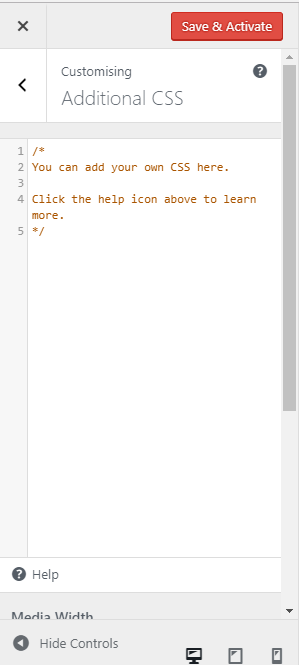 Compact One provides an additional option to improve your website's design by using CSS. This can help in maintaining the consistency of your website. If your website is quite big and you have lots of content to put on the web, this feature is going to save your time.
With an increasing number of browsers, features like additional CSS help in making the website easy to access using any kind of browser. This kind of clean coding technique will also make your website SEO-friendly, which is a crucial factor for a business website.
The theme, through the feature of additional CSS, also provides you an option to not to use the theme's original CSS, and design the website using your own CSS. Through the option of selecting media width, you can set a different content width for images of size 640px, which is the default image size of Compact One.
Conclusion
So, these were some of the best features of Compact One – Single page WP theme. It was amazing to see a one-page business WordPress theme providing so many advanced features, which is all for free. Multiple advantages like easy customization, free support forum, helpful YouTube videos about how to use Compact One, progress bar, and frequent updates in the theme, are the most promising reasons for a business owner to pick this theme for his/her business website.
Compact One includes most of the necessary features and saves a lot of time in designing your website by making the process much easier. So why wait? Download Compact One now. You can also go pro with Compact One Pro Plugin which adds more features to the Free Compact One Theme.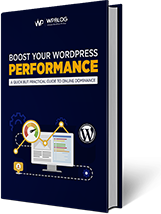 Create Faster WordPress Websites!
Free eBook on WordPress Performance right in your inbox.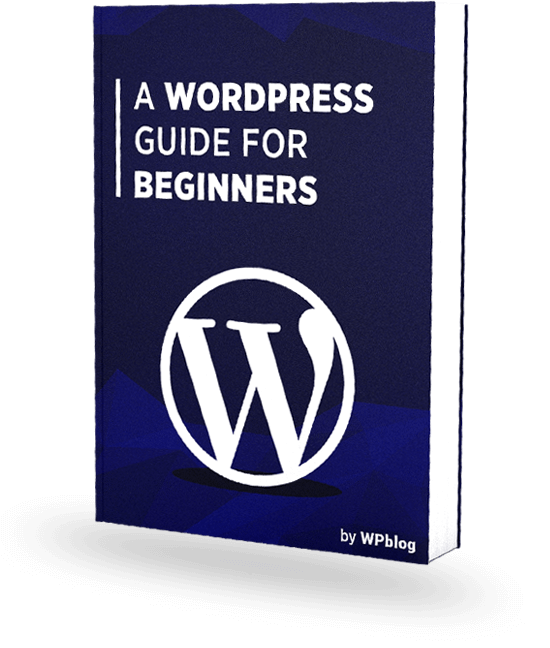 Create Faster WordPress Websites!
Free eBook on WordPress Performance right in your inbox.