The Best Ecommerce Tools to Grow Your Online Business
— April 18, 2019
•

13

Minutes Read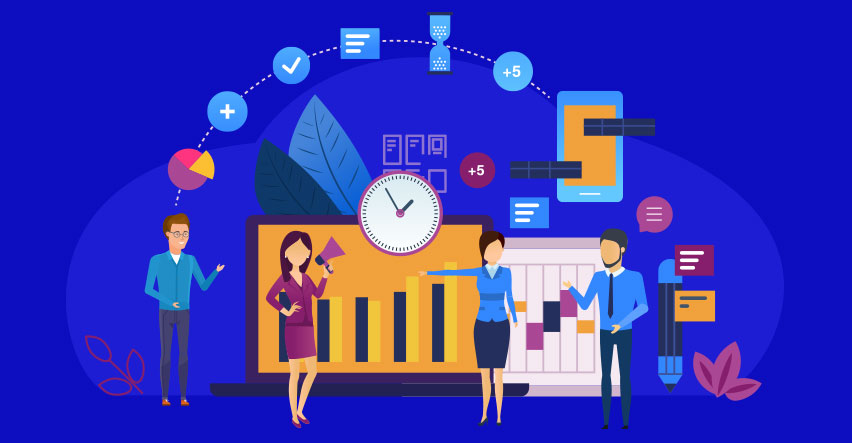 According to research, US consumers spent around $517.36 billion on online purchases in 2018. This grew from $449.88 billion in 2017. In an evolving industry like ecommerce, you need both human and electronic help to boost sales of your online store.
Table of Content
MailChimp
Ahrefs
Google AdWords
Hootsuite
Google Keyword Finder
W3 Total Cache
ShortPixel Image Optimizer
Cloudflare
GT Metrix
Google Analytics
Kissmetrics
Metrillo
Clearbit
Social Media Analytics
Signifyd
Zirtual
TaxJar
Kin
UpCounsel
Zendesk Chat
ReferralCandy
Thankbot
Qualaroo
UJET
DeskXpand
Ecommerce tools help scale your business so that you can compete and survive in an already hostile environment. These tools are especially useful when your online store is in the growing stage, during which you need to manage an increasing workload as well as focus on maximizing revenue.
The availability of too many ecommerce tools, though, can make it hard for you to decide which is right for your business. On top of that, online store owners have a hard time figuring out the usefulness of a tool.
In this article, I'll take you through the tools necessary for growing your online business. These tips will be useful whether you wish to do the hard work yourself or hire e-commerce professionals to do it for you.
Ecommerce Tools for Marketing
Being a marketer myself, I consider marketing to be the most important element for the success of any kind of business. You might have an attractive layout on your online store, thousands of listed products, and even the best customer service, but if you don't convey your message convincingly and to the right audience, your business has little chance of survival.
It's good if you have a perfectly laid out marketing plan. However, you can make it even better by incorporating some of the mentioned ecommerce tools into it.
MailChimp
Lead generation and lead nurturing are two of the most important activities for bringing more customers to your business. MailChimp allows you to generate important leads and nurture them into paying customers.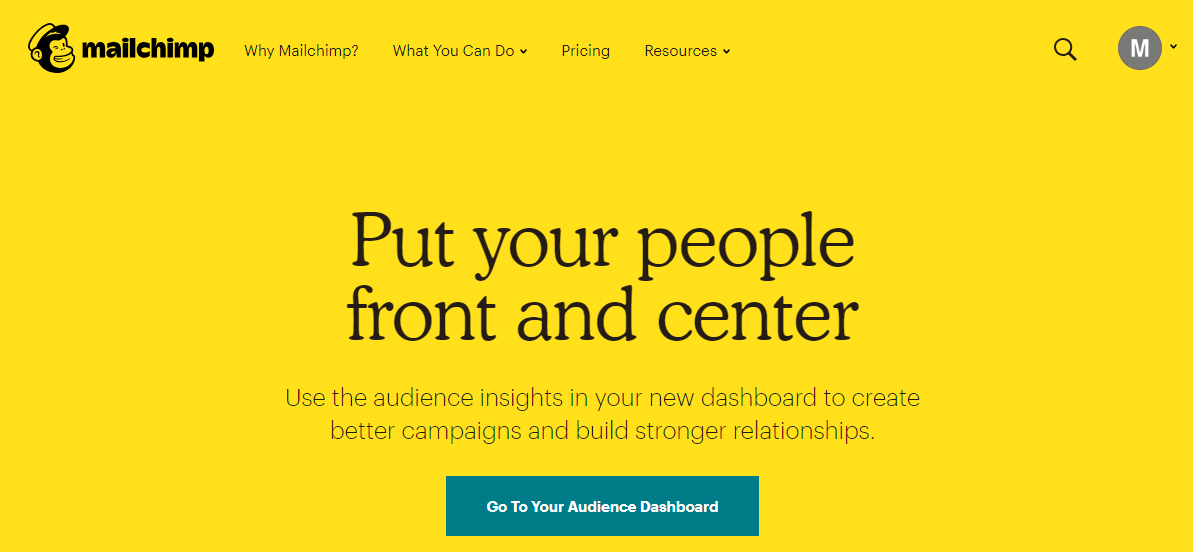 MailChimp's list building feature allows you to generate leads for your business through subscriptions. Once you have a significant email list, you can run an email campaign to convert them into customers.
MailChimp is free for the first 2000 subscribers. Once you cross this limit, you'll have to pay $10/month for the starter plan. If you want to upgrade, you can switch to the Pro plan which will cost you $199/month.
Ahrefs
Getting your online store to rank higher up in search results is essential if you want more traffic and ultimately more sales. Ahrefs helps you identify keywords that your store is currently ranked on and the keywords that it should be ranking on. The tool does an in-depth analysis of your website and shows you its top performing pages, organic keywords, domain rating, and much more.

You can also use Ahrefs for a detailed competitive analysis of your competitors too. It can identify for you the keywords your competitors are ranking on and their top performing pages as well.
Ahrefs keyword explorer is another great feature that lets you identify new keywords for your online store. These new keywords might give way to new opportunities that can be used to scale your online business further.
The pricing plan starts from $99/month and goes up to $999/month.
Google AdWords
Google AdWords is a great ecommerce tool for your business if you're looking to drive more traffic and sales. You can use Google AdWords to create custom ad campaigns to target different consumer groups, and you can target specific audiences based on their geographic location, interests, and age, etc.
What's great about Google AdWords is the fact that it allows you to target audience that's already interested in your products and offerings. Since these users are looking for a solution that your product offers, AdWords helps you reach out to them specifically, increase traffic to your site and ultimately sales!
Hootsuite
To make your online store a success, it is essential to expose your brand on relevant social media platforms. Hootsuite helps you do just that. You can use Hootsuite to schedule social media posts so you can interact with your current and potential buyers on a regular basis.
Hootsuite allows you to monitor what people are talking about your brand on social media, and analyze how your social media campaign is performing through its powerful analytics.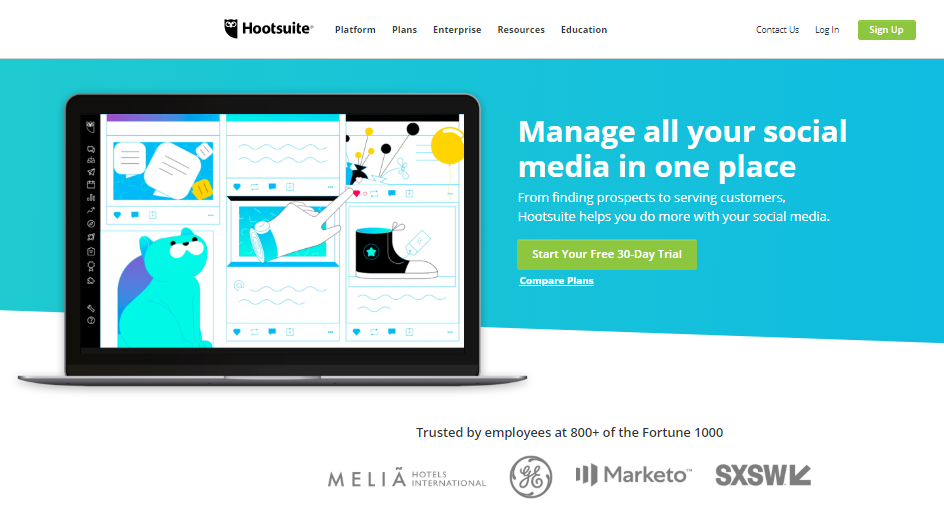 You can choose one of their pricing plans based on your needs. The basic plan will cost you $19/month. If you have a team working with you, you can choose one of their team plans which starts from $99/month. You can always take a look at Hootsuite alternatives too, to make sure you find a tool that works best for you.)
KW Finder
We mentioned Ahrefs earlier in the article and that it's a good tool to explore keywords. However, there are tools made specifically for keyword research which can do a much better job than Ahrefs.

KW Finder, for example, is arguably the best tool to explore keywords for your online store. I've been using this tool for my blog since a long time, yet, its keyword suggestions and accurate data never ceases to amaze me. It also tells you which websites are currently ranking on your searched keyword.
Ecommerce Tools for Performance Optimization
The importance of having your online store up and running 24/7 cannot be understated. What I mean by that is that there's no room for downtime. As a store owner, you can't afford to have a slow loading website, of course. And if you're not careful about your store's performance, you'll start to lose customers and a lot of revenue.
Here are some ecommerce tools that will help you improve your store's performance.
W3 Total Cache
W3 Total Cache (W3TC) is one of the best WordPress cache plugins out there. If you have your online store on WooCommerce, W3TC is a must-have for enhancing your store's performance.

A cache plugin like W3TC generates static HTML pages of your web pages and saves it on your server. Every time a user visits your website, the cache plugin displays the saved HTML page and not the heavier WordPress PHP scripts.
I've written an in-depth guide on how you can improve your site's performance with W3TC. Do it give it a read if you're interested in boosting your site's speed!
ShortPixel Image Optimizer
Your online store is, of course, host to tons of images that can take a lot of space and can slow down your website. Optimizing your images, though, can help improve your store's load time and optimizing its performance.

ShortPixel Image Optimizer is a great ecommerce tool to optimize your store's images and improve its performance. You can either optimize images from your WordPress media library or you can use ShortPixel bulk image optimizer to optimize them all at once. The tool compresses the images by reducing their sizes without losing any quality.
Read my review of ShortPixel Image Optimizer if you want to more about this amazing tool.
Cloudflare
Your website's load time on your visitor's browser depends on the speed at which your website's data is delivered to their browser. Therefore, you obviously want a server that transfers your data in the shortest possible time for reduced load time and optimized performance. A CDN, short for Content Delivery Network, is just the right tool for that.

And speaking of CDNs, Cloudflare is one the best ones out there. Its performance enhancement uses a global delivery network which makes your store perform at an optimum level no matter where your visitors are coming from.
Cloudflare comes with a free plan, but if you want to go pro, you can choose one of their 3 paid plans for bigger projects.
GT Metrix
Surely there has to be a tool that helps you keep all your optimization efforts in check, right? Luckily, there is. With GT Metrix, you can test your website's speed to determine whether your optimization efforts have been fruitful or if you need further improvements.

GT Metrix is a highly useful tool that not only pinpoints where your site needs improvement but also offers suggestions that help you further optimize your website.
Ecommerce Tools for Analytics
Analyzing your store's performance is essential for its growth. Whether your store is performing or not, you should know the reasons. An analysis of your site can help you identify your online store's weaknesses and strengths and lays out a blueprint of where your business is compared to where it should be. Analyzing the situation also lets you know where you need to improve and where you need to maintain the efforts that are working.
Ecommerce tools that help you analyze your business performance are essential for your business's growth. Here are some of them:
Google Analytics
Google Analytics is the most authentic analytics tool out there. It helps you track how your visitor behaves on your website, and you can keep tabs on sessions, page views, bounce rate, average time on page, and many more important metrics.
With Analytics, you can also find out the countries your visitors are coming from, what devices they are using, and which browsers they use to access your online store.
If you're just starting off with your online store, I would suggest you use the free version of the tool. Even if your store is a medium-sized business, I'd still recommend the free version. In case you're wondering why…
Google Analytics Pro costs $150,000/year.
That's a steep price for any tool, but for huge organizations, the pro version is worth the price tag.
Kissmetrics
Kissmetrics is another amazing ecommerce tool for analytics that tells you more about your customers and gives you deeper insight into who is buying from your online store and who isn't.
It comes with a powerful segmentation and precision targeting that helps you better understand your customers and engage with them. The tool also lets you set up engagement campaigns to enhance your customer's experience throughout the purchasing journey.
Kissmetrics also compiles ready-to-go reports with insights about your online store and your customers which makes your decision making super easy.
Metrilo
Metrilo is an idea analytics tool for online stores. It provides deep marketing and sales insights along with untapped opportunities that you might be missing out on for your business. There's also a customer engagement feature that creates a premium experience to help boost your sales and builds repeat customers.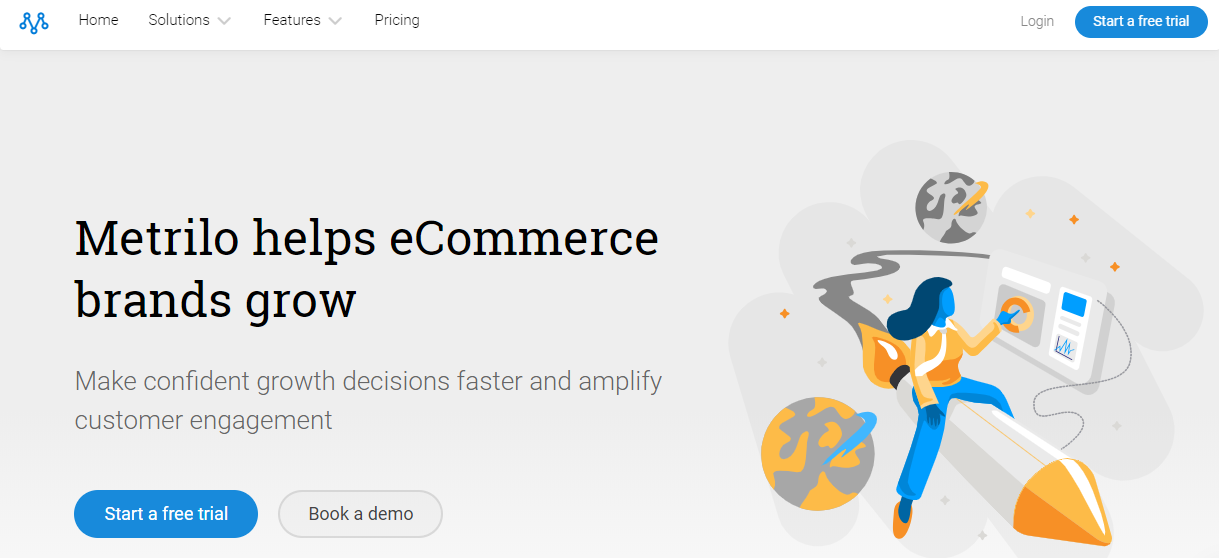 The tool starts tracking from your visitors' first interaction with your online store and connects all behaviors to create detailed customer profiles.
Al these amazing features don't come cheap, though. Metrilo starts from $119/month, which provides sufficient functionality for most stores, but if you want to take your analytics game to the next level, you can choose the Pro plan which will cost you $199/month.
Clearbit
Clearbit is another ecommerce analytics tool that extracts vital data on customer interaction with your business. It lets you understand your customers deeply, identifies gaps that need to be filled and helps you personalize your marketing efforts.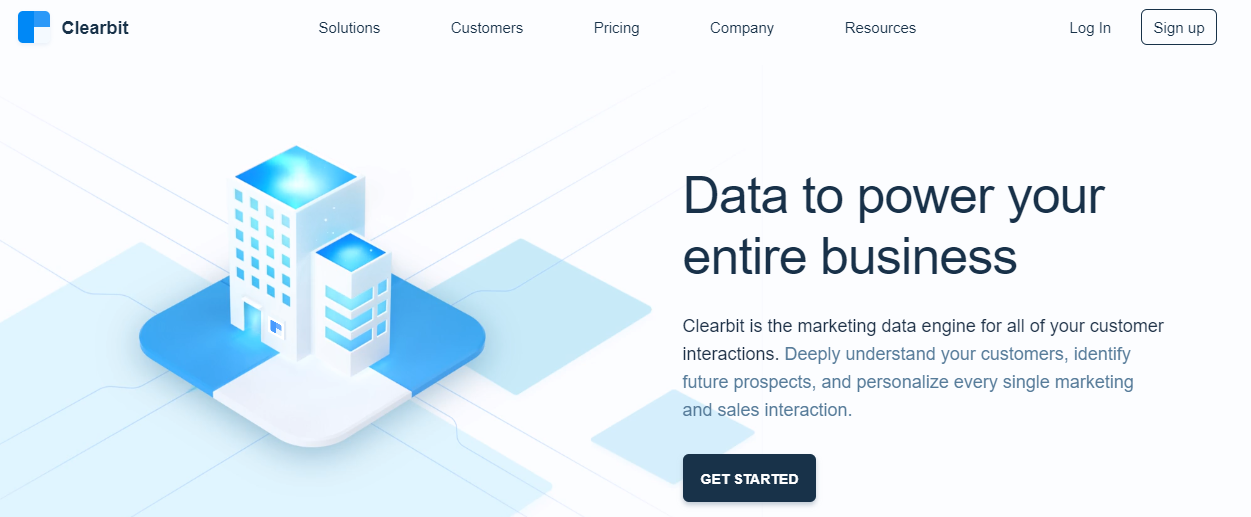 The tool provides you data that aids you in converting potential customers into paying customers. It also creates data for look-alike prospects and reaches out with the right message at the right time.
Clearbit comes with various solutions which are priced differently. You can check out their plan on their pricing page here.
Social Media Analytics
It's essential to keep an eye on how your social media strategies are working out for your business. Whichever platform you are using, you must track and evaluate analytics, be it Facebook, Instagram, or Snapchat. Whichever platform you are using, you must track and evaluate analytics, be it Facebook, Instagram, or Snapchat, to understand your audience's engagement and reach. On Snapchat, for example, you can monitor your snapscore to gauge the impact and popularity of your content among your followers.
Studying and analyzing data from these channels will let you further optimize your social media strategy. Social Media Analytics, for example, can help you understand what type of content is performing best and which social media channel is bringing you the most engagement. You can use different tools to extract data from these platforms but it is highly recommended that you use the data provided by these platforms for maximum authenticity.
Ecommerce Tools for Project Management
It's not uncommon for redundant and repetitive tasks to come in the way of your growing business. Not that those tasks are unimportant, but most mundane and repetitive tasks are better off automated through tools and to help you manage your time effectively.
Signifyd
It's likely that as your business grows, the frequency of fraudulent transactions also increases. Manually tracking these transactions can take up a lot of your time that you'd rather invest in more important activities.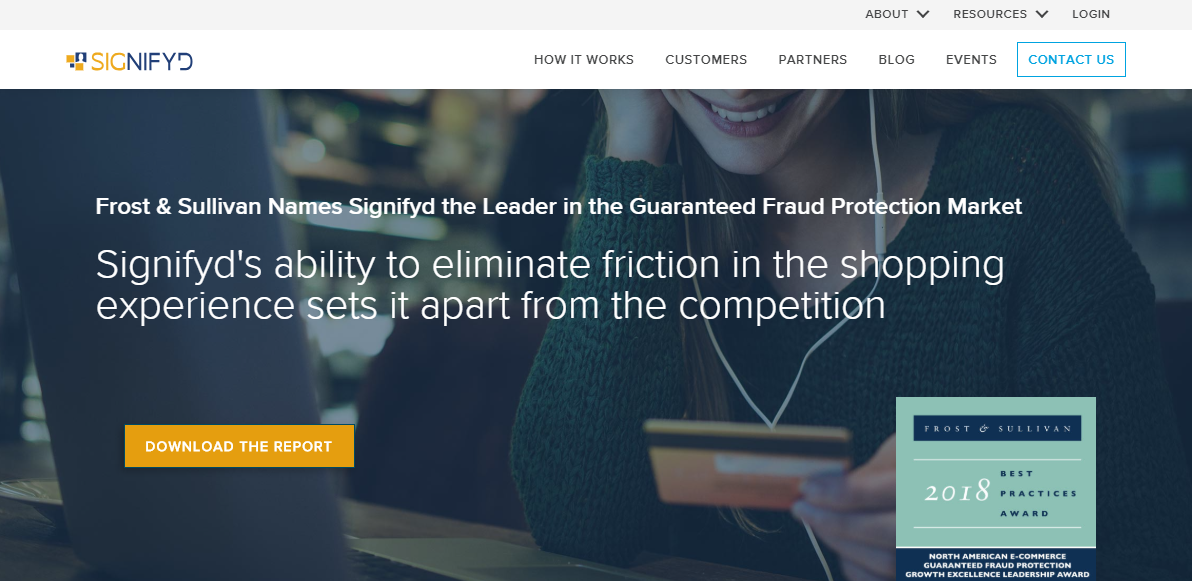 Signifyd is one ecommerce tool that prevents frauds and chargebacks as you scale your business. This tool lets you manage fraud transactions easily or you can delegate this task to the dedicated team at Signifyd which will guarantee that your transactions are fraud-free.
Zirtual
Zirtual is like a personal assistant that manages all the repetitive office work so that you can focus on things that really matter. An overflowing inbox, countless meetings, and constant travel are common for an owner of a growing business, so Zirtual takes care of your appointments, travel arrangements, emails, and much more.

It's also important that you are receiving the correct payments in a timely manner. Zirtual takes care of that as well. It sends your customers business invoices that clearly outlines the amount due, date of purchase, and the due date.
TaxJar
Filing sales taxes can be a time-consuming task which can take up a huge chunk of your schedule. TaxJar is an amazing ecommerce tool that helps you manage your taxes quickly and effectively.
TaxJar not only automates your tax calculation but also files it in minutes. You can start with a 30-day free trial and then sign up for a paid plan that starts from $17/month.
Kin
As business scales, the number of people needed to run the business increases as well. Kin is an ecommerce tool that manages all your human resource activities like onboarding employees, employee data and files, and performance reviews, etc. All of this is done through an easy to use cloud-based system.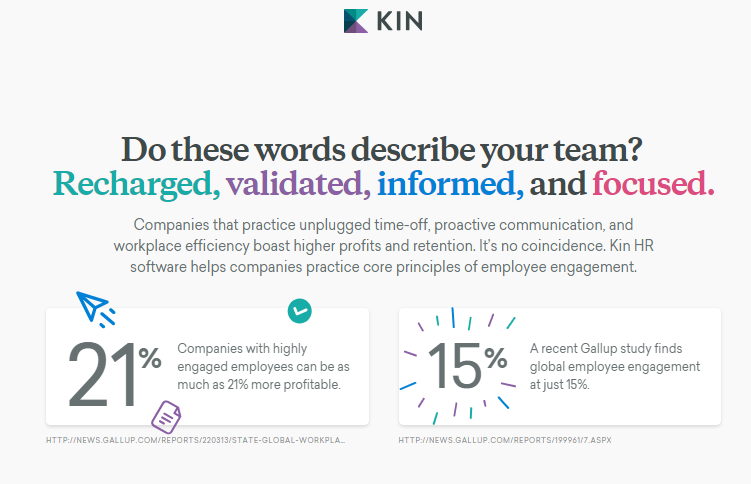 You can start a free trial or schedule a demo in which you'll be given a tour and a taste of the platform. The basic "Startup" plan will cost you $99/month but has limited features. Check out their pricing page to know more about their different plans.
UpCounsel
Legal matters are important for your business and they need to be handled professionally. UpCounsel is a handy ecommerce tool that gives you access to a team of in-demand lawyers you can hire whenever you need a legal matter resolved.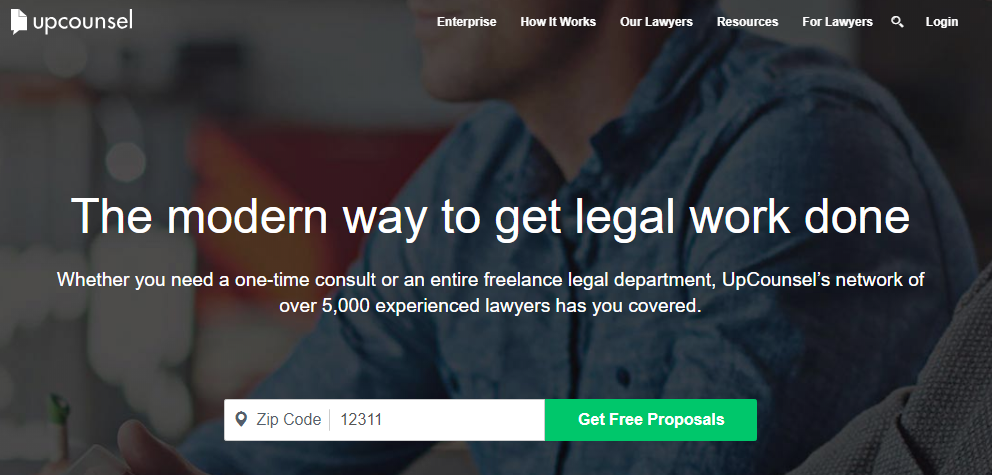 All you have to do is post a job on UpCounsel, and it'll connect you to lawyers who specialize in the legal problem that you're facing.
Ecommerce Tools for Customer Service
To make sure your customers are loyal, you need to provide them delightful support. Here are some ecommerce tools that are great for delivering excellent customer support.
Zendesk Chat
Formerly Zopim, Zendesk chat lets you chat with your customers to solve their problems in real time. This tool helps you create meaningful and profitable relationships with your customers. By providing them answers to their questions quickly and promptly, you will be improving your conversion rate.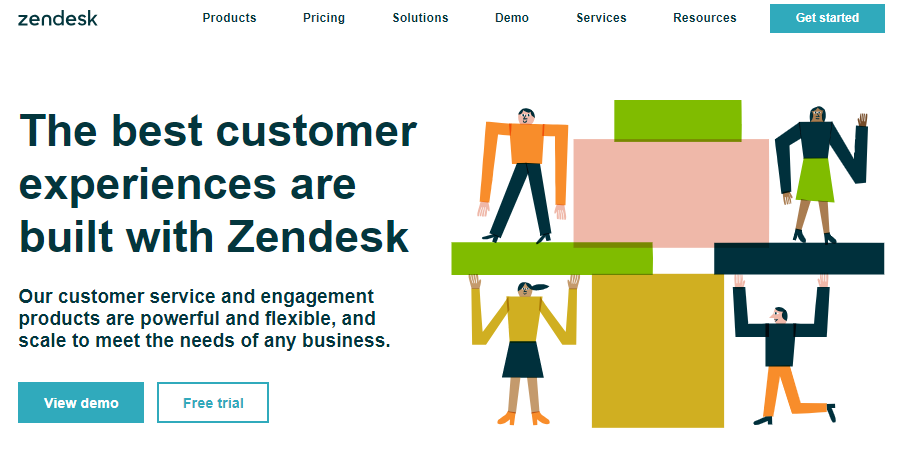 Zendesk chat lets you display customized chat badges on your store. You can also set up proactive chats which will be triggered on a specific action by the user. You will also be receiving an analytics report on your chat service that will tell you how good or bad your support has been.
You can go for the free version of this tool but for a more complete experience, I'd suggest you go for the paid plans that start from $14/month.
ReferralCandy
Building customer loyalty is essential in your online store's success. For this purpose, ReferralCandy is an ecommerce tool that lets your customers refer your store to more people in exchange for a commission.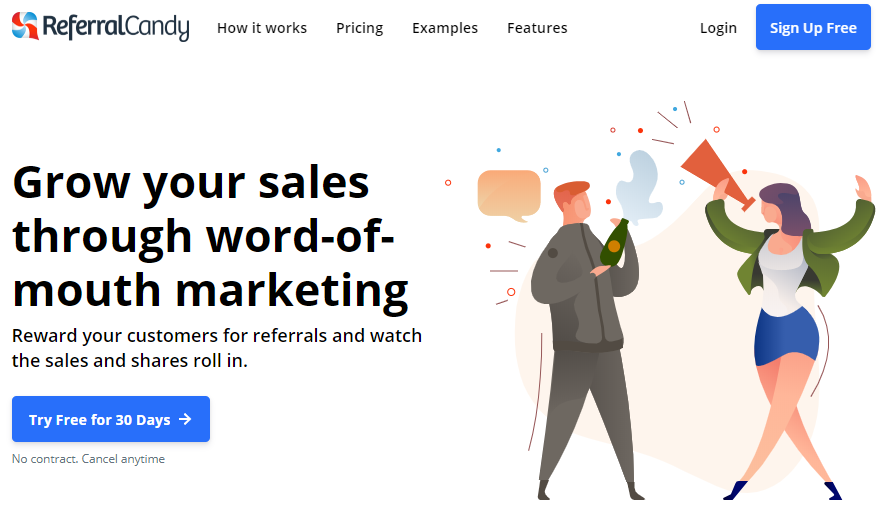 The tools let you create personalized links for customers who opt for your referral program. These links help you track sales that are generated from your customers. You can also create customized discount codes, and limited time offers for your referral program members. The built-in analytics feature also lets you keep tabs on which referral is performing the best.
The free trial runs for 30 days after which you can opt for one of their paid plans that starts from $49/month.
Thankbot
Delighting your customers even after they've made a sale on your store is an easy way to build loyalty. It makes them feel that you haven't forgotten them and that you value their loyalty.
With Thankbot, you can send personalized thank you cards to new customers thanking them for using your store. This creates a great first impression that helps you nurture new relationships into regular paying customers.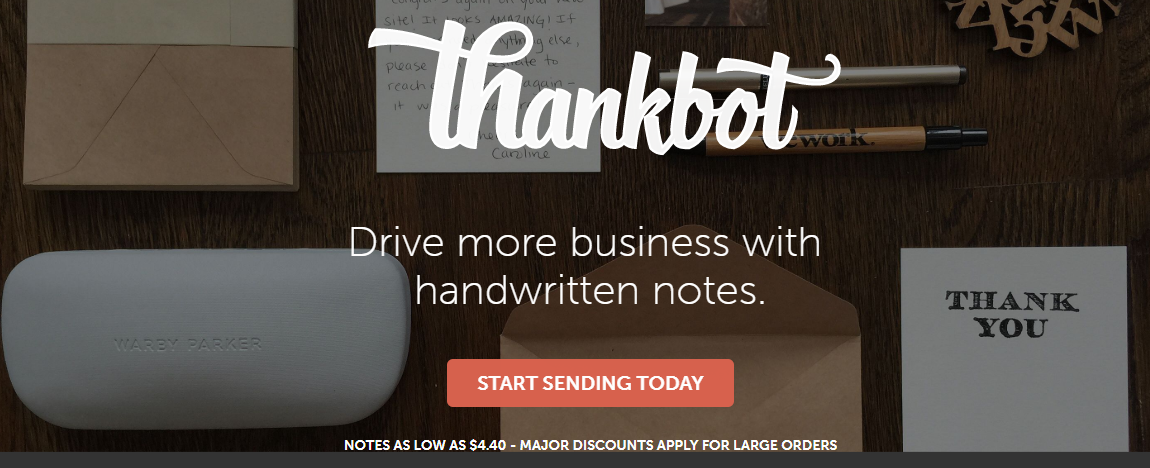 All you have to do is select a style of card, type the message that you want to send, and provide them with the addresses. Thankbot sends out handwritten messages to your recipients that are shipped within 3 to 5 days.
Prices vary with your order size. The larger your order, the less you pay per note.
Qualaroo
To grow your online store, it is essential that you conduct thorough research on your customers. Getting to know more about your customers helps you design your store to be more customer-centric. You will be better prepared to serve your customers the way they want
Qualaroo helps you learn more about your potential and current customers through quick surveys. You can display your product surveys throughout your store to gather feedback about the shopping experience that you offer and your products.
The pricing plan starts from $199/month which would do the job if you're a small or medium-sized online store with one domain.
UJET
The key to making customer and agent interaction more efficient is to make the process smoother and easier. Your customers shouldn't have to make any significant effort to connect with your store's representative.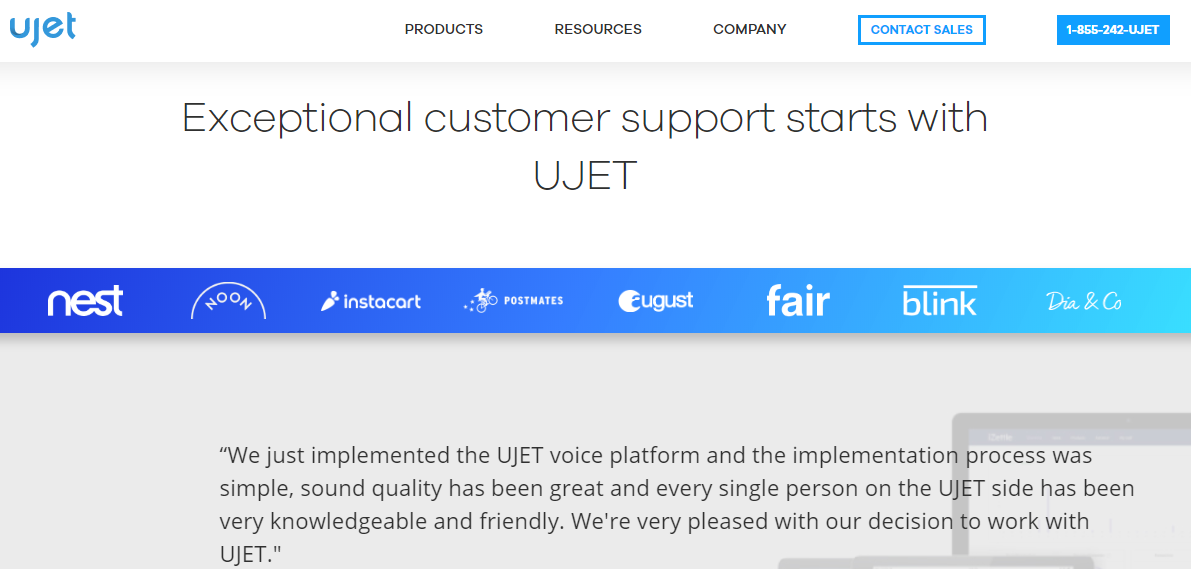 With UJET, your customers can contact your call center, schedule a call back with the agent, or launch a chat session directly from a desktop or mobile through your call center services. It allows your customers to share visuals so that the agents can better understand their issues as well.
DeskXpand
With a number of customers to handle, DeskXpand's help desk software comes with a unified interface. You get to access your current tickets, history of any particular ticket/customer, relevant canned responses, real-time chat links etc. in one place. This not only helps your team work efficiently but also helps them focus on providing a swift and effective solution to your customers.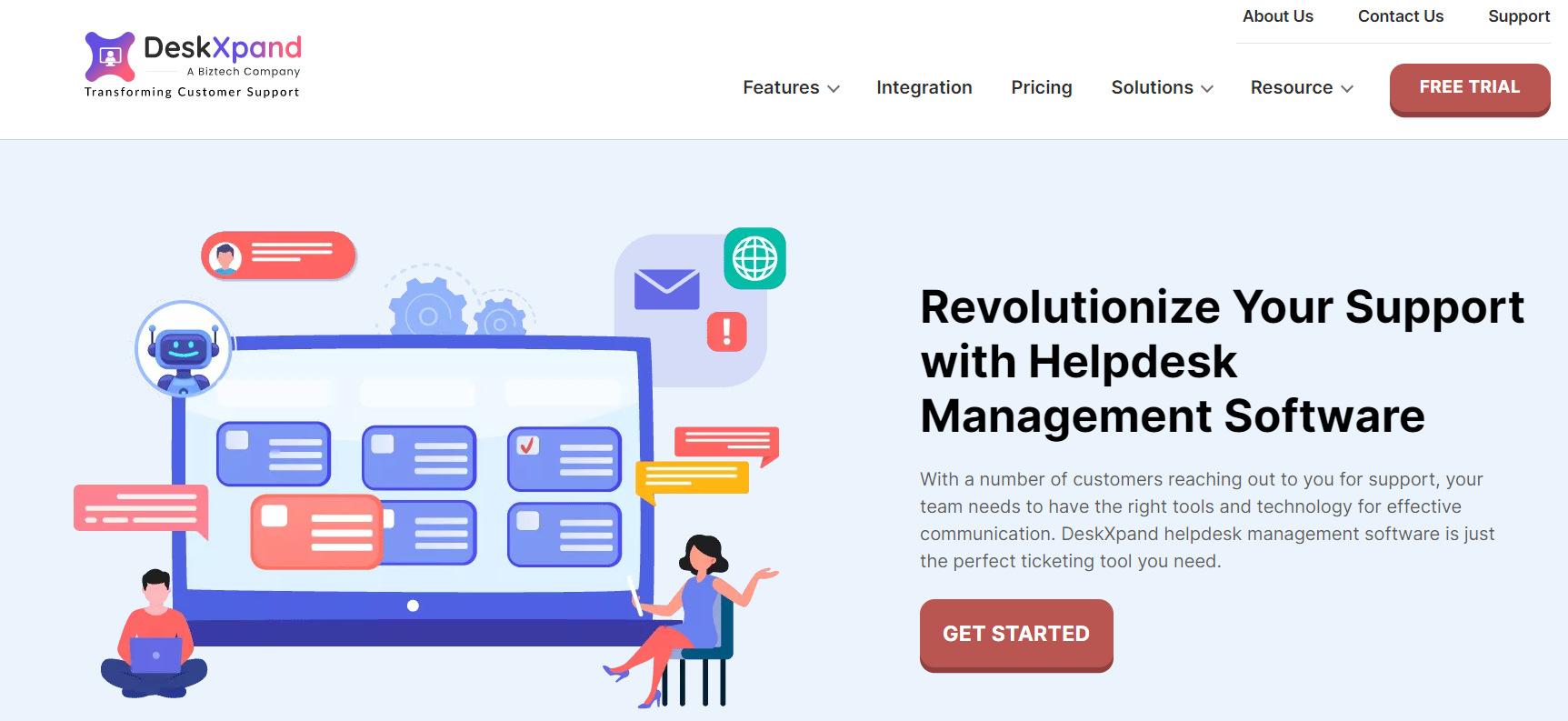 You will also be able to access advanced features like self-service, chat, automation in tickets/tasks, etc. With the help of analytical reports and surveys, you can always measure how effective your customer support has been and show you the next path to reach great customer support! While there are different pricing plans for your business, you can have the premium version for $7/agent/month.
Hope That Wasn't a Stretch
So this concludes my list of the top ecommerce tools that are going to help you take your online store to newer heights. There are many other plugins that can be used to perform and automate various tasks. If you're adventurous, you can check out our article on marketing automation tools to know more about them.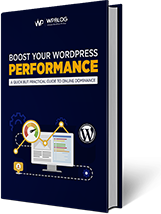 Create Faster WordPress Websites!
Free eBook on WordPress Performance right in your inbox.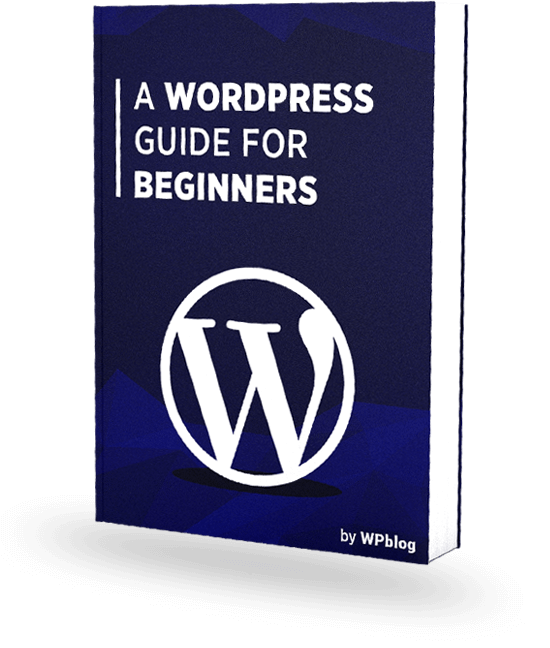 Create Faster WordPress Websites!
Free eBook on WordPress Performance right in your inbox.