How To Backup Your WordPress site Using BackWPup Plugin in 2019
— December 18, 2018
•

5

Minutes Read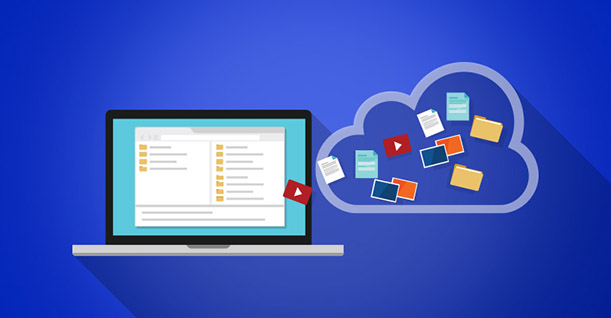 BackWPup Summary

| DOWNLOADS | RATING | COMPATIBILITY |
| --- | --- | --- |
| 600,000 | 4.3 / 5 | 4.8.3 |
Good websites are busy websites as they generate business interest and sales potential. So, if your site is a busy one, then it is crucial to have a backup policy in place to keep all your data secure. WordPress Backups are the best line of defense to answer any uncertainty and loss of entire website data.
Through backups, you can easily restore your website to its former glory. This article will take you through how to backup your WordPress website using BackWPup, a popular WordPress backup plugin.
Why do you need backups?
There can be many reasons:
Your website can be hacked.
A server malfunction can cause the loss of website data.
You seriously mess something up and it breaks the website beyond recovery.
Your web hosting company can go bankrupt.
Imagine if you do not have a WordPress backup and one thing happens as stated above. You will lose all your data and there will be no way to recover your WordPress website. You will end up on square one and suffer a major business loss.
How To Create Backups Of Your WordPress Websites
Before I dive into creating backups of your WordPress websites, we should know what to backup on a WordPress website. Backing up all the WordPress files may sound sensible, but that is not needed. Here is a list of things you should backup on WordPress site:
Database (Contains all the settings and content)
wp-content folder (Contains all the themes, uploads, plugins)
.htaccess file (Contains the server configuration settings)
wp-config.php file (Contains the WordPress configuration settings)
You can take WordPress backups manually, but that is never a good idea as it will take a long time to backup a large WordPress website or multiple websites.
In this tutorial, I am going to use BackWPup WordPress plugin to create backups. The free version of this WordPress backup plugin comes loaded with features and lets you create off site backups. It is recommended to keep your backups somewhere other than your hosting server to safeguard against cases where your servers become unrecoverable.
Step 1: Install BackWPup WordPress Backup Plugin
We'll assume you already know how to install WordPress plugins. If not, you can refer to our detailed guide on how to install WordPress plugins. The quickest way to install a WordPress plugin is to navigate to WP Admin -> Plugins -> Add New and search BackWPup. You will see a screen like this: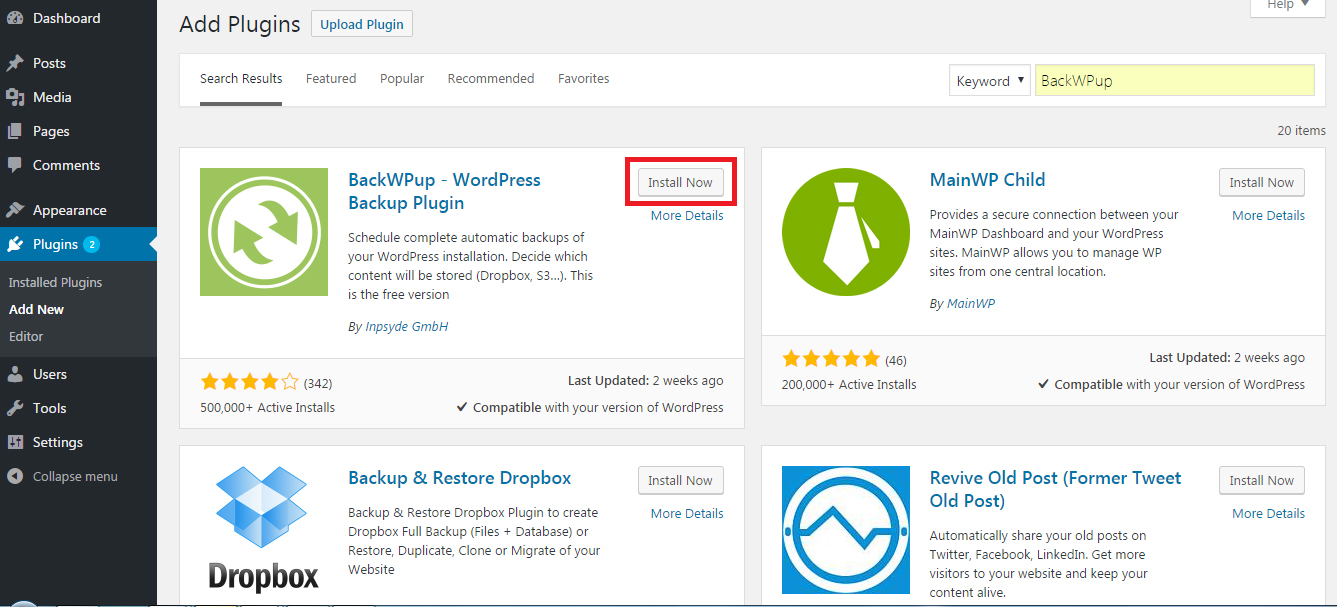 Click Install and then click Activate. You will be redirected to BackWPup administration screen where you will see the capabilities of the WordPress backup plugin and link to purchase the Pro version.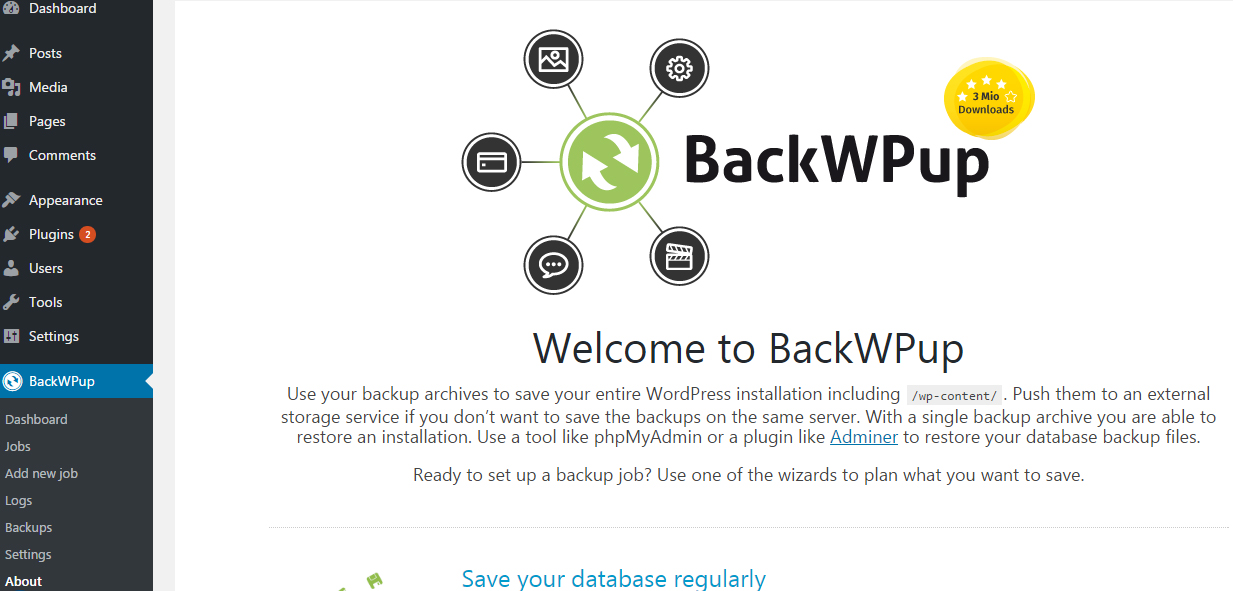 Step 2: Taking a Manual Backup
After the installation process is complete, your next step should be able to take a backup of your website.
To take a manual WordPress backup via BackWPup, you first need to create a new job. To do that, you need to navigate to WP Admin -> BackWPup -> Add new job.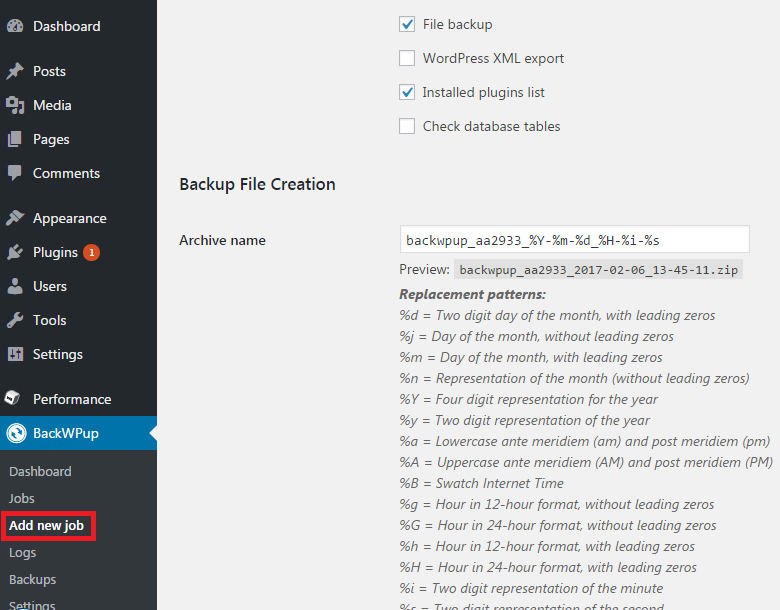 Name your job and select the following:
1. Database backup
2. Installed plugin list
3. File backup
Under Archive Format, you can select any compression method, but for purpose of this tutorial, I am going to use the ZIP format.
In Job Destination, select where to keep the database backup. To create a local backup on the same server, select Backup To Folder
In Log Files, enter your email address and the subject of the email you would like.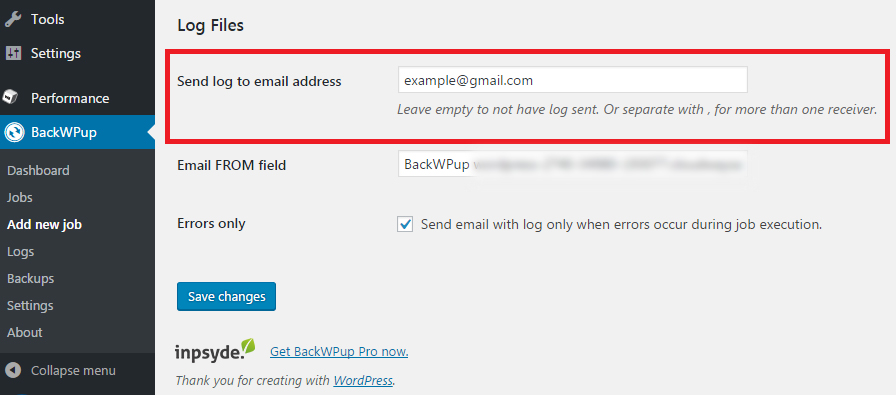 Under the Schedule tab, select Manual only.
In DB Backup tab, make sure all tables are selected to generate a full backup of your WordPress Database.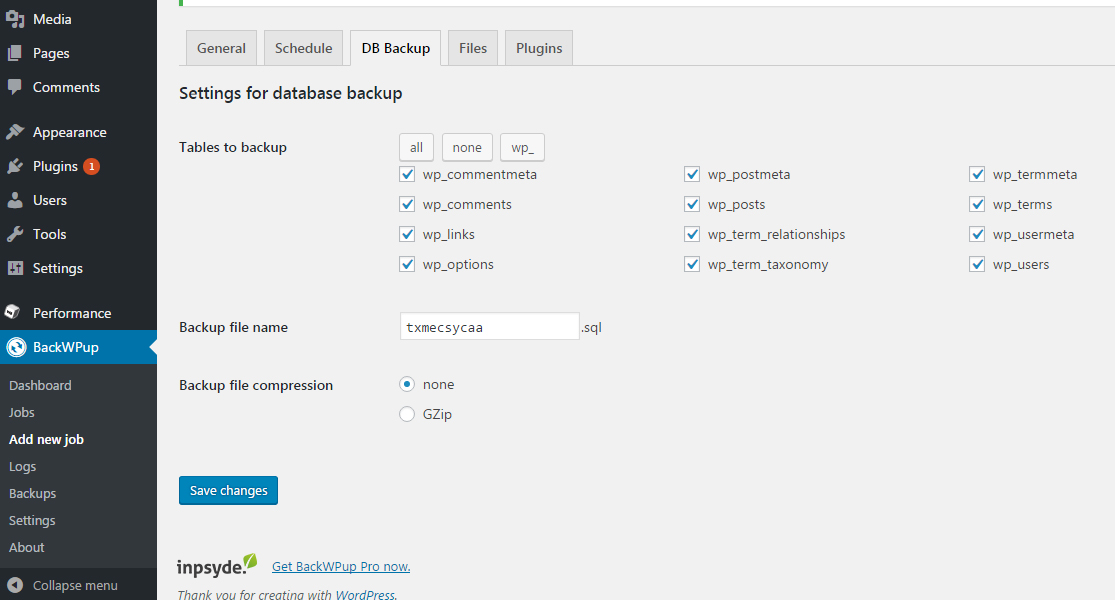 Last but not the least, in the Files tab select the following and you can uncheck the rest:
Backup content folder
Backup plugins
Backup themes
Backup uploads folder
Click Save Changes and then navigate to BackWPup -> Jobs. You will see the job here and you can run it whenever you want by clicking Run.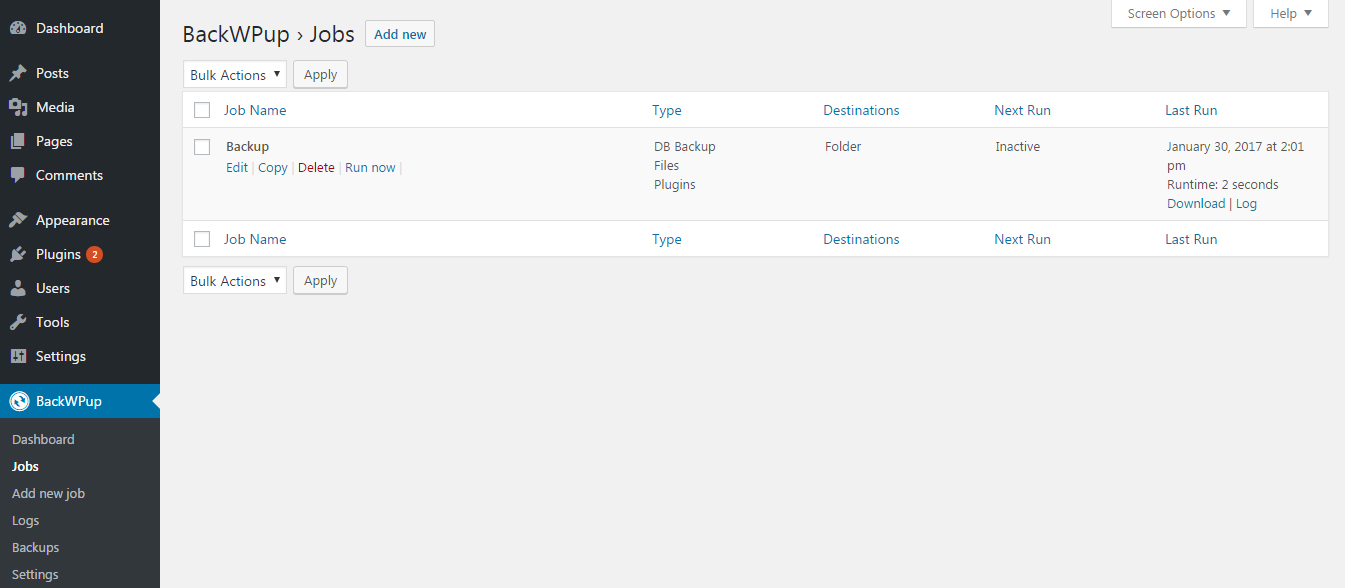 You can click on Logs to see if the backup was created. To access the backups, you can either download them directly from the Backups menu to your local machine or you can connect to your server via FTP client like FileZilla and navigate to public_html -> wp-content -> uploads -> backwpup-xxxx-backups folder. You will see zip files titled backwpup-date-created.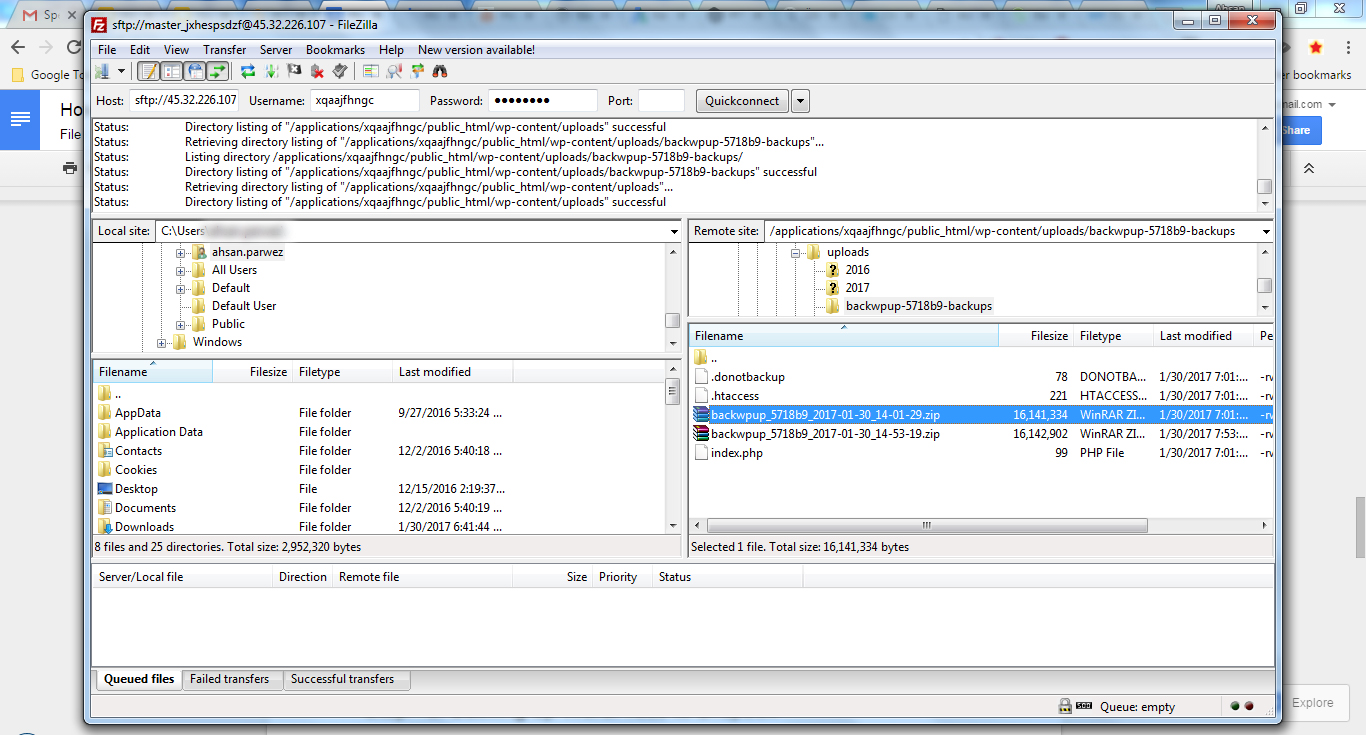 Step 3: Backing up WordPress to Dropbox
Keeping backups in the same server as your website is a worst idea ever! Why? It's because if the server goes down and becomes inaccessible then your backups will be inaccessible too.
It is, therefore, a good practice to keep your WordPress website backups on a different server. This is called offsite backups and BackWPup plugin allows to connect to services like Dropbox, Email, Rackspace Cloud Files, Microsoft Azure (Blob), and many more.
Dropbox is a very reliable cloud storage service and that is why I recommend using this over other services.
To take backup of WordPress website on Dropbox, you need to Add New Job -> Select Backup to Dropbox under the General tab. Keep the other settings similar to those explained while taking manual backup
Hit Save and you will see a new tab named Dropbox.
Create a Dropbox account if you don't have it already. If you have it, then you will need to click on Authenticate to generate the access key.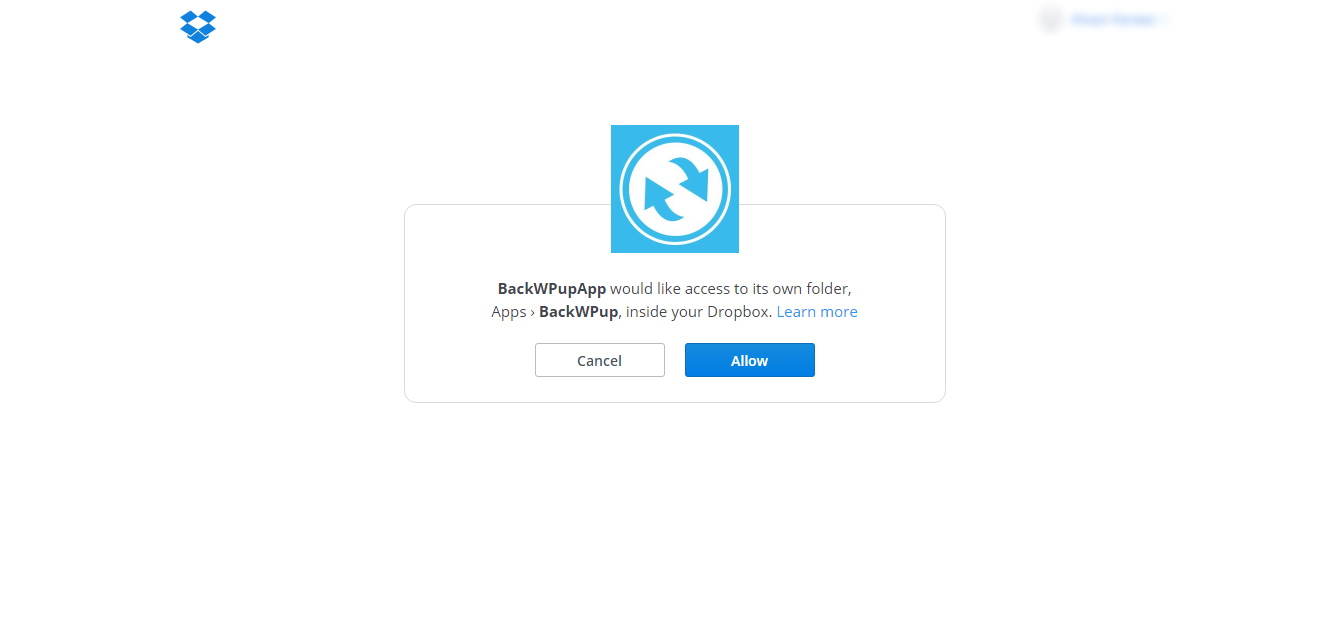 On this step, BackWPup will request access to your Dropbox account. Allow it and copy the Authentication key. Paste the access key in the App Access to Dropbox field.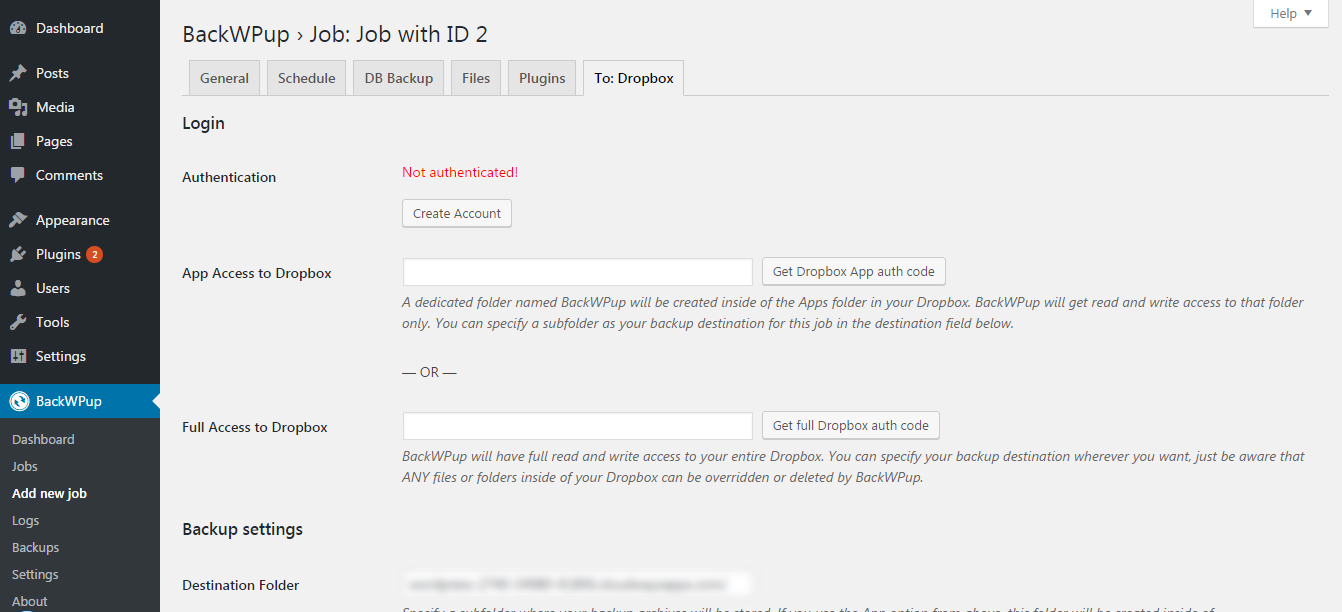 Hit Save and Run the job manually to see if it works.
Step 4: Automating the Backups of WordPress Websites
Manually taking backups can be a chore. You can automate this by selecting WordPress Cron option under the Schedule tab.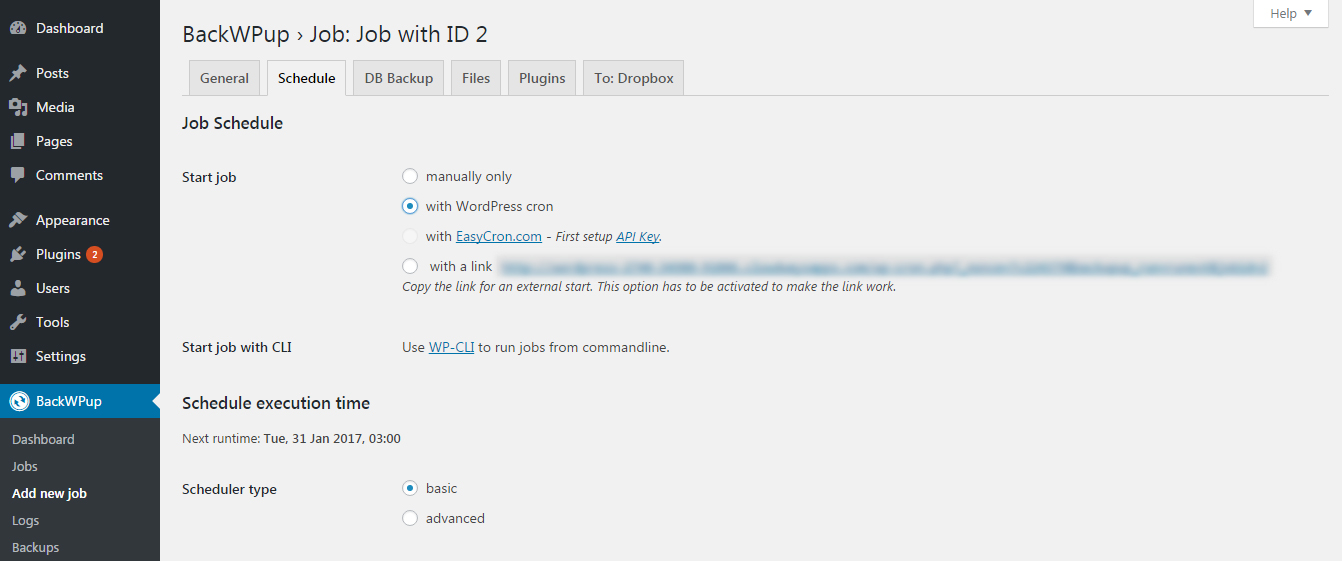 Select the time you would like the job to run. I recommend that you select a time when your website expects fewer visitors because once a job starts running, the website performance gets a bit laggard, but that happens rarely.
Better Backup Than Sorry
That's it! Thanks to BackWPup team, you can now create backups of all your WordPress websites easily and automatically. Once we have backups of our website available we can take a sigh of relief. If your website goes down, gets hacked, or your hosting provider loses your website data then you can easily come back to business by restoring your WordPress website easily.
Have questions or suggestions? Drop a comment and I will reply back! 🙂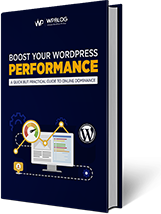 Create Faster WordPress Websites!
Free eBook on WordPress Performance right in your inbox.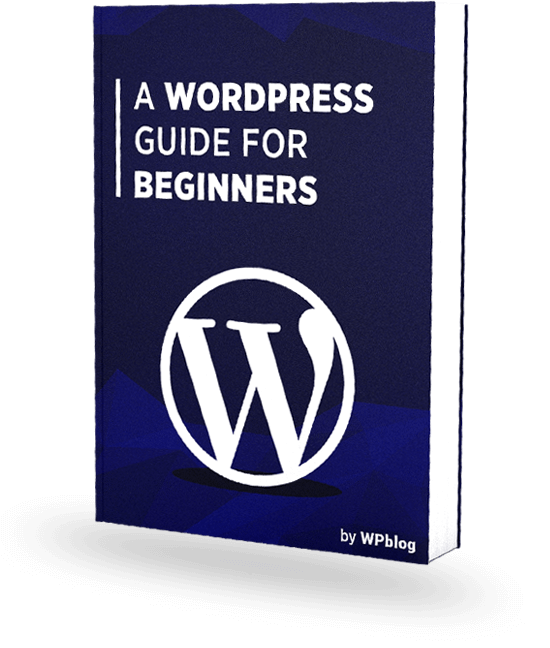 Create Faster WordPress Websites!
Free eBook on WordPress Performance right in your inbox.