Liquid Web Vs SiteGround: Two Popular Hosting Providers Compared!
— September 5, 2019
•

13

Minutes Read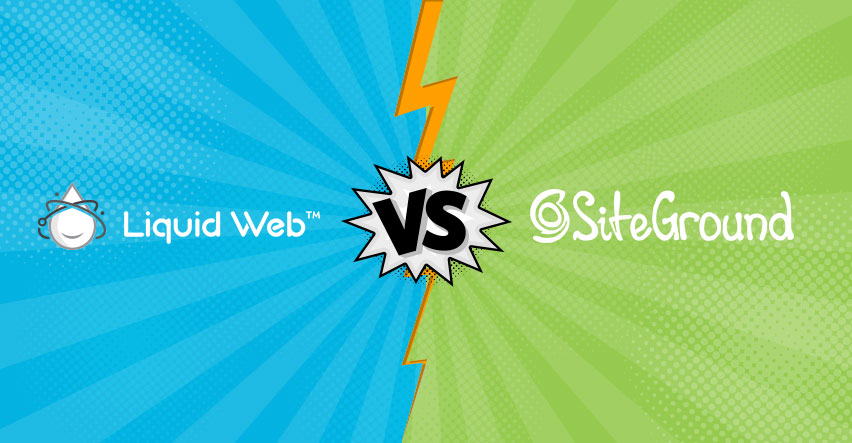 Disclaimer: WPblog is a part of Cloudways, a Managed Cloud Hosting service, but any assumptions or analysis made on this property belong solely to their writers.
Since we're in the business of making WordPress easy for you, we believe hosting is one of the most crucial parts of how your WordPress performs, hence we're on a hunt to review what people consider the best Hosting solutions on the internet.
We've been pitting the best cloud hosting solutions against each other, like Cloudways vs WPengine & Kinsta vs Flywheel. Currently, Cloudways is our go-to solution, but who knows which provider changes our mind in the future? 😉
It's now Liquid Web and SiteGround to go head to head. So without further ado, let's get right into it.
Liquidweb

vs

SiteGround

LiquidWeb has been around for more than 20 years and is basically veterans in the hosting industry. On the other hand is SiteGround, which isn't exactly the new kid on the block but has recently come into a lot of limelight. Hence, I was really excited about this showdown, and now we're here to pit them against each other.

Just like my other head to head reviews, I will be focusing on three aspects of these two hosting providers.

Signup Process – I will go through their signup process to see which of the two offers a more convenient signup journey.

Platform Experience – I will use both the platforms and compare them.

Performance – I will run some tests on GTMetrix to see which of the two provide better page speed and better load times.

Let's begin!
Signing Up to Liquid Web Managed WordPress
Let's start with LiquidWeb's signup process.
I visited Liquid Web's website and purchased their Managed WordPress plan which costs $29/month.
Liquid Web's 'Personal' plan, which is the entry WordPress plan, comes with 20GB SSD Storage and 5TB bandwidth. I also got a staging environment along with one live WordPress website.
They don't, however, tell the server size which is weird because most customers choose a hosting plan based on the RAM size.
So I had to email Liquid Web enquiring about the starter plan server size and they replied promptly: the plan comes with 2GB server and, very interestingly, 10 PHP workers. They believe, they told me, that the future of the web is about engagement and support and not specs.
The Signup Process
There was hardly any trouble signing up to Liquid Web's Managed WordPress hosting. Just click on the "Order Now" button…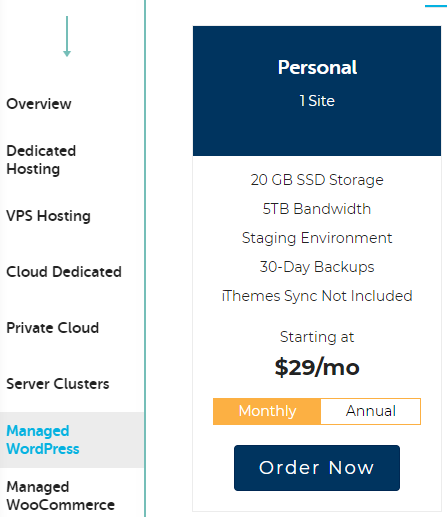 …and you will be redirected to your shopping cart.

Double-check your order and click on "Checkout".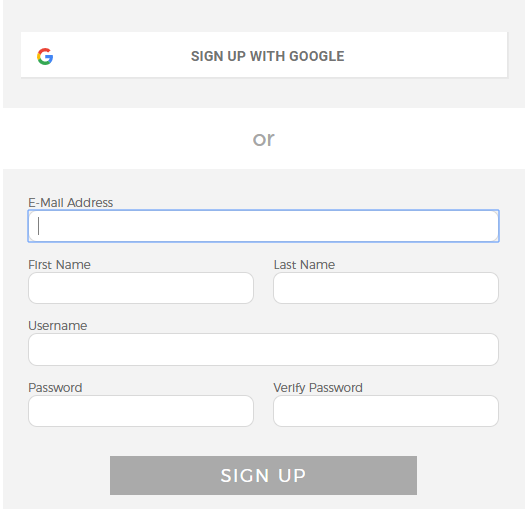 Enter your information and sign up for Liquid Web. Next, you'll be asked for your billing information and you're done! I successfully launched their Personal plan and now I was all set to launch my WordPress website.
Liquid Web User Account
After signing up, I immediately logged in to my Liquid Web account.
Here's where things got a little confusing.
As a user, I expect to log in to the platform directly, but I was redirected to a "User Account" page. This wasn't the confusing part, though.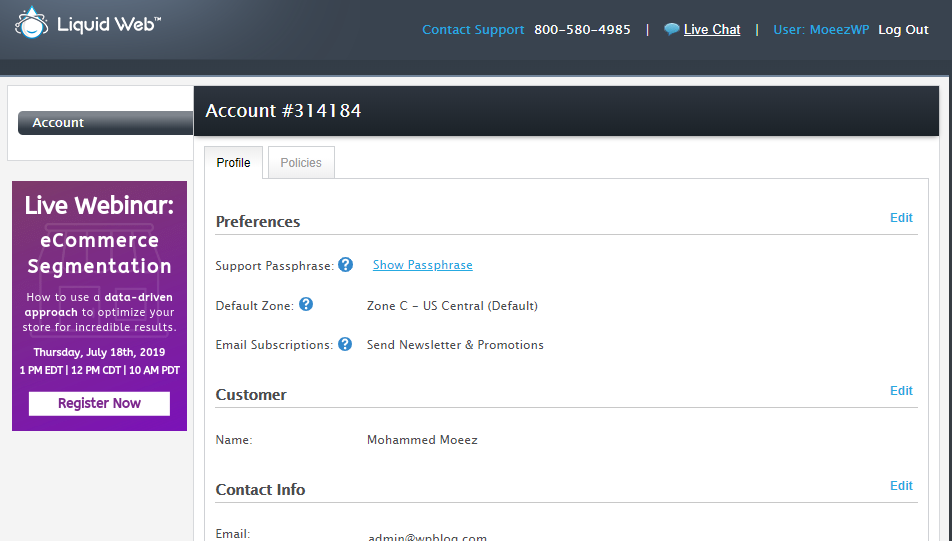 As you can see in the image above, there are all sorts of basic information about my account, but nowhere does it tell me where I can start managing my WordPress website (because that's the point of a managed WordPress hosting, isn't it?).
I have to admit that I was slightly frustrated. I wanted to access the Platform and start testing!
However, I decided to give them the benefit of the doubt (I could have done something wrong) and decided to contact them through their live chat.
It wasn't available…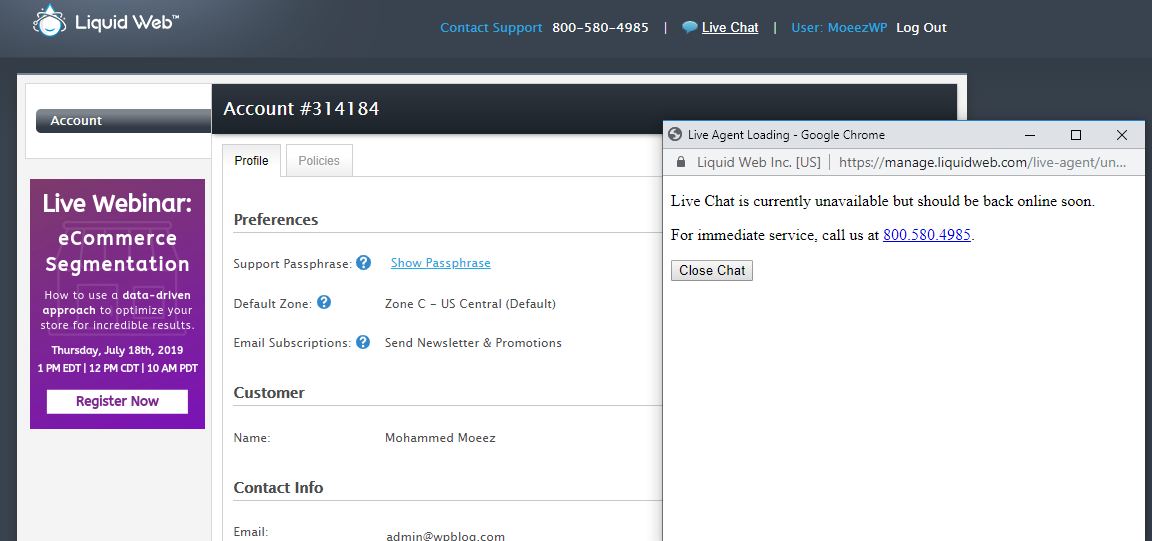 So I spent another 15 minutes on the "User Account" page trying to figure out how I can access the platform. I even resorted to Google for some help.
While I was Googling "how to access Liquid Web platform", the "User Account" page had transformed. Now I could see more options and finally a link that directed me to the platform.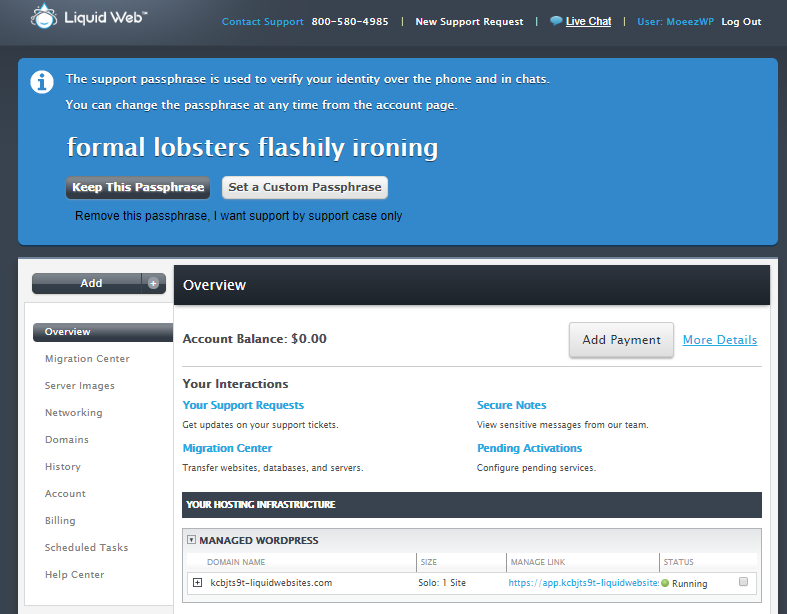 This page (I don't know what to call it) showed my current bill and my interactions in the form of support requests, server notes, and more. What bothered me about this page was that it was drastically different from the design philosophy of the entire website. It looked different, and it looked ancient. Maybe they are already working on giving it a new modern look, but as of now, during the 10 to 15 minutes that I spent on this page, it felt like I am using a third party tool.
However, it does have useful navigation. For example, you can go directly to Migration Center where you can send a request to migrate your site to Liquid Web or you can go to your Account or Billing, etc.
I didn't spend much time on this page, though, because I was eager to start testing their platform.
So this was the signup process of LiquidWeb. Leaving out the few annoyances, it was a smooth process.
SiteGround's Signup Process
Now it's time to put SiteGround under the microscope. I visited their website to purchase one of their plans for this review.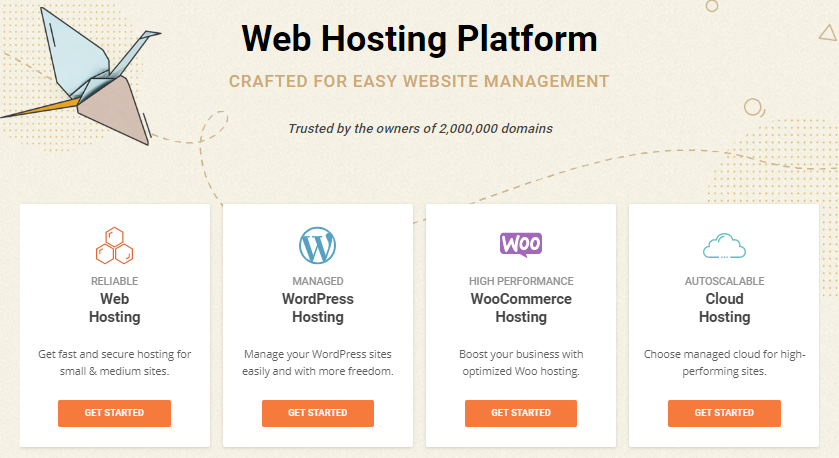 If you go back to LiquidWeb's homepage, you can't help but notice the clutter. SiteGround, on the other hand, keeps things simple. A clear message as to what SiteGround is all about…

… and then a list of their offerings right in the first fold.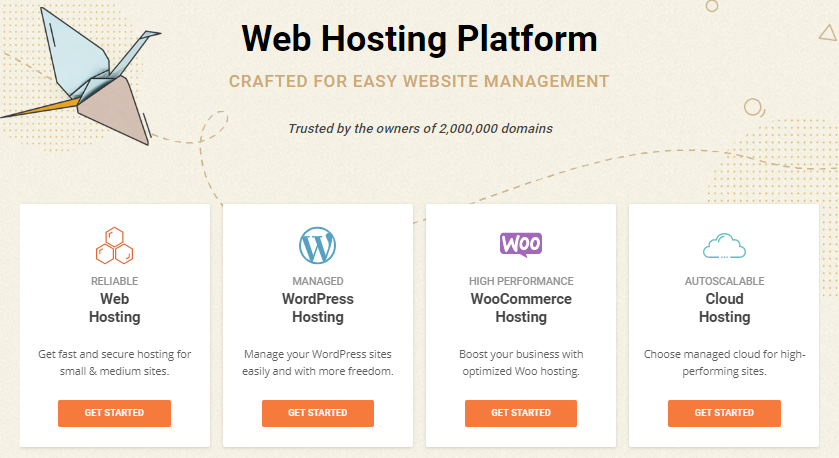 For this review, I selected WordPress Hosting and clicked on GET STARTED.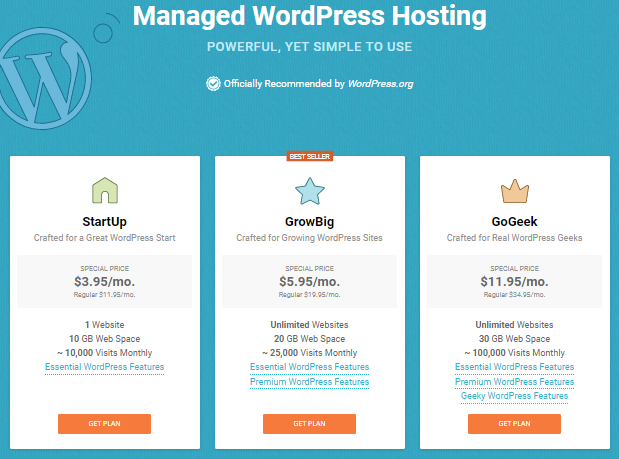 I chose the StartUp plan but like LiquidWeb, they also don't mention their server RAM size. The plan costs $3.95 and comes with 1 website, 10GB space and limits me to 10,000 visits monthly. That's a reasonable deal for this price.
The next step was to enter the domain name or register one.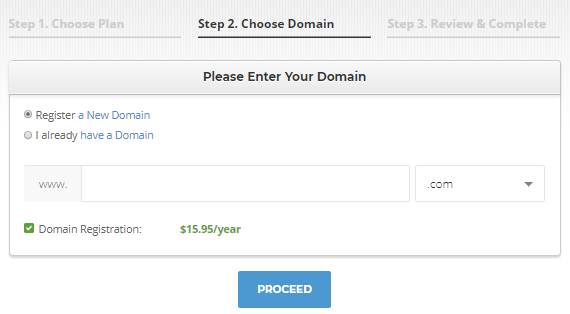 Since I already have a domain, I clicked on I already have a domain.
So far so good.
Finally, I had to enter my payment options to complete the process.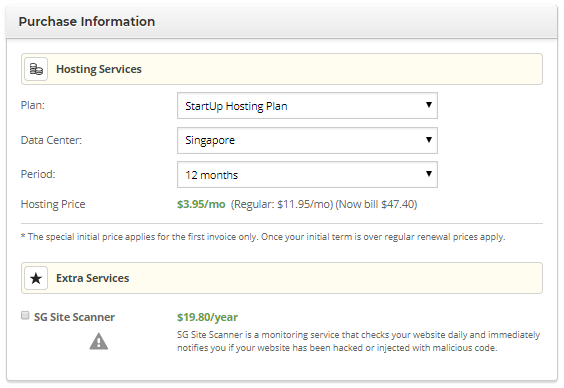 SiteGround lets me change my plan from a simple drop-down menu in case I change my mind about the plan. Since I didn't, I just put in the required information and once I was done I clicked on the Pay Now button and the process was complete.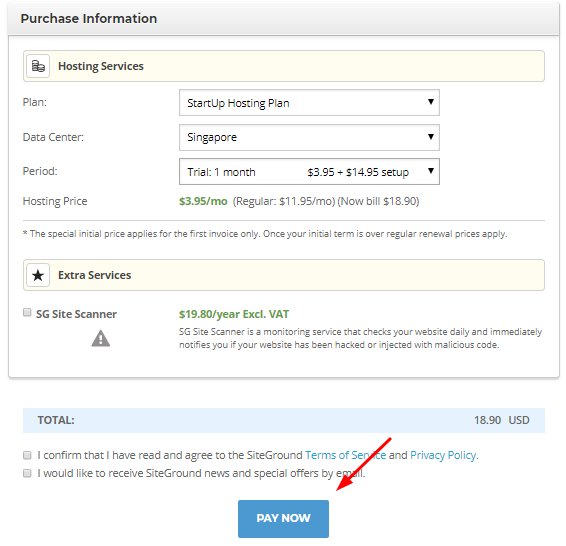 So overall it's a smooth and simple process that lets me choose my hosting plan without any hurdles. It took me no more than 10 minutes to complete the journey.
My Verdict
I faced some issues while signing up for Liquid Web, however, the problem was more technical and not really part of LiquidWeb's overall signup experience. More of a glitch rather than a deliberate flaw. Other than that one issue, LiquidWeb has an easy signup process.
SiteGround's signup experience was simple from start to finish. Their website layout is easy on the eye, and useful information was easily available, and it was all intuitive. What irked me is that both these providers didn't mention their RAM size.
With both almost similar, I'll have to call it a draw when it comes to ease of singing up experience on these two WordPress hostings!
Now let's move on to the platform!
Liquid Web Platform
Now while logging into the platform, I faced what most people would call a first-world problem: I had to put in my login information once again.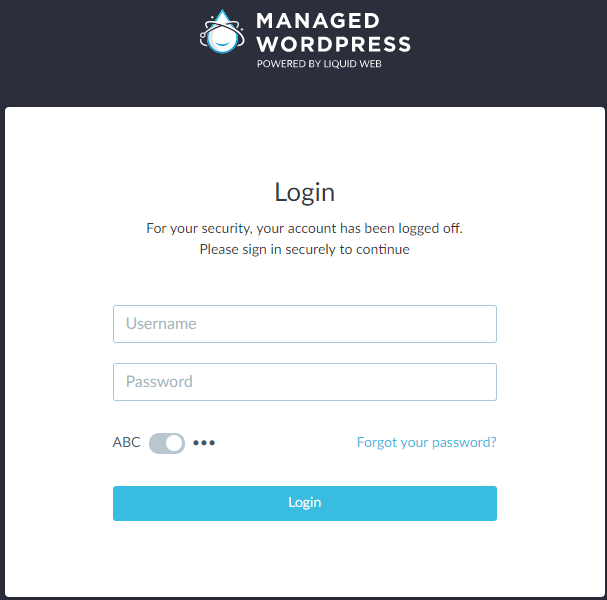 Since I'm already logged in to my Liquid Web account, putting in my credentials again to access the platform makes little sense to me.
Nevertheless, I do that and I'm inside the platform now. It's a well-designed platform. It's clean, modern, and minimal like I've gotten used to on Cloudways.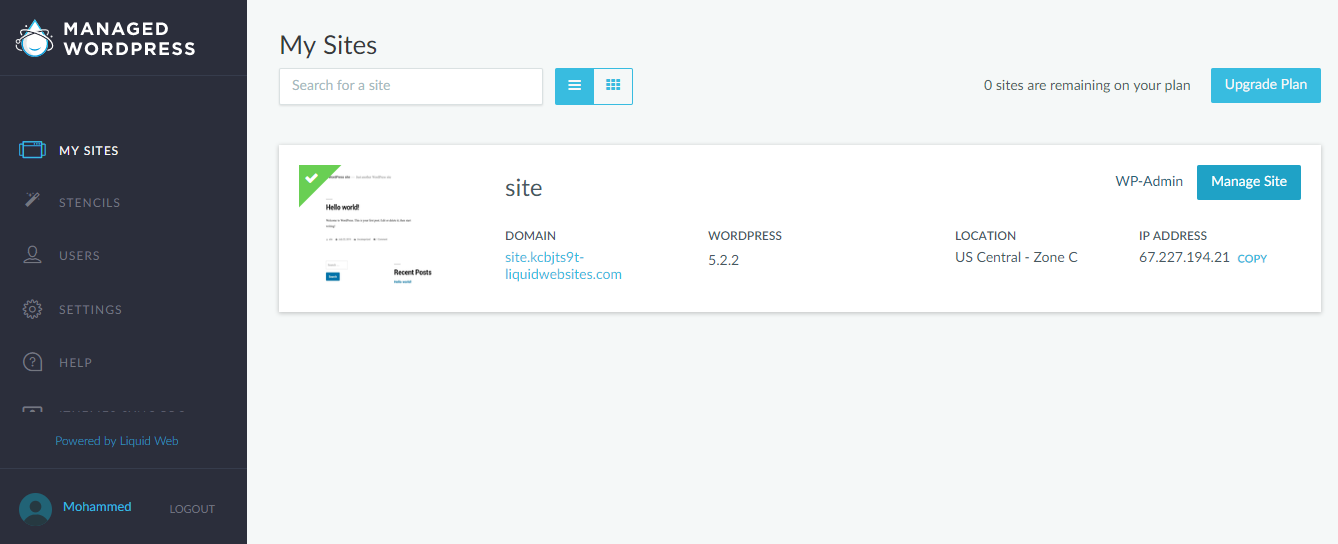 The "Manage Site" button takes me to the site management area.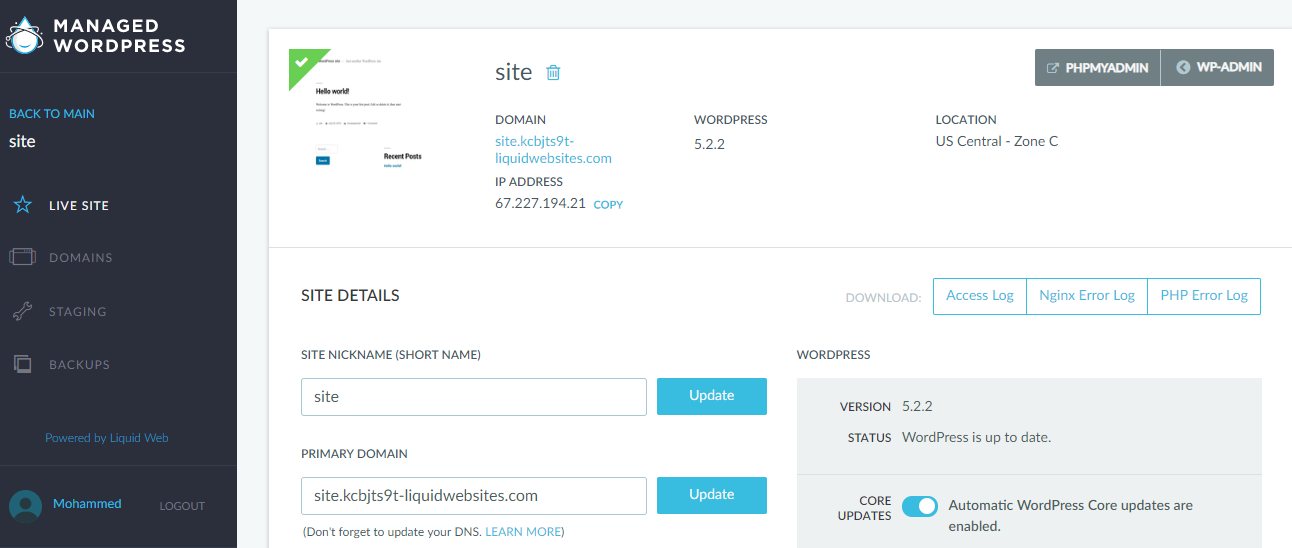 Here, you'll find your live website's URL, WordPress version, and other site details. Scrolling down, you'll also find WordPress update settings.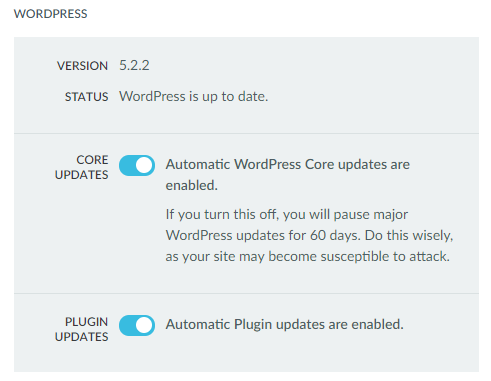 Automattic and WordPress core updates are turned on by default, but like me, you should turn them off as well and update them manually after checking for bugs and compatibility issues.
The platform also contains different logs which is great because most managed hosting services don't provide such first-hand information directly to the customer.

WordPress Multisite
This is something I really liked on the Liquid Web platform; converting your site into multisite is just a click away.

The drop-down menu allows you to select which type of multisite network you require for your website. Select the type, click 'Convert', and your website will be converted into a multisite network. Neat, right?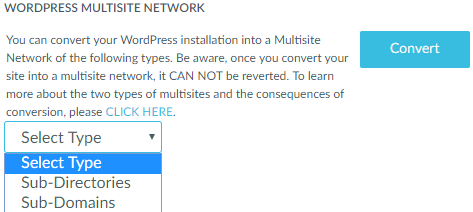 Staging Sites
Another thing I liked about Liquid Web is that they had made a clear distinction between my live website and the staging site. This makes it easy to work separately on my staging site without interrupting my live website.
I clicked the Staging menu on the sidebar.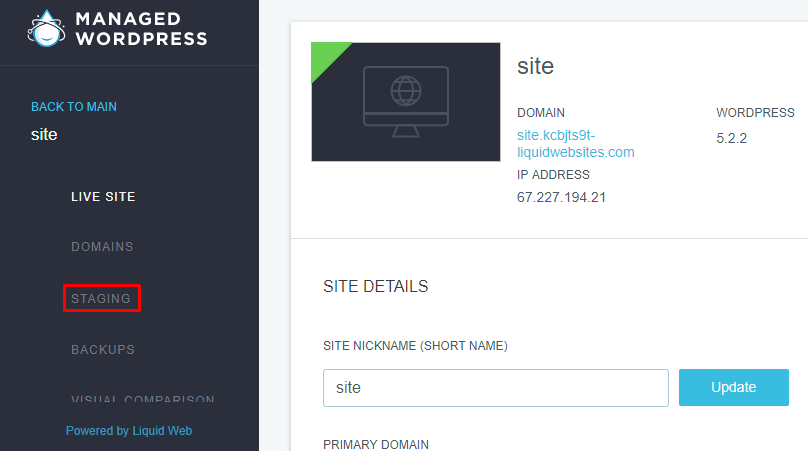 It directed me to a page where I had to install my staging site. Once I clicked on Install Staging Site, I expected it to install in a few minutes. But 20 minutes later, I was still seeing this screen.

I decided to stop waiting and refreshed the page but my session was timed out. It was a little frustrating, to be honest.
Rather unconventionally, though, my staging site was installed.

My staging site information looks similar to my live site's, so I didn't have to scourge for information related to my staging site.
PHP Version
I noticed Liquid Web is still using PHP 7.2, which is a little concerning for me. For an established hosting provider, users expect them to be using the latest PHP version.

Other big names in the hosting industry like Cloudways and Kinsta have already shifted to PHP 7.3. This automatically puts Liquid Web a step behind its competitors.
So this was a walkthrough of LiquidWeb's platform. I really liked how it lets me convert my site into multisite easily and the clear distinction between the staging and the live site was a good feature. However, I did have a problem with launching a staging site, so that does count for in the negative.
<h2id="SiteGround-Platform">SiteGround Platform
Let's see how SiteGround fares in the platform experience.
This is what I see when I login to the platform: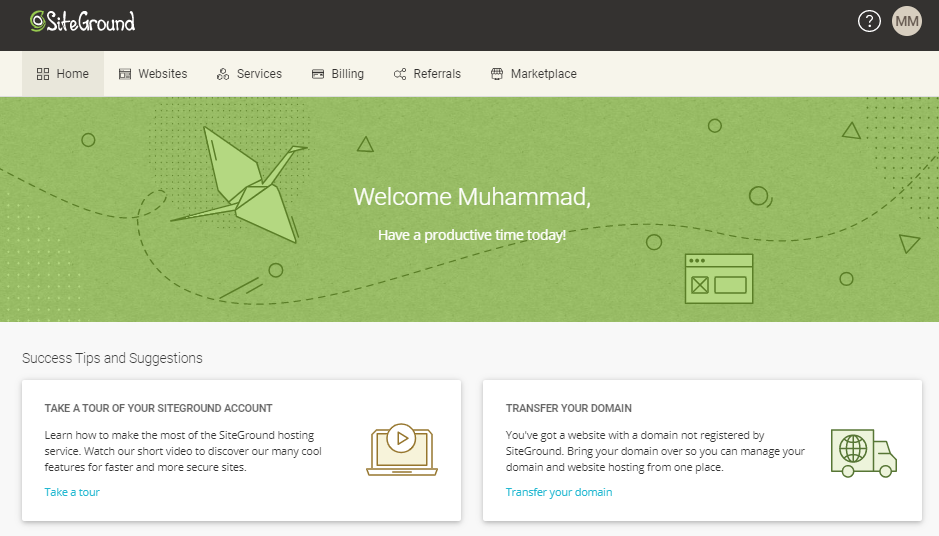 So I didn't see any stats or other data about my server, but I found some useful information to help me get started.
Start New Website
Since I don't have a website hosted on SiteGround, I clicked on the Website option to launch one.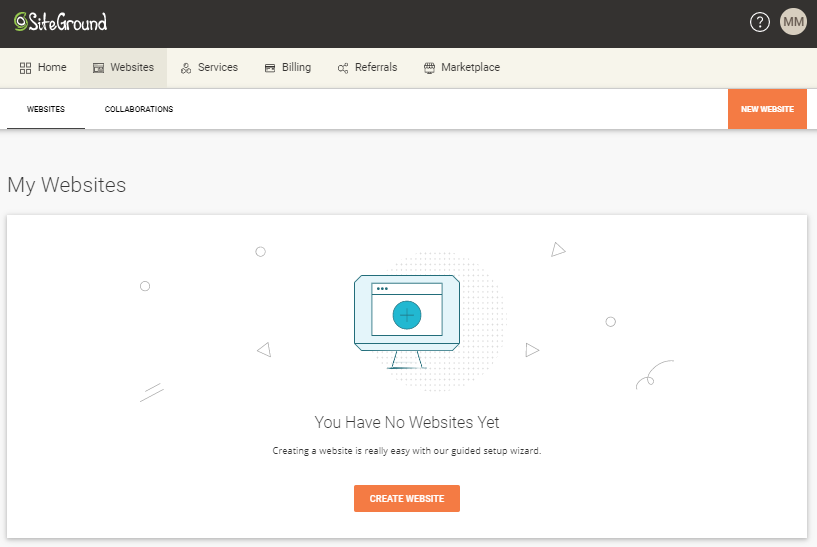 After clicking on Create Website button, I had to choose between the following: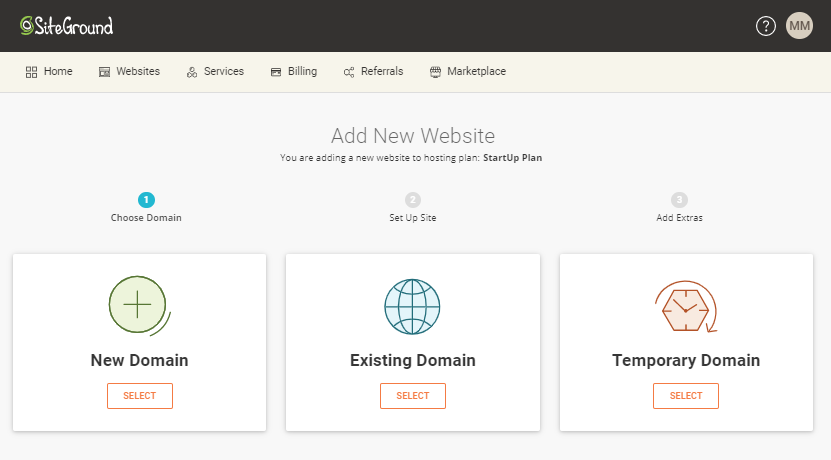 I selected the Temporary Domain since I don't plan on buying a new domain, nor do I plan on moving my own domain to SiteGround. SiteGround gave me a temporary domain that I can use to test its services.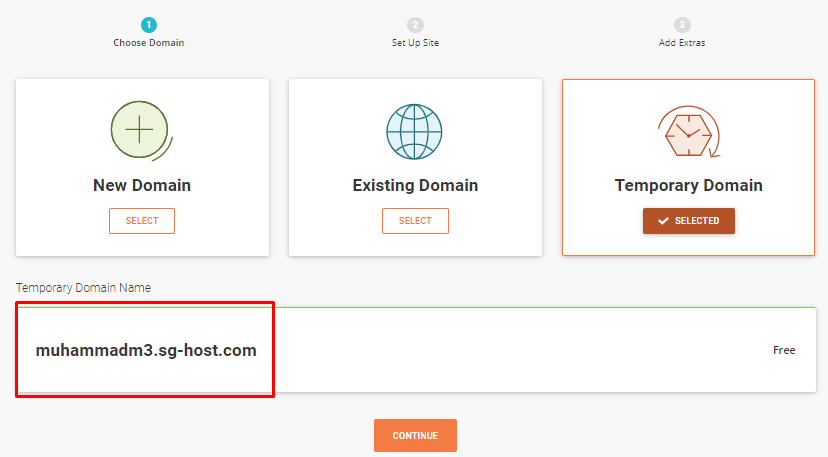 Also, it was free.
So I clicked Continue and selected Start New Website.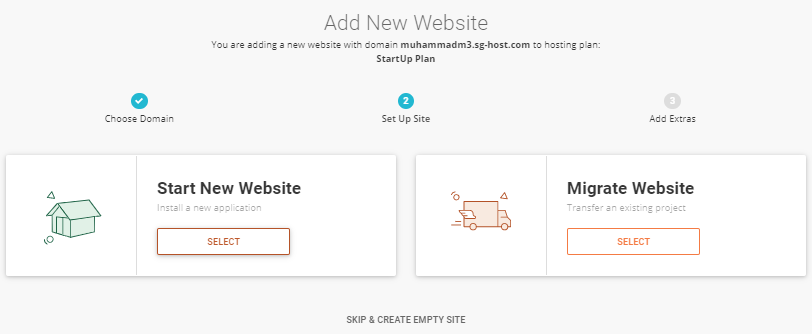 SiteGround offers hosting on WordPress, WooCommerce, Weebly, and others like CubeCart and dotProject. For this review, I selected WordPress, of course.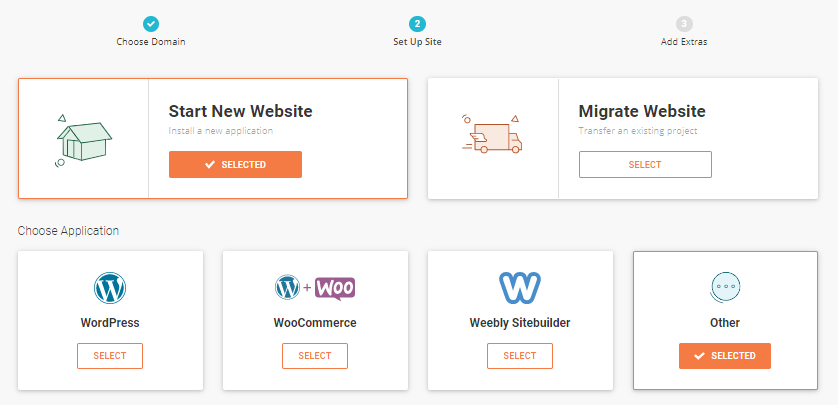 Once I selected WordPress, the platform let me set my email address and password for WordPress access. This is great because usually hosting providers provide their own credentials which are difficult to remember or I have to copy them to places for easy access.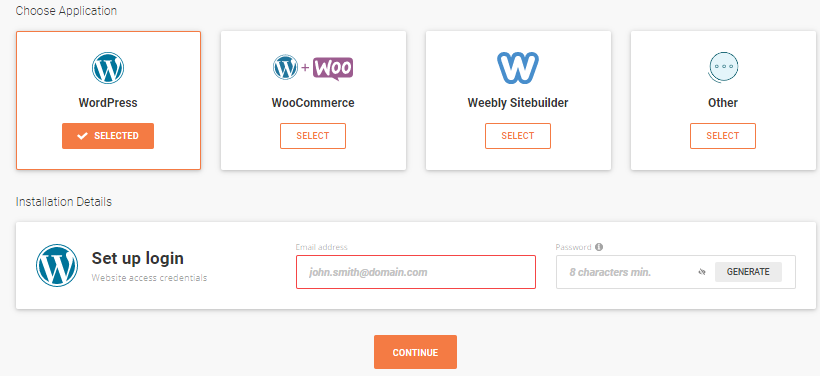 Next, I was asked if I wanted their Site Scanner with my plan which costs $19.8/year. I rejected their offer.
So hardly a minute later….

…my site was launched on SiteGround.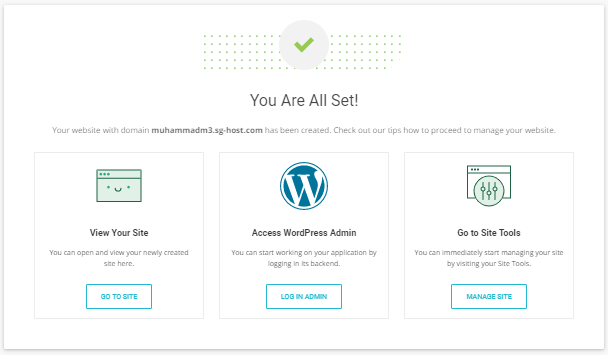 So creating a site on SiteGround was a breeze. They have a simple and straightforward method of launching a WordPress website. The steps were few and easy to understand.
You can see they have provided me with three links

To manage my WordPress website, I could click on the Manage Site button but I wanted to see how the Websites page looks like now so I went back.
Now that I have launched my site on SiteGround, it appears on the Websites section along with other options.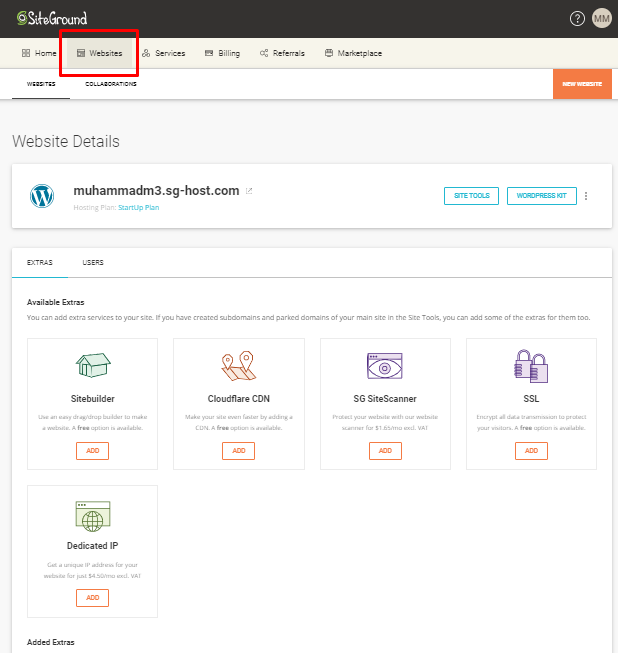 You can see the temporary domain listed that SiteGround gave me along with some Available Extras. These are add-ons that SiteGround offers along with its hosting. Some of these are free but others come with an annual fee.
Here you can see two buttons, Site Tools and WordPress Kit.

The Site Tools option is where you should go if you want to manage your WordPress. Since I am going to be reviewing their application management, I will stick to Site Tools.

So this is how the dashboard looks like with some pinned tools. These were very basic so I quickly click on the pencil icon on the right to see what else the platform offers.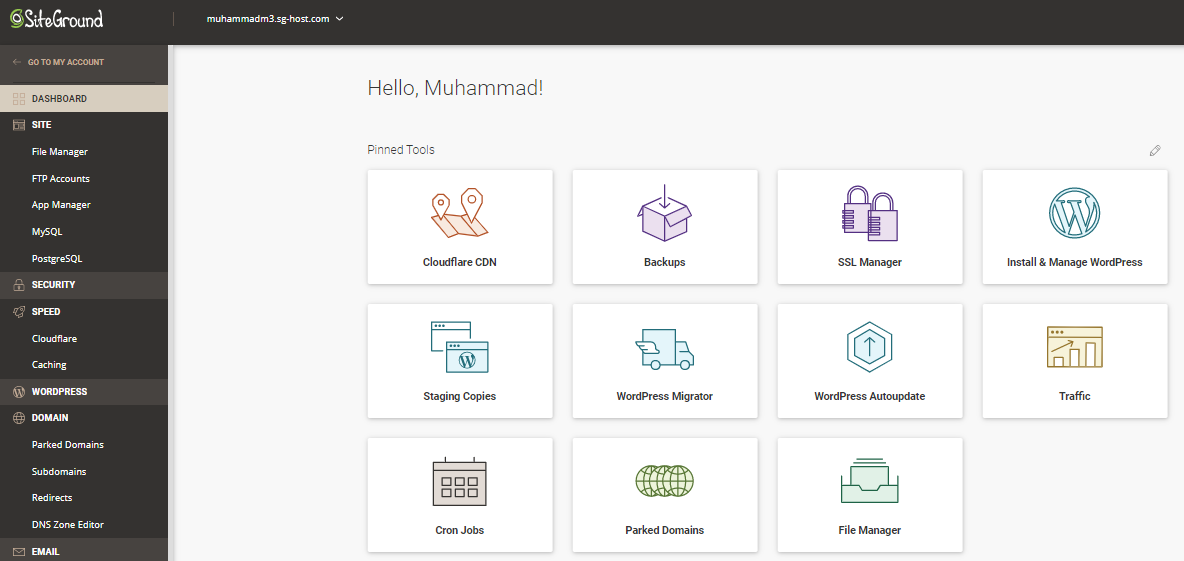 I removed some of the tools that I didn't need and replaced them with some important functions that I needed to review for this article.
CDN
SiteGround's managed hosting comes with Cloudflare CDN. It's one of the most popular CDNs in the industry with excellent results and reviews.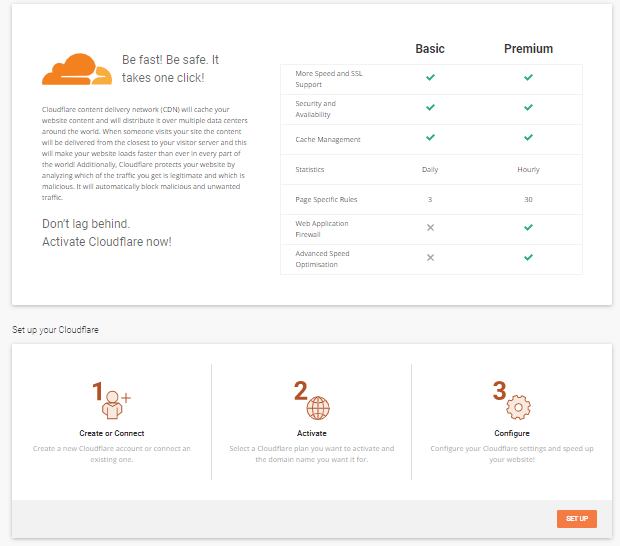 All I had to do was create my Cloudflare account, activate it, and configure it to launch on my SiteGround account. So this was one feature that was really useful.
Backups
Disappointingly, I couldn't see anything related to backups because the backup functionality is enabled after 6 hours of launch. So I had to wait 6 hours before I could schedule backups.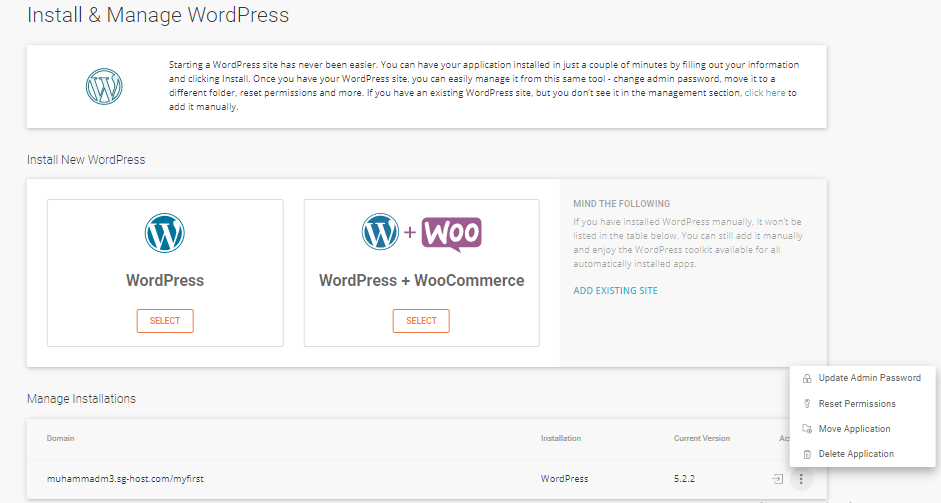 SSL Manager
SiteGround lets you choose the SSL certificate you want on your application. I chose Let's Encrypt because it's free.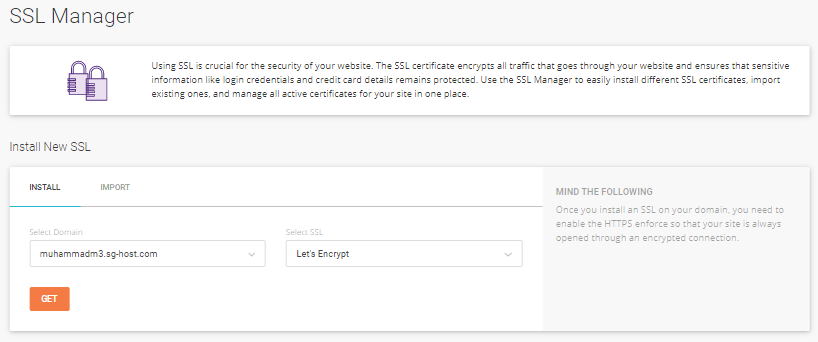 I was able to install the SSL certificate on my site within a few minutes. Cool.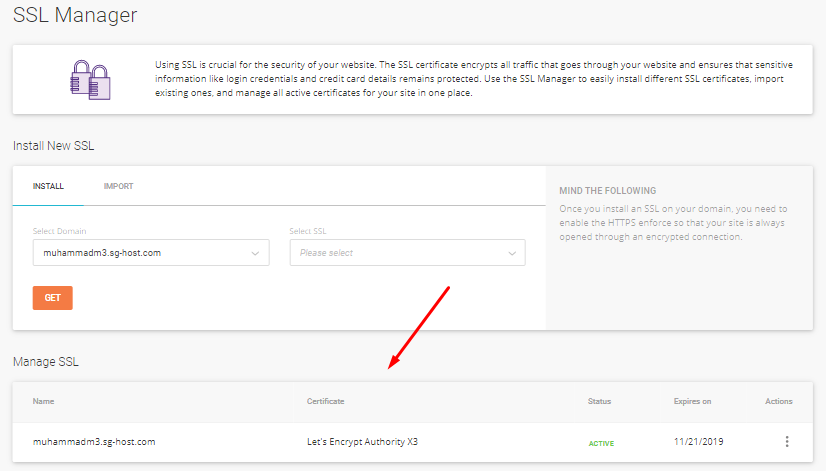 Install and Manage WordPress
I don't know why, but I expected a lot more than just move and delete my application in the Install and Manage WordPress section.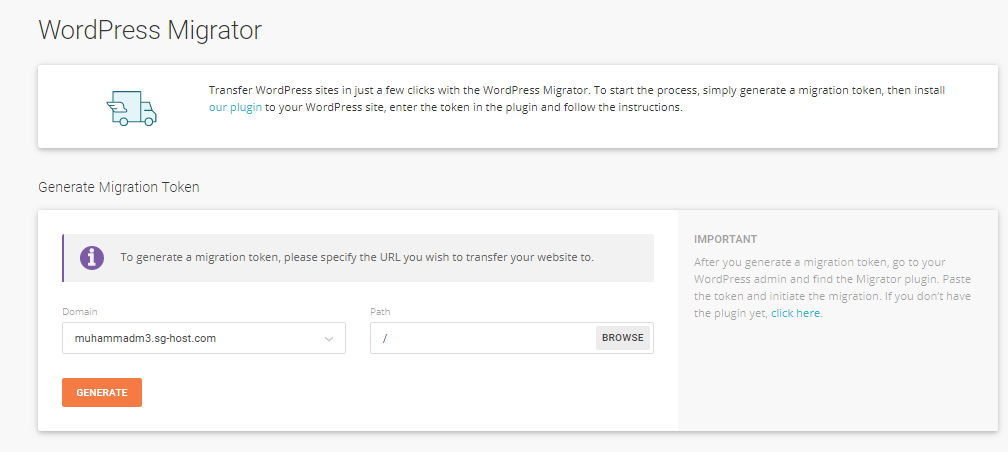 Staging Sites
To my surprise, SiteGround doesn't offer a staging environment for startup plan customers. For a managed hosting provider, a staging environment has now become a necessity. Regardless of the plan, a customer should get at least a single staging site.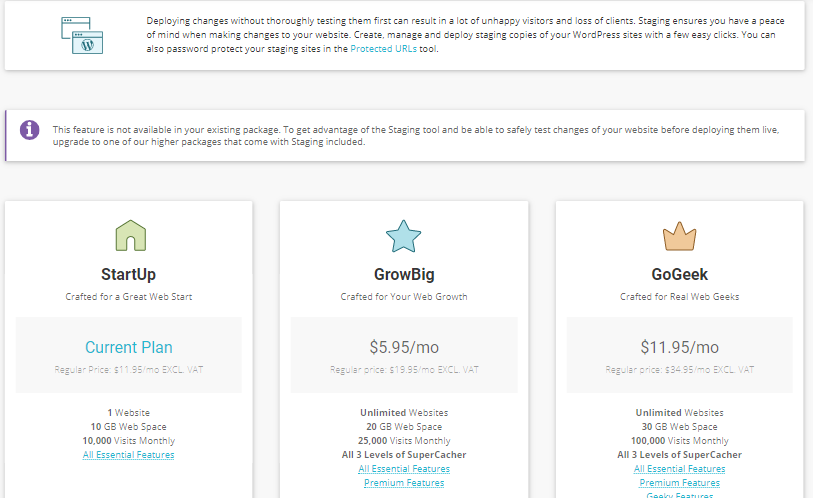 Migrator
Migrate your website to Siteground, simply enter the path to which you want to migrate and request a ticket. The expert team at Siteground will take care of the rest.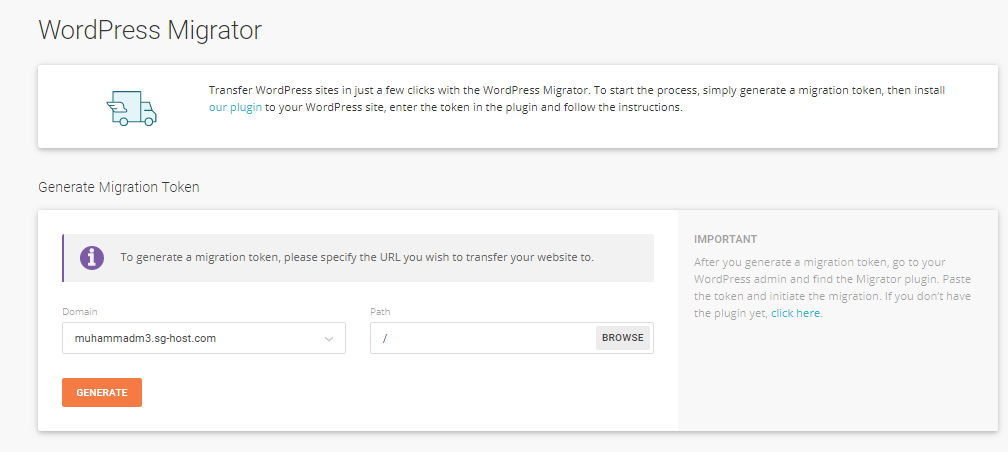 So this was my experience of using Siteground's platform. It has a simple and straightforward UI which makes it super easy to understand all the functionalities it offers. However, I am of the opinion that Siteground's platform is a bit too basic. It doesn't offer the cutting edge feature that may make it stand out from the rest.
My Verdict
Now that I am done with experiencing both platforms, it's time I give a final verdict. While Liquidweb offers a bundle of features through its platform, Siteground offers simplicity and basic features that a beginner can use.
However, I found Liquidweb to be of more utility. In my opinion, users will be able to get more value from Liquidweb's platform as compared to Siteground.
Performance Test
Now it's time to test both Liquid Web and SiteGround's server performance on my WordPress websites.
I am testing my website without any cache plugins or CDNs. It's a blank website with a homepage only. I am keeping it this way because I wanted to test their performance without any assistance.
I used GT Metrix for the performance test.
I chose Dallas, United States as my location for testing.
LiquidWeb
After waiting impatiently, we finally have the results of the performance test.
1) https://gtmetrix.com/reports/site.kcbjts9t-liquidwebsites.com/M80wy3up

2) https://gtmetrix.com/reports/site.kcbjts9t-liquidwebsites.com/M80wy3up

3) https://gtmetrix.com/reports/site.kcbjts9t-liquidwebsites.com/zQMBdqHk

SiteGround
1) https://gtmetrix.com/reports/muhammadm3.sg-host.com/2G7AfoHV

2) https://gtmetrix.com/reports/muhammadm3.sg-host.com/2DH6stjQ

3) https://gtmetrix.com/reports/muhammadm3.sg-host.com/nwyh3H6L

My Verdict
The load times of both the hosting providers aren't that impressive. But if we compare the two, we can see that SiteGround edges LiquidWeb based on load times. When we look at the YSlow Scores, we can see that LiquidWeb is ahead of SiteGround. Similarly, with PageSpeed Score, LiquidWeb proves to better than SiteGround.
I would have to call this one a draw. Both LiquidWeb and SiteGround did not impress me with their performance. Their speed tests weren't that impressive so I can't really pick a winner.
Final Words
So overall, my LiquidWeb platform experience was not the smoothest. There were a few hurdles on the way and the chat issue didn't make things any easier. It also took me a surprisingly long time to find the platform which added to the bad user experience. But as I said earlier, they seemed more like glitches which may not happen with you or any other user.
However, the plus point was that the platform was very clean and the information was easy to find and interpret. I was particularly impressed with the multisite feature. Also, the ease of working on a staging site was also a big plus.
With SiteGround, I liked their signup process. It was smooth and I hardly encountered any hurdles on the way. Their platform was a bit basic for my liking because I was expecting some more features related to managing my application.
If you want me to test a hosting provider of your choice, drop a comment or email me at [email protected]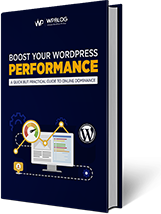 Create Faster WordPress Websites!
Free eBook on WordPress Performance right in your inbox.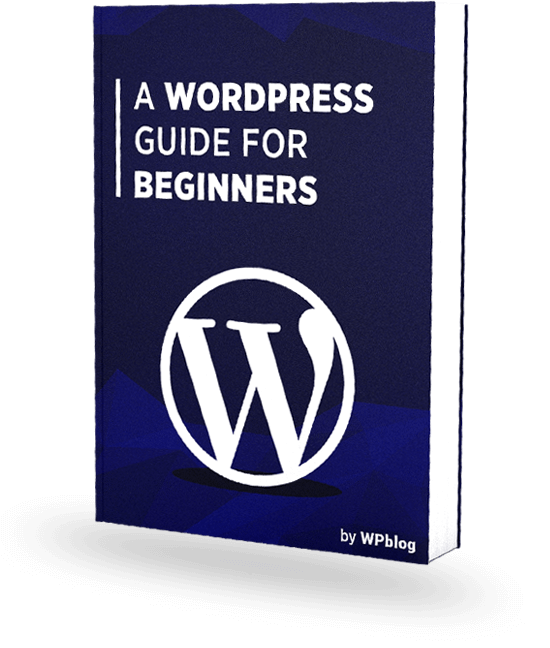 Create Faster WordPress Websites!
Free eBook on WordPress Performance right in your inbox.