Why You Should Consider WordPress For Building Portfolio Websites
— November 10, 2016
•

6

Minutes Read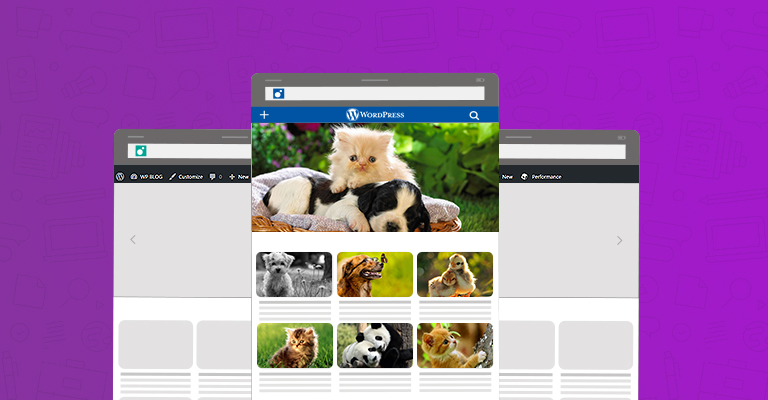 Every person who indulges in any creative pursuit usually has a special place for showcasing their skills. Be it an artist or a musician, a portfolio that highlights the skill and creativity of the person is one of the basic requirements of any creative field. Even occupations such as software developers and engineers now need a digital space to display and highlight their prowess and skills in a very competitive world.
A portfolio website is one of the best ways of  landing a gig. Instead of bragging about your skills yourself, directing potential clients to a well-designed portfolio website lets them experience your creativity and skills firsthand.
Now that you know why you need a portfolio website, the next question is how you should go about building one? In almost all instances, the platform of choice for portfolio websites is WordPress. There are two very compelling reasons for choosing WordPress.
The first reason is the versatility of WordPress that, in real-world terms, means that WordPress could be used to build anything from an elegant portfolio website to an ecommerce store.
The second reason is the ease of development of a portfolio website on WordPress. In many instances, you could create a highly functional website without writing a single line of code. Using WordPress, people with no expertise and experience of website development could create snazzy WordPress portfolio website without much trouble!
Free WordPress  Portfolio Themes
WordPress is well known for the huge range of freebies. In particular, the number of free themes for any class of website is simple mind-boggling. You could easily discover and install any portfolio theme to suit your particular requirements. Here are three excellent themes to consider for your portfolio website:
Architect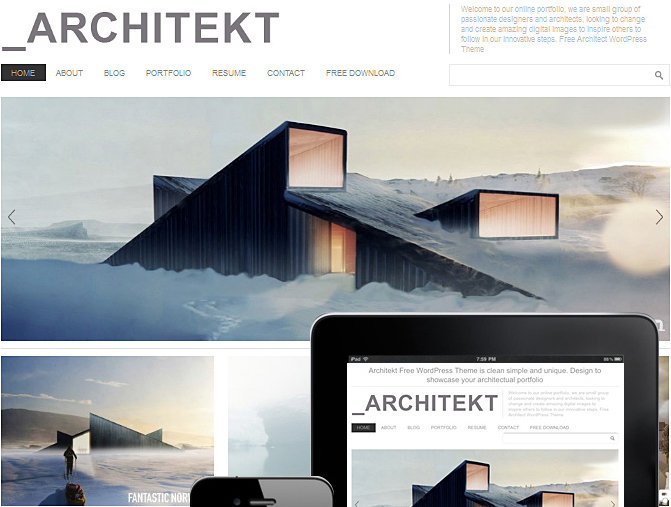 Are you an architect who is looking for an elegant way of displaying the portfolio? Look no further than ARCHITEKT,  a free WordPress Portfolio theme.
The home page features a full screen slider along with three slider plugins, Slider Revolution, Layer Slider and a native slider plugin. The layout is dominated by fading animations and overlapping sections that look pretty impressive. Since there are no set layouts, the overall looks of the website could be easily customized with portfolio plugins.
The theme is lightweight and presents all elements of the portfolio without any over-exaggerated graphics.
Snaps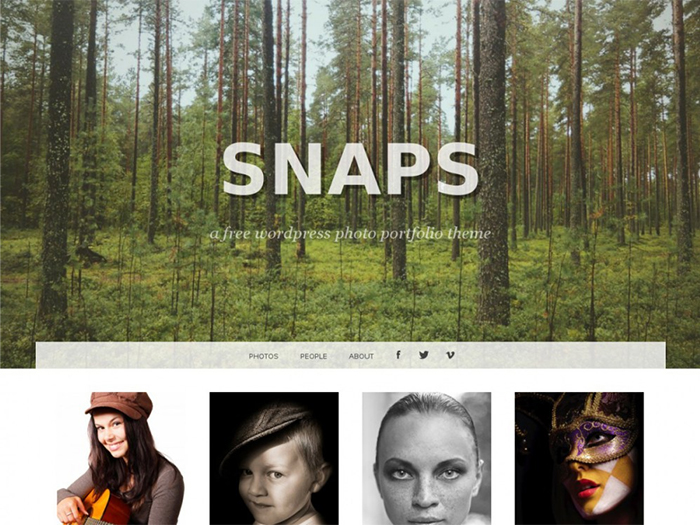 As the name suggests, Snaps is one of the best WordPress portfolio themes for showcasing artwork and photography. The layout is responsive, resulting in a portfolio website that looks beautiful on all screen sizes. This free theme comes with a customizer that allows you to change the logo, header, favicon, background color and image, menus, fonts and other style elements. The theme also allows custom widgets and adds customization's to posts, images, galleries, audio, video, and links on the website.
Onesie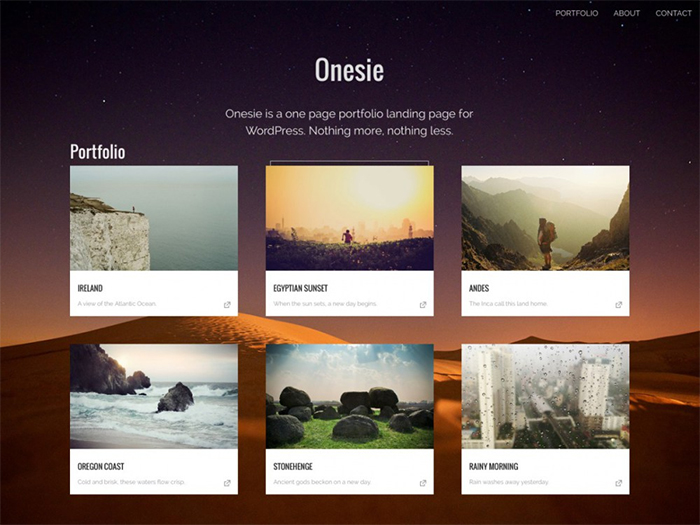 Onesie is one of my favorite WordPress portfolio themes. I love its one-page layout that makes it highly effective as a showcase for the portfolio items. The theme is fully responsive and could be set up in a matter of minutes. The theme could also be used to publish a business or event-specific website as well.
The main panel of the theme offers a lot of options for customizing theme colors, fonts, and other features. A background image could also be uploaded and customized.  Unfortunately, the theme does not comes with sidebars, widgets, menus and custom headers.
How to Install a WordPress Portfolio Theme
Installing a WordPress portfolio theme involves a few mouse clicks. Just follow the steps below:
Once you are logged in your WordPress website, go to Appearance and click on
Themes.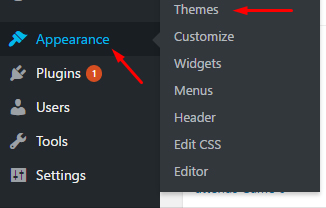 Here, you will see a list of installed themes on the website. Click the Add New button.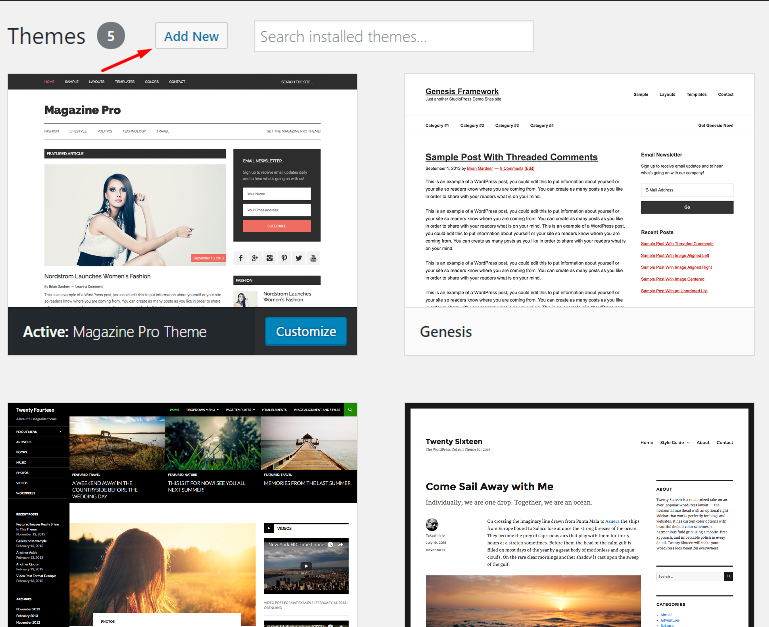 Click Upload Theme button.

Click the Choose File button and locate the .zip theme file on your computer.
Next, click the now-enabled Install Now and wait until the theme is uploaded and installed.

Once the process finishes, click the Activate button to activate the theme on the website.
The portfolio theme has been installed on the website and is now ready for use. You could now upload the items you wish to include in the portfolio.
Useful Plugins for Portfolio Website
To enhance the capabilities of the portfolio website, WordPress offers a number of plugins that add further functionalities to the portfolio website. Here are my suggestions for WordPress plugins that enhance and polish your portfolio theme.
Portfolio Gallery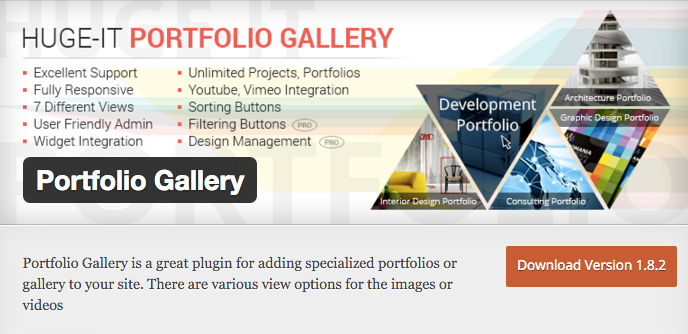 Portfolio Gallery by Huge IT is a free plugin that offers seven unique views for showcasing your portfolio. The plugin offers a fully responsive gallery and you can easily customize full height blocks.
The plugin offers several toggles including FAQ toggle. Other features include content slider and a lightbox enabled gallery. The very user-friendly interface of the plugin is compatible with any WordPress theme.
You can add a portfolio item by uploading it to the gallery. Next, grab the shortcode and paste it on the relevant page.
One downside of the free version of the plugin is that most of the advanced features are locked and can only be accessed in the paid version.
Career Portfolio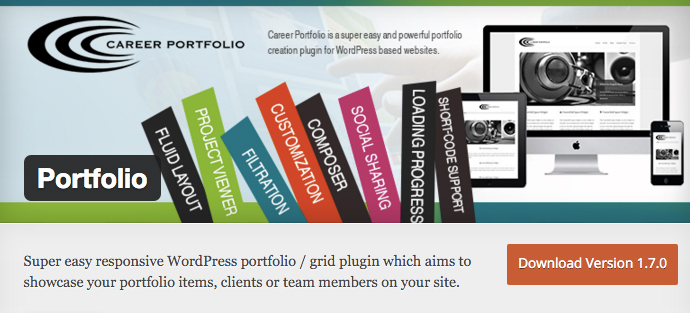 Career Portfolio by Miixee is a grid-based WordPress plugin and features a fully responsive design. The free version includes a layout style with a full screen slider.  It supports shortcodes for an easy integration with nearly any type of WordPress theme.
Although the free version is very useful, the paid version offers additional features including:
Custom CSS and JS.
Design customization.
Category filtration
Three incredible layout styles.
With this plugin, you can easily setup portfolio items, and add clients or team members on your website.
In addition to these two awesome plugins, i suggest you check out Awesome Filterable Portfolio, Go Portfolio and Nimble Portfolio.
Installing a WordPress plugins
Once you have chosen the right plugin for your portfolio website, the next thing to do is to install it. For this follow these steps:
Hover on Plugins in the main menu and then click Add New.

Click Upload Plugin. You can also add a new plugin by searching for it in the search box, located in the right side of the page.

Finally, click Choose File, select the plugin file from the computer and click Install Now.

Once the plugin is uploaded successfully, click Activate.
Conclusion
In this first part of a two-part series about WordPress portfolio websites, I discussed the importance of portfolio websites and how WordPress offers an excellent platform for these websites.
In the next part learn how to create a WordPress portfolio website, I will show you how to combine themes and plugins to create a stunning WordPress Portfolio website. If you have a question or would like to contribute to the discussion, please leave a comment below.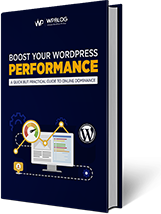 Create Faster WordPress Websites!
Free eBook on WordPress Performance right in your inbox.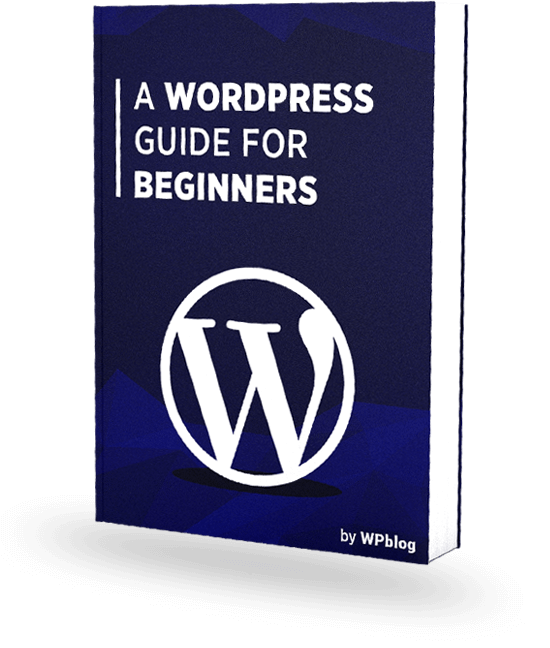 Create Faster WordPress Websites!
Free eBook on WordPress Performance right in your inbox.