Best CMS Detectors Tools to Find Out What CMS Is This Site Using?
— February 20, 2020
•

6

Minutes Read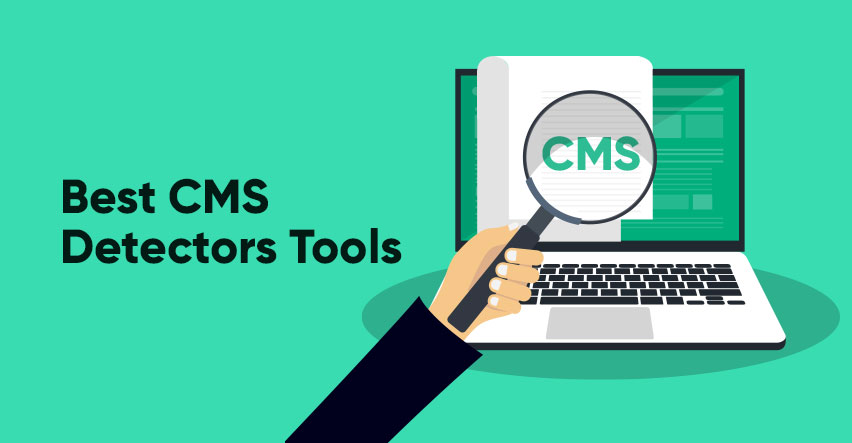 Before jumping on to building their own digital footprint, a majority of people go through dozens of websites, and the question on top of their minds is,'what CMS is this site using'?
That's usually because building a WordPress website isn't as easy as it sounds and as any expert will tell you, selecting the right platform is crucial. Once you've selected your choice of CMS from the dozens that are available in the market, you need to select an appropriate theme, the best WordPress plugins/extensions & other components that make a great website. 
Hence, instead of going through the hundreds to thousands of choices yourself, a great way to pick the best CMS, WordPress themes, and plugins is to check out what other popular and successful websites use. 
But all that information isn't plastered on the top folds of every website, right? That's why you need a website CMS detector. 
And so we've listed down all the best CMS detectors out there to help you identify what CMS a site is using, and what WordPress business themes & plugins are powering them!
But before we move on to the CMS detectors, let's build an understanding on what is a CMS and how many CMS's are there. 
What is a CMS?
A CMS, or a Content Management System, is a piece of software that allows users to create and manage websites and their content. It is an ideal solution to build websites for non techy users as you don't have to use codes nor do you require any development knowledge to create your website from scratch. 
A great example of a CMS is WordPress which has made website development a piece of cake for everyone. The CMS lets you create your website, manage its content and design through different themes and website builders. You can also add various functionalities to your WordPress website using plugins like Yoast SEO, Contact Form 7 and more. 
Because of WordPress's popularity, many users don't know about other CMS's available. Drupal, Joomla, Wix and Magento are some of the CMS that are widely used to create various websites. If you are looking for a CMS with rock solid security for your website, then you would choose Drupal but if you have a more complex website, Joomla is your answer.
Discover What CMS a Site Is Using With These CMS Detectors
To detect a website's CMS, use these highly useful online tools:

What CMS is a respected online CMS detector that can detect 142 different CMS applications and their services. If ever a website slips through their system, WhatCMS people don't take much time to update their database immediately!

IsItWP offers plenty of information on WordPress based websites including the theme, plugins, underlying hosting, and other information. It's really easy to find out all the underlying technologies a WordPress site is using with this tool.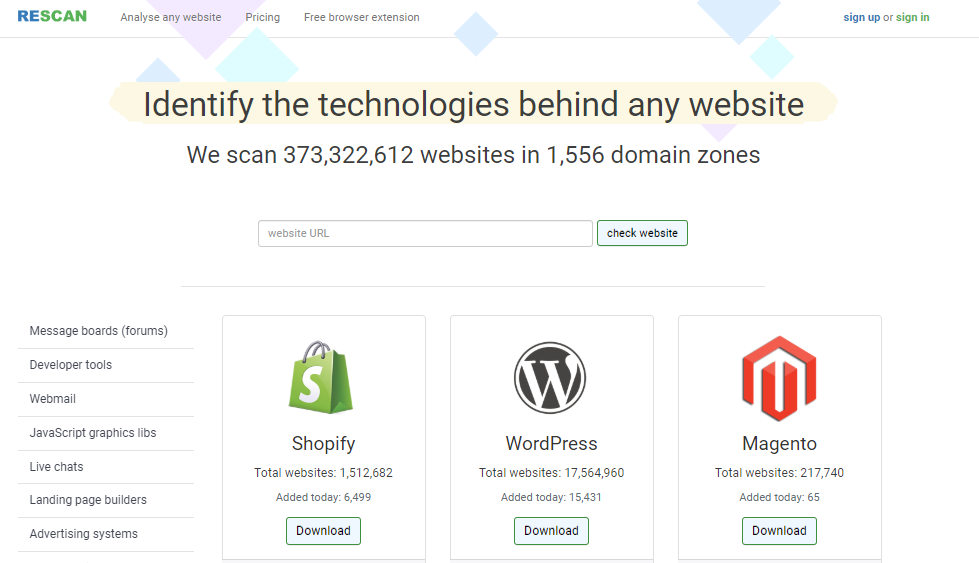 Formerly, Allora.io, Rescan is another well-known tool with a database of over 2200+ CMS/frameworks. The tool even offers suggestions and recommendations based on popular plugins and themes . The list is dynamically maintained, enabling you to check out the latest themes and plugins used in your chosen niche anytime you need to.

If you don't want to use a web-based tool, you could go for Wappalyzer, a Chrome extension that does the job as well as the other tools on the list. Once installed, you just need to visit the website you want to detect and click on the Wappalyzer button to find out the theme and related information about the website.


We at WPblog  use BuildWith because this is hands down the most comprehensive CMS detector around. It not only tells you which CMS a website is using, but it also reveals the tools installed on that website. All you need to do is enter a site's URL and it shows you what analytics tool the website is using, what social media tools are being run and what is CMS is the website built on.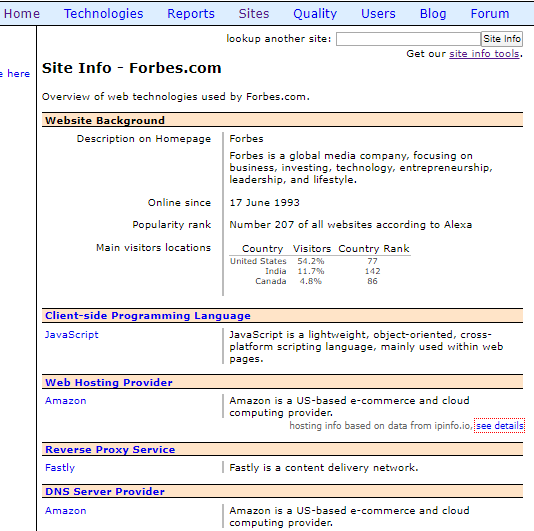 W3Techs is a very reliable CMS detector that provides a list of tools installed on a website. Upon visiting W3 Techs, navigate to Sites and enter your target URL. Then you will be able to see all the technological details of the website including CMS, hosting provider, DNS Server provider, Site Elements and more. You also get some added information like site description, popularity rank, and traffic based on location. 


Netcraft is a simple CMS detector that detects a website's CMS along with its domain registrar, hosting provider, hosting country, and much more. 
It is one of the oldest CMS detectors around and is usually used by more traditional users.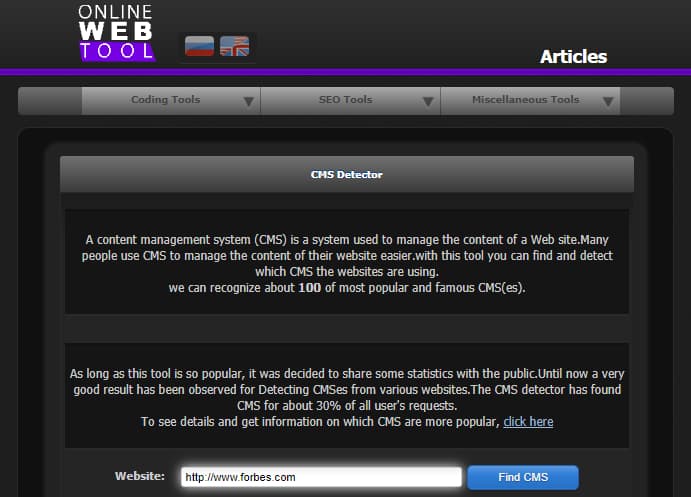 A very popular CMS detector, OneWebTool, provides a very straightforward way of identifying CMSs of your target website although the database is not as large as other CMS detectors. However, it does provide a lot of detail about your target website including the CMS, Alexa rank, website safety and much more. 
How to Detect CMS
Manually
Without Using a CMS Detector 
Apart from using CMS detectors, there are other ways to find out what CMS a website is using. For some popular CMSs like WordPress, Drupal and Joomla, the task is fairly simple but many other CMSs make it hard for anyone to detect this particular information. 
For example, every WordPress website comes with a default text in the footer that says "Powered by WordPress". However, in most cases, users often hide this text because of security reasons. Since WordPress is the most popular CMS around, hackers often target WordPress websites to find loopholes and vulnerabilities within the theme or plugins those websites are using. 
For other CMSs like Joomla, a favicon is displayed on your browser tab which will help you discover this information but there are more traditional ways to discover a website's CMS. 
One of the ways to detect CMS is through the source code of the website. If the website is built on Squarespace or WordPress, you will be able to find the CMS in the source code through the search option. Just type Ctrl+U > Ctrf+F  and then search for the CMS you think the website is built on. 
Apart from that, you can also Inspect Element on the website and go to Source. There, judging by the URL of the files, you will be able to judge what CMS a website is built on. 
Of course, these methods are either too time consuming or they don't give a definitive answer which is why we listed these amazing CMS detectors. 
Conclusion
In order to save a lot of time and effort, I'd suggest that you first make a list of the websites that you want to use as references and then use one or more of the above-mentioned tools to discover more about the CMS, themes, and plugins.
In case the list above is missing your favorite site that detects a website's CMS, theme, or plugin, let me know in the comments below, and I'll add it to the list after testing it out!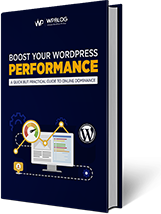 Create Faster WordPress Websites!
Free eBook on WordPress Performance right in your inbox.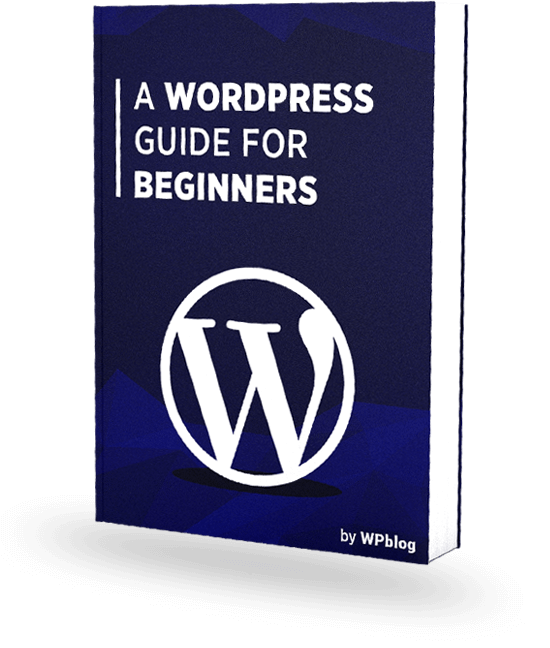 Create Faster WordPress Websites!
Free eBook on WordPress Performance right in your inbox.