15 Best WordPress Business Themes for 2020
— February 19, 2020
•

10

Minutes Read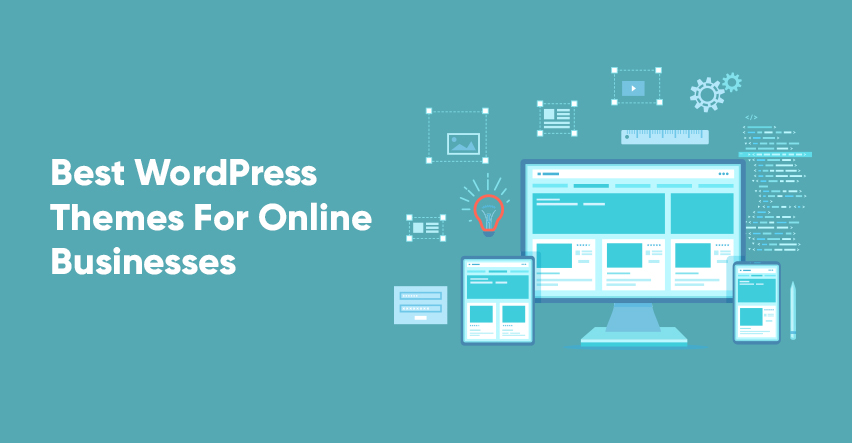 Nowadays, it is essential for your business to have an online WordPress website. You have landed on this article because you have chosen WordPress for your business website which is a good start. WordPress is easy to use and you have a lot of options for customization as well. 
To make sure that your WordPress business website is professional enough, you need to install a WordPress business theme. These themes are tailor made for businesses and provide just the right design to tell your customers and potential customers what your business is all about. 
However, the problem is that there are so many WordPress business themes available online that it becomes difficult to choose the right one.
Don't worry! I have carefully procured a list of just about all the latest and most popular WordPress themes for business that will give your business site the lure and charm that it needs to stand out.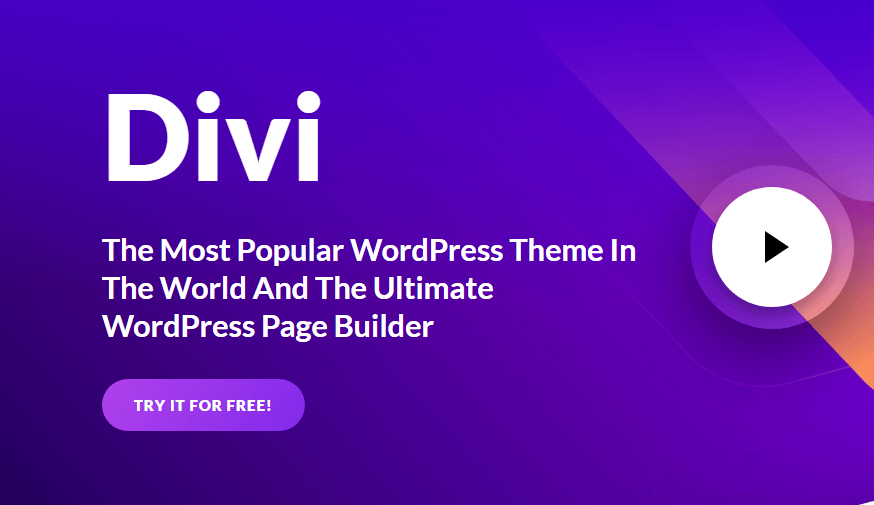 Divi is one of the most popular WordPress business themes and is quite popular because it is powered by the popular Divi Builder. Its incredibly fast frontend editor is intuitive and comes with a variety of amazing features. 
Features That Makes Divi WordPress Theme a Great Choice:
Responsive Editing:  You can take live responsive previews and make custom changes in theme to specific custom breakpoints.
Simple Click and Type:  There is no need to open up a

settings panel

and add text content when you can do one better by simply clicking onto the page and start typing right away.
Real-Time Design: 

Any changes you make on your page are instantly updated in real-time.

Customize Everything:  Each and every element is customizable where you can easily change colors, add fonts and apply custom CSS.
46 Content Elements: 

There are over 46 different content elements that you can mix, match and build just about anything that your mind can think up.

Premade Layouts: 

Instead of building your own layout from the ground up, Divi offers you about 20+ premade layouts to give you a headstart.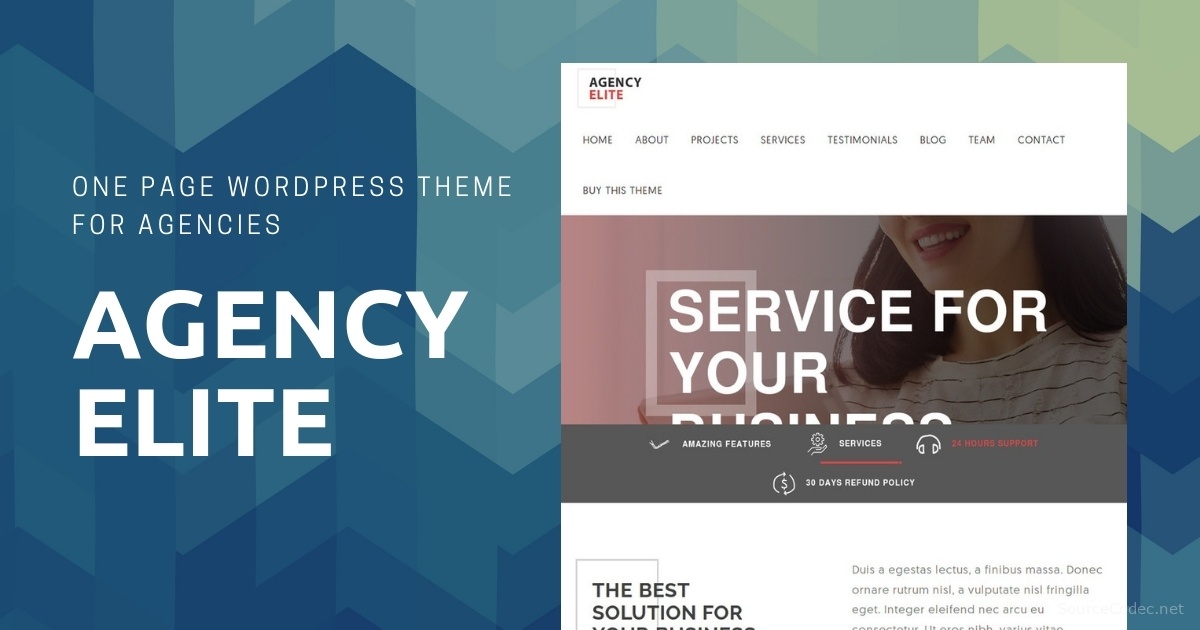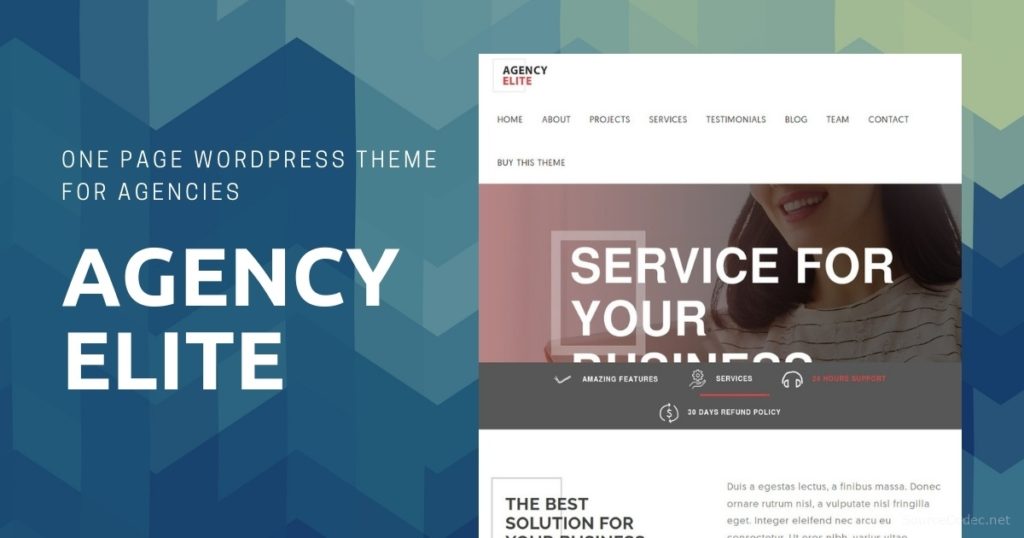 Agency elite is a one page WordPress theme for business websites that is designed by CyberChimps, a popular WordPress theme provider. The theme comes with smooth navigation and is ideal for professional websites as it gives a sophisticated touch. 
Features That Makes
Agency Elite WordPress Theme
a Great Choice:
One Page Template: 

The theme comes with a pre designed one page template that lets you develop your WordPress website without any coding. 

Customization:

Though there is a pre designed template, you have the option to customize your website as per our requirements. 

Idea for businesses:

The theme is ideal for software, corporate, IT, service, media, or small business industry.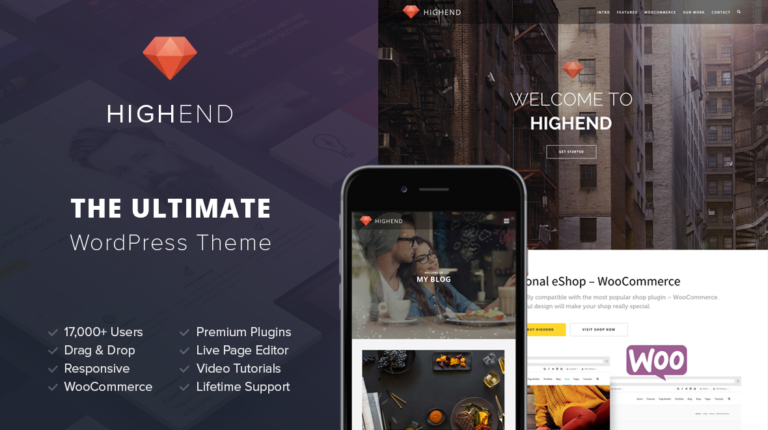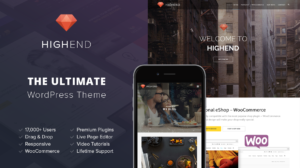 Looking to create a beautifully professional website with the least amount of time and effort involved? Then look to Highend and its wonderfully comfortable drag-and-drop function. You can get started right away with over 16+ gorgeous premade websites that you can import and customize with the Drag-and-drop editor.
Features That Makes Highend
 WordPress Theme
a Great Choice:
Save $150+ with Premium Plugins:

You can get over $150 worth of the most popular premium plugins, for free.

Absolutely Responsive:

If you can build your site for any device, it is definitely a huge win for your business already and that's what Highend is all about.

Build an Online Store:

You can build an online store and sell your physical and digital goods without any additional costs attached to it. Interestingly, Highend also supports WooCommerce.

Free Automatic Lifetime Updates:

Now with every copy of a Highend theme, you will will be getting lifetime updates that will be automatically downloaded and installed.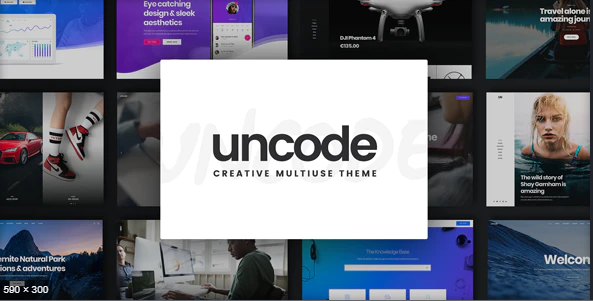 Here is another all-in-one solution to give you the most flexible and versatile business website that you and your customers will love to death. Uncode is one of the best WordPress themes for business sites and it's largely revered for the following strengths.
Features That Makes Uncode
 WordPress Theme
a Great Choice:
Featured and Appreciation: 

Uncode is renowned and appreciated by the largest web design blogs and tech magazines in the world such as Forbes, speckyboy, GraphicsFuel, Hongkiat, inspirationfeed and more.

Performance:  This theme has been designed with great care to performance and to make it powerful and fast. It has a Pagespeed score of 98% and a Yslow score of 92%.
Creative Web Builder: 

With the combined efforts of Tailored Visual Composer and Enhanced WordPress, you can give your website a whole new purpose.

Module Variations: 

There are over 70+ options for you to explore, like; carousel, masonry and metro, thumb size and ratio, items filtering and so much more.

Content Block:  With the help of the Content Block, you can create headers, replicable content sections, footers and custom archives with Visual Composer.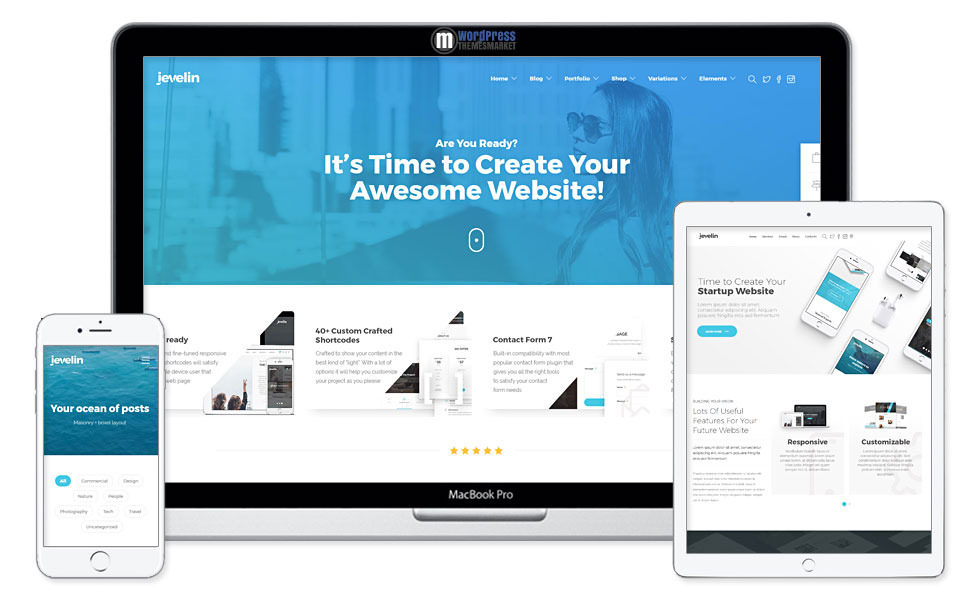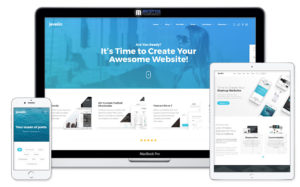 If you've thought you've heard it all, then you haven't heard of Jevelin. Here is a WordPress business theme that is not only multipurpose, but also mobile-friendly for business, freelance and private use. It is also integrated with WooCommerce and that's a really good plus.
Features That Makes Jevelin
WordPress Theme
a Great Choice:
Here are the features that allow it to be the odds-on-favorite theme:
Easy Customization:

You will be granted hundreds of customizable options at your disposal which are easy to use mind you this.

One-click Install: 

All it takes is one-click and your theme is installed and ready to go.

Mobile-friendly: 

There are plenty of tweaked and responsive elements that aim to fully satisfy mobile users.

Contact Form 7:  It is compatible with the most popular contact form plugin that will provide you with all the right tools to cater to your contact form requirements.
Slider Revolution: 

Give your visitors a smart preview of your site with the theme's built-in Slider Revolution.

SEO-ready: 

Jevelin was made to be SEO-friendly and help you site rank favorably in search engine result pages.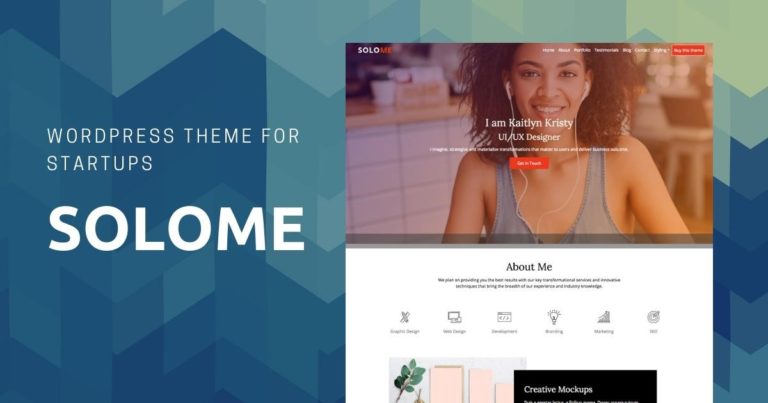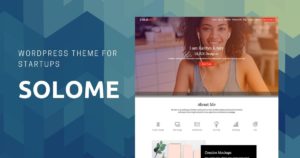 Solome is one of those WordPress themes for business that are ideal for small businesses and startups. Since it is a one page theme, it makes it easier for users to understand your business and what it has to offer. 
Features That Makes Solome
WordPress Theme
a Great Choice:
Homepage design: 

The theme comes with a pre designed homepage that can give you a quick start in designing your WordPress website. 

Customization: 

You can edit various sections of your website and style the themes as per your own requirements. 

Compatibility: The theme is compatible with all the

popular WordPress plugins

so you don't have to worry about integrations and functionality. Further, the theme is also mobile friendly.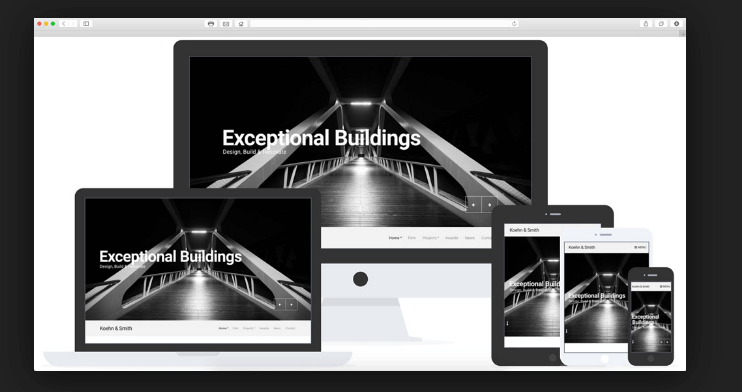 Koehn is as attractive as it is highly functional. Due to it being a premium WordPress business  theme, Koehn will give plenty of bang for your buck and will do more than just stepping out of the realm of generic. It is one of the best WordPress themes for businesses and is loaded with a lot of features. 
Features That Makes Koehn
WordPress Theme
a Great Choice:
Drag and Drop Homepage: 

Think unique and original when you are making use of Koehn's custom content widgets. You will be able to give your website an unorthodox but alluring look and feel.

Flexible Layout Options: 

Give your portfolio the original recipe it needs with the use of multiple layout variations.

Custom Widgets:
Custom widgets are an extension of your site's capabilities such as social networking, content

widgets for Twitter, Facebook, Pinterest and more.

Minimal, Beautiful, Unopinionated.

You can be at ease with your work knowing that there are no distractions around.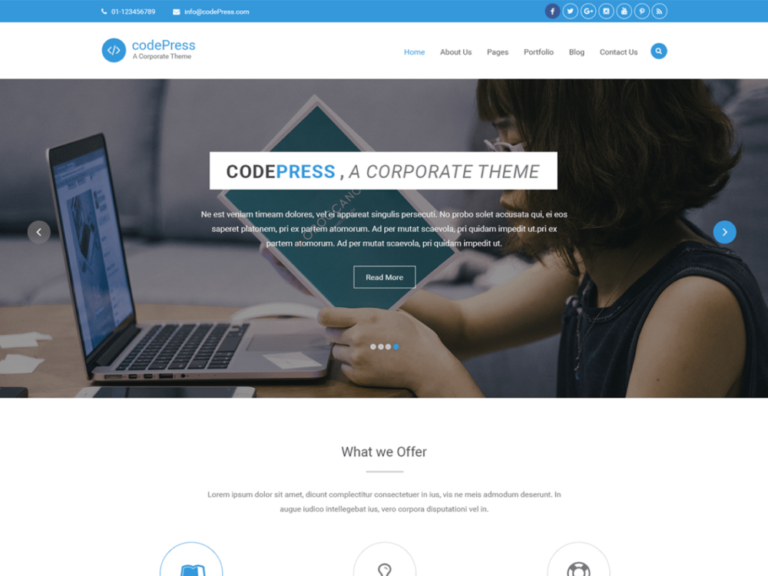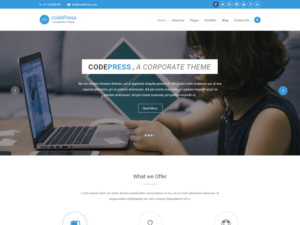 Corpora is one of those WordPress themes for business designed by CyberChimps. It is a one page professional theme that lets you potrait your business on a single page. It also comes with some amazing features: 
Features That Makes Corpora
WordPress Theme
a Great Choice:
Ideal for business: 

Corpora is ideal for technology, design, creative, startups, and small businesses industries.

Pre Designed homepage:  Not only is the homepage pre designed, but it is designed with Elementor Page Builder which means there is a lot of room for customization. 
Compatible: The theme is compatible with a lot of essential WordPress plugins including contact form 7, Elementor Page Builder and much more.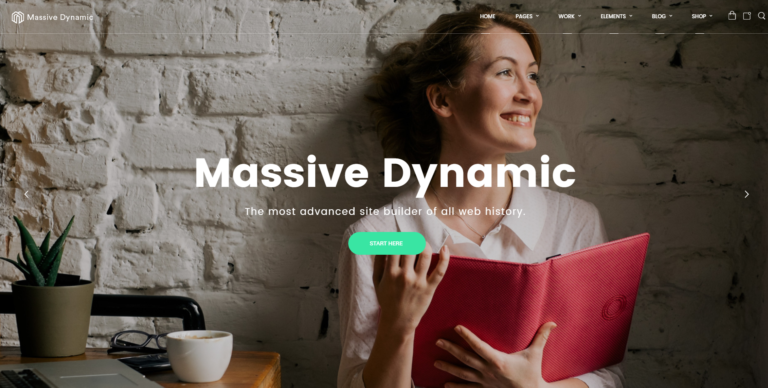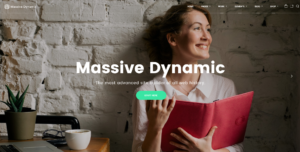 Another great WordPress business theme in this is Massive Dynamic.  It comes with the most advanced complex website builder allowing you to make your website into something that is complex but also easy to use.
Features That Makes Massive Dynamic
WordPress Theme
a Great Choice:
Real-time editing: 

Rather than wasting your time editing words in shortcode settings, you can do it on the fly like that of Microsoft Word.

Simple Drag and Drop: 

Tailor your website the way you want to be by dragging and dropping various content elements so that it escapes the prisons of a standard site.

60+ Pre-built Websites: 

Having a pre-built site that you can easily customize and setup will save you quite the itch of starting your own from scratch.

Fully Compatible Extensions: 

With a theme that is compatible with tons of incredible extensions such as Contact Form 7, WooCommerce, Slider Revolution, Visual Composer and MailChimp, what more reason do you need to use this theme that pretty much makes you unstoppable?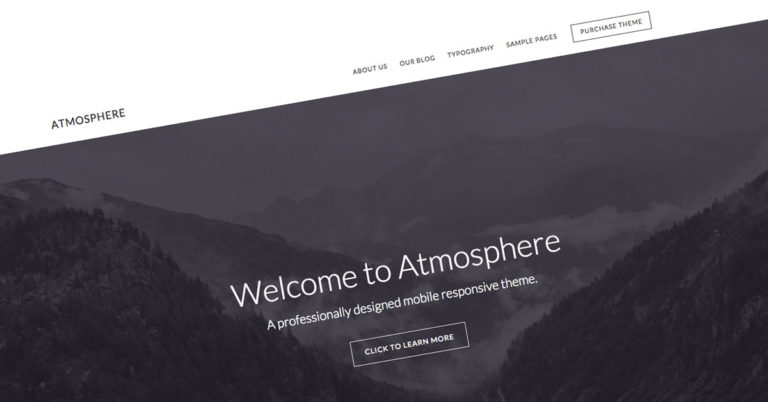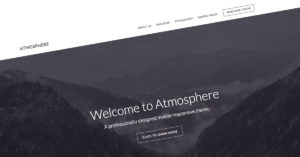 Atmosphere Pro is one of the best WordPress themes for business that allows your customers to pay great attention to both your images and your content copy and all when you use AP's wide open spaces and gorgeous contrasts. Among its many eye-catching aspects include.
Features That Makes Atmosphere Pro WordPress Theme a Great Choice:
Theme Customizer: 

You can customize your theme's settings, colors and content and can live preview the changes in real-time.

eCommerce: 

You will have no trouble setting up your online store knowing that Atmosphere Pro is integrated with WooCommerce.

Homepage Widget Areas: 

With over 4 homepage widget areas, you can customize your site in a way that fits your niche.

Mobile Responsive: 

Optimizing the mobile-first approach for your site will help your site gain more traction and visibility.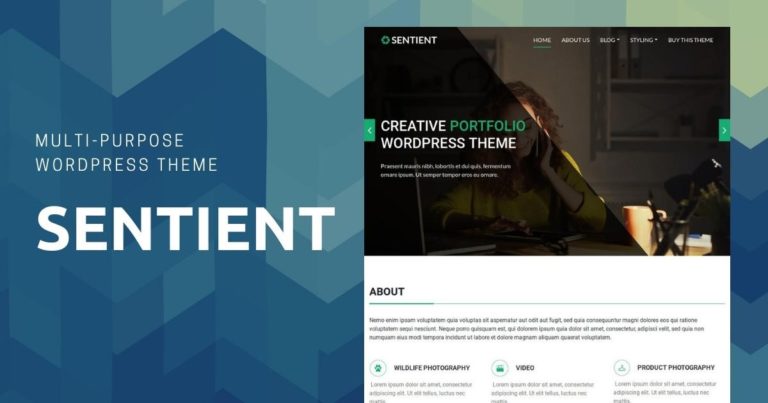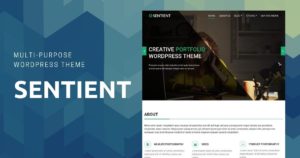 Sentient is one of those themes that are multi page which means you have a lot of ways to showcase your business to your customers. A multi page theme gives you the chance to attractively display your products or services. 
Features That Makes Sentient WordPress Theme a Great Choice:
Responsive design: 

The theme comes with responsive design which means your business website will look great on all screen sizes. 

Customization: 

This WordPress theme for business also offers a lot of customization options such as typography, fonts, custom logo, and much more.

Added sections: 

It also includes added sections including animated stats section, footer section, introductory text section and more.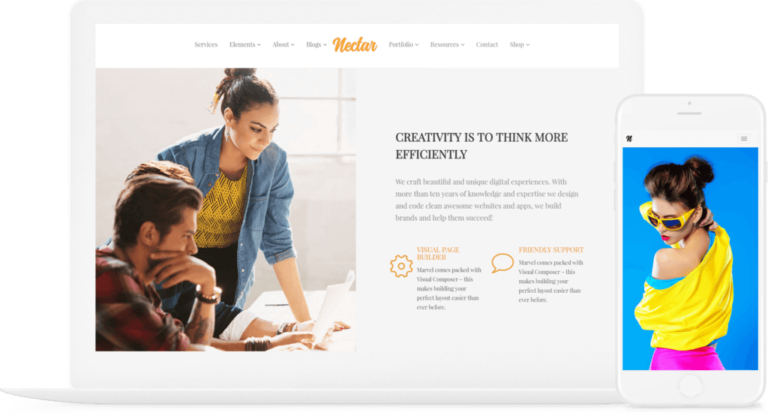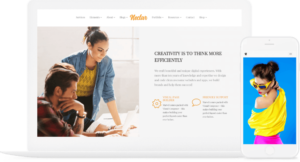 This simple but beautiful WordPress business theme will suit non-tech users quite well. That is because they do not necessarily need to know how to program or code for that matter. All of the changes you do take place in a very user-friendly themes options panel. Nectar also comes with free lifetime updates and free support.
Features That Makes Nectar WordPress Theme a Great Choice:
Parallax Slider

Easy Installation

Responsive Design

Google Fonts

Unlimited Colors

Custom Homepage

SEO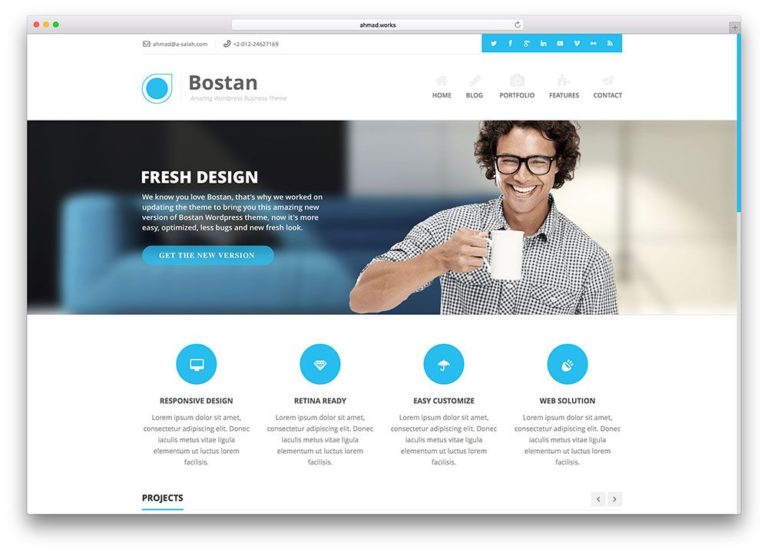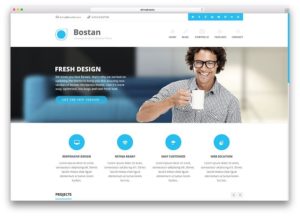 Bostan is a retina-responsive WordPress theme for business built with bootstrap, which you can use for building a website for an agency or for the sake of promoting your services. Some of its many robust features consist of
Features That Makes Bostan WordPress Theme a Great Choice:
Unlimited Custom Color Skins: 

You can paint your website however you want by giving each element of your site such as text, icons and buttons a different color.

Fully Responsive and Retina-Ready: 

The theme is fully responsive, making it look good on any screen size and device and it is retina ready as well so the visuals appear crisp to the viewer.

Powerful Theme Options: 

There is a powerful admin panel that lets you customize the theme in whatever way you feel like it.

Advanced Shortcode Generator: 

This generator enables you to add tabs, boxes, buttons, different sliders, responsive videos and so much more.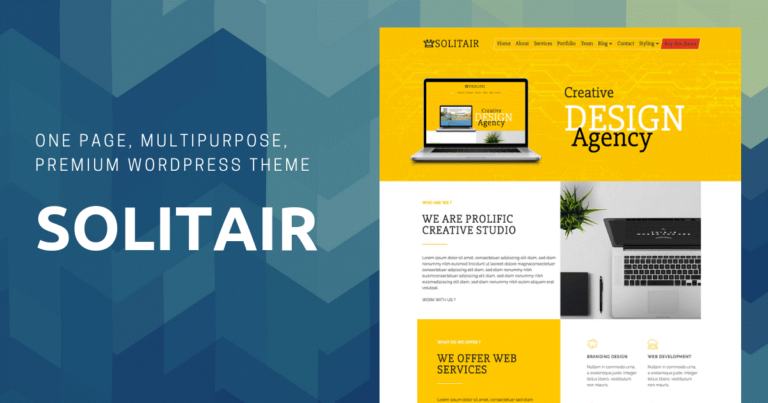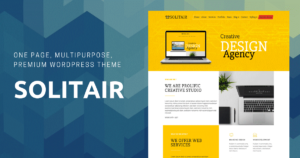 Solitair is another great addition in this list of WordPress business theme. It is a multipurpose theme so not only can business owners use it but it is also suitable for other users as well including photographers, or designers. 
Features That Makes Solitair WordPress Theme a Great Choice:
Custom elements: 

The WordPress theme for business comes with custom colors, fonts, logo, and typography. 

Supporting elements: 

The theme supports an image portfolio section, slider hero area, recent posts section, features section, contact info section, and testimonial section

Responsive design: 

With this theme, your website will become more responsive and you will be able to showcase your business on mobiles, tablets along with other screen sizes.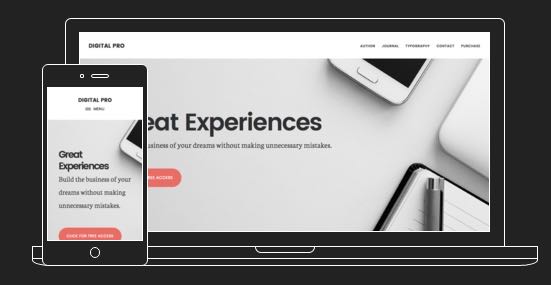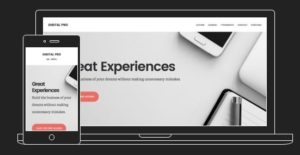 Digital Pro is just the theme that digital product sellers are looking for. It also builds trust, is user friendly, and has an easy-to-read and clean typography. But most of all, Digital Pro's features wow us to no end.
Features That Makes Digital Pro WordPress Theme a Great Choice:
eCommerce: 

This is a flexible eCommerce theme that has been integrated with WooCommerce, enabling you to design your online store with much of a hassle.

Theme Options: 

You can comfortably customize your site with a handful of theme options available right in front of you in just a few clicks.

Widget Areas: 

You can build your website with 3 widget areas that allow you to customize your brand.

Mobile Responsive: 

Tweak your site to make it look good on both desktop and mobile devices and modern browsers.
Conclusion
That about wraps up all of the best WordPress templates for businesses that I could squeeze in here. The choice in the end, however, depends on you and which theme speaks to you the most about what your brand and niche stand for. If you feel like there is a theme or two that deserves to be on the list, do let me know in the comments below.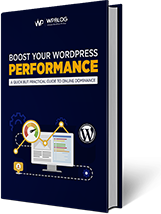 Create Faster WordPress Websites!
Free eBook on WordPress Performance right in your inbox.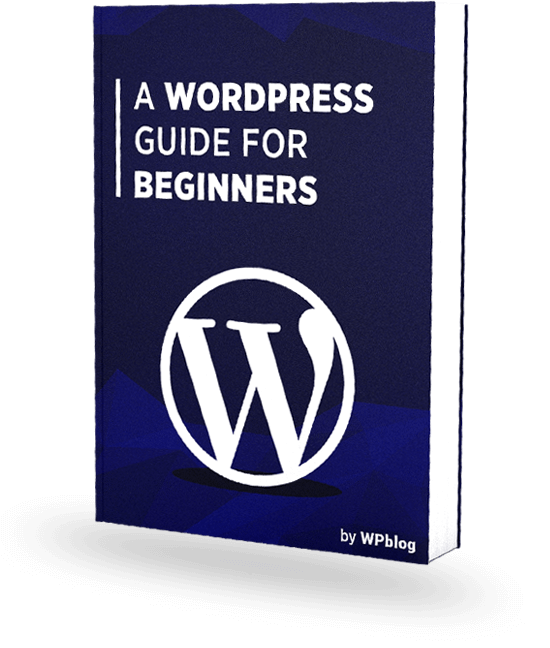 Create Faster WordPress Websites!
Free eBook on WordPress Performance right in your inbox.